D7616, 7616, 25266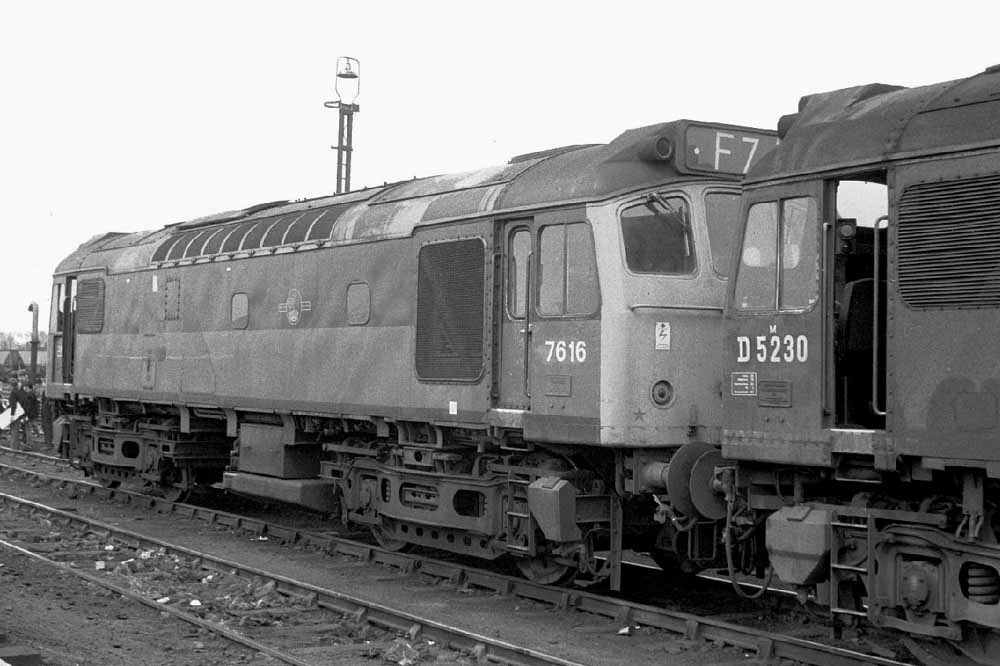 Photograph courtesy Tony Sayer.
A fine study of 7616 at Toton on May 30th 1970, seen here in fading two-tone green livery with full yellow ends.
The twenty year career of D7616/25266 commenced with just over two years on the Scottish Region, followed by eighteen years allocated to London Midland Region depots.
Built BR Derby Locomotive Works.
Dual braked (1973).
Delivered with tablet catcher recesses (both later sheeted over).
Time between last Classified repair and withdrawal: 91 months.
Time between withdrawal and scrapping: 29 months.
Allocations
D7616 was new to Eastfield (65A) on May 12th 1966. Further transfers were:
August 1968 to Liverpool Division (D08).
September 1968 to Preston Division (D10).
November 1968 to Nottingham Division (D16).
October 1971 to Birmingham Division (D02).
January 1972 to Nottingham Division (D16).
May 1973 to Toton.
January 1974 to Longsight.
August 1974 to Springs Branch.
October 1975 to Longsight.
January 1976 to Springs Branch.
May 1976 to Cricklewood.
January 1984 to Crewe.
Withdrawn September 19th 1986.
Renumbered December 5th 1973.
25266 was the 297th Class 25 withdrawn, one of seven retired during September 1986.
After withdrawal 25266 was stored at Carlisle (KD) from January 1987 to December 1988. It was moved to Carlisle Upperby on July 14th 1988 but then returned to the storage line. On December 7th 1988, 25266 was towed to Workington, the next day to Carnforth and Basford Hall. On December 16th 1988 25266 moved to Leicester depot and finally reached Vic Berry, Leicester on December 20th 1988. The locomotive was scrapped by the end of February 1989.
Works Visits
Works visits (records incomplete).
Noted Crewe Works October 1969.
Noted Derby Works November 1973, including fitting of dual brakes & sheeting over of tablet catcher recesses.
Noted Glasgow Works January 1979 (Classified).
Noted Derby Works October 1980 for N4 repairs.
Highlights
1966
Although the Scottish Region had received a batch of brand new Class 24s for use on duties from Inverness depot, the Region had not, so far received any new Class 25s. However between April & September thirteen Class 25s were delivered from Derby Works to Eastfield (65A) including D7616.
These were the only Class 25s delivered with a cabside recess to accommodate tablet catcher equipment. Although based at Eastfield these Type 2s spent much of their time in South West Scotland alongside the BRCW Type 2s quickly sending many Ayr & Hurlford's Crabs, Black Fives & BR Standards to the storage lines and additionally helped Dumfries lose its steam allocation effective April 30th. At the end of May Ayr placed seven steam locomotives into storage because of the Type 2s arrival. Additionally at this time, with the arrival of these Type 2s, the return of some re-engined NBL Type 2s to service and the tranfer of more Claytons to Haymarket, the Scottish Region were able to put the first of the Class 26s through Works for the fitting of slow speed control equipment & dual braking for use on MGR workings.
On July 13th D7616 was noted at Mallaig.
On August 17th the 19.25 Stirling - Glasgow Buchanan Street was worked by D7616.
1967
An interesting working that occasionally used the Type 2s was the Edinburgh - Prestwick Regent oil train, supplying fuel for the airport. The Glenburn Colliery branch was used requiring a run round at Falkland Junction. A weekend visit to the area on September 11th found all but D7616 & D7622 present as follows:
1968
During the summer all the remaining batch (D7613 - D7623) left Eastfield for various LMR depots. With the exception of D7614 all moved to the Liverpool (D08), Manchester (D09) or Preston (D10) Divisions. The last to leave Eastfield were D7614 - D7616, the latter two went to the Preston Divsion (D10), whilst D7614 went to the Birmingham Division, joined there by D7611 - D7615 between September & November. By year's end D7616 - D7623 had all migrated south to the Nottingham Division (D16).
1969
On July 5th the summer dated 07.35 Nottingham - Llandudno Town and the return 13.52 Llandudno Town - Nottingham were worked by 7616. On July 31st the 07.33 Yarmouth - Birmingham New Street was worked forward from Leicester by 7616.
On August 16th the 08.05 Leicester - Yarmouth and the return 13.20 were worked by 7616 to/from Norwich.
1970
On July 11th the summer dated roundtrip Nottingham - Llandudno Town was worked by 7616 & 7587.
Condition July: two-tone green livery with full yellow cabfronts, no blanking plates, hand/footholds sheeted over, tablet catcher recesses present, numbers at 'wrong' end, straight sided sandboxes, three rung bogie mounted footsteps.
1972
The 08.55 Leicester - Skegness and the return Skegness - Leicester were worked by 7616 & 7672 on July 19th.
1973
On the morning of May 13th 7616 was noted at Exeter holding sidings (two-tone green with full yellow ends and tablet catcher recesses).
1974
On June 25th a Congleton - Oxford mystery excursion was worked round trip by 25266.
The evening Huddersfield - Wakefield parcels was worked by 25266 on November 26th, this was diagrammed for a Healey Mills Class 40.
1976
1976: An east – west cross country working which occasionally featured Class 25's was the evening Norwich – Liverpool Lime Street parcels, 25266 & 25269 were noted on May 5th.
On June 19th the Derby - Norwich - Yarmouth - Norwich - Walsall diagram was worked by 25266 & 25243.
The 09.20 Derby - Skegness and the return 13.05 Skegness - Derby were worked by 25266 & 25210 on July 10th. On July 22nd a roundtrip St. Pancras - Skegness day excursion was worked by 25266 & 25250 for a total of 401 passenger miles.
On October 24th the 10.45 St. Pancras - Derby failed at ?? (at least south of Leicester) and was taken forward to Derby by 25266 & 25221.
1977
On July 31st the 20.45 Barrow - Euston with 86235 was dragged from Bletchley to Willesden by 25266 & 25314.
The 09.15 Derby - Skegness and the return 18.15 Skegness - Derby were worked by 25266 & 25264 on August 22nd. A week later on August 29th the same pair worked the relief 08.07 Alfreton & Mansfield - Skegness and the return relief 18.55 Skegness - Alfreton & Mansfield.
1978
On September 12th the 22.30 Perth - Euston failed at ?? behind 85008, 25266 & 25309 dragged everything to Euston.
1979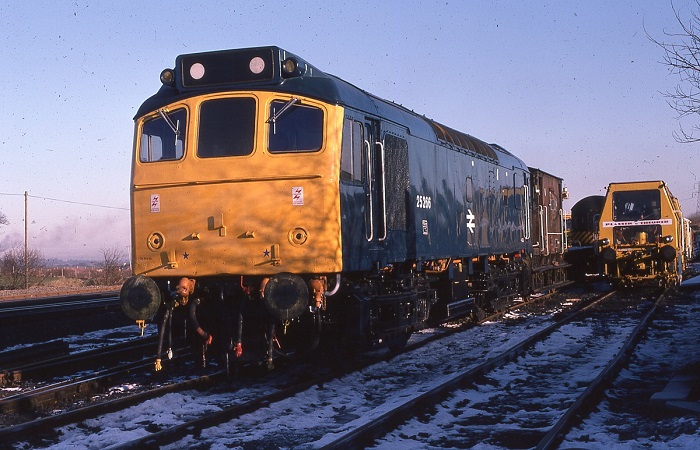 Photograph courtesy Jim Binnie, collection of webmaster.
An ex-works 25266 catches the winter's sun on January 17th 1979, having been recently outshopped from Glasgow Works. This view is at the permanent way sidings at Upper Greenhill Junction. Its interesting to note that Glasgow Works carried out major repairs to a locomotive not allocated to a Scottish depot.
1981
Although the West Country was now without an allocation of Class 25s they were still frequent visitors, 25266 & 25318 were noted on January 29th in charge of the loaded Ellesmere Port – Riverside tar tanks and the afternoon return empties. Two days earlier (27th) 25266 was in charge of a nuclear flask train from Whitemoor to Parkeston.
On July 28th 25266 & 25315 were noted at Bedford with a lengthy freight, possibly wagons loaded with bricks.
Originating from Heysham were a series of 'out of gauge' loads - concrete beams destined for the Tyne & Wear Metro, 25266 handled the second shipment on October 20th.
1982
On April 18th 25266 & 25060 were noted at Newcastle with an unidentified passenger working.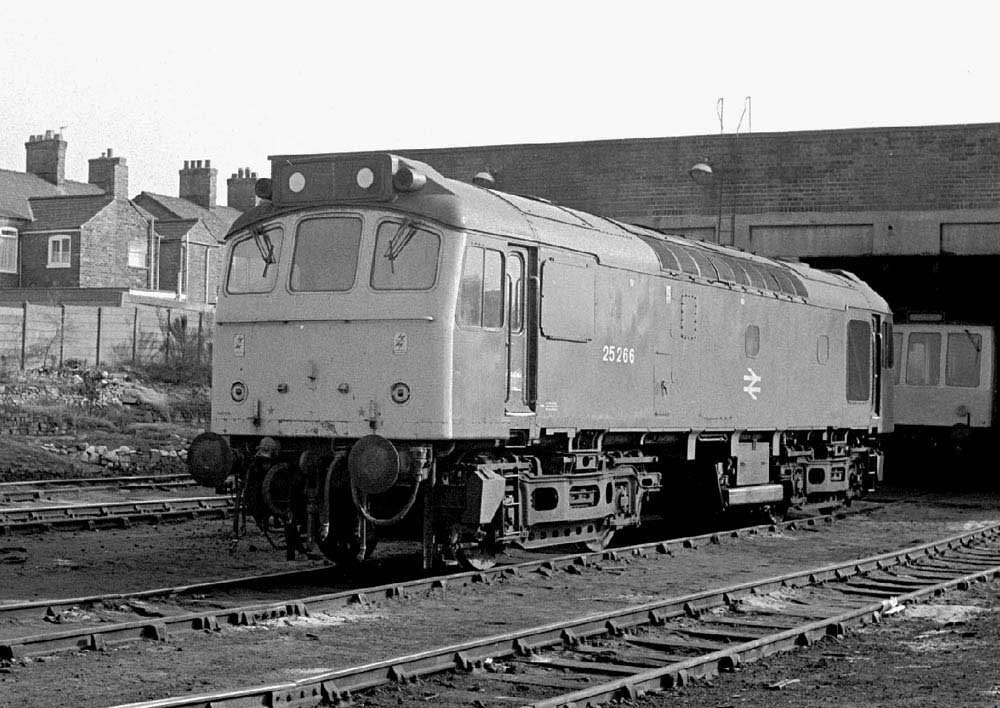 Photograph courtesy Tony Sayer.
Its April 24th 1982 and 25266 strikes a fine pose outside the old steam shed at Northwich. When new 25266 was one of thirteen Class 25s delivered new to Eastfield, the only time Scottish depots received brand new Class 25s.
25266 was stabled at York on May 31st.
On June 2nd a coke train was noted passing through Wakefield behind 40195 & 25266. On June 5th 25266 was noted southbound at Royston with empty coaching stock from Leeds. On June 18th the 16.05 St. Pancras - Derby failed at Bedford behind 45013, 25266 took the service forward to Leicester where 46056 took over.
A northbound brick train was noted at Sharnbrook on August 3rd with 25266. The 16.10 Glasgow Central - Carlisle was worked by 25266 on August 20th.
25266 was noted at Newcastle station on October 4th.
On December 31st 25277 & 25266 worked cement emties to Tring Cutting, then ran light to Bletchley.
1983
A down Freightliner was noted at Coventry coming off the Leamington Spa branch on March 7th hauled by 25266.
25266 was noted eastbound through Manchester Victoria with an engineers train on April 3rd.
On May 12th the 22.47 Crewe - Blackpool North was worked from Preston by 25266. The Cranmore - Ellesmere Port bitumen tanks were worked by 25266 on May 25th.
Engineering work on July 31st saw 25266 (25198 had failed earlier) assist two electric services between Bletchley & Rugby due to the power being off.
On August 20th 25266 & 25300(?) were noted passing the closed station at Calvert on a UKF Fertilisers train, headed for their Akeman Street facility.
25266 was noted southbound through Wellinborough with a ballast train on September 2nd.
On October 1st 25266 & 25245 worked a roundtrip Coventry - Aberystwyth charter.
1984
On February 24th 25266 having brought in a Garston – Newcastle freightliner returned quickly south with a Heaton – York empty coaching stock working.
A couple of days during early March saw 25266 quite active. On March 6th 25266 worked the 14.40 Euston - Blackpool North forward from Preston. The next day (7th) 25266 worked the 06.30 Preston - Barrow and the 08.22 Barrow - Liverpool.
On May 25th 25266 started out with the 00.59 Garston - Forders brickliner but failed at Ditton with a traction motor flashover, where 25226 took over. 25266 went on to Allerton for repairs.
1985
On January 31st 25266 worked the 06.18 Blackpool North - Euston to Preston and later that day the 09.34 Blackpool North - Euston to Preston.
25266 was stabled at Bescot on March 2nd.
On June 11th the 11.40 Poole - Manchester Piccadilly was dragged between Bescot & Wolverhampton by 25266 after 86247 failed. On June 22nd 25266 was stabled at Crewe. On June 27th the relief 13.50 Bristol Temple Meads - Edinburgh was dragged between Stockport & Preston by 25266.
An Ayr - Caersws return charter was hauled by 25266 & 25285 from Warrington to Caersws on July 7th. The next day (8th) the same pair worked the relief 13.50 Birmingham New Street - Edinburgh as far as Preston. A week later on July 13th the 01.30 Stranraer Harbour - Blackpool North was worked forward from Preston by 25266, returning to Preston with the 09.45 Blackpool North - Stranraer Harbour. On July 19th 25266 worked the 06.30 Blackpool North - Euston to Preston.
A lengthy run took place on August 15th with 25266 working a relief 09.06 Bristol Temple Meads - York throughout.
25266 was noted passing through Crewe station northbound on September 5th with a train of hoppers. On September 20th a relief 13.50 Birmingham New Street - Edinburgh was worked forward from Carstairs by 25266 (& 25199?). 25266 was stabled at Springs Branch on September 29th.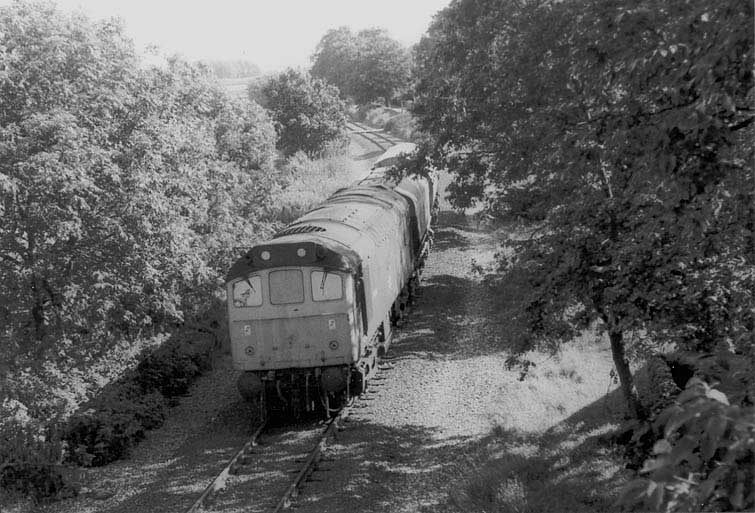 Photograph courtesy Mike MacDonald.
25266 on the Hindlow branch on September 6th 1985. Later in the day 25266 would be noted heading north at Doves Holes.
25266 & 25279 were stabled at Manchester Victoria on October 24th.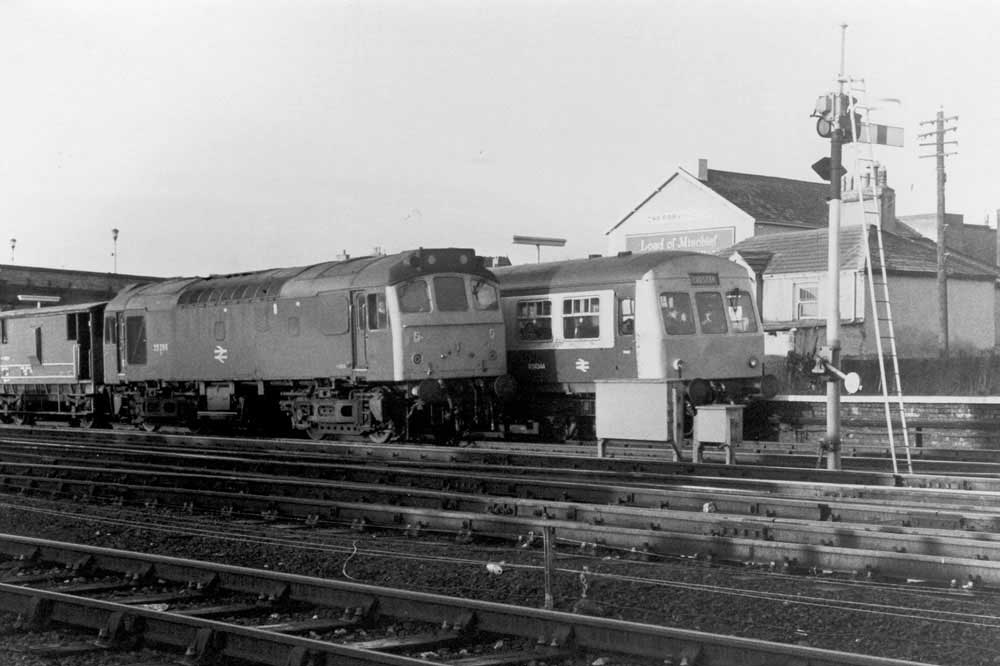 Photograph courtesy John Powell.
25266 & 54344 at Rhyl on December 18th 1985. 25266 ended its active service at Carlisle, it was eventually moved south to Vic Berry's, Leicester, but would linger here until broken up during January 1989.
1986
25266 was noted northbound at Abbotswood on the evening of April 2nd with a train of flyash from Didcot. 25266 was noted shunting passenger stock at Chester on April 26th, following this it set off in the Crewe direction.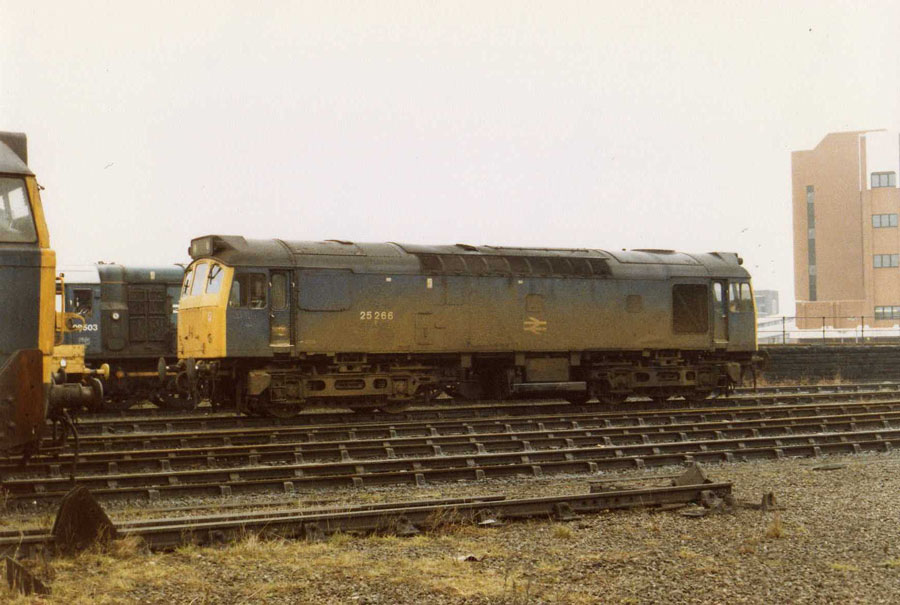 Photograph courtesy Michael Kaye.
A very work-stained 25266 at Holbeck on April 14th 1986. 25266 has another five months left in service, but for Holbeck Depot this is it's last day as an active depot.
25266 & 25278 were noted passing Garsdale on the afternoon of May 3rd with a diverted northbound twelve coach parcels train. On May 9th 25266 was noted at Workington with a train of brake vans (at least eight). On May 16th 25266 was noted at Preston with an engineers train.
On June 29th a special from Caersws to Edinburgh, the Cambrian Railways Society 'Edinburgh Flyer' utilised 25266 & 25313 on the Caersws - Chester & return legs, 25313 would fail (on the return leg presumably?). The next day (30th) 25266 assisted a failed four car Swansea - Shrewsbury diesel multiple unit from at least Llanwrtyd Wells to Shrewsbury.
On July 22nd 25266 was stabled at Rugby station.
25266 was withdrawn on September 19th 1986.
Distinguishing Features
No.1 cab front: center lampbracket fitting but other fittings absent: (present September 1983 & September 1985) July 1986 (may need more research?).
No.1 cab front: driver's side below handrail, a couple of pieces of missing paint and paint missing from below center window: at least April 1983 until withdrawn.
No.2 cab front: to left of center lampbracket missing paint: (not present August 1983) at least June 1985 until withdrawn.
48/4071
flk 0217 (1)
Page added October 8th 2012.
Last updated September 14th 2019.