D7620, 7620, 25270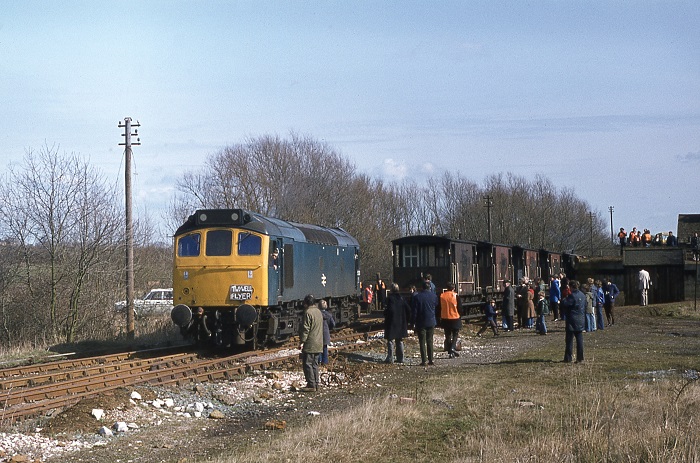 Photograph collection of webmaster.
25270 and the 'Twywell Flyer" on March 18th 1978, possibly near Twywell station.
The sixteen year career of D7620/25270 commenced with just over two years on the Scottish Region, followed by fourteen years allocated to London Midland Region depots.
Built: BR Derby Locomotive Works.
Boiler room grilles sheeted over.
Tablet catcher recess retained (No.2 end only).
Center lampbracket & other fittings removed (No.1 cab only).
Time between last Classified repair and withdrawal: 65 months.
Time between withdrawal & scrapping: 42 months.
Allocations
D7620 was new to Eastfield (65A) on August 26th 1966. Further transfers were:
July 1968 to Preston Division (D10) on loan, then made permanent August 1968.
November 1968 to Nottingham Division (D16).
May 1973 to Toton.
November 1973 to Bescot.
June 1974 to Toton.
Withdrawn November 28th 1982.
Renumbered June 15th 1974.
25270 was the 154th Class 25 to be withdrawn, one of twelve withdrawn during November 1982.
After withdrawal 25270 was stored at Newton Heath from January 1983 to February 1985. It was moved to Swindon Works on February 19th 1985 with 25084 & 25086 and was mostly scrapped there by early June 1986. At least one cab was moved to Vic Berry, Leicester by lorry during June 1986 for final dismantling (with cabs from 25086 & 46017).
Works Visits
Works visits (records incomplete).
Noted Derby Works February 1971.
Noted Derby Works February 1976.
Noted Derby Works March - June 1977.
Highlights
1966
Although the Scottish Region had received a batch of brand new Class 24s for use on duties from Inverness depot, the Region had not, so far received any new Class 25s. However between April & September thirteen Class 25s including D7620 were delivered from Derby Works to Eastfield (65A).
This batch were the only Class 25s delivered with a cabside recess to accommodate tablet catcher equipment. Although based at Eastfield these Type 2s spent much of their time in South West Scotland alongside the BRCW Type 2s quickly sending many Ayr & Hurlford's Crabs, Black Fives & BR Standards to the storage lines and additionally helped Dumfries lose its steam allocation effective April 30th. At the end of May Ayr placed seven steam locomotives into storage because of the Type 2s arrival. Additionally at this time, with the arrival of these Type 2s, the return of some re-engined NBL Type 2s to service and the tranfer of more Claytons to Haymarket, the ScR were able to put the first of the Class 26s through Works for the fitting of slow speed control equipment & dual braking for use on merry-go-round workings.
1968
On May 10th D7620 was in charge of the demolition train working between Newton Stewart & Dumfries.
1969
The recorded passenger workings of 25270 are heavily biased towards the summer dated services to the seaside holiday resorts. As early as June 7th 1969, 7620 & 7506 were reported working the 13.43 Yarmouth - Derby forward from Norwich.
On August 16th the 08.23 Derby - Yarmouth and the return 13.43 were worked by 5223 & 7620 (throughout?)
Condition August: two-tone green livery with small yellow warning panels, no blanking plates, hand/footholds present, straight sided sandboxes, three-rung bogie mounted footsteps.
1970
Workings of Toton Class 25s into March were nothing unusual, but their use by March for local trips during May & June was not the norm. Frequently they covered freight trips to Cambridge, 7522 (23rd) & 7620 (26th), Broxbourne 5267 (June 4th) and Hitchin, 5238 (June 11th).
1973
On June 16th the 08.12 Derby - Yarmouth was worked by 7620 & 7619, a two hour late arrival may have affected the use of the locomotives on the return working.
1974
A roundtrip Leicester - Skegness was worked by 25270 & 25245 on August 31st.
1975
On August 16th the monumental rubbish of 31120 & 31132 were diagrammed for the 08.12 Derby - Yarmouth but they failed before departure and were replaced by 25270 to Norwich. The return 14.30 Yarmouth - Walsall was worked from Norwich by 25270 & 31236.
1976
25270 was noted at Bristol Parkway with a down freight on June 25th.
1978
On March 18th a Rushden Railway Society brake van special (25270 with six brakevans) was worked Wellingborough - Kettering - Kettering Junction - Twywell Station Quarry - Kettering Junction - Kettering - Wellingborough and carried a 'Twywell Flyer' headboard.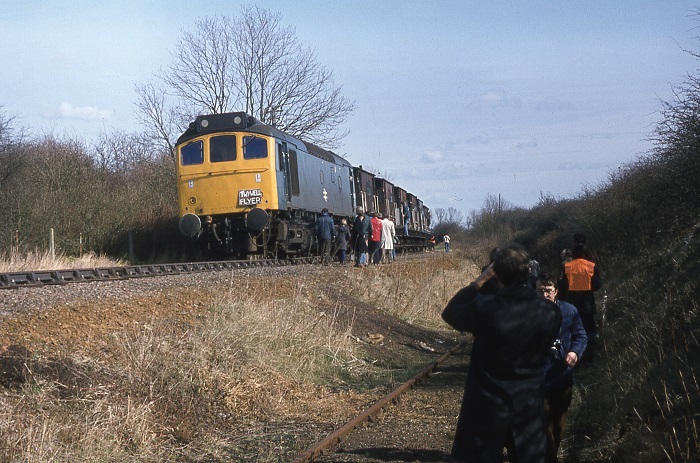 Photograph collection of webmaster.
25270 and the 'Twywell Flyer" on March 18th 1978, somewhere between Kettering Junction and Twywell. Much of the trackbed of this line was utilised in the realignment and widening of the A14 trunk road.
A Nelson - Cheltenham Spa day excursion on May 20th was worked roundtrip Wolverhampton - Cheltenham Spa by 25270 & 25107.
Three busy days in August started on August 19th with 25270 & 25315 working the 09.19 Manchester Piccadilly - Yarmouth to Lincoln Central returning from there with the 09.15 Yarmouth - Manchester Piccadilly. The same locomotives worked Leicester - Skegness roundtrips on August 20th & 21st.
The 04.15 Shrewsbury - Aberystwyth and he return 10.07 Aberystwyth - Euston to Wolverhampton were worked by 25270 & 25259 on September 23rd.
On October 28th the 07.54 Norwich - Birmingham New Street failed at Peterborough behind 31182, the service was dragged at least as far as Leicester by 25270.
1979
25270 was stabled at Ayr on April 22nd. Midland based 25270 & 25278 headed north from Haverton Hill, Teeside on April 26th with the 6S41 bound for Grangemouth!
25270 was noted eastbound at Beeston with a twelve coach parcels train on May 19th. On May 26th 25270 worked the 07.30 Nottingham - Llandudno Town as far as Derby, being replaced by 25277. 25270 & 25135 worked a roundtrip Derby - Skegness on May 30th.
The 05.35 Cardiff - Crewe was worked by 25270 on June 9th. 25252 & 25270 worked the 08.00 Walsall - Yarmouth to Norwich and the return 14.15 Yarmouth - Derby from Norwich on June 16th. The next day (17th) the same pair worked a roundtrip Leicester - Skegness service.
25270 was the Manchester Victoria pilot on July 12th. A Coventry - Blaenau Ffestiniog day excursion was worked between Crewe & Llandudno Junction by 25270 & 25286 on July 16th.
25134 & 25270 were noted on the Market Harborough - Northampton line with a lengthy train of mineral wagons on August 6th, possibly a Draycott - Wolverton Old Yard sand train. The next day, August 7th the same locomotives worked a Birmingham New Street - Plymouth service as far as Bristol Temple Meads, then returning north from Bristol with a Plymouth - Liverpool service, working through to the destination, 270 miles of haulage, the highest recorded one day mileage for 25270.
On August 12th 25270 & 25280 worked a relief roundtrip Nottingham - Skegness service.
The 10.10 Euston - Aberystwyth from Birmingham New Street and the return 16.10 Aberystwyth - Shrewsbury were worked by 25270 & 25325 on September 22nd.
The late morning Banbury pick-up freight was noted at Oxford on October 25th with 25270.
An unusual pairing on the 18.29 Chesterton Junction – Ipswich continuous welded rail train on November 2nd was 25270 leading 40084.
25270 was noted at Birmingham New Street on December 24th hauling diesel multiple unit set TS410.
1980
25270 was the Manchester Victoria pilot on May 23rd & 24th.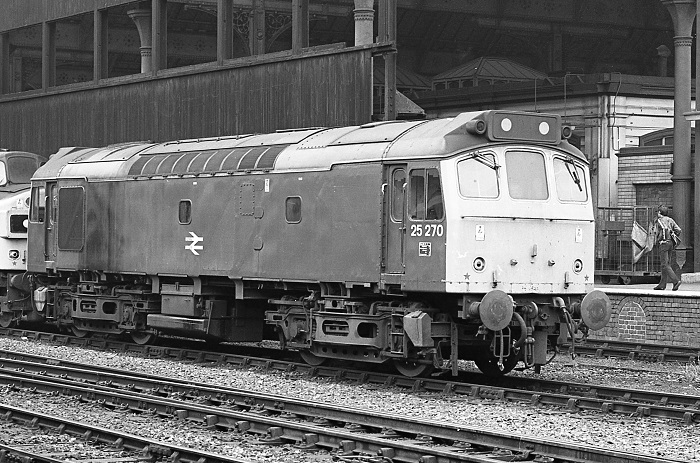 Photograph collection of webmaster
25270 at Manchester Victoria on May 24th 1980. Different style sandboxes are fitted to each bogie.
On June 24th the 19.41 Leicester - St. Pancras was hauled by 45107 & 25270.
25270 & 25267 worked the Derby - Norwich - Yarmouth - Norwich - Walsall diagram on July 5th. On July 19th the 08.02 Walsall - Yarmouth was worked to Norwich by 25270 & 25299, the return leg was worked by 31243. The Class 25s were later noted returning west on the 18.32 Norwich - Birmingham New Street.
On August 9th 25270 & 25214 worked the Derby - Norwich - Yarmouth - Norwich - Walsall diagram.
Gloucester Motor Parcel Van No. 55996 started on its last journey on August 13th behind 25270 from Allerton towards Crewe, with an ultimate destination of Snailwell for scrapping.
On August 16th the 07.35 Nottingham - Llandudno Town from Derby and the return 13.00 Llandudno Town - Nottingham was worked by 25270.
25270 was noted at Toton yard with a mixed freight on September 1st.
1981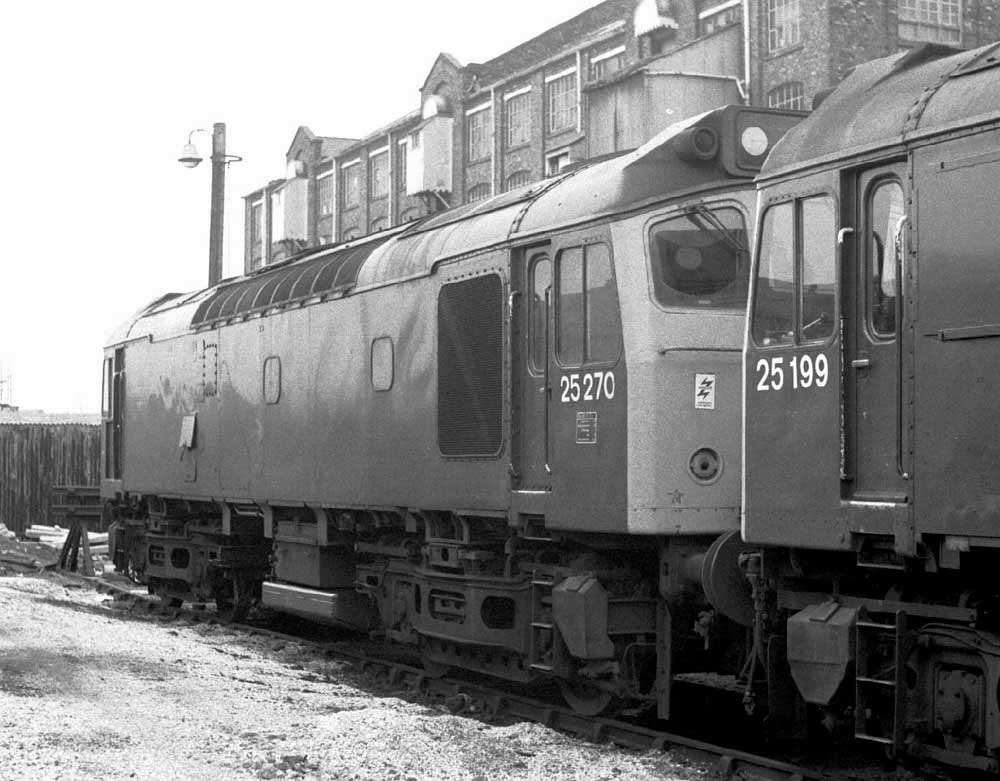 Photograph courtesy Tony Sayer
One result of the placement of the recess under the driver's cab window was to have the loco number positioned at the 'wrong end' when BR adopted the policy of one number per cab side. Seen here at Warrington on February 21st 1981, 25270 awaits its next turn of duty.
On March 1st 25270 was noted at Crewe station with an OHL wiring train.
25270 was noted propelling a weedkiller train through Lancaster Castle station on May 27th, a converted Gloucester driving trailer was leading the special. 25270 was later noted at Preston. On the afternoon of May 28th 25270 was noted at Guide Bridge on an eastbound cement.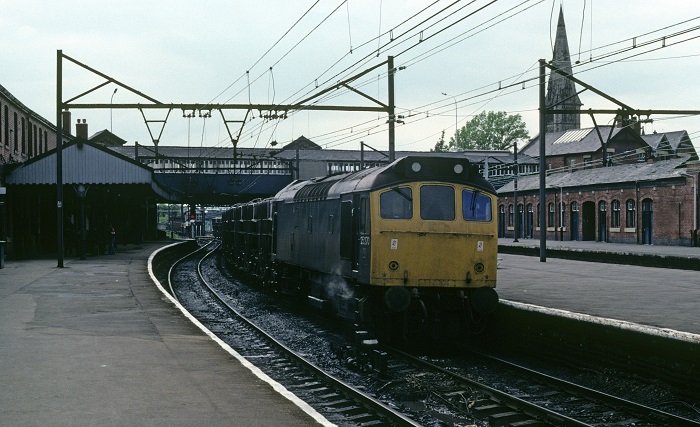 Photograph courtesy Roger Geach
25270 with a train of Presflos heads east through Guide Bridge on May 28th 1981.
25270 was noted at Crewe station on June 20th.
On July 29th a Derby - Aberystwyth day excursion was worked from Wolverhampton to Aberystwyth and back to Derby by 25270 & 25056. Three days later on August 1st the same locomotives worked the 08.35 Derby - Yarmouth to Norwich, returning from Norwich with the 14.20 Yarmouth - Derby.
On September 5th 25270 worked the 07.35 Nottingham - Llandudno Town, returning with the 13.26 Llandudno Town - Nottingham as far as Derby. On September 13th a Penzance - Bewdley day excursion was worked roundtrip Birmingham New Street - Bewdley by 25270 & 25276.
1982
25270 was noted at York depot on April 28th.
25270 was noted at Severn Tunnel Junction on May 8th.
Inspection saloon No.TDB999503 was noted behind 25270 at Northwich on June 15th.
On June 13th 25270 worked the 09.50 Manchester Victoria - Llandudno Town diverted via Wigan Wallgate (reversal) due to engineering works) and the 14.20 Llandudno Town - Manchester Victoria. The last passenger workings for 25270 took place on June 19th with 25304 working the 07.40 Euston - Aberystwyth from Wolverhampton, returning with the 14.00 Aberystwyth - Shrewsbury, but 25270 was removed at Machynlleth after becoming a failure.
25270 was withdrawn on November 28th 1982.
58/6080
flk 1216 (1)
Page added October 9th 2012.
Last updated February 19th 2020.