D7621, 7621, 25271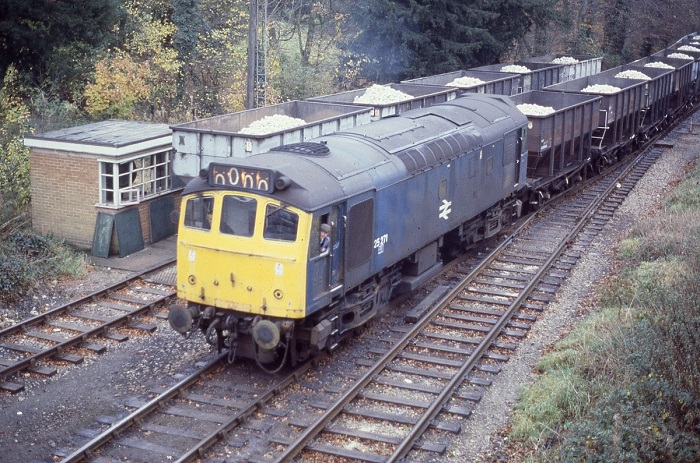 On the horribly dull afternoon of November 23rd 1978 25271 shunts its train into some sort of order by the weighbridge at Wirksworth.
The fifteen year career of D7621/25271 commenced with just under two years on the Scottish Region, followed by thirteen years allocated to London Midland Region depots.
Built: BR Derby Locomotive Works.
Tablet catcher recesses fitted (never removed).
Final exhaust roof panel: raised 'L' shape.
Time between last Classified repair and withdrawal: ?? months.
Time between withdrawal & scrapping: 11 months.
Allocations
D7621 was new to Eastfield (65A) on August 28th 1966. Further transfers were:
July 1968 to Preston Division (D10) on loan.
November 1968 to Nottingham Division (D16).
November 1970 to Birmingham Division (D02).
January 1971 to London Division (D01).
July 1971 to Birmingham Division (D02).
May 1973 to Bescot.
Withdrawn October 11th 1981.
Renumbered April 20th 1974.
25271 was the 115th Class 25 to be withdrawn, one of six retired during October 1981.
After withdrawal 25271 was stored at Crewe from October 1981 to February 1982. It was moved to Derby Works on February 19th 1982 and scrapped there towards the end of September 1982.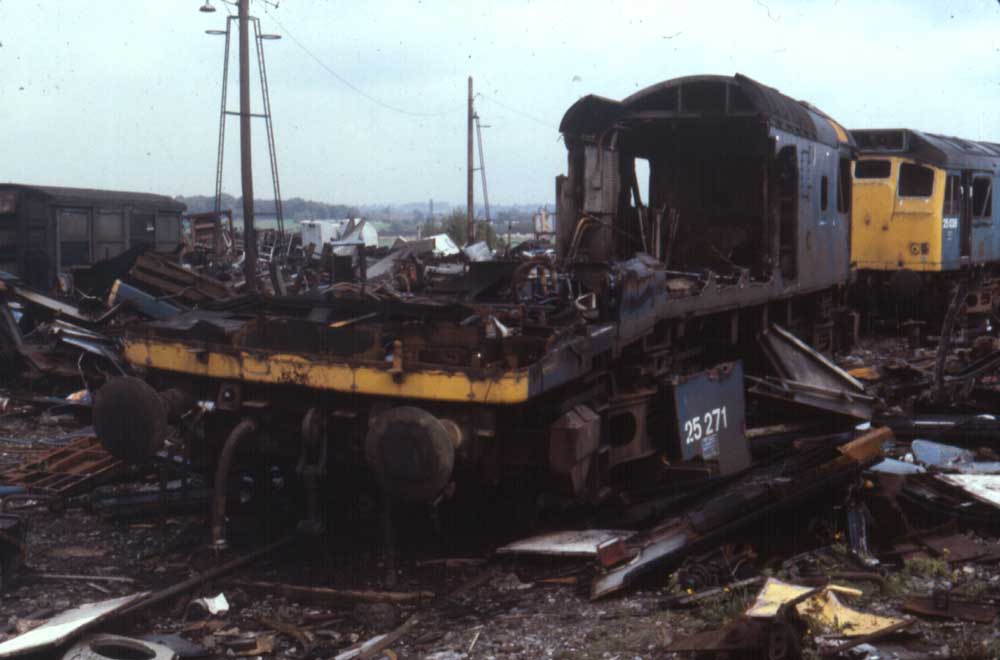 Photograph courtesy John Glynn
Two views of the scrapping of 25271 at Derby Works on September 29th 1982. The grounded van body to the left was the home of the men who scrapped any locomotives or other materials sent to the Spike.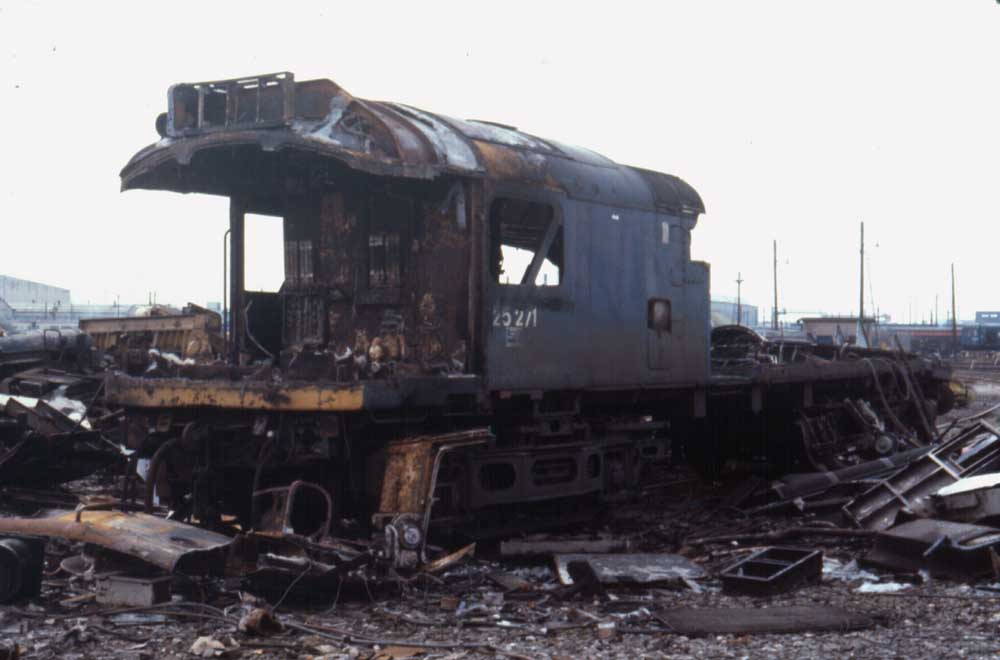 Photograph courtesy John Glynn
Another view of 25271 on September 29th 1982 in the final stages of scrapping. The cab front and driver's desk are in pieces on the ground in front of the locomotive.
Works Visits
Works visits (records incomplete).
Noted Crewe Works February 1975.
Highlights
1966
Although the Scottish Region had received a batch of brand new Class 24s for use on duties from Inverness depot, the Region had not, to date received any new Class 25s. However between April & September thirteen Class 25s were delivered from Derby Works to Eastfield (65A). These were the only Class 25s delivered with a cabside recess to accommodate tablet catcher equipment. Although based at Eastfield these Type 2's spent much of their time in South West Scotland alongside the BRCW Type 2s quickly sending many Ayr & Hurlford Crabs, Black Fives & BR Standards to the storage lines and additionally helped Dumfries lose its steam allocation effective April 30th. At the end of May Ayr placed seven steam locomotives into storage because of the Type 2s arrival. Additionally at this time, with the arrival of these Type 2s, the return of some re-engined NBL Type 2s to service and the transfer of more Claytons to Haymarket, the ScR were able to put the first of the Class 26s through Works for the fitting of slow speed control equipment & dual braking for use on MGR workings.
The last steam working out of Dumfries was an evening Carlisle - Glasgow parcels, beginning May 1st this became Type 2 hauled.
The 08.00 Heads of Ayr - Newcastle converted to Type 2 haulage this summer, the diesel going as far as Carlisle, then returning light engine to Ayr. Glasgow Fair Day, Monday July 18th brought out many extras as well as strengthened regular services to Ayr & Girvan. Fine weather boosted the number of day trippers, the evening return trips requiring seventeen extra services, powered by diesel multiple units, Type 1 & 2s, the locomotives freed up due to cancellation of the freights, steam was entirely absent from the workings.
Derby Works continued delivery of its batch of ScR Type 2s now arriving alongside Vulcan Foundry's newly built EE Type 1s and re-diagrammed Brush Type 4s. These new arrivals were finally able to make a serious headway in ousting steam from the Ayr & Stranraer lines. The Newcastle - Stranraer summer weekend services regularly produced a steam/diesel combination.
Finally added to the fleet was the last of the new ScR Class 25s from Derby, D7617 - D7623, although based at Eastfield, were used locally in the Ayr region. This transition from steam had gone smoothly, the careful use of diesel brake tenders allowing maximum use of the diesel fleet on the local coal workings. Steam was now banned south of Ayr due to the watering facilities being removed from Stranraer. With these arrivals twenty five diesels replaced forty five steam locomotives and from October 3rd Hurlford shed was closed completely.
1967
An interesting working that occasionally used the Type 2s was the Edinburgh - Prestwick Regent oil train, supplying fuel for the airport. The Glenburn Colliery branch was used requiring a run round at Falkland Junction. A weekend visit to the area on September 11th found all but two of this batch of Class 25s in the Ayr, Dumfries, Stranraer region.
1968
During the summer all the remaining batch (D7613 - D7623) left Eastfield for various LMR depots.
1969
On the morning of July 10th 7621 & 441 were light engines at Crewe.
1970
Condition April: two-tone green livery with small yellow warning panel, no blanking plates fitted, hand/footholds present, straight sided sandboxes, three-rung bogie mounted footsteps, number carried at 'wrong' end due to tablet catcher recess, buffer beam steam pipe fittings present.
1971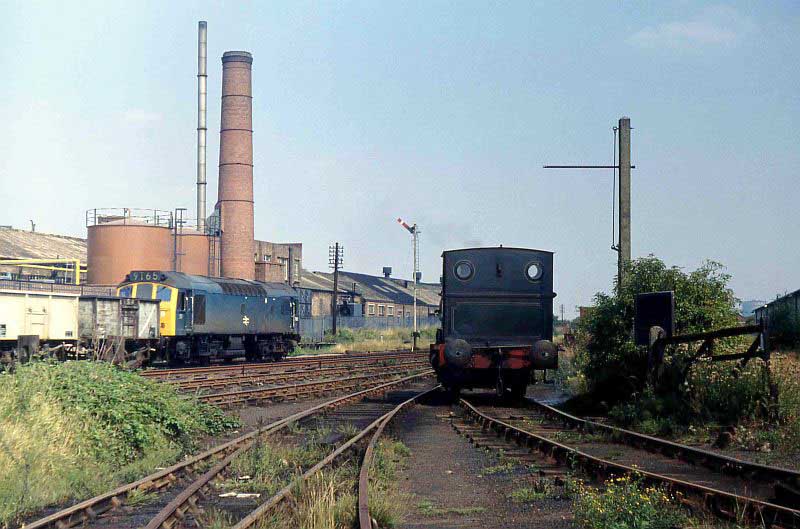 Photograph courtesy Ron Kosys
7621 heads east past Websters siding with a down coal train heading for Three Spires or Newdigate. The steam locomotive 'Rocket' (1926 Peckett 0-4-0ST No. 1726/26) was used on the Foleshill Railway which linked Courtaulds and Jacksons scrapyard with the mainline at Websters siding. The date is August 18th 1971.
1972
7621 was noted passing Manchester Victoria on March 17th about 7am with an up van train (5J41).
1973
On June 26th 5189 & 7621 worked the 12.49 Garston - Maidenhead throughout.
On July 8th a Wellingborough - Yarmouth day excursion was worked out & back (?) by 7621 & 7627.
On December 26th 7621 was light engine at Banbury.
1974
On the afternoon of May 27th 25271 and four Class 20s were northbound at Leamington Spa.
1976
On February 28th the Tyne - Kings Norton carflats was worked by 25271 & 25274.
1977
On June 12th the MLST 'Silver Jubilee North Wales Land Cruise' Kettering - Minffordd was worked by 25271 & 25168 out and return to Oakham, this tour was coordinated with a tour headed by 25036 & 25120. A week later on June 18th the 08.00 Walsall - Yarmouth to Norwich and the return 14.15 Yarmouth - Walsall from Norwich were worked by 25271 & 25260.
24073 & 25271 were noted at Bidston Dock on October 7th with an iron ore train.
1978
The 08.00 Walsall - Yarmouth to Norwich and the return 14.15 Yarmouth - Derby from Norwich on June 3rd were worked by 25271 & 25280.
The 10.40 Euston - Aberystwyth from Wolverhampton and the 16.10 Aberystwyth - Shrewsbury on August 5th were worked by 25271 & 25289.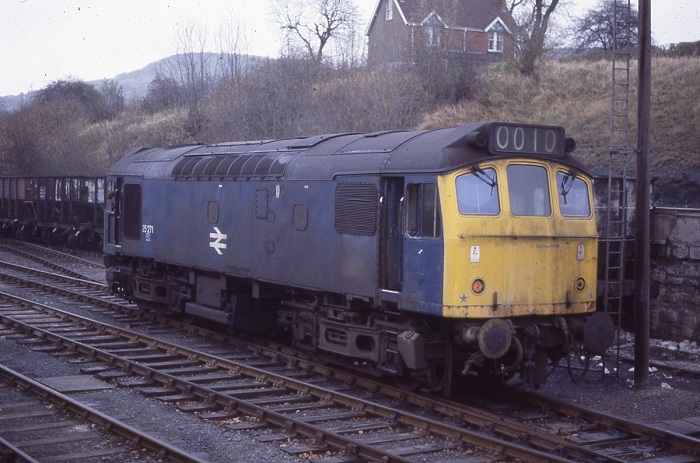 A second view from the afternoon of November 23rd 1978 finds 25271 moving down the yard. The No.2 cab has had the center lampbracket and other fittings removed, they were retained on the No.1 cab.
1979
On March 2nd 25271 was stabled at Wolverhampton.
On June 10th 25271 was noted at Stourbridge Junction along with 25143 & 25187.
On June 25th the 09.50 Bristol Temple Meads - Newcastle was noted through Darlington behind 25271.
The 08.45 Birmingham New Street - Barmouth and the 17.45 Barmouth - Euston to Wolverhampton on August 5th were worked by 25271 & 25253.
25271 was stabled at Darlington depot on November 17th.
On the morning of November 19th 25271 was stabled at York.
1980
25271 was noted passing through Bromley Cross (Bolton) station towing a dead diesel multiple unit on March 18th.
On the afternoon of July 18th 25271 was noted in Bescot yard.
On August 23rd the 07.40 Euston - Aberystwyth from Wolverhampton and the 17.55 Aberystwyth - Wolverhampton were worked by 25271 & 25275. On August 30th 25271 was noted at Leicester.
25271 was noted at Stourbridge Junction on September 6th. On September 20th the 08.02 Walsall - Yarmouth to Norwich and the return 14.30 Yarmouth - Walsall from Norwich were worked by 25271 & 25285.
On the morning of December 15th 25271 was noted at Rugby.
1981
On the afternoon of March 3rd 25271 was noted at Miles Platting with a short permanent way train.
On the evening of March 9th 25271 worked the 4E17 Manchester Victoria - Leeds PCD.
On the morning of May 8th 25271 was noted at Bescot. On May 23rd the 10.10 Euston - Aberystwyth from Birmingham New Street and the 18.00 (?) Aberystwyth - Wolverhampton were hauled by 25271 & 25056. A week later (29th) the 11.30 Bangor - Manchester Victoria was worked forward from Chester after 40027 failed and was removed.
On the afternoon of June 1st 25271 was noted down light engine at Crewe.
25271 was stabled at Saltley depot on July 4th.
The 13.26 Llandudno Town - Nottingham on July 11th with 25126 failed at Derby, 25271 took the service forward to Nottingham.
On August 5th the 12.40 Glasgow Central - Carlisle was worked by 25271 & 25279. A diesel multiple unit failure on August 21st saw 25271 work the 16.35 Derby - Crewe.
Possibly 25271's last passenger workings took place on a sunny September 5th joining with 25221 to work the 08.40 Manchester Victoria - Scarborough and the return 13.00 Scarborough - Manchester Victoria.
25271 was stabled at Crewe Diesel depot on October 4th.
25271 was withdrawn on October 11th 1981.
23/3180
flk 0117 (1)
Not all known passenger workings are recorded on this page.
Page added October 9th 2012.
Last updated May 12th 2023.
Back to 25270
Forward to 25272