D7623, 7623, 25273
Bescot based 25273 shunts Pensnett freight terminal on July 11th 1980. The four grey coloured coke wagons in the siding to the right are a modification to the standard 20 ton coke hopper. About sixty wagons were converted to handle the dedicated foundry coke traffic from the NCB coke works at Coed Ely, Cwm & Natgarw to Pensnett. These hoppers had modified discharge arrangements.
The fourteen year five month career of D7623/25273 started out on the Scottish Region before moving to the London Midland Region for the remainder of its career (including over ten years continuously at Birmingham area depots).
Built: Derby Locomotive Works.
Tablet catcher recess fitted (never removed).
Final exhaust roof panel: raised, square.
Allocations
D7623 was new to Eastfield (65A) on September 8th 1966. Further transfers were:
July 1968 to Preston Division (D10) on loan.
November 1968 to Nottingham Division (D16).
November 1970 to Birmingham Division (D02).
May 1973 to Bescot.
February 1st 1981 - withdrawn.
Renumbered March 30th 1974.
25273 was the 95th Class 25 withdrawn, one of twelve retired during February 1981.
After almost eight years allocated to Bescot 25273 was retired and moved with 08294 to Swindon Works on March 23rd 1981. By the first week of April 1982 25273 had been broken up at Swindon Works.
Works Visits
Works visits (records incomplete).
Noted Derby Works March 1967.
Noted Crewe Works June 1975.
Noted Derby Works September 1978 (collision damage).
Noted Derby Works February 1980, N1 repair.
Highlights
1966
Delivered as D7623 to Eastfield (65A) in October this locomotive almost became the last Class 25 to be built at Derby Locomotive Works. The last batch of Class 25s (7624 - 7677) were to be built by Beyer Peacock, Manchester, however the worsening financial situation at BP saw the last eighteen machines 'return' to Derby for construction. D7623 was the last of a batch (D7611 - D7623) delivered to the Scottish Region, the only Class 25s delivered brand new to the Scottish Region, and the only Class 25s equipped with a cabside recess for the fitting of tablet catcher equipment.
Although based at Eastfield these Type 2s spent much of their time in South West Scotland alongside the BRCW Type 2s quickly sending many Ayr & Hurlford's Crabs, Black Fives & BR Standards to the storage lines and additionally helped Dumfries lose its steam allocation effective April 30th. At the end of May Ayr placed seven steam locomotives into storage because of the Type 2s arrival. Additionally at this time, with the arrival of these Type 2s, the return of some re-engined NBL Type 2s to service and the tranfer of more Claytons to Haymarket, the Scottish Region were able to put the first of the Class 26s through Works for the fitting of slow speed control equipment & dual braking for use on merry-go-round workings.
1967
Whilst working a Muirkirk - Ayr coal train on or about January 30th, D7623 ran away with its train and left the track near Auchinleck. The locomotive became derailed all wheels and ended up resting against the shallow cutting side, with many of the loaded coal wagons also derailed. The locomotive escaped serious damage and by March had reached Derby locomotive Works for repairs.
1968
On the afternoon of March 23rd D7623 & D5054 were northbound at Dumfries with a parcels train which included a Beaver Tail observation car.
After almost two years on the Scottish Region 7619 - 7623 were transferred to the Preston Division (D10) in July, by November 7616 - 7623 had moved on to the Nottingham Division (D16).
1969
On the afternoon of February 8th 7657 & 7623 were stabled at Derby.
On the morning of September 30th 319, 403 & 7623 were light engines at Crewe.
1970
Stabled at Bescot at mid-day on April 12th were 7523, 7603, 7609, 7623 & 7628.
On the morning of November 7th 7623 was noted at Wolverhampton HL.
1972
7623 was noted through High Wycombe on June 16th bound for Ruislip with new Northern Line underground stock.
1973
On May 26th a Paddington - Aberystwyth excursion was worked roundtrip Wolverhampton - Aberystwyth by 7623 & 7534.
1974
On the morning of January 8th 7623 was stabled at Peterborough.
On August 3rd the 09.30 Glasgow Central - Nottingham relief was noted between Sheffield & Nottingham behind 25273 & 25126, possibly the locomotive change emanating from Leeds. At month-end, August 31st, the 08.00 Walsall - Yarmouth, to Norwich and the return 14.15 Yarmouth - Derby from Norwich were hauled by 25273 & 25210.
On September 14th a Weston-super-Mare – Aberystwyth excursion utilised 25273 & 25040 west of Shrewsbury. The latter machine, already smoking badly, was later declared a failure after arrival at Aberystwyth. Fortunately on the return trip 25273 was upto the challenge and reached Shrewsbury without assistance, the excursionists eventually reaching home ahead of schedule. On September 28th the 08.00 Walsall - Norwich and the 15.18 Norwich - Walsall were worked by 25273 & 25187.
1975
25273 worked the 7E77 Nottingham - Lincoln on January 14th.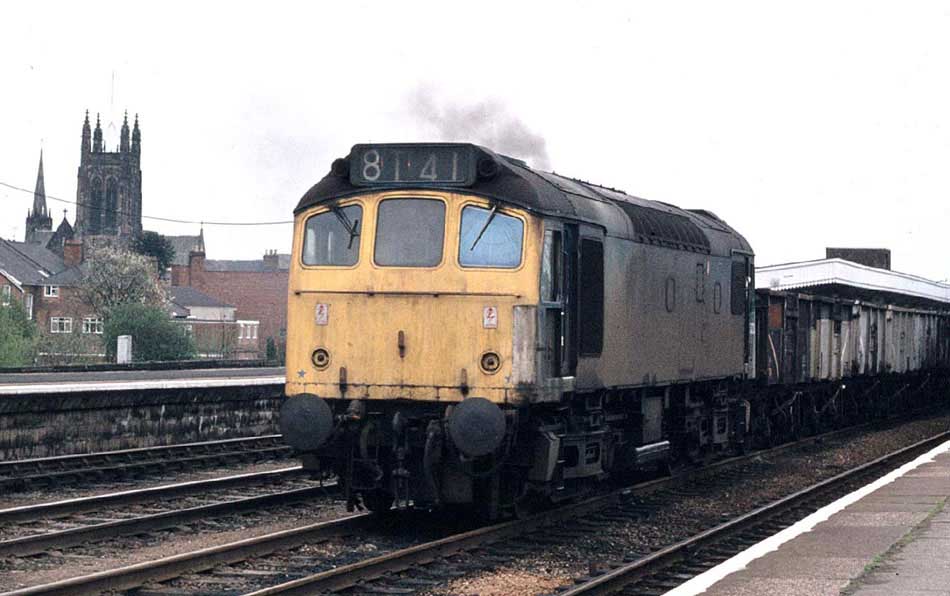 Photograph courtesy Tony Sayer.
A work stained 25273 passes through Leamington on April 24th 1975.
During June 25273 visited Crewe Works for repair.
The 08.00 Walsall - Yarmouth to Norwich and the return 14.15 Yarmouth - Derby from Norwich were worked by 25273 & 25107 on September 27th.
1976
On May 5th 25273 worked the 16.15 Birmingham - Norwich as far as March, it was replaced here by 31209.
1977
On the afternoon of May 26th 25273 was the Camp Hill banker.
On the afternoon of June 11th 25273 was stabled at Saltley.
On the afternoon of November 13th 25273 & 25245 were at Stourbridge Junction.
1978
On June 3rd the 04.15 Shrewsbury - Aberystwyth and the 10.07 Aberystwyth - Euston to Wolverhampton were worked by 25273 & 25188.
A visit was made to Derby during September to repair accident damage.
1979
The 13.40 Bangor - Crewe relief was worked by 25273 on April 17th.
On June 2nd 25273 worked the 12.36 Birmingham New Street - Norwich.
The forty one locomotives stabled at Saltley at 11am on June 10th included 25038, 25124, 25131, 25268, 25273 & 25279.
On the afternoon of June 27th 25273 was noted at Oxford with an Up freight.
On July 21st the 04.15 Shrewsbury - Aberystwyth and the 10.09 Aberystwyth - Euston to Wolverhampton were worked by 25273 & 25275.
Possibly the last known passenger working for 25273 took place on August 26th working a roundtrip Melton Mowbray - Barmouth with 25298 for a total of 368 passenger miles.
Class 25s stabled at Bescot on the morning of November 10th were 25038, 25122, 25124, 25263 & 25273.
1980
Power unit repairs were carried out at Derby during February.
1981
25273 was withdrawn on February 1st 1981.
16/2512
flk 0915 (1)
Page last updated September 18th 2015.
Last updated May 12th 2023.
Back to 25272
Forward to 25274