D7634, 7634, 25284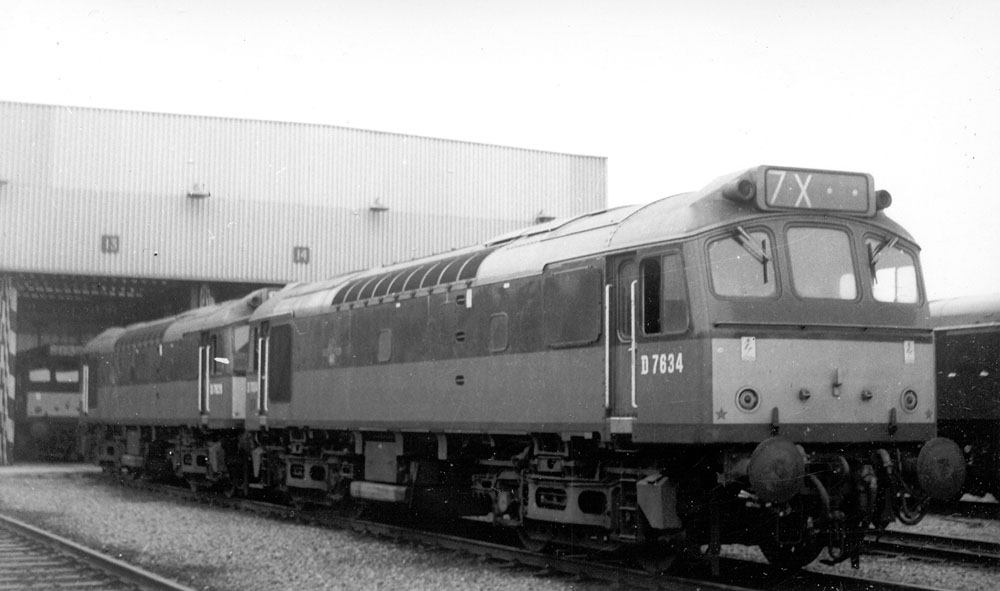 Photograph collection of webmaster
Although this view is not dated it is presumably taken during 1966, when D7634 was allocated new to Tinsley during April, and the paint still appears remarkably fresh in this view. No doubt it would have arrived at Toton on an inter-regional freight most likely from the Sheffield area.
After two years allocated to Eastern Region depots and a brief spell at Tinsley in 1973 the remainder of D7634/25284's career was spent allocated to a variety of northern London Midland depots.
Built: Beyer Peacock Ltd, Manchester (Works No. 8044).
Dual brake equipped.
Time between last Classified repair and withdrawal: 79 months.
Time between withdrawal and scrapping: 21 months.
Allocations
D7634 was new to Tinsley (41A) on October 19th 1965. Further transfers were:
April 1966 to Wath (41C).
October 1967 to Springs Branch (8F).
June 1968 to Liverpool Division (D08).
May 1973 to Springs Branch.
August 1973 to Tinsley.
October 1973 to Springs Branch.
October 1982 to Crewe.
Withdrawn January 21st 1985.
Renumbered October 20th 1973.
25284 was the 231st Class 25 withdrawn, one of five retired during January 1985.
After withdrawal 25284 was stored at Crewe until moved to Swindon Works with 25251 & 25327 between March 26th & April 2nd 1985 and scrapped there by the first week of November 1986. The cabs were taken to Vic Berry's, Leicester, being finally disposed of by September 1987.
Works Visits
Works visits (records incomplete).
Noted Derby Works November 1965 (Collision repairs).
Noted Crewe Works July & August 1969.
Noted Derby Works June 1978 (Classified).
Highlights
1967
Like many of the Class 25s initially allocated to Tinsley, the first recorded passenger workings for D7634/25284 involved the summer dated Sheffield - Llandudno Town round trips, on August 12th 1967 D7634 was so noted. D7634 was also noted on this working on August 26th 1967, doubleheading with D7636.
1970
Assuming the locomotives worked throughout, June 6th saw 7634 & 5201 work a Gourock - York SAGA special return leg. A lengthy run occurred on August 15th 1970 with 7634 & 7671 in charge of a relief Blackpool North - Glasgow Central throughout.
1972
7634 was the Manchester Victoria banker (T43) on February 24th.
At about 6pm on June 6th 7634 was noted passing Manchester Exchange on a down van train.
1973
7634 was the Manchester Victoria banker (T43) on January 31st.
At about 5.15pm on March 7th 7634 was noted passing Newton le Willows on a down freight. 25284 was noted at Healey Mills on the morning of March 15th.
7634 was noted at Preston on May 25th in two-tone green livery with full yellow ends.
1975
At about 7am on January 20th 25284 was noted passing Manchester Victoria on an up van train (5J83).
1976
A Grassington - Hull Tilcon stone train was noted at Castleford behind 25284 & 25308 late on the afternoon of April 2nd.
25284 was noted at Edge Hill on empty coaching stock duty on July 3rd.
The 11.05 Cardiff - Taunton produced 25284 on September 2nd.
On November 8th the signalman controlling the Low Moor signal box had an amazing escape following the demolition of the box by a number of vehicles derailing from the 7A09 Carlisle - Willesden freight. The Kingmoor and Wigan cranes were brought in by 40137 & 25284 to assist with clearing the lines.
1977
A lengthy run over the Western Region took place on July 23rd when 25284 & 25250 worked the 12.20 Birmingham New Street - Newquay as far as Plymouth, a run of 218 miles.
25284 & 25317 and two brakevans were noted passing Upton on the afternoon of September 21st headed for Birkenhead.
1978
On August 10th 1978 25284 worked the 09.20 Lancaster - Barrow and the 11.04 Barrow - Crewe. A month later on September 12th 25284 handled the 07.47 Manchester Victoria - Bangor and the 11.30 return.
1979
February 11th saw 25284 acting as one of the Crewe Works pilots, presumably caused by a missing Class 08.
On April 11th 25284 & 25324 worked the Mountsorrel - Kennett stone train.
On the morning of May 19th 25284 was noted at Hartford on a permanent way train.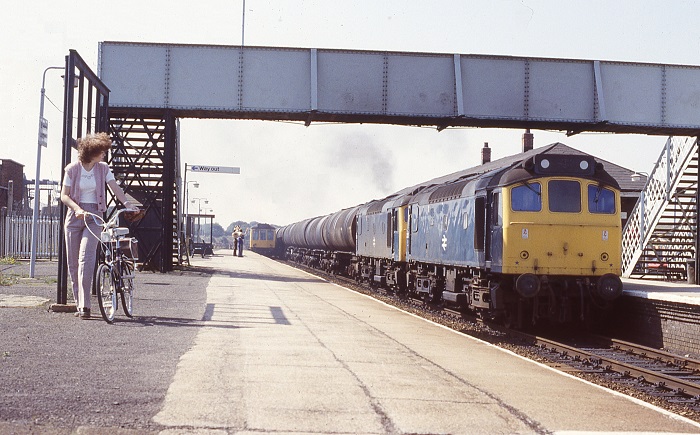 Photograph courtesy Barrie Watkins
Its a glorious summers day, August 28th 1979 at St Helens Junction station as 25284 & 25297 start to throttle up as the end of the train clears the curve. In the distance a DMU pulls away as a lady passenger with her bike look back to find out what is making all the noise in the far platform. Pretty soon the empty oil train will have rumbled off into the distance, the diesel multiple unit will be well on its way to its next stop and quiet will return to St Helens Junction.
December 12th was a poor day for Class 25 reliability in the Northampton area. A Tring Cutting – Dam Mill merry-go-round train which went forward from Northampton with 25285, after 25254 had been cut off here, got no further than Althorp before expiring. 25284 pushed the train to Rugby, ran round and took the train and 25285 on to its destination.
1980
On the morning of March 29th 25284 was noted at Earlestown with an up van train.
On June 22nd 25284 was noted at Mickle Trafford with a permanent way tain.
A Blackpool North - Motherwell relief on August 2nd 1980 was worked by 25284 to Preston.
25284 received an 'E' examination at Springs Branch during October.
25284 was the Manchester Victoria pilot on December 14th.
1981
25284 was stabled at Skipton on June 21st.
25284 was the Manchester Victoria pilot on July 20th.
A rescue job on September 2nd saw 25284 & 25308 work the 15.11 St. Pancras - Nottingham from Leicester after 45117 failed and was removed. On September 15th 25284 & 25285 worked an extra Eastleigh - Warrington freight forward from Banbury, having replaced 73109. A visit to the Cambrian line was made on September 19th with 25284 & 25285 working the 10.10 Euston - Aberystwyth from Birmingham New Street, returning with the 18.00 Aberystwyth - Wolverhampton.
On a snowy Christmas Day 25284 & 25289 were stabled at Carnforth, Furness sidings.
1982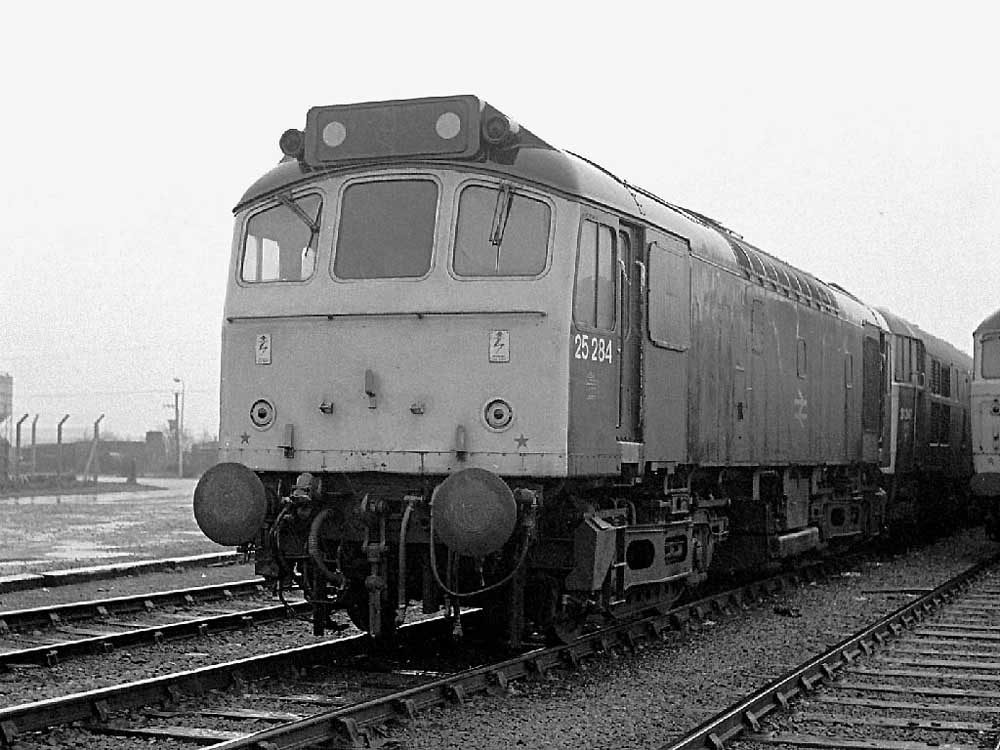 Photograph courtesy Tony Sayer
The rain is certainly coming down here on 25284 at March on January 2nd 1982.
25284 was stabled at March depot on a misty January 2nd.
25284 was stabled at Tinsley depot on January 17th.
25284 was stabled at Birkenhead Mollington Street on November 13th.
1983
25284 was stabled at Coventry station on January 28th.
March 18th proved to be a sorry day for the Hereford area with two failed Class 25s dumped at the stabling point. 25240 had expired on the 15.02 Manchester - Bristol parcels, being rescued by 25284, whilst 25279 came to grief on the 19.08 Manchester – Cardiff parcels.
1983 produced a small mix of workings, starting off on April 2nd with the 07.45 Manchester Victoria - Bangor from Prestatyn to Llandudno Junction (train terminated here) after 47492 failed. The return working, 11.49 Bangor - Manchester Victoria started from Llandudno Junction with 25284 as far as Chester where 40177 was added because the new driver was not familiar with the Class 25. 25282 & 25284 were stabled at Guide Bridge on April 24th.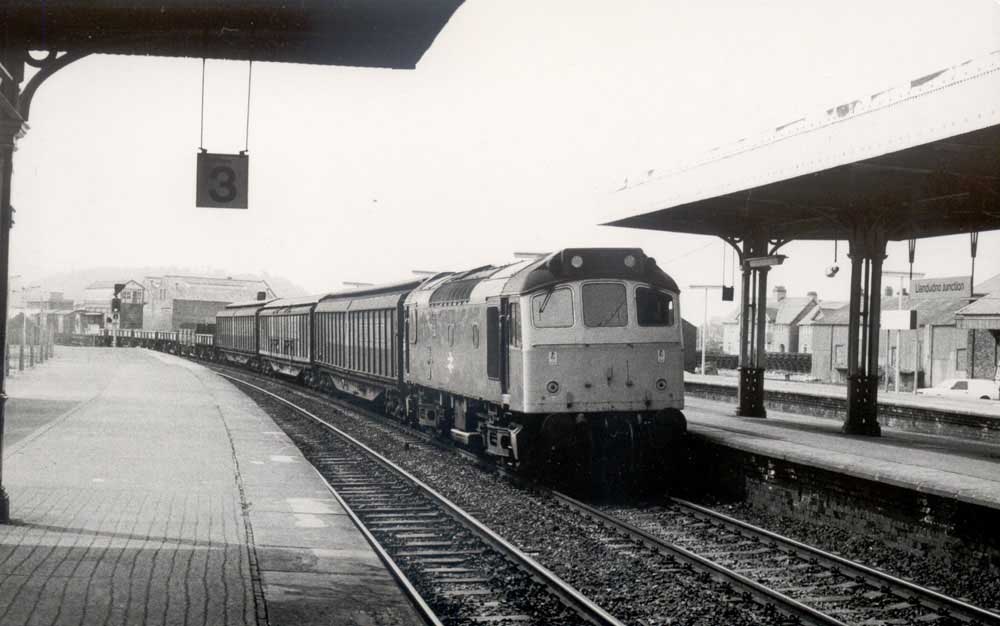 Photograph collection of webmaster
25284 hurries through Llandudno Junction station with a Speedlink freight on May 20th 1983.
The 8F21 Oakamoor - St Helens sand train was worked by 25284 and an unidentified Class 25 on June 10th.
August 11th saw 25284 work the 16.20 Glasgow Central - Liverpool forward from Preston. Two days later (13th) 25284 returned to the Cambrian line with 25276 to work the 07.35 Euston - Aberystwyth from Wolverhampton, returning with the 14.00 Aberystwyth - Wolverhampton. 25284 was noted with a short southbound freight train at Golbourne on August 30th.
The 16.06 Crewe - Cardiff on September 21st was worked from Shrewsbury by 25284 after 33014 failed and was dragged.
Finally for 1983 on November 24th 25284 worked the 06.45 Derby - Leicester and 07.48 Leicester - Leeds to Nottingham.
25284 was stabled at Cockshute on December 31st.
1984
The passenger workings started early in 1984, on January 13th 25284 worked the 08.40 Carlisle - Glasgow Central. The next day (14th) 25284 & 25278 were noted at Carlisle station with a parcels train, the same pair were still in the Carlisle area on January 18th.
A diesel multiple unit failure on March 15th found 25284 working the 16.24 Leicester - Birmingham New Street and the 18.00 Birmingham New Street - Derby. On March 28th 25284 dragged 40126 by itself to Doncaster Works for scrapping. British Rail were well aware of the involvement of D326 in the Great Train Robbery, presumably trying to avoid souvenier seekers from removing items prior to its scrapping. On March 30th 25284 was noted passing Radlett (northbound?) with three Research Department vehicles.
25284 was noted southbound passing Springs Branch depot on April 26th with a short freight of three ICI tank wagons.
On May 14th five Class 25s including 25284 were on permanent way duties at Chester. The six vehicle 06.45 Severn Tunnel Junction - Mossend freight was noted passing Cwmbran with 25284 on May 25th. The next day (26th) 25284 was stabled at Newton Heath.
On June 4th 25284 was noted at Preston on a permanent way train. 25284's last passenger visit to the Cambrian line took place on June 23rd with 25284 & 25249 working the 07.44 Shrewsbury - Aberystwyth and the 10.10 Aberystwyth - Euston to Wolverhampton.
25189 & 25284 were noted westbound at Peak Forest with a westbound train of loaded ICI hoppers on July 15th. The remainder of 25284's passenger workings all have a north west flavour. A diesel multiple unit failure on July 24th saw 25284 assist the 11.48 Manchester Victoria - Liverpool forward from Earlstown.
On August 10th the 16.20 Glasgow Central - Liverpool was worked forward from Preston by 25284. A relief 12.51 Blackpool North - Euston on August 31st was worked to Preston by 25284, later working the 19.35 Blackpool North - Manchester Victoria.
On September 19th 25259 & 25284 worked a loaded Oakamoor -St Helens snd train.
The final recorded passenger working for 25284 took place on October 27th with the 18.20 Glasgow Central - Manchester Victoria being worked forward from Preston.
On November 4th three Class 25s were present at Severn Tunnel Jct, their booked workings being 25058 to Bescot, 25284 - Gloucester and 25322 - Mossend.
1985
On January 9th 25284 & 25315 worked the 7M50 Bishopbriggs - Stanlow empty oil tanks.
25284 was withdrawn on January 21st 1985.
Distinguishing Features.
No.1 cab driver's side, side window: unpainted window frame: July 1981 - March 1984.
No.1 cab driver's side corner: at least one dent with missing paint, at number height: January 1982 - January 1984.
Not all known passenger workings are recorded on this page.
36/2671
flk 0317 (1)
Page added June 29th 2013.
Last updated October 23rd 2020.
Back to 25283
Forward to 25285