D7635, 7635, 25285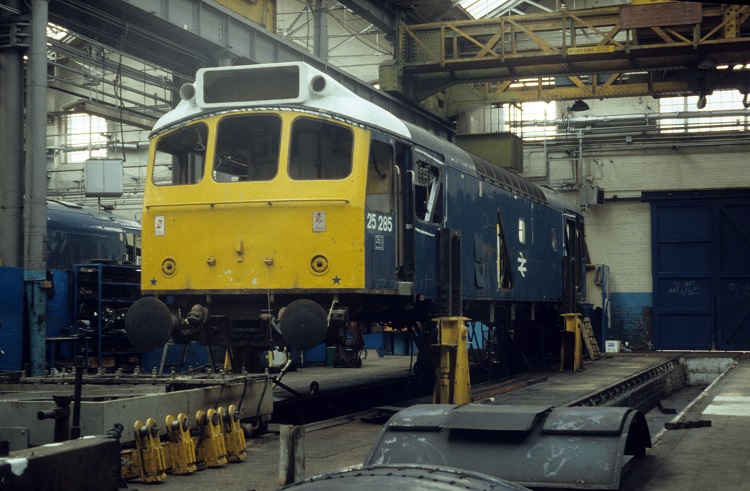 Photograph courtesy Roger Geach

25285 under repair at Derby Works during October 1979.

The twenty year four month career of D7635/25285 included allocations to Eastern Region & London Midland Region depots.

Built: Beyer Peacock Gorton Ltd, Works No.8045.
Dual brake equipped.
Time between last Classified repair and withdrawal: 76 months.
Time between withdrawal & scrapping: 18 months.

Allocations

D7635 was new to Tinsley on November 5th 1965. Further transfers were:

April 1966 to Wath (41C).
October 1967 to Springs Branch (8F).
June 1968 to Liverpool Division (D08).
January 1970 to Preston Division (D10).
June 1970 to London Division (D01).
May 1971 to Liverpool Divison (D08).
May 1973 to Springs Branch.
October 1982 to Crewe.
Withdrawn March 17th 1986.

Renumbered April 20th 1974.

25285 was the 277th Class 25 withdrawn, one of six retired during March 1986.

After withdrawal 25285 was stored at Crewe Depot until March 1987 when it moved to Gresty Lane and then Basford Hall. On July 16th 1987 25285 was moved (see details below) to Leicester Humberstone Road, reaching Vic Berry's yard by July 24th 1987. By the first week of October 1987 25285 had been scrapped.

25042, 25052, 25285, 25910 Crewe – Vic Berry, Leicester July 16th -24th, 1987

Works Visits

Works visits (records incomplete).

Noted Crewe Works September 1968.
Noted Derby Works September - November 1969 (dual brake equipment fitted?).
Noted Derby Works September & October 1972 (collision damage).
Noted Derby Works April & May 1974.
Noted Derby Works September - November 1979 (general repair).
Noted Derby Works June 1980 (N6 repairs).

Highlights

1966
On the morning of April 17th stabled at York were D5111, D5178, D7513, D7635 with 48219, 61303, 61337 & 90016 also present.

1967
The first recorded passenger working took place on September 2nd 1967 with D7635 working the roundtrip summer dated Sheffield - Llandudno Town. The next recorded passenger working would not take place until 1972.

D7635 was the the Manchester Central pilot on October 15th.

1968
On the afternoon of April 3rd D7635 was southbound at Crewe with a freight.

On the morning of July 27th D7635 was at Springs Branch.

On the morning of September 28th 7635 was southbound at Hartford with a freight.

1969
On the afternoon of August 18th 7635 was light engine at Crewe.

1970
An exhibition held at Carlisle Citadel station on May 15th & 16th featured a four coach exhibition train, passenger stock, locomotives 7635, E3044 and A4 4-6-2 4498 Sir Nigel Gresley in light steam. Model railway displays, enthusiasts stalls and the LMR's Collector's Corner were also present.

1971
On the morning of May 8th 7635 was noted at Stockport.

1972
7635 was on empty coaching stock duty at Liverpool Lime Street on June 5th & 6th. On June 13th D7635 propelled the failed diesel multiple unit working a Manchester Victoria - Llandudno Town service.

On August 3rd services north of Crewe were seriously disrupted when 7636 & 7635 became derailed near Winsford station after running through catch points whilst hauling the 6M55 15.22 West Thurrock - Corkickle freight (eight 100 ton empty tanks). An overhead gantry was hit, the lead locomotive nearly falling into a country lane. The crew fortunately escaped with only minor injuries. By August 16th green liveried 7635 had reached Derby Works for repairs - the No.1 cab was seriously damaged.

The Derby Locomotive Works snagsheet dated November 3rd for Class 46 No.192 included the comment that 7635 had been cleared.

On the evening of November 27th 7635 was light engine at York.

1974
7635 was the Manchester Victoria banker (T42) on January 8th.

On October 2nd 25285 was stabled at Peterborough.

1975
25285 was the Manchester Victoria banker (T42) on March 12th.

On the afternoon of March 20th 25285 was stabled at York.

On April 4th the 17.26 St. Pancras - Derby was worked by 25285 & 25037.

On July 29th 25285 worked the 05.07 Leeds City - Manchester Victoria vans (4M03).

On August 30th the 18.55 Birmingham New Street - Liverpool was worked at least to Stafford (via Cannock) by 25285 & 25319.

On the morning of December 11th 25285 was with a van train at York, it later was stabled at York depot.

1977
During the late evening hours of April 29th 25285 & 25296 worked the Tilcon Hull - Rylestone empties, passing Hunslet at 01.20am, Skipton 02.45 where the locomotives ran round and collected the token from Skipton box for the run to Rylestone, arriving 03.50am. By 06.50am the thirty wagons had been loaded (1,275 tons) for the run to Hull, passing Skipton at 08.10am and Holbeck at 09.25am.

On the early morning of September 9th 25285 & 25300 were stabled at Holbeck.

On the afternoon of September 27th 25276 & 25285 were stabled at Holbeck.

On the morning of October 31st 25285 was stabled at York.

1978
On a wet, overcast August 5th 1978 25285 & 25312 worked the Derby - Norwich - Yarmouth - Norwich - Walsall passenger diagram.

On November 5th 25285 was stabled at Warrington Arpley.

1979
Parts of January & February proved to be snowy months. On February 16th 25285 & 25172 with two snowploughs departed Carlisle for the Settle & Carlisle line. They were heavily engaged between Appleby and Blea Moor, during the day they returned to Appleby for a crew exchange, the fresh crew having arrived with a Class 25, which then took the other first crew back to Carlisle.

On the morning of June 5th 25285 was stabled at York.

December 12th was a poor day for Class 25 reliability in the Northampton area. A Tring Cutting – Dam Mill merry-go-round train which went forward from Northampton with 25285, after 25254 had been cut off here, got no further than Althorp before expiring. 25284 pushed the train to Rugby, ran round and took the train and 25285 on to its destination.

1979 has so far identified only one passenger working, on December 13th the 15.15 Plymouth - Manchester Piccadilly was worked between Gloucester & Birmingham New Street by 25285.

1980
A sombre duty on March 26th was the removal of four withdrawn Merseyrail electric multiple unit cars (M29545/54/79/81) from Dee Marsh to Moreton on Lugg by 25285.

Just before noon on May 12th light engines 86016 & 83001 brought down the overhead wires between Allerton & Speke junctions. An unidentified Class 25 was used to haul two passenger services through the de-energised section whilst later in the day 86219 working the 13.05 Liverpool - Euston suffered damage to a pantograph, being removed at Ditton by 25285 whilst working a Fazakerley - Wigan freight, 40129 took the passenger train forward to Crewe.

On August 14th 25285 was noted at Oakleigh Sidings with a The Fisons weedkiller train.

September produced the only two recorded passenger workings for 1980. On September 13th the 07.40 Euston - Aberystwyth from Wolverhampton and the 17.55 Aberystwyth - Wolverhampton were worked by 25285 & 25325. A week later on September 20th 25285 & 25271 worked the 08.02 Walsall - Yarmouth to Norwich returning from there with the 14.30 Yarmouth - Walsall.

On November 26th 25285, 31151 & 47409 were noted at York in the morning and also noted (later?) passing Newark with a damaged 31151 and 47409.

1981
On the evening of March 4th 25113 & 25285 were stabled at Ladywell sidings, Preston.

A Northampton - Margate day excursion on July 12th was worked roundtrip between Northampton & Mitre Bridge Junction by 25285 & 25251. On July 31st the 13.30 Reading - Newcastle was worked from Birmingham New Street to Newcastle by 25285 & 25268. The next day (August 1st) the same pair worked the relief 07.40 Newcastle - Poole as far as Birmingham New Street. Two weeks later on August 15th 47053 failed at Banbury whilst working the 07.40 Newcastle - Poole, 25285 dragged everything to Eastleigh where 33109 took over.

73109 reached Banbury on September 15th with a special Eastleigh – Warrington freight, 25284 & 25285 took the freight northward. Four days later (19th) sisters 25285 & 25284 worked the 10.10 Euston - Aberystwyth from Birmingham New Street, returning with the 18.00 Aberystwyth - Wolverhampton.

On September 4th 25285 arrived at Holbeck depot at 01.15am off the E52 job. It later returned to Holbeck at 11.45am after working the K59 tripper. On September 5th 25285 arrived at Holbeck at 11.45am off the K59 tripper. On the early morning of September 6th 25285 was stabled at Holbeck.

New freight contracts out of Heysham brought a considerable influx of Class 25s to the area, working the South Leith – Heysham coated gas pipes and return empties. The first train ran on September 29th behind 25262 & 25285, with the contract expected to last into the New Year (1982).

1982
January 1st 1982 found the Class 45 working the 13.01 St. Pancras - Sheffield in trouble at Sharnbrook, 25285 took the train forward via Derby to Sheffield.

On the morning of January 23rd and the afternoon of January 25th 25285 was stabled at York.

On February 12th 25254 & 25285 were in charge of a Rylstone-Hull 'Tilcon' limestone train, being noted passing Holbeck.

The Broughton Lane - Ditton BOC tanks on April 8th was noted at Stockport behind 40076 & 25285.

The 09.49 Norwich - Birmingham New Street arrived at Nuneaton on May 29th behind 25303 & 31189 (failed), these were removed and 25285 worked through to Birmingham New Street. 25285 was noted at Birmingham New street with passenger stock on May 30th.

Engineering work on the WCML on July 25th saw 25285 & 25192 assist three services between Rugby & Tamworth. Three days later on July 28th 85011 failed working the 16.13 Manchester Piccadilly - Euston at ?, 25285 dragged the service to Nuneaton. On September 4th the 07.40 Euston - Aberystwyth from Wolverhampton and the 14.00 Aberystwyth - Shrewsbury were worked by 25285 & 25259. On September 24th the 09.42 Poole - Newcastle with 47447 failed at Oxford, 25285 worked the service to Birmingham New Street.

On the morning of October 7th 25285 was stabled at Bedford.

1983
A Euston - Blaenau Ffestiniog charter on June 5th 1983 using Pullman stock was worked roundtrip between Llandudno Junction & Blaenau Ffestiniog by 25285 & 25256. On July 16th the 10.10 Euston - Aberystwyth from Birmingham New Street and the 17.15 Aberystwyth - Crewe (extended from Shrewsbury) were worked by 25285 & 25277. The 00.30 Manchester Piccadilly - Euston on August 7th required assistance from 25285 & 25286 between Rugby & Euston due to power being off for engineering work.

On September 1st the 18.30 Wolverhampton - Euston failed at Tring behind 85012, 25285 & 25265 dragged the service to Euston. A diesel multiple unit failure on December 27th found 25285 assisting the 15.20 Crewe - Lincoln Central to Derby. The next day the (Dec 28th) 25285 worked the 07.16 Manchester Victoria - York to Leeds.

1984
On a misty March 22nd 25285 was noted on a twelve wagon Railfreight working at Hereford.

The failure of 47608 on July 25th at Shrewsbury saw 25285 work the 16.34 Shrewsbury - Euston to Wolverhampton. On July 29th 25196/25201/25231/25283 were at Willesden depot whilst 25058, 25191, 25285 + 25249 were nearby on permanent way trains.

On August 23rd the relief 18.00 Southport - Manchester Victoria was worked by 25285. On August 26th 25236 & 25285 were noted at Prescot on permanent way duties. On August 30th 25285 & 25286 were noted stabled at Shrewsbury, the next day (31st) they were noted working an afternoon Llanwern – Dee Marsh steel coils working.

On September 1st the 10.10 Euston - Aberystwyth got into trouble with 25178 & 25192, these were replaced at Forden by sisters 25285 & 25286 which after reversing to Welshpool worked only to Machynlleth where the service was terminated due to late running. At Machynlleth the train was turned around to become the 17.38 Machynlleth - Shrewsbury.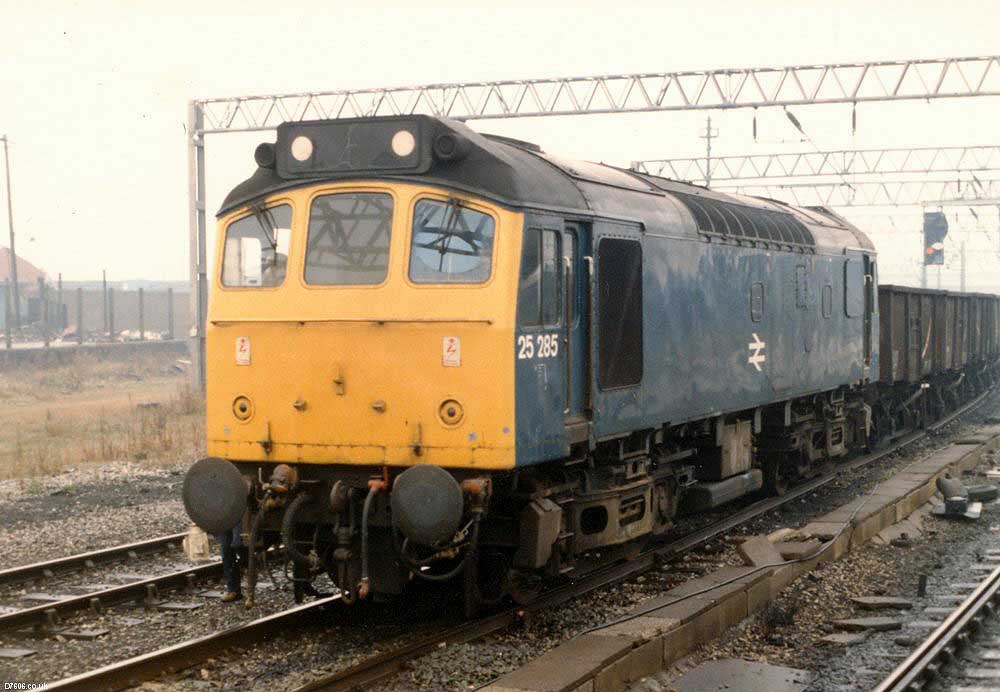 Photograph collection of Ian Hammond
25285 at Edge Hill on a misty day during October 1984. 25285 followed the route of many others: storage at Crewe then movement to Vic Berry's, Leicester, where it was cut up during October 1987.
On December 15th 25285 & 25231 handled a UKF Fertilisers working over the Marches route, the working normally diagrammed for a Class 47.
1985
On a snowy February 2nd 25285 was noted through Nuneaton with an express parcels train.
More snow was present at Grindleford on February 15th when 25285 was noted hauling the down empty newspaper train, 4M22 09:30 SX Cleethorpes to Manchester Mayfield.
The passenger workings for 1985 brought a mixed bunch of routes to 25285, with a definate north-west area flavour. Om March 9th 1985 25285 worked the 18.23 Preston - Barrow following a diesel multiple unit failure. four days later on March 13th 25285 was at Madeley with a weekend ballast working of nine sealions.
On the late evening of April 28th 25285 was at Bescot Down Yard.
25285 was north of the border for the next group of passenger workings. On May 17th 1985 the 12.40 Carlisle - Glasgow Central was worked to Gretna Junction where 25285 failed and was dragged by 37077.
On June 10th 25285 was noted at Helsby a Warrington bound rail train. By June 26th 25285 was north of the border when it worked the 08.40 Carlisle - Glasgow Central from Dumfries after 27030 failed, then continued on the diagram to work the 13.45 Glasgow Central - Carlisle and the 17.40 Carlisle - Glasgow Central.
The returning 'Cambrian Scot' railtour on July 7th 1985 from Ayr to Caersws was worked forward from Warrington by 25285 & 25266. The next day (July 8th) the same pair worked the relief 13.50 Birmingham New Street - Edinburgh from Birmingham New Street to Preston. On July 19th 25285 worked Workington's Target 57 trip freight to Wigton & Carlisle, the Speedlink freight comprised about twenty fve wagons of many different types. 25285 was back in Scotland on July 29th piloting 47434 on the 21.10 Euston - Stranraer Harbour between Ayr & Stranraer Harbour.
25285 was stabled at Warrington Arpley on August 5th. On a very wet August 11th 25285 was noted at Maghull with a track train. Two days later, August 13th the 18.15 Glasgow Central - Manchester Victoria was worked forward from Preston by 25285. The failure of 33004 at Flint on August 27th 1985 working the 14.17 Bangor - Cardiff saw the following service push it to Chester where 25285 was added and dragged the train to Crewe.
On September 13th 25285 was noted on the Healey Mills - Knottingley trip freight.
On September 28th the 07.40 Leicester - Leeds was booked for 45116 but this failed before departure, 25285 worked through to Leeds, it then ran light to Birmingham New Street to take over the 09.50 Eastbourne - Newcastle SAGA charter to Newcastle. On October 7th 1985 25285 worked the 15.28 Carstairs - Edinburgh, being the portion off the 09.15 Euston - Inverness. Two days later (Oct 9th) 25285 assisted the 10.30 Inverness - Euston between Warrington & Crewe (via Chester).
25285 was noted at Severn Tunnel Junction on October 26th.
25285 was noted at Hereford on November 16th with a down bogie tank train at Hereford, the locomotive was removed here. At month end, November 30th 25285 was stabled at a very foggy March depot.
1986
January 11th found 25285 leaving Manchester Victoria with empty vans for Red Bank Sidings.
The failure of a diesel multiple unit on March 2nd 1986 provided 25285 with its last passenger working, the 13.40 Crewe - Cardiff.
25285 was withdrawn on March 17th 1986.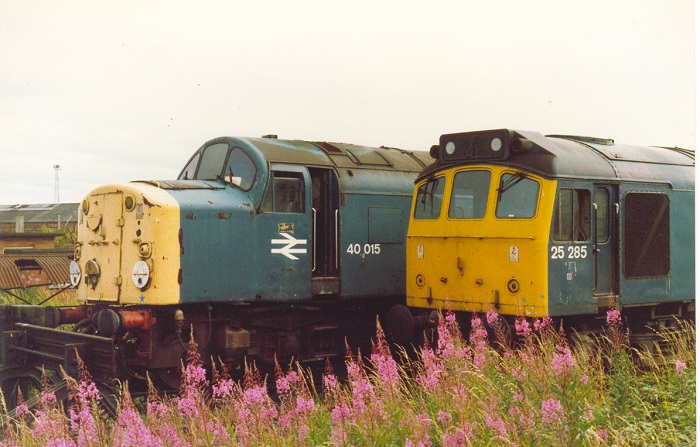 Photograph courtesy Stephen Houlker
25285 & 40015 standing withdrawn at Crewe on July 27th 1986.
Not all known passenger workings are recorded on this page.
54/4731
flk 0716
Page added September 16th 2013.
Last updated September 20th 2022.
Back to 25284
Forward to 25286