D7640, 7640, 25290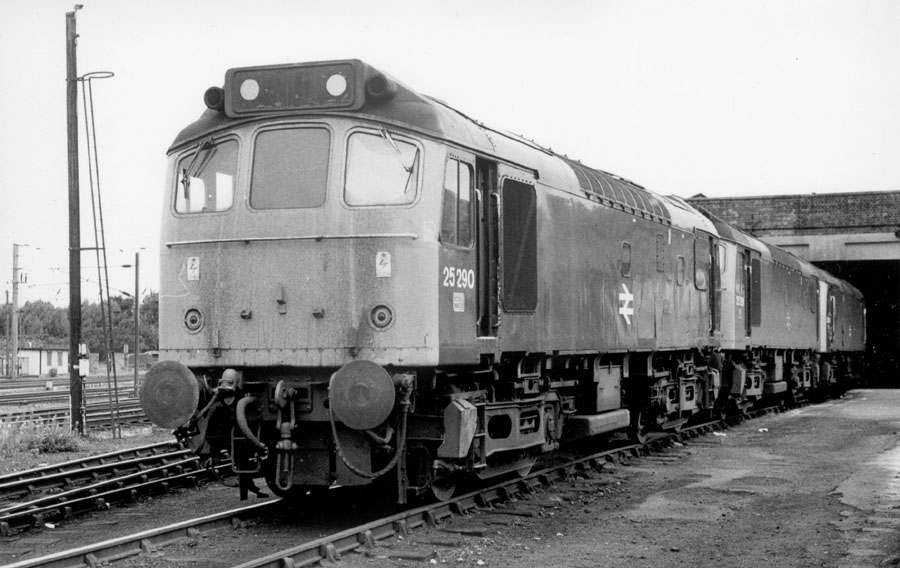 Photograph courtesy Danny Preston, collection of Neil Johnson.
A lineup of three Class 25s at Springs Branch on August 13th 1978 including 25290 & 25298.
The fifteen year career of D7640/25290 started with fifteen months at the Eastern Region depots, with the remainder being allocated to London Midland Region depots.
Built: Beyer Peacock Gorton Ltd, Works No.8040.
Time between last Classified repair and withdrawal: ?? months.
Time between withdrawal & scrapping: 19 months.
Allocations
D7640 was new to the Tinsley (41A) on December 31st 1965. Further transfers were:
April 1966 to Wath (41C).
March 1967 to London Division (D01).
April 1967 to Nottingham Division (D16).
September 1967 to Springs Branch (8F).
June 1968 to Liverpool Division (D08).
May 1970 to Birmingham Division (D02).
May 1973 to Bescot.
May 1974 to Springs Branch.
June 1974 to Longsight.
October 1975 to Crewe.
June 1977 to Bescot.
May 1978 to Crewe.
Withdrawn October 4th 1981.
Renumbered March 5th 1974.
25290 was the 113th Class 25 to be withdrawn, one of five to be withdrawn during October 1981.
After withdrawal 25290 was stored at Tyseley from January - March 1982. On March 16th 1982 with 25156 it was sent down to Swindon Works in error, it then headed north for Derby Works on March 19th 1982. It reached Derby during August 1982 after having spent some time at Crewe, but lingered until May 1983, when it was finally broken up.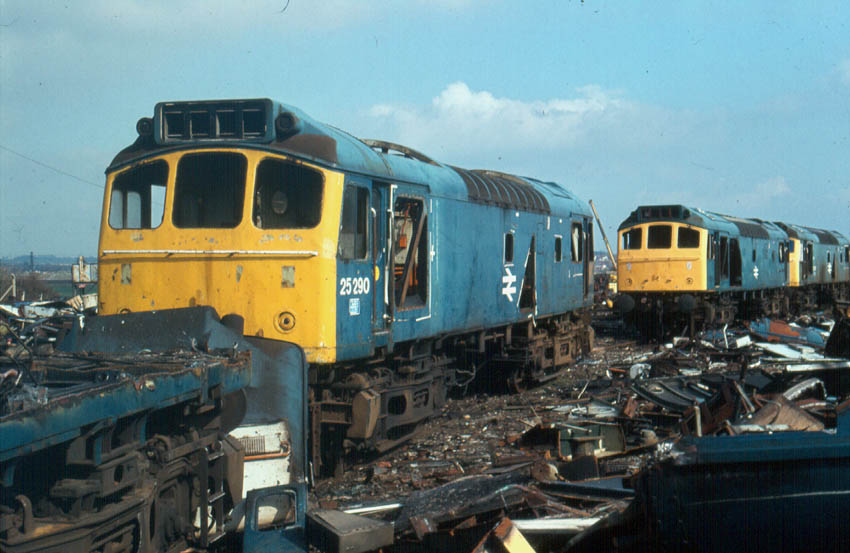 Photograph collection of webmaster (ADH).
Withdrawn during October 1981 and dumped at Tyseley 25290 initially moved to Swindon Works during March 1982 but was quickly returned north, being held at Crewe for several months, reaching Derby during June. In this March 15th 1983 view 25290 appears to be the next machine in line for breaking up. By the end of May 25290 was no more.
Works Visits
Works visits (records incomplete).
Noted Derby Works April 1970.
Noted Derby Works February 1971.
Noted Crewe Works January - April 1975 (with collision damage).
Noted Derby Works February & March 1978.
Highlights
1968
On June 22nd the 10.35 Carlisle - Oxenholme was worked by D7640, this being a portion for the SO Windermere - Euston service.
1970
On August 6th the 08.20 Birmingham - Paddington with 1745 struck a farm tractor and trailer on Clattercote Priory crossing (Fenny Compton). The locomotive suffered damage to the cab. The cab was later sheeted over, with the locomotive then towed to Tyseley by 7640 on August 8th.
1971
On Saturday July 24th sixteen empty stock workings were carried out at Oxley between the hours of 05.30am & 09.00am in support of the extra passenger workings typical of a summer Saturday, the carriage side pilots this day were 5229, 7517, 7640 & 7642.
1972
A Nottingham - Aberystwyth day excursion on July 23rd was worked throughout by 7640 & 5224, approximately 382 passenger miles.
1974
On March 16th the 08.10 Birmingham New Street - Cardiff was worked by 25290 & 25034.
The 07.35 Nottingham - Llandudno Town and the return 13.00 Llandudno Town - Nottingham were worked by 25290 on July 20th.
1975
During January 1975 25290 was noted at Crewe Works with damage to the No.1 end cab, the cab had been lifted up slightly, the buffers and some of the buffer beam connections were missing. The headcode was displaying 6H46 - an ICI limestone working between Northwich & Tunstead?
At about 7am on June 30th 25290 was noted at Manchester Victoria with a down freight.
On August 2nd 25290 & 25291 worked the 09.20 Manchester Piccadilly - Yarmouth to Lincoln Central, returning from there with the 09.30 Yarmouth - Manchester Piccadilly.
1976
Shortly before midnight on July 31st 25290 was noted at Huddersfield with three vans, these were added to the Mayfield - Bradford HS parcels, worked by 40117.
On the morning of August 12th 25290 worked a relief Holyhead - Crewe, returning with the 12.15 Crewe - Holyhead relief.
1977
On July 2nd the relief 08.00 Leicester - Skegness and the return relief 10.55 Skegness - Nottingham were worked by 25290 & 25253.
1978
On July 21st 25290 was noted at Chester with a breakdown train.
The 09.10 Birmingham New Street - Llandudno Town on August 10th was worked forward from Crewe by 25290 & 25306, the same pair returned to Crewe with the 18.15 Llandudno Town - Birmingham New Street. On August 30th 25290 & 25252 were noted with a trainload of sand from BIS Oakamoor, passing Bathpool Park, Kidsgrove.
The 10.40 Euston - Aberystwyth from Wolverhampton and the return 16.10 Aberystwyth - Shrewsbury were worked by 25290 & 25245 on September 2nd.
1979
On February 7th 24063 & 25290 worked an early morning Healey Mills - Northwich freight, returning to Northwich with a freight later that morning. At about 3pm on February 12th 25290 was noted at Gloucester with an up freight.
25290 was noted at Mold Junction on March 2nd.
On May 21st the 17.30 Bristol Temple Meads - Cardiff was worked by 25290.
On July 24th the 15.40 Manchester Victoria - Bangor was taken forward from Llandudno Junction by 25290, it then returned eastwards with the 19.30 Bangor - Manchester Victoria.
On the morning of December 12th 25290 was noted at Manchester Victoria with a down van train.
1980
25290 was noted at Cockshute on April 15th.
25290 was noted at Nuneaton on June 14th.
On August 16th the 10.55 Weymouth - Leeds was hauled by 25290 & 25253 from Birmingham New Street to Derby, from where 25115 & 25214 took the train forward. A week later on August 22nd the 14.34 Wolverhampton - Paignton relief was worked throughout by 25290 & 25301 (208 passenger miles).
On September 4th 25290 was noted westbound at Peak Forest with a loaded ICI limestone train. On September 6th 25290 worked the 13.00 Llandudno - Nottingham.
1981
On January 24th 25290 was noted at Derby.
The 09.28 Leeds - Morecambe and the 11.45 Morecambe - Leeds were worked by 25290 on July 11th.
At 04.10 on August 20th 25290 arrived at Holbeck off the E05 job. The 08.45 Birmingham New Street - Aberystwyth and the return 18.00 Aberystwyth - Euston to Nuneaton were worked by 25290 & 25262 on August 23rd.
On September 4th 25290 was noted passing through Burton on Trent with a lengthy train of spoil wagons.
25290 was withdrawn on October 4th 1981.
23/2315
flk 0917 (1)
Page added November 13th 2012.
Last updated September 23rd 2020.
Back to 25289
Forward to 25291