| | | | | | |
| --- | --- | --- | --- | --- | --- |
| Load | Speed | Amps | Volts | Notes | Other |
| 1 | 30 | - | - | - | - |
A side crankcase door
Knecht fuel filter pipes various leaks
B Bicera no.5 leak
No.1 AWS only drops train pipe to 60
No.1 desk key won't fit without ??
No.2 cab driver's door holes to blank off (from builders plate?)
Fan switch leaks
No.5 cylinder head blow.
In South Wales the use of Class 25s for working regular freight diagrams was finished, Class 37s now taking up these diagrams out of Cardiff and Newport, though Class 25s would frequently deputise for a non available Class 37. A number of workings brought foreign Type 2s into the area, on November 23rd 25289(HA) arrived with the 22.58 6V88 Warrington - Margam ingot train.
1977
25289 was stabled at Buxton on February 14th.
On June 22nd 25289 was stabled at York.
On the morning of December 21st 25289 was stabled at York.
1978
On the morning of April 7th 25289 was stabled at York.
On July 1st a relief 09.34 Leicester - Yarmouth was worked by 25289 & 25249.
On July 8th 25289 is reported to have worked the 07.30 Nottingham & Llandudno Town and the 13.02 Llandudno Town - but failed at Creswell with 25314 taking everything forward.
On July 20th 25289 & 25224 were noted at Exeter with a return 1Z75 Barnstaple - Leamington Spa charter and presumably worked the outbound leg.
On July 22nd 25289 & 25224 worked the 08.00 Walsall - Yarmouth to Norwich and returned from Norwich with the 14.15 Yarmouth - Derby.
On July 23rd 25289 & 25224 worked the 08.40 Leicester - Skegness and the return18.30 back to Leicester. On July 24th the same pair worked the 08.50 Burton on Trent - Skegness and the 18.50 return to Burton.
August 1978 also proved to be a busy month for 25289. On August 5th & 12th 25289 was working over Cambrian metals with 25271 (5th) and 25282 (12th). A week later on August 19th it was a day out with 25184 on the Walsall - Norwich (for Yarmouth) - Derby service, the next day (20th) the same locomotives were working the 09.15 Derby - Skegness and 18.15 return.
1979
On May 24th 25289 worked the 17.10 Cardiff - Crewe.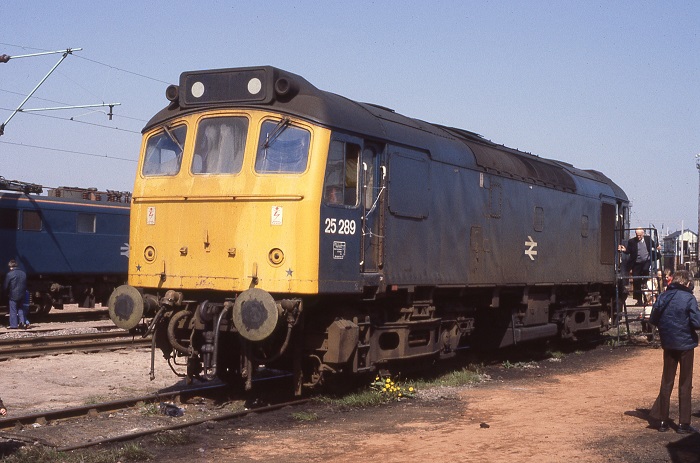 May 5th 1980 proved to be bright & sunny day in the Midlands, certainly a blessing for those who had laid on the Nuneaton Open Day. Amongst several locomotives on display was road weary 25289, almost four years after its last Classified repair, and still with several more years of service ahead.
1979 brought two round trips over the Cambrian line, on July 14th with 25282 and on September 1st with 25038.
1980
25297 & 25289 were noted passing Hereford with an oil train on January 22nd.
On the evening of April 25th 25106 & 25289 were stabled at Holbeck.
25289 was stabled at Bescot on April 27th.
For 1980 the last weekend in July brought a couple of passenger workings. On July 25th 25289 & 25282 worked the return leg of a Scarborough - Leamington Spa day excursion. The next day the same pair made a round trip over Cambrian metals, working the 07.40 Euston - Aberystwyth forward from Wolverhampton and returning with the 17.55 Aberystwyth - Wolverhampton.
25289 was noted at Bletchley on an up freight on the morning of August 16th.
1981
On January 24th 25289 was stabled at Bescot yard with several other Class 25s.
On May 14th 25289 & 25287 worked the 16.20 Kennett - Mountsorrel stone empties. On the late morning of May 30th 31237 & 25289 were noted at Ipswich with a lengthy freight, presumed headed for Whitemoor as later in the day they worked the 29th's 35 wagon 21.35 Mossend - Parkeston Quay forward from Whitemoor
On July 19th (also reported as June 19th) 25289 rescued the 16.12 St. Pancras - Derby, going forward from Leicester when 45127 failed. At the end of August (29th & 30th) 25289 and 25262 worked two round trips over Cambrian metals. On August 29th they worked the 04.10 Shrewsbury - Aberystwyth and the 10.07 Aberystwyth - Euston to Wolverhampton whilst on the 30th it was the 08.45 Birmingham New Street - Aberystwyth and the 18.00 Aberystwyth - Euston to Nuneaton.
On July 27th 25289 was northbound at Bedford with empty Cartics.
25289 was stabled at Crewe Diesel depot on October 4th.
On Christmas Day 25289 was stabled at Carnforth Furness Sidings with 25284 & 25080.
1982
25289 was southbound at Dent with a freight on June 1st.
25285 & 25289 were noted at Birmingham New Street on August 6th on an unidentified parcels (?) working. On August 14th 25289 & 25254 were noted eastbound through Chester with bogie oil tanks. On August 24th the 09.15 Glasgow Central - Bristol Temple Meads with 86256 was dragged between Preston and Winwick Junction by 25289 & 25254 due to an overhead line failure.
25289 was noted southbound at Carnforth on August 28th with bulk tankers.
On November 28th 25289 & 25283 were noted at Leighton Buzzard with a loaded ballast train.
1983
Passenger workings started early in 1983 for 25289, on January 2nd it worked the 02.35 Euston - Bletchley, lets hope it was a mild day. On January 17th 25289 was noted at Coventry with a lengthy ballast train.
On March 20th 25289 & 25311 worked the 6M86 Kings Cross- Tring cement empties. On March 30th 25289 was noted north of Tring with a ballast cleaner, whilst 25242 was present with an overhead wiring train.
Two more round trips were worked over the Cambrian line, with 25316 on June 4th and 25327 on July 2nd. 25289 was noted at Stonebridge Park on July 9th. On July 26th 25289 worked the Warrington trip 6P83 servicing Westhoughton & Bolton. On July 27th 25289 was noted northbound at Springs Branch with bulk powder tanks.
Possibly on August 16th 1983 (date uncertain) 25289 & 25044 rescued the 15.12 Preston - Barrow diesel multiple unit at Lancaster, working forward to Barrow and then going forward with a Barrow - Carlisle service.
On September 4th 25289 was eastbound at Llandudno Junction with loaded ballast hoppers. On September 8th 25289 & 25268 were northbound at Warrington Bank Quay with oil tankers.
25289 was stabled at Saltley on December 2nd. 25289 was noted at Bescot on December 23rd. On December 31st 25289 took failed 50025 from Birmingham New Street station to Saltley depot.
1984
The last passenger working for 25289 occurred just days before its withdrawal. On January 10th 1984 the 12.50 Leeds - Cardiff failed at Clay Cross behind 45108, 25289 dragged the service to Derby, where 31293 took over, what a travesty.
25289 was withdrawn on January 17th 1984.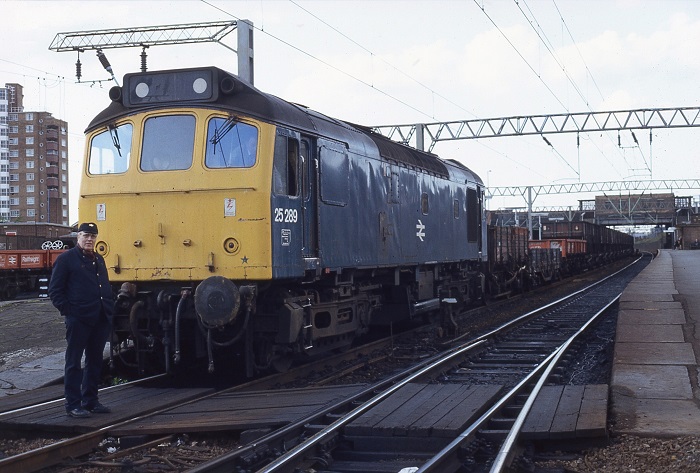 Photograph collection of webmaster
25289 stands at Duddeston station date unknown. This scene has now changed, the line which 25289 is standing on is now a disused siding, with the track removed south of this point. The yard to the left of the train is closed & lifted although some of the catenary masts that once served the yard still stand. The block of flats on the extreme left still stand.
Distinguishing Features
No.1 cabfront: center lamp bracket only, no other fittings: November 1978.
No.2 cabfront: driver's side below electrification flash: lengthy horizontal line of rust: (not present May 1980), November 1982 - March 1983
Non BIS side: lengthy scrape just below cantrail at center of bodyside: sometime in 1982 until withdrawn.
Not all known passenger workings are recorded on this page.
45/4563
flk 1221 (1)
Page added February 16th 2013.
Last updated July 14th 2022.
Back to 25288
Forward to 25290