D7643, 7643, 25293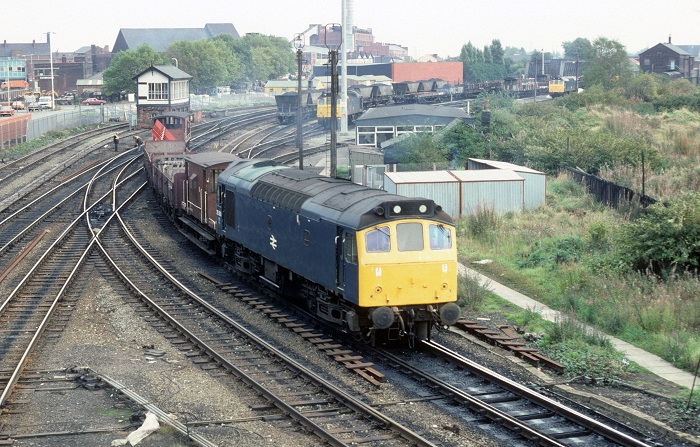 Photograph courtesy Roger Geach
Three Class 25s at Warrington Arpley on October 15th 1980 with 25293 leading a short freight.
The fifteen year career of D7643/25293 began with thirteen months at Sheffield area depots followed by a variety of London Midland allocations.
Built: Beyer Peacock, Manchester, No.8056.
Boiler room grilles sheeted over.
Time between last Classified repair and withdrawal: ?? months.
Time between withdrawal & scrapping: 6 months.
Allocations
D7643 was new to Tinsley (41A) on February 8th 1966. Further transfers were:
April 1966 to Wath (41C).
March 1967 to London Division (Western Lines) (D01).
April 1967 to Nottingham Division (D16).
September 1967 to Springs Branch (8F).
June 1968 to Liverpool Division (D08).
August 1969 to London Division (Western Lines) (D01).
October 1969 to Birmingham Division (D02).
February 1970 to Liverpool Division (D08).
May 1973 to Bescot.
June 1974 to Longsight.
October 1975 to Crewe.
Withdrawn February 1st 1981.
Renumbered February 23rd 1974.
After withdrawal 25293 was stored briefly at Crewe then moved to Swindon Works with 25070, 25166 & 25263 on March 3rd 1981 and scrapped there during the third week of August 1981.
Works Visits
Works visits (records incomplete).
Noted Derby Works May & June 1966 (collision damage).
Noted Derby Works August 1967.
Noted Derby Works December 1970.
Noted Derby Works July 1971.
Noted Derby Works September 1976 (full repaint).
Highlights
1967
On the evening of April 15th D5297, D7599 & D7643 were stabled at Burton on Trent.
On the morning of July 18th D7643 was shunting empty coaching stock at Derby.
The annual Open Day at Derby Works on August 26th found D7643 and 70013 'Oliver Cromwell' on display in front of the Works offices.
The first recorded passenger working took place on September 2nd working the roundtrip Nottingham - Llandudno Town with D5270.
On the afternoon of September 16th D7643 was at Springs Branch.
1968
On April 26th D7643 was noted on the 3N25 Wigan - Leeds van train.
On August 17th 5204 & 7643 were noted at Crewe with the twelve coach 09.10 Euston - Blackpool.
1969
On the afternoon of January 18th 7643 was at Springs Branch.
1970
On the afternoon of April 21st 7643 was shunting at Longton.
On the early afternoon of October 4th 7566, 7612, 7643 & 7646 were stabled at Bescot.
1971
On the morning of June 1st 7643 was noted at Banbury.
1973
7643 was the Manchester Victoria banker (T43) on February 13th.
On July 1st 7643 worked the 12.30 Birmingham - Plymouth relief.
1974
On April 26th the Bescot breakdown crane became derailed whilst crossing Leamington Junction, the Saltley crane arrived later in the morning behind 25293, by afternoon the offending vehicles had been rerailed and taken away.
Skegness was visited several times by 25293, the first recorded time being on June 22nd 1974 with 25214 working a Derby - Skegness and the 13.05 return.
1975
On January 14th 25293 was noted at Manchester Victoria with the 4P06. On January 15th 25293 was noted at Manchester Victoria with the 4J05. At about 7am on January 16th 25293 was noted at Manchester Victoria having worked the 4M03 vans, ex-05.07 Leeds City. On January 29th 25293 was noted at Manchester Victoria.
At about 6.30pm on February 28th 25293 was noted passing Manchester Victoria with an up freight.
At about 7am on July 9th 25293 was noted at Manchester Victoria on a down freight (9T54). On July 19th 25293 & 25124 worked the 08.52 Leicester - Skegness and 12.30 return.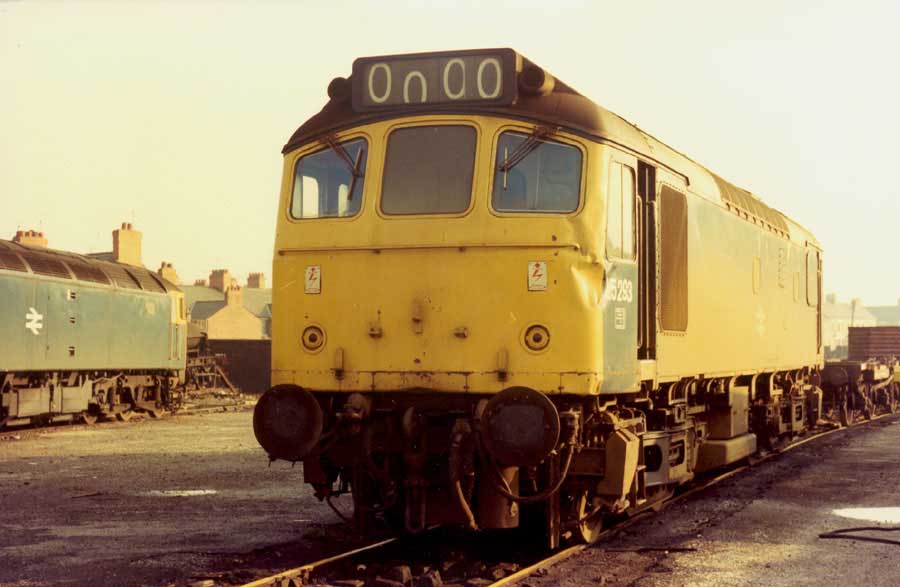 Photograph collection of webmaster.
25293 date and location unknown. The No.1 end cab sports a good sized dent which would be taken care of during its next Works visit (September 1976), the boiler room grilles would also be sheeted over.
1976
Class 25s stabled at Wolverhampton High Level on April 17th included 25040, 25145 & 25293.
The only recorded working for 1976 was on railtour duty, on June 26th 25293 & 25168 worked a roundtrip Llandudno Junction - Blaenau Ffestiniog as part of a charter from Euston.
1977
A visit to the Cambrian line took place on June 17th, with 24133 working the 10.00 Aberystwyth - Euston to Wolverhampton.
On September 23rd 25293 worked the Fridays only Washwood Heath - Hethersett tanks, retiring to Norwich depot before returning west. This was a regular Class 25 turn at this time.
1978
April 1st saw 25293 & 40110 handling the Bangor - Manchester parcels, the train including two refurbished Derby two-car diesel multiple units.
On May 12th 25293 worked the 4B10 15.52 Bristol - Plymouth vans. On the afternoon of May 13th 25293 was stabled at Bristol Bath Road.
On the afternoon of June 27th 25293 was at Clifton sidings, York with empty coaching stock.
On August 20th the 08.06 Manchester Piccadilly - Aberystwyth day excursion was worked forward from Stafford (?) by 25293 & 25276. A diesel multiple unit failure on September 25th found 25293 working the 18.25 Morecambe - Leeds.
1979
At lunchtime on April 4th 25293 was noted at Healey Mills.
On May 27th 25293 & 25272 worked the 08.45 Birmingham New Street - Barmouth and 17.45 Barmouth - Euston as far as Wolverhampton.
During the first week of July 25293 returned to the Skegness area. On July 2nd 25293 & 25149 worked the 08.46 Burton on Trent - Skegness and 18.38 return. Two days later (4th) 25293 & 25132 worked the 09.53 Nottingham - Skegness relief and 19.15 return. On the evening of July 20th 25304 & 25293 were noted at Crewe with a down coal.
On September 5th & 6th 25293 was noted at Oxford with the morning Toton - Eastleigh freight. The final recorded passenger workings took place on September 8th with 25318 working the 10.10 Euston - Aberystwyth from Birmingham New Street, returning with the 16.10 Aberystwyth - Shrewsbury.
1980
25293 was noted at Nuneaton on August 16th. 25293 was noted at Leicester on August 30th.
On September 6th 25293 was noted at Crewe station with a down permanent way train.
On the morning & afternoon of October 6th 25293 was stabled at York.
On the morning of October 9th 25293 was north of York with a trip freight, it would be later noted stabled at York.
25293 was noted at Chester on November 22nd.
1981
25293 was withdrawn on February 1st 1981.
Not all known passenger workings are recorded on this page.
flk 0915
19/1966
Page added May 13th 2013.
Last updated September 21st 2022.
Back to 25292
Forward to 25294