D7644, 7644, 25294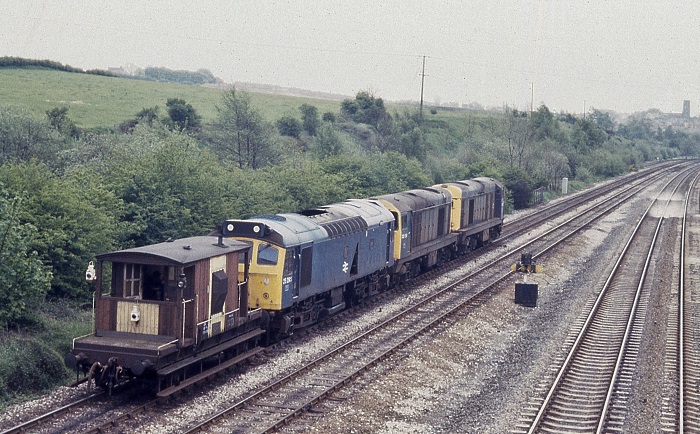 Photograph collection of webmaster
Withdrawn 25294 approaching Clay Cross whilst in transit from Reddish depot to Derby Works, date unknown but probably late June 1983.
The sixteen year seven month career of D7644/25294 began with about a year allocated to Sheffield area depots followed by the the remainder allocated to London Midland depots.
Built: Beyer Peacock, Manchester, No.8054.
Boiler room grills sheeted over (1976).
Carried TOPS numbering whilst still in green livery.
Reportedly the last diesel locomotive to leave Reddish Depot.
Time between last Classified repair and withdrawal: 79 months.
Time between withdrawal & scrapping: 31 months.
Allocations
D7644 was new to Tinsley (41A) on February 23rd 1966. Further transfers were:
April 1966 to Wath (41C).
March 1967 to London Division (Western Lines) (D01).
May 1970 to Birmingham Division (D02).
May 1973 to Bescot.
June 1974 to Longsight.
October 1975 to Crewe.
Withdrawn October 10th 1982.
Renumbered May 23rd 1974.
25294 was the 140th Class 25 withdrawn, one of four retired during October 1982.
After withdrawal 25294 was stored at Reddish from October 1982 until May 18th 1983 when it moved to Ashburys Yard, Manchester. By the first week of July 25294 had reached Derby Works. It was sent to Swindon Works on February 4th 1985 (see movement detail below) and scrapped there by the second week of May 1985.
25050/062, 25129/133/146, 25220/233/274/294 9X12 Derby – Swindon, February 3rd & 4th 1985.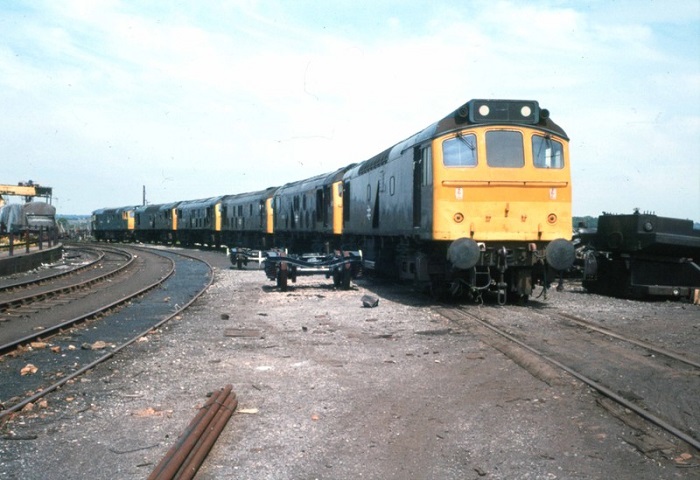 Photograph courtesy Michael Mercer
25294 at Derby Works on June 20th 1983.
Works Visits
Works visits (records incomplete).
Noted Crewe Works April 1970.
Noted Derby Works February 1971.
Noted Derby Works April & May 1974.
Noted Derby Works February 1976 (classified, full repaint).
Highlights
1968
On April 29th D7644 worked the 17.59 St Pancras - St Albans, non-boilered locomotives on these commuter services was not too common.
1969
Condition March & September: two-tone green livery with small yellow warning panels, BIS side has received repaint around the radiator panel from top to bottom of side in strange green paint, blanking plates fitted, hand/footholds present, straight sided sandboxes, three rung bogie mounted footsteps, 'D' prefix present, engine exhaust in original location.
1974
D7644/25294 recorded only a few passenger workings, mostly in the latter half of its career. Maintenance work in the Birmingham area on February 17th 1974 found 7644 & 5189 assisting a couple of trains. The 08.52 Liverpool - Euston required their assistance between Hednesford & Birmingham New Street when 47506 failed whilst towing 86022. Later that day they assisted a Glasgow Central - Euston service with 86043 between Crewe - Nuneaton (via Cannock & Water Orton), again because the power was off.
7644 worked a morning Bescot - Exeter Riverside freight on March 27th.
1975
At about 6pm on January 2nd 25294 was at Manchester Victoria with an up freight.
On March 8th 25294 was noted at Manchester Victoria with the 5J42.
Condition June: two-tone green livery with full yellow, blanking plates fitted, straight sided sandboxes, three rung bogie mounted footsteps, with TOPS numbering and blue TOPS classification panel sticker.
On June 23rd & 24th 25294 was noted at Manchester Victoria with the 6Z07.
1976
On March 6th 25294 was noted at Crewe Diesel depot in ex-works condition but already with radiator water stains at the No.1 end.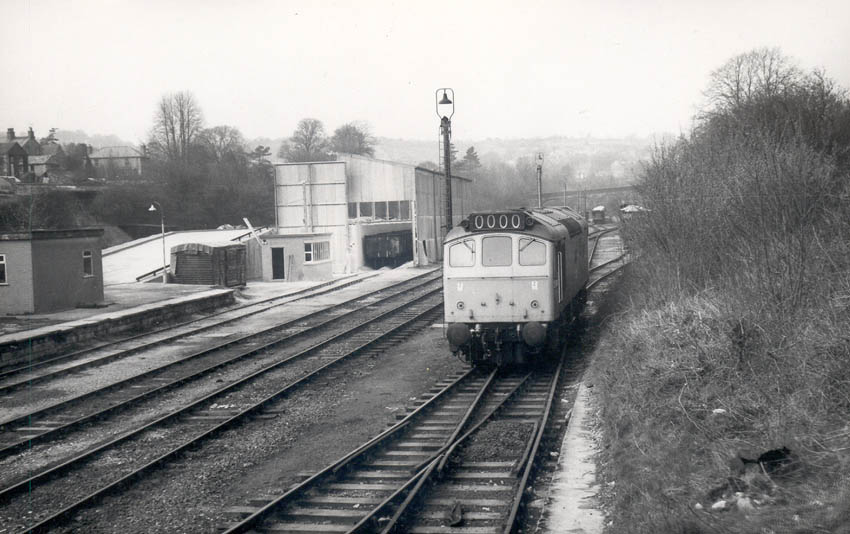 Photograph collection of webmaster
25294 marshalls its train at Wirksworth on April 15th 1976.
1977
On a gloomy March 31st 25295 & 25294 were noted southbound through Leamington Spa with loaded bogie steel wagons.
1978
On March 27th a Barrow - Blaenau Ffestiniog excursion with 40015 was assisted by 25294 over the Blaenau Ffestiniog branch.
On March 30th 25294 was noted at Chester dragging an empty Manchester based two-car diesel multiple unit eastbound.
April 1st 1978 found 25201 with five coaches working the 'Hundred of Wirral' railtour out of Liverpool Lime Street to various locations on the Wirral peninsula. Reversals were necessary at West Kirby & New Brighton, with 25294 being added to the rear between Birkenhead North & Heswall.
On the evening of September 22nd 25294 was noted at Crewe with a down freight.
25294 was the Manchester Victoria pilot on November 12th.
1979
The maintenance dispute brought many strangers into South Wales including a number of Class 25's. So noted towards the end of March were 25294 on the 14.46 Great Bridge – Llandeilo flats (21st).
On May 17th 25294 worked the 15.15 Plymouth - Manchester Piccadilly between Gloucester & Birmingham New Street. On July 14th 1979 25294 & 25248 worked the 08.52 Leicester - Skegness and 12.32 return.
On the afternoon of October 6th 25294 was noted at Crewe with a down van train.
On the morning of November 26th 25294 was noted at Loughborough.
1980
25294 was noted passing Cockshute eastbound on April 28th with a local trip freight.
25294 was noted running light engine through Nottingham on May 15th. On May 20th 25294 assisted in bringing steam locomotives to Bold Colliery for the Rainhill event. Initially 80079 & 35028 were moved Northwich - Chester - Warrington - Bold Colliery, arriving about 1pm. 25294 then returned to Northwich to pick up 4498 & 5000 (both in light steam), taking the same route to Bold Colliery and arriving just before 4pm.
August 18th was a busy day for 25294 working the 09.42 Llandudno Town - Manchester Victoria, the 13.40 Manchester Victoria - Llandudno Town, the 16.42 Llandudno Town - Crewe and the 20.30 Crewe - Bangor, a total of 324 passenger miles.
1981
On the early afternoon of May 1st 25294 was noted at Warrington on an up permanent way train.
It was off to the Cambrian line on June 6th with 25294 & 25170 working the 07.40 Euston - Aberystwyth forward from Wolverhampton, returning with the 16.05 Aberystwyth - Wolverhampton. A month later on July 9th 1981 25294 was noted working the 13.22 Norwich - Birmingham New Street forward from Nuneaton.
25294 was noted at Manchester Victoria on September 8th.
25294 was stabled at Gateshead on October 31st.
On November 2nd the York depot - Crewe LMR light engine move featured 40118 (leading), 25294 and two Class 47s. 25294 was stabled at York depot on November 27th.
1982
25294's last passenger workings took place in 1982. On June 16th 1982 25294 worked the 22.50 Shrewsbury - York to Crewe. On June 27th 1982 40128 failed at Crewe whilst working the 09.20 Birmingham New Street - Rhyl day excursion. 25294 took the train on to Rhyl and handled the return working throughout. Following this 25294 then worked the 21.25 Birmingham New Street - Crewe relief.
On August 20th 25294 worked the 12.58 Curzon Street - Worcester parcels.
25294 was withdrawn on October 10th 1982.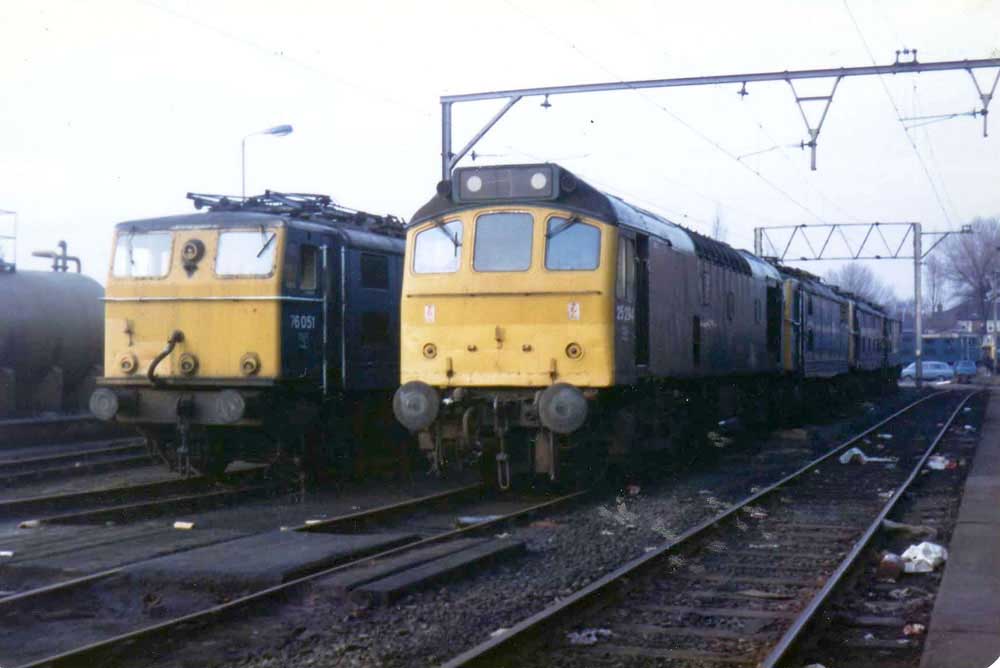 Photograph courtesy Paul Wraithmell
Out to pasture - not sure of the date on this but 25294 was withdrawn at Reddish during October 1982 and moved away from the depot during May 1983 - the last diesel locomotive to leave the then closed Reddish depot. The lower half of the cab front has been painted at some point in a lighter shade of yellow. As time went by the contrast between the two shades of yellow became more noticeable.
During July 2015 a builder's plate from 25294 sold on Ebay for GBP410.
Distinguishing Features
No.2 cab front: different shades of yellow paint for upper & lower cab front: August 1982.
Not all known passenger workings are recorded on this page.
16/1181
flk 0317
Page added May 15th 2013.
Last updated March 7th 2022.
Back to 25293
Forward to 25295