D7649, 7649, 25299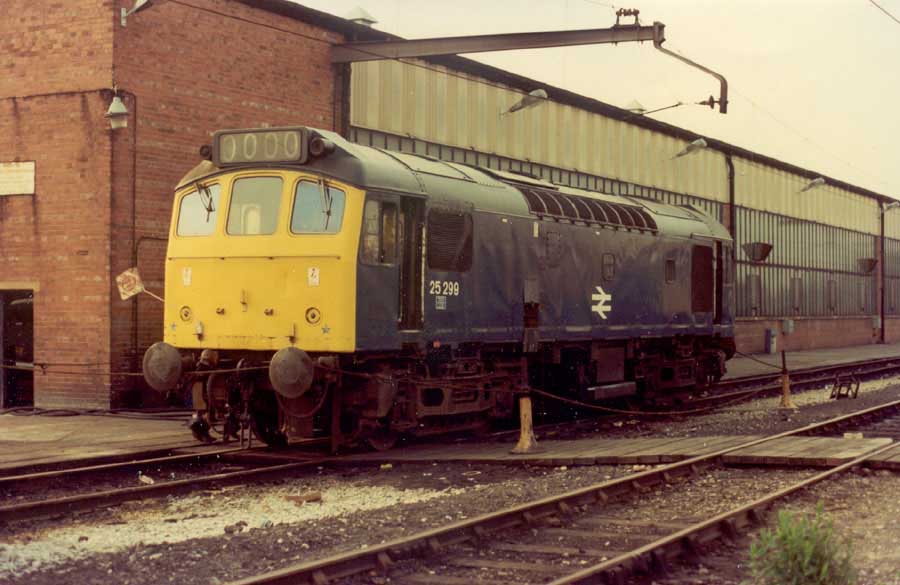 Photograph collection of webmaster.
25299 undergoing testing at Reddish, date unknown.
The fifteen year five month career of D7649/25299 included allocations to Eastern Region & London Midland depots.
Built: Beyer Peacock Gorton Ltd, Works No.8059.
Final exhaust roof panel: raised 'L' shape.
Time between last Classified repair and withdrawal: 77 months.
Time between withdrawal & scrapping: 8 months.
Allocations
D7649 was new to Tinsley on April 15th 1966. Further transfers were:
December 1966 to Barrow Hill (41E).
January 1967 to Nottingham Division (D16).
April 1967 to Birmingham Division (D02).
March 1968 to Longsight (9A).
June 1968 to Manchester Division (D09).
May 1969 to Nottingham Division (D16).
May 1973 to Toton.
October 1975 to Crewe.
May 1977 to Longsight.
June 1977 to Bescot.
April 1981 to Cricklewood.
Withdrawn October 5th 1981.
Renumbered February 16th 1974.
25299 was the 114th Class 25 withdrawn, one of six retired during October 1981, including sisters 25290 & 25292.
After withdrawal 25299 was stored at Crewe until February 19th 1982 when it was moved to Derby Works and broken up there during the second week of June 1982.
Works Visits
Works visits (records incomplete).
Noted Crewe Works January - April 1975.
Noted Derby Works September 1979 (N6 repairs).
Highlights
1967
On the morning of October 29th D7567, D7649, D7653 & D7654 were stabled at Bescot.
1968
On the morning of July 27th D7649 was northbound at Ribble Sidings (Preston) with a freight.
1969
A special Coalville – Littlehampton was noted on the Southern Region behind 7535 & 7649 on April 17th – it's not recorded whether this train reached its destination still with the Class 25s in charge.
1970
On July 26th a roundtrip Nottingham - Morecambe mystery excursion was worked by 7649 & 7524.
1973
On the evening of January 29th 7649 & 7630 were light engines at York station (8M30).
On the afternoon of April 2nd 7649 was southbound at Skelton (York) with a freight.
On the afternoon of October 19th 7649 was stabled at York.
On the afternoon of November 5th 7649 was southbound at York with a freight.
1974
On June 26th 25299 was eastbound at Stoke-on-Trent with a parcels train.
On the afternoon of July 9th 25299 was stabled at York.
The 14.30 Blackpool North - Leicester on July 20th was worked to Nottingham by 25299 & 25135. On July 25th 25299 & 25305 were in charge of a Leamington Spa – Morpeth troop special.
On August 17th 1974 the 07.35 Nottingham - Llandudno Town was worked to Derby by 25299.
On the afternoon of September 6th 25299 was noted light engine at Doncaster.
1975
On the late afternoon of May 26th 25187, 25299 & 25305 were stabled at Saltley.
A roundtrip Derby - Skegness on June 28th was worked by 25299 & 25018.
25212 & 25299 worked a relief roundtrip Leicester - Skegness on July 5th, using stock brought in from Cricklewood by 46002.
1976
On September 23rd 25299 was at Warrington Arpley with a loaded coal train with brake vans at each end.
1977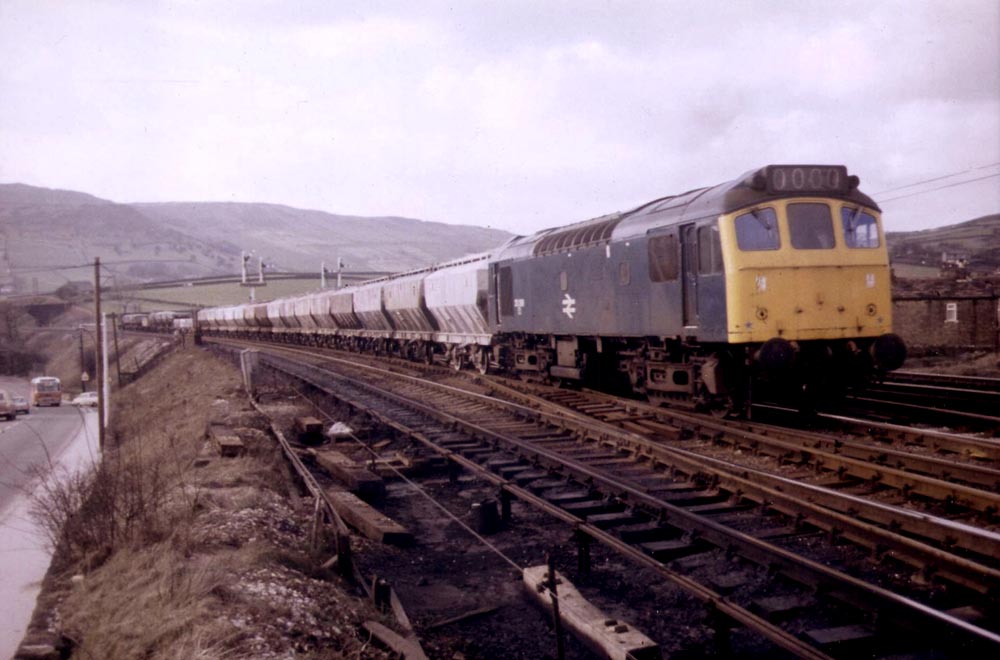 Photograph courtesy Dave Homer.
25299 Chinley eastbound.
1978
On the afternoon of February 15th 25124 & 25299 were stabled at Saltley.
On the morning of May 6th 25299 was stabled at Holbeck.
The 16.22 Newcastle - Cardiff on August 18th was worked throughout by 25299 & 25272. The next day the same pair worked the 05.35 Cardiff - Crewe and the 10.00 Crewe - Cardiff.
1979
On the morning of March 1st 25299 was stabled at York.
25299 was stabled at Nuneaton on March 15th.
On June 9th 25299 & 25099 worked the 04.15 Shrewsbury - Aberystwyth and the 10.09 Aberystwyth - Euston to Wolverhampton. On June 10th 25099 & 25299 were stabled outside the parcels shed at Wolverhampton.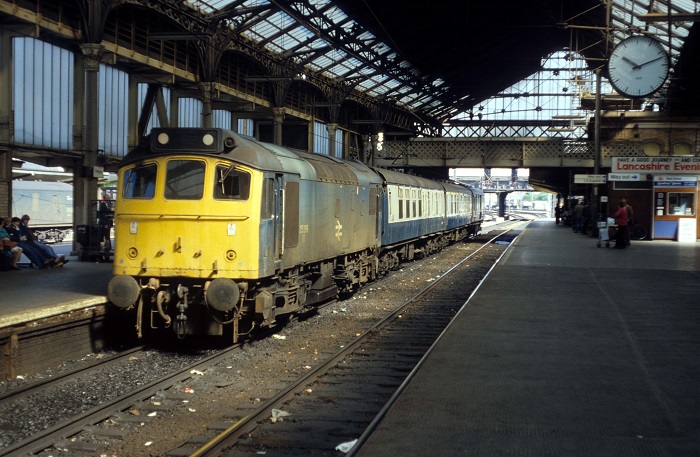 Photograph courtesy Bernard Mills.
25299 at Manchester Victoria during June 1979.
On the afternoon of August 29th 25299 was stabled at York.
At about 3pm on August 31st 25257 & 25299 were noted at Etches Park.
25299 was noted at Bristol Bath Road depot on December 3rd.
1980
On July 10th the 15.07 Plymouth - Manchester Victoria was worked from Gloucester to Birmingham New Street by 25299 & 25157.
On July 19th 25299 & 25270 worked the 08.02 Walsall - Yarmouth to Norwich, 31243 worked the return leg, since the 18.32 Norwich - Birmingham New Street was noted that evening being hauled by two Class 25s it is presumed these were 25299 & 25270.
The 10.10 Euston - Aberystwyth from Birmingham New Street and the 16.10 Aberystwyth - Shrewsbury were worked by 25299 & 25263 on August 9th.
On the afternoon of August 22nd 25299 was stabled at Wolverhampton station.
The 10.10 Euston - Aberystwyth from Birmingham New Street and the 16.10 Aberystwyth - Shrewsbury were worked by 25299 & 25242 on September 6th.
1981
25299 was noted at Springs Branch on April 30th.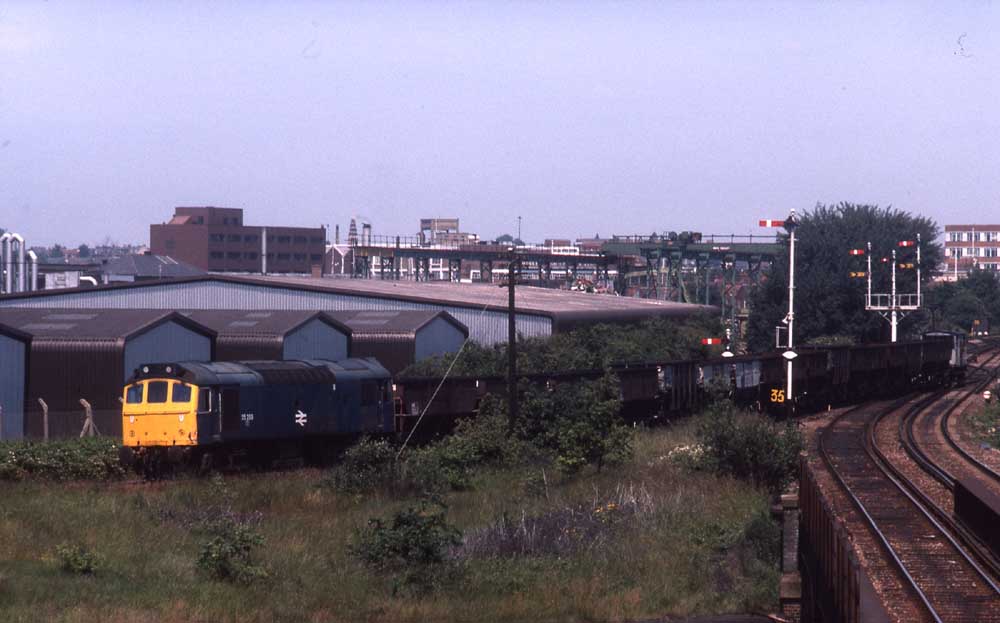 Photograph courtesy Peter Lovell.
Having joined the North London Line at Acton Wells Junction from Brent (behind the guards van) 25299 on the 05:30 Toton East Yard with its motley collection of coal wagons, turns off and heads for Acton East Junction on June 22nd.
The last recorded passenger working for 25299 took place on August 5th with the 14.38 Paignton - Leeds being worked by 25299 & 25138 between Gloucester and Birmingham New Street. The Lickey bankers, 37096 & 37303, assisted the service due to problems with 25299.
On the afternoon of August 20th 25299 was shunting at Bescot.
25299 was withdrawn on October 5th 1981.
Not all known passenger workings are recorded on this page.
20/2324
flk 0417
Page added September 20th 2013.
Last updated May 13th 2023.
Back to 25298
Forward to 25300