JUNE 2nd 1980 cricklewood shed 1545 56052 45044/45058/45077/45118/45069/ 47203 25178 (DONE) /25302/25313/25127 (DONE) /25219 not much going on ! well 25 wise roger

D7652, 7652, 25302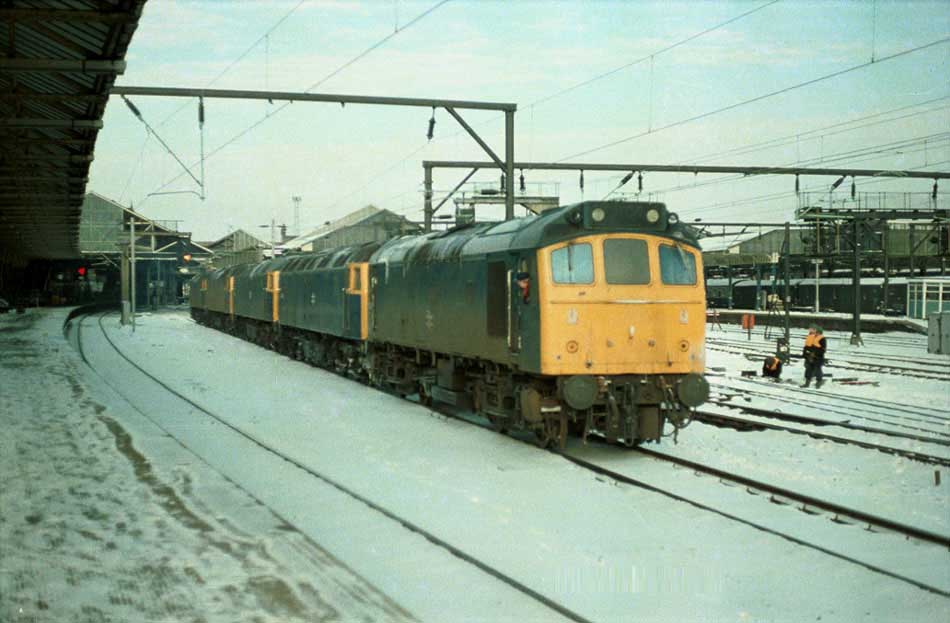 Photograph courtesy Phillip Moore.
The winter of 1981/82 produced a fair amount of snow, particularly in the south. On January 9th 1982 Crewe is host to some of the white stuff, with 25302 coupled to four Class 47s (47193, 47333, 47348 & 47189).
Built: Beyer Peacock, Manchester (Works No.8062).
Boiler room grilles sheeted over (1980).
Time between last Classified repair and withdrawal: 62 months.
Time between withdrawal & scrapping: 12 months.
The nineteen year one month career of D7652/25302 was spent allocated to London Midland Region depots apart from six months at Tinsley.
Allocations
D7652 was new to the Nottingham Division (D16) on May 21sth 1966. Further transfers were:
April 1967 to Birmingham Division (D02).
May 1968 to Stoke Division (D05).
November 1968 to Nottingham Division (D16).
November 1970 to Manchester Division (D09).
May 1973 to Springs Branch.
September 1974 to Tinsley.
January 1975 to Bescot.
May 1975 to Willesden.
July 1975 to Toton.
October 1975 to Crewe.
November 1975 to Springs Branch.
February 1977 to Cricklewood.
November 1977 to Toton.
March 1983 to Crewe.
Withdrawn June 14th 1985.
Renumbered February 23rd 1974.
25302 was the 249th Class 25 withdrawn, one of seven retired during June 1985.
After withdrawal 25302 was stored at Kingmoor until January 20th 1986 when 25300 & 25302 moved to Springs Branch, then on March 20th 1986 to Healey Mills, reaching Doncaster Works during April, being broken up there by the end of June 1986, although the cabs lingered for a short while longer.
Works Visits
Works visits (records incomplete).
Noted Derby Works June 1970.
Noted Derby Works August 1974 (included repaint).
Noted Derby Works December 1979 to March 1980 (General Repair & boiler room grilles sheeted over).
Highlights
1966
D7652 was delivered to the Nottingham Division during late May.
1967
In April D7652 moved to the Birmingham Division (D02).
1968
D7652 moved to the Stoke Division (D05) during May and then back to the Nottingham Division (D16) in November.
1969
On September 6th the 10.00 Sheffield - Llandudno Town and the 14.28 Llandudno Town - Sheffield were worked by 7652 & 7519.
1970
7652 visited Derby Works during June. During the middle of July a special cruise by the S.S. Manxman operated from Liverpool to Llandudno. As a way of promoting this sailing and adding a little spice to the average day trip, BR ran two excursions, one from Coventry to connect with the ship at Liverpool, the other using 5241 & 7652 took a special from Derby to Llandudno. These two machines returned the Coventry participants to Crewe, with E3004 & E3076 taking the train forward. The returning Derby travelers had 1831 from Liverpool to Crewe where the outbound 25's took over for the run home to Derby.
In November 7652 was transferred to the Manchester Division (D09).
1973
7652 was the Manchester Victoria banker (T42) on June 12th. At about 5pm on June 29th 7652 was noted at Olive Mount Junction with an up freight.
1974
7652 was at Derby Works during July, during September 7652 transferred to Tinsley for a six month period. This woulbe its only non-LMR allocation.
On August 19th ex-works 25302 was on display at Carnforth Steamtown open day in connection with the Locomotion 74 Exhbition.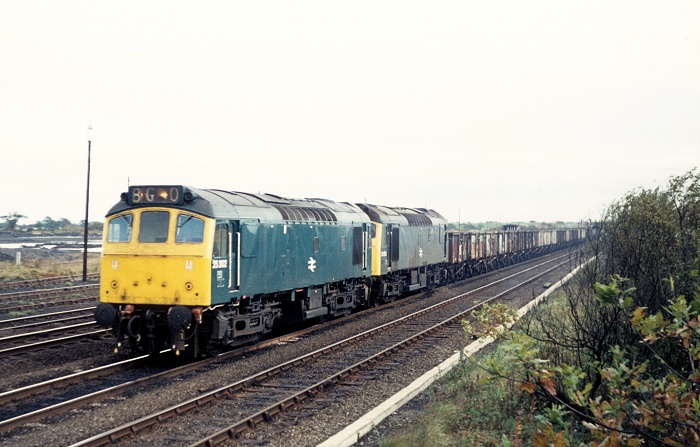 Photograph courtesy Tony Smith.
25302 & 25085 pass Stainton on October 21st 1974 with a long train of coal wagons.
On December 20th a Edinburgh - Plymouth was noted arriving at Derby behind 25302 & 46026, the latter having failed.
1975
During 1975 25302 played musical depots visiting Bescot (January), Willesden (May), Toton (June), Crewe (October) & finally Springs Branch (November)!
The 08.00 Walsall - Yarmouth to Norwich and the 14.15 Yarmouth - Derby from Norwich were worked by 25302 & 25125 on June 28th and by 25302 & 25267 on July 26th.
The 17.00 Derby - Matlock and the 17.50 Matlock - Derby were worked by 25302 on August 29th. The next day (30th) the Derby - Norwich - Yarmouth - Norwich - Walsall diagram was worked by 25302 & 25205.
1976
On June 5th 25302 worked the 09.56 Rhyl - Crewe relief, returning with the 12.10 Crewe - Rhyl relief.
1977
During February 25302 moved to Cricklewood, by November it had transferred to Toton.
The Penistone - Huddersfield line was visited by 25302 and a weedkilling train on May 21st.
On the evening of July 28th light engine 86204 became derailed just outside of Euston, blocking access to four platforms. One of the trapped trains the West Coast Postal, the empty stock had been brought in by 25302.
On November 17th 25302 hauled five damaged Liverpool - Southport coaches from Hall Road to Horwich Works for attention.
1978
The 'Thames-Forth Express' railtour on May 20th from St. Pancras to Edinburgh was worked to Leeds by 25302 & 25131, they were replaced by 55012.
On July 6th a Nottingham - Barry Island service was noted at Cardiff with 25302 & 25260.
The 10.40 Euston - Aberystwyth from Wolverhampton and the 16.10 Aberystwyth - Shrewsbury were worked by 25302 & 25260 on September 9th.
On October 10th 25302 was noted westbound through Guide Bridge with loaded ICI limestone hoppers.
On November 17th 25302 took five damaged vehicles from Hall Road to Horwich.
1979
On February 10th the DAA organised the 'Nottinghamshire Collier', starting out at St Pancras with 25302 & 25071, taking the Midland mainline to Knighton South Junction, Coalville, Burton on Trent, Trent & Nottingham. Here 20030 & 20043 took over for a round trip to Annesley Colliery, on their return 25071 & 25074 were waiting to head north to traverse a number of lines in the Chesterfield, Sheffield & Shirebrook area. Joining the Erewash Valley mainline at Pye Bridge the charter headed south to Bedford before taking the former LNWR route via the Fenny Stratford flyover to Claydon LNE junction, to then head south through Aylesbury and Amersham to Marylebone.
The two views below, courtesy Andy Key show 25302 & 25071 with the charter at Nottingham.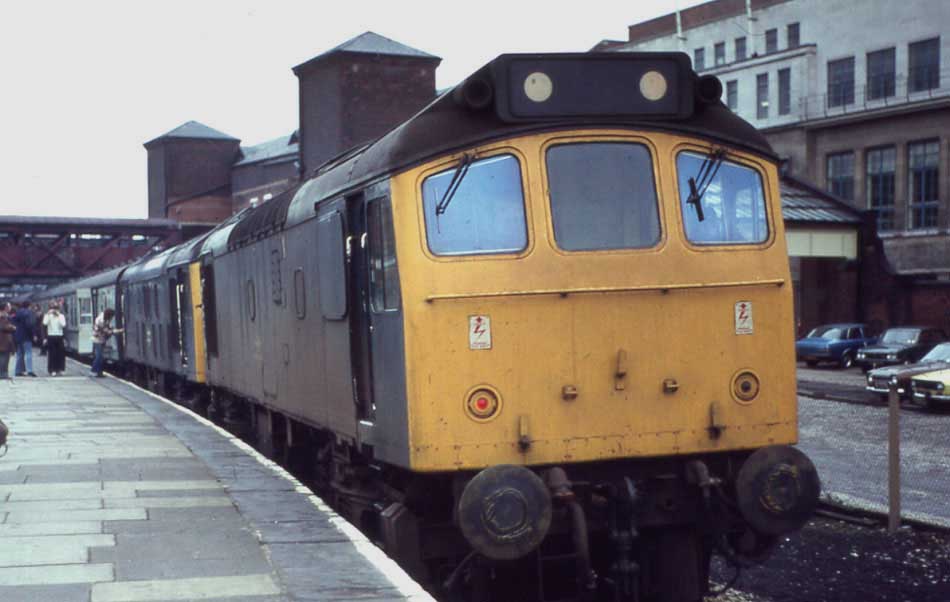 Photograph courtesy Andy Key.
The 'Nottinghamshire Collier' at Nottingham on February 10th 1979 with 25302 & 25071.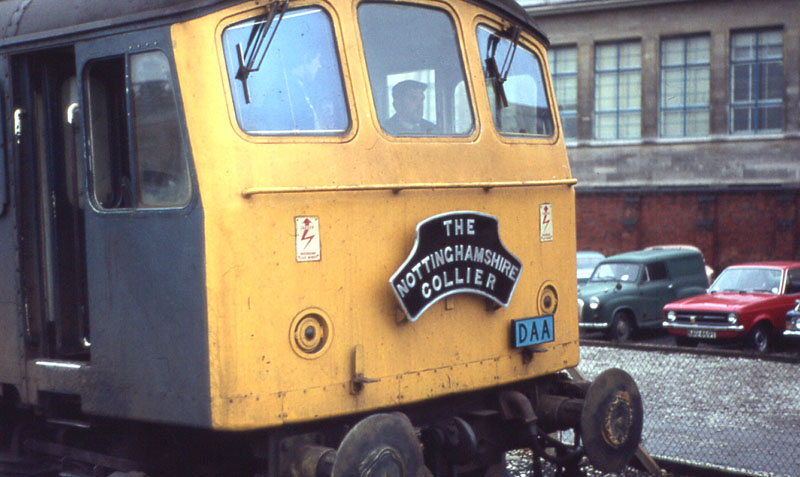 Photograph courtesy Andy Key.
Headboard of the 'Nottinghamshire Collier'.
On June 9th the Derby - Norwich - Yarmouth - Norwich - Walsall diagram was worked by 25302 & 25248. June 23rd found 25302 & 25267 in charge of the Walsall - Yarmouth, working the service as far as Norwich, returning from there with the Yarmouth - Derby. The next day (24th) the same pair worked a Leicester - Skegness roundtrip.
25302 worked the afternoon Garston - Eastleigh carflats on July 27th, being noted at Oxford, it would later head north light engine.
On August 21st 25302 was noted at Oxford with the morning Toton - Eastleigh freight. On August 25th 25302 worked the roundtrip Nottingham - Llandudno Town service. Two days later (27th) 25302 handled the 15.42 Manchester Victoria - Bangor service. 25302 was called to Derby for a classified general repair in December, not being released until March 1980.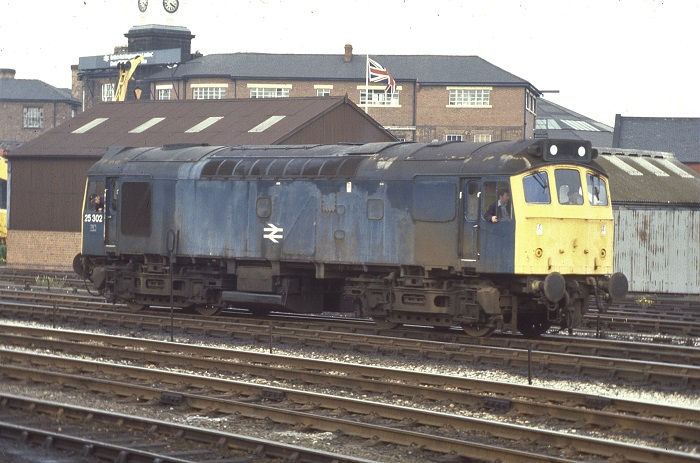 Its 4.20pm on June 13th 1979 as a well faded 25302 drops down past Derby station on to the fuelling point. By December 25302 will be called to Derby Works for a classified repair.
25302 was noted in the St Blazey area on November 1st working a china clay train.
1980
25302 was stabled at Wellingborough on April 18th.
A lengthy run for 25302 & 25321 took place on August 29th working a roundtrip Leamington Spa - Scarborough day excursion.
On September 20th the 04.10 Shrewsbury - Aberystwyth and the 10.07 Aberystwyth - Euston to Wolverhampton were worked by 25302 & 25209.
1981
Snow on April 25th affected the return working of 'The Palatine' railtour south of Bletchley, 83009 required the assistance of 25302 from Bletchley into Euston.
The summer dated roundtrip Nottingham - Llandudno Town on June 6th was worked by 25302. On June 13th 25302 was stabled at Chester depot.
A trip over the Cambrian took place on September 5th when 25300 & 25302 worked the 07.40 Euston - Aberystwyth forward from Wolverhampton, returning with the 16.05 to Wolverhampton. On September 25th 25302 was noted eastbound near Chinley with a train of empty ICI hoppers.
1982
On January 3rd a diesel multiple unit failure required 25302 to work the 21.06 Derby - Lincoln.
The 13.45 Manchester Victoria - Bangor and an unidentified Bangor - Manchester Victoria were worked by 25302 on June 10th.
On September 7th 25302 was noted at Moreton-on-Lugg with a lengthy Carlisle - Severn Tunnel Junction freight. Two days later on September 9th the 12.07 Holyhead - Crewe utilised 25302. The 07.16 Manchester Victoria - York on October 2nd was worked throughout by 25302.
1983
On February 26th the 16.45 Leicester - Birmingham New Street diesel multiple unit failed at Nuneaton, 25302 & 25109 which were stabled at Nuneaton assisted to Birmingham New Street.
After five and a half years at Toton, 25302 was transferred to Crewe during March, this would be its last move.
The 08.01MO Crewe - Cardiff and 11.40 return occasionally featured Type 2s including 25302 on June 6th and just the northbound leg on 7th. 25229 & 25302 were used to drag 86223 and its train between Rugby & Bletchley on August 7th when the power was off for line maintenance.
On August 6th 25229 & 25302 were stabled at Rugby station, the next day (7th) engineering work saw 25229 & 25302 assist the 19.30 Inverness - Euston between Rugby & Bletchley. On August 8th the Northenden - Hope empty cement wagons was handled by 37032 & 25302.
25265 & 25302 were noted passing Etruria with a train of sand, presumably an Oakamoor - St Helens working on September 26th.
On October 4th 25302 was noted at Gaer Junction, Newport with a welded rail train.
1984
25302 & 25306 worked the 06.40 Severn Tunnel Junction - Carlisle (to Crewe?) on January 9th.
Being vacuum braked 25302 was not a first choice for passenger haulage, during 1984 only one instance is recorded of 25302 working a passenger service, this occurred on May 6th when the 12.00 Manchester Victoria - Blackpool diesel multiple unit failed at Preston, with 25302 assisting to Blackpool North.
25302 was noted at Wigan on June 4th.
Pairs of Class 31s had become frequent on the Earles - Widnes cement train, however on July 25th 25262 & 25302 were in charge of the working.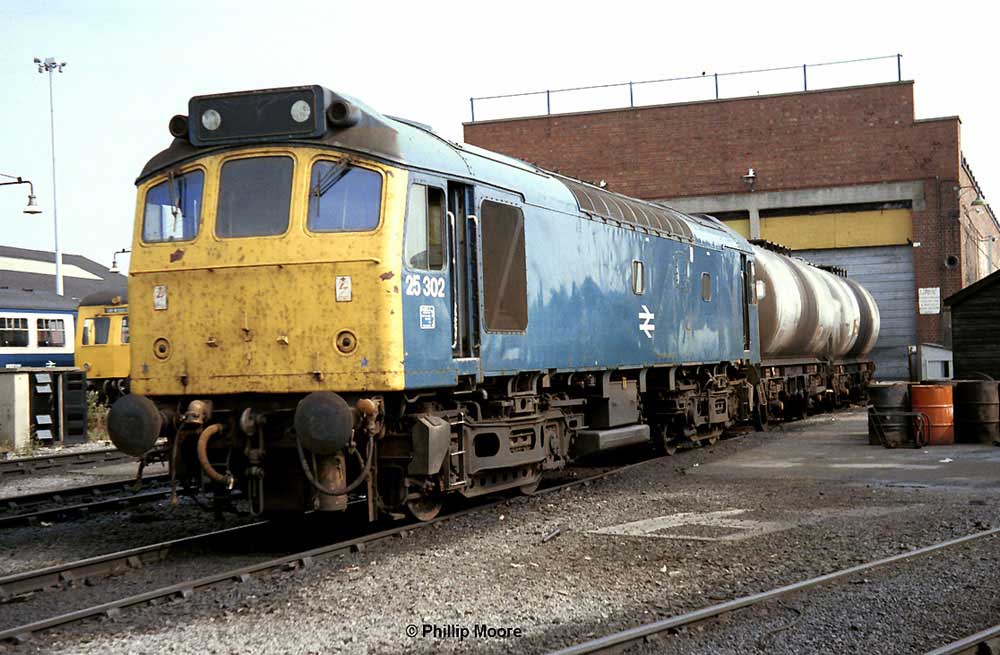 Photograph courtesy Phillip Moore.
August 12th 1984 finds 25302 waiting its next turn of duty from Chester depot.
25302 was noted with an OHLE cable train passing through Crewe Station on August 31st.
On October 30th 25302 was noted westbound through Chester with a loaded engineers spoil train.
1985
25302 was stabled at Birkenhead Mollington Street on February 16th.
25259 & 25302 were noted southbound at Ais Gill with a lengthy diverted parcels train on April 6th.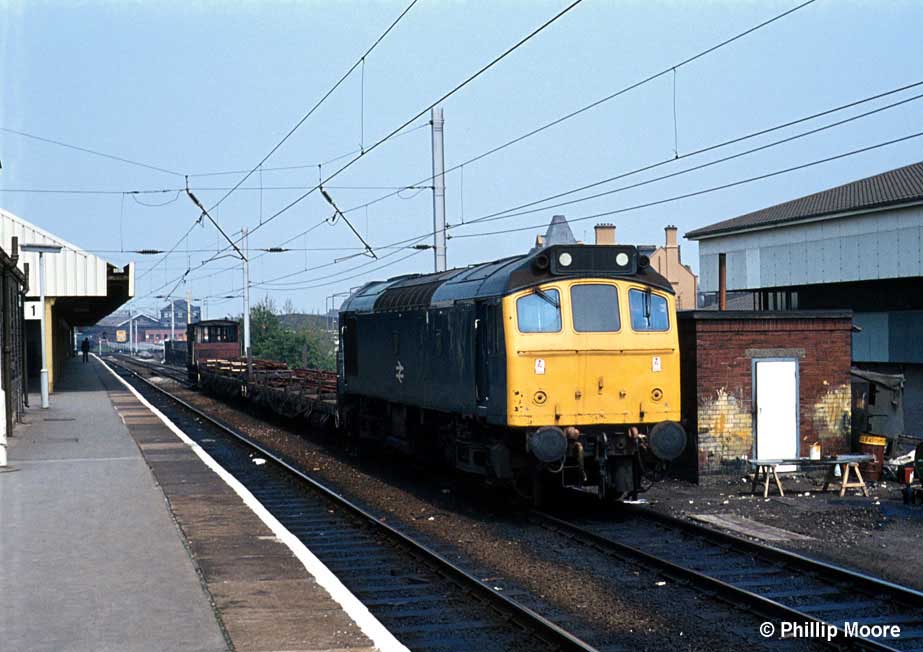 Photograph courtesy Phillip Moore.
25302 drifts south through Warrington Bank Quay station May 17 1985. Less than a month later on June 14th the locomotive would be withdrawn.
Class 25s briefly returned to the 15.02 Manchester - Bristol parcels at the beginning of May, with 25302 noted on 14th & 31st.
The Reading maintenance depot Open Day on June 1st featured over twenty locomotives including 25302. On June 11th 25302 covered the Preston - Liverpool leg of the 16.15 service from Glasgow, three days later on 14th a day excursion from Barrow to Chester received 25302 as far as Carnforth. From Carnforth 25302 was sent out light engine to pick up an engineers wagon and brake van from the down sidings at Hellifield, in the photograph below the Class 25 can be seen collecting the wagon at Hellified, just before four o'clock that afternoon. Clearly all was not well with the locomotive as it was withdrawn this day (presumably after completing this job?), initially being stored at Kingmoor.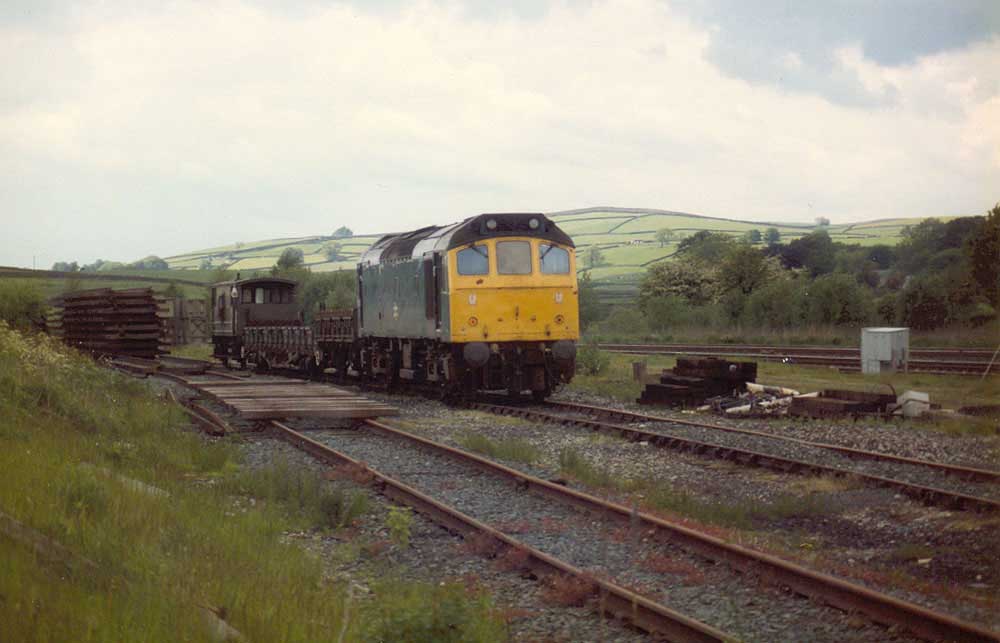 Photograph courtesy Stephen Houlker.
25302 at Hellifield on June 14th 1985.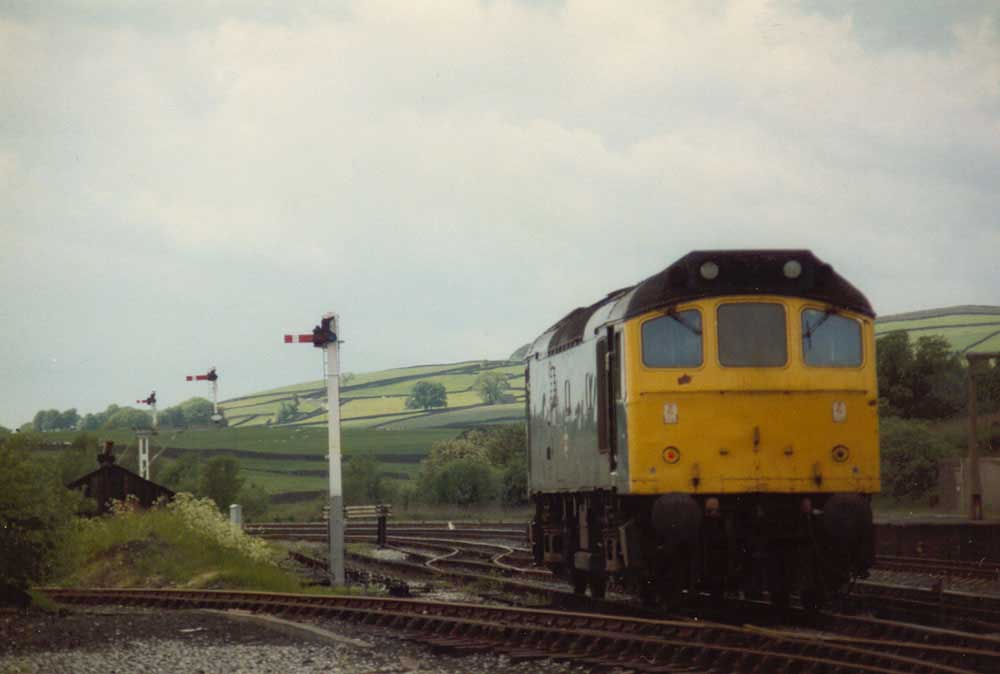 Photograph courtesy Stephen Houlker.
25302 at Hellifield on June 14th 1985.
25302 was withdrawn on June 14th 1985.
At least one cab side panel with number and TOPS panel escaped scrapping.
Distinguishing Features
No.2 cab front: 2nd man's side, lower corner, paint missing from several area:(two paint dings August 1984) until withdrawn.
No.1 cab front: driver's side corner paint missing from several areas at handrail height; under 2nd man's window large chunk of paint missing: (nothing noted June 1981) January 1982 until withdrawn.
53/5451
flk 0217
Not all known passenger workings are recorded on this page.
Page created February 2nd 2002.
Page updated March 23rd 2020.