D7653, 7653, 25303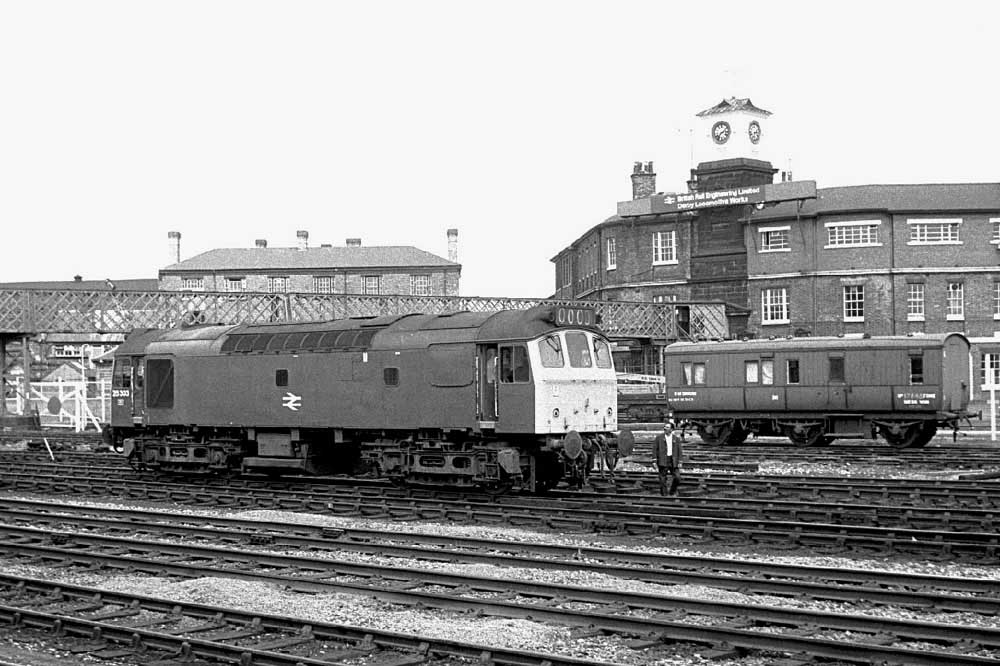 Photograph courtesy Tony Sayer
Its a fine summer afternoon at Derby, July 28th 1976. The station is alive to the workings of the London - Sheffield and NE/SW services all very much in the hands of Class 45/46/47s. The local freight traffic is in the hands of the Class 20/25s and the ever present manouvreing of locomotives on/off the fuelling point continues around the clock. Seen here in just such a manouevre is 25303 in front of the familiar Works buildings and clock tower.
Built: Beyer Peacock, Manchester (Works No.8063).
Dual brake fitted (1974).
Time between last Classified repair and withdrawal: 68 months.
Time between withdrawal and scrapping: 15 months.
The nineteen year eight month career of D7653/25303 was spent allocated to only London Midland Region depots.
Allocations
D7653 was new to the London Midland Midland Lines (LMML) on June 24th 1966. Further transfers were:
August 1967 to Birmingham Division (D02).
June 1968 to Manchester Division (D09).
May 1969 to Nottingham Division (D16).
November 1970 to Liverpool Division (D08).
May 1973 to Springs Branch.
September 1973 to Longsight.
January 1976 to Toton.
March 1983 to Crewe.
Withdrawn February 24th 1986.
Renumbered February 16th 1974.
25303 was the 273rd Class 25 withdrawn, one of five retired during February 1986.
After withdrawal 25303 was stored at Crewe, it was sold to Vic Berry, Leicester during December 1986 and moved to Knighton Sidings, Leicester on January 23rd 1987 and into Vic Berry's yard on January 26th 1987. 25303 was broken up by the middle of May 1987.
Works Visits
Works visits (records incomplete).
Noted Derby Works December 1972.
Noted Derby Works October 1974 (dual braking equipment fitted).
Noted Derby Works February 1978.
Noted Derby Works April - June 1980 (General Repair).
Highlights
1966
D7651 - D7654 were delivered to the Midland Lines from Beyer Peacock during May & June. They were towards the end of a batch of thirty five locomotives that were split between delivery to Tinsley (41A) and the Nottingham Division (D16).
On the afternoon of October 15th noted at Washwood Heath were:
D5017 with a southbound freight
D5292, D7519 & D7653 light engines.
1967
On the morning of October 29th D7567, D7649, D7653 & D7654 were stabled at Bescot.
1968
On the afternoon of February 11th D7632 & D7653 were stabled at Stourbridge Junction.
On the afternoon of March 25th D7644, D7653, D7658 & D7667 were noted at Nuneaton.
1970
Condition February: two-tone green with small yellow warning panels, blanking plates fitted, hand/footholds present, straight sided sandboxes, three rung bogie mounted footsteps, buffer beam steam pipe connections present, 'D' number prefixes.
1972
At about 5.45pm on October 9th 7653 was noted at Manchester Exchange with a down van train. At about 5pm on October 11th 7653 was noted at Olive Mount Junction with an up freight.
7653 visited Derby Works during December.
1973
At about 7.30am on April 4th 7653 was noted at Olive Mount Junction with an up freight (9T01).
During the morning of June 13th 7653 was the Manchester Victoria banker (T42). At about 6pm on June 13th 7653 was noted at Manchester Exchange with a down van train (4P05).
At about 7.30am on August 9th 7653 was noted at Olive Mount Junction with an up freight.
1974
25303 received a classified repair at Derby Works in October with dual brake equipment being fitted.
25303 was on empty coaching stock duty at Liverpool Lime Street on December 16th.
1975
On March 9th 25303 was noted at Reddish depot.
On the morning of May 30th 25303 & 25279 were noted at Leeds with stone empties (6M39).
1976
A Banbury - Rhyl excursion on April 19th was worked by 25269 & 25303 to Coventry where 82005 took over.
25029 & 25303 worked a Derby - Yarmouth service on July 10th.
On the morning of December 16th 25303 was stabled at York.
1977
On the morning of June 22nd 25303 was stabled at York.
On the evening of September 16th 25303 was stabled at York.
On the morning of November 2nd 25303 was stabled at York.
1978
A brief visit was made to Derby Works during February by 25303.
On the afternoon of June 16th 25303 was stabled at York.
The summer Yarmouth services from Walsall & Derby this year featured various Class 31s and Class 47s, though 25303 & 25309 worked the Derby service on June 17th.
On the morning of June 29th 25303 was stabled at York.
On the morning of July 3rd 25303 was stabled at York.
On the morning of July 11th 25303 ran light from Leeds PCD to Holbeck.
On the morning of July 14th 25303 was stabled at York.
On the morning of August 2nd 25303 was stabled at York.
On the morning of August 3rd 25301 & 25303 were stabled at York.
On August 5th, the date for the annual Derby Locomotive Works Open Day, 25303 & 25249 were stabled at Etches Park.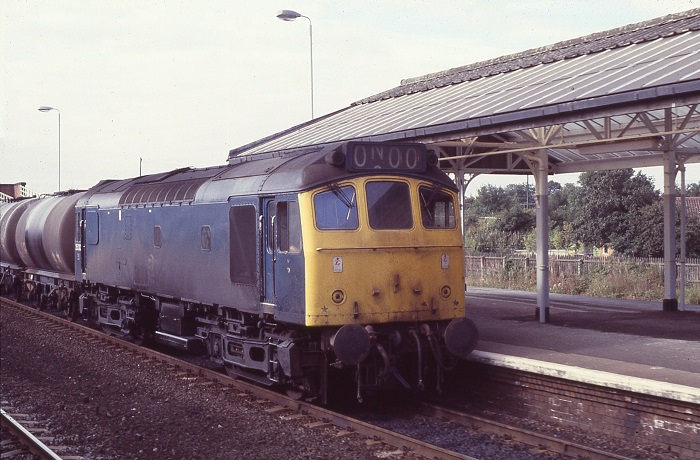 From the open window in a vestibule of a passing express, 25303 is seen heading north at Church Fenton on September 2nd 1978 with a train of oil tanks. The oil stains on the side of the locomotive would get progessively worse, being noted as early as March 1978 and remaining in this condition at least as early as January 1979.
25131 & 25303 were noted at York station on the afternoon of October 28th (working unknown).
On the morning of October 30th 25131 was stabled at York.
On the morning of November 3rd 25303 was stabled at York.
1979
On March 10th 25303 was noted at Hatch End on an up freight.
On April 9th 25303 was noted at Bristol Bath Road.
On the evening of June 22nd 25303 & 25320 were noted at Crewe on a down coal train.
On the evening of November 2nd 25303 & 25257 were noted at Crewe on a down coal train.
1980
A general repair was for 25303 carried out at Derby from April - June.
1981
The North Wales coast was host to 25301 on June 23rd when it worked a round trip Manchester Victoria - Bangor working, then returning with the 17.42 Manchester Victoria - Llandudno Jct. Three days later it worked the 11.50 Cardiff - Crewe throughout. The 27th found 25304 & 25275 working the 07.40 Euston - Aberyswyth forward from Wolverhampton and returning with 16.05 to Wolverhampton.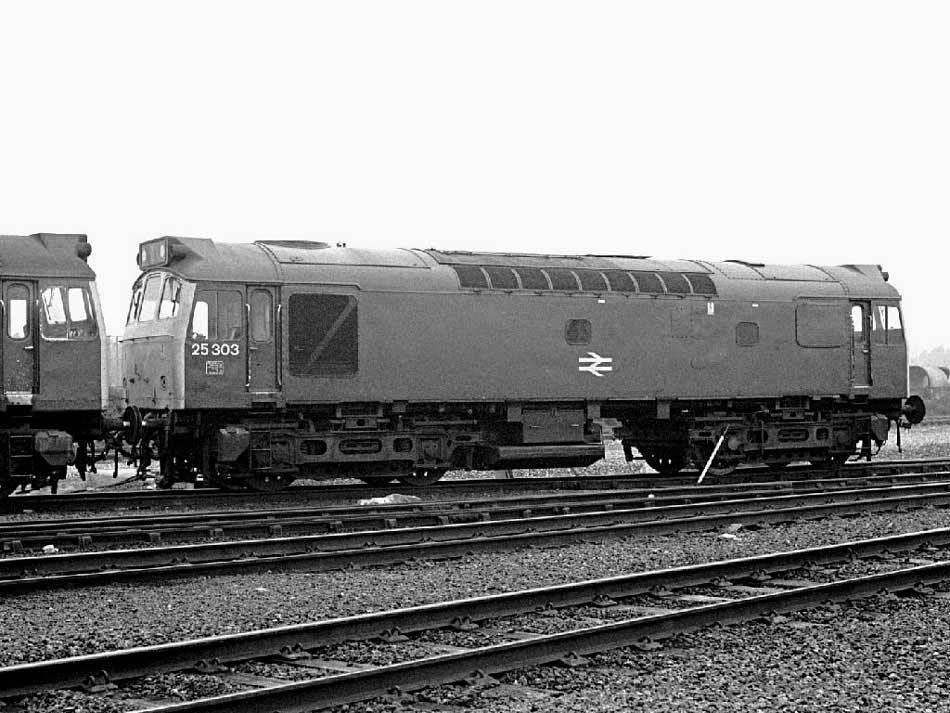 Photograph courtesy Tony Sayer
A damp day at Toton, October 17th 1981 finds 25303 awaiting its next duty.
1982
25303 was stabled at Springs Branch on May 4th.
The long distance 'Skirl of The Pipes' railtour working its southbound leg on May 9th utilised 25303 & 25080 between Carlisle & Farrington Jct, somewhere on the trip 25080 became a failure. Near the end of the month, (29th) 25303 was used to drag 31189 and the 09.49 Norwich - Birmingham forward from Syston Jct after the Class 31 failed.
On November 3rd a diverted freightliner service was noted northbound through Hereford with 25315 & 25303.
25303 & 25234 were noted working a rail train west through Huyton station on December 13th, presumably headed for Fazakerley.
1983
The Norwich - Birmingham services were still regularly visited by the Class 25s, on March 1st 25303 handled the 07.40 ex Norwich from Leicester after the booked Class 31 failed. On March 11th 25303 was the Coventry standby locomotive, following the arrival of 31159 with a train of empty wagons both locomotives then ran light to Bescot. 25117 then took over as the standby locomotive. On March 12th 25303 was noted at Shrewsbury. After seven years at Toton 25303 moved to Crewe in March, to be joined there by 25302.
25265 & 25303 worked the 4E78 Stewartby - Kings Cross brick train on May 5th.
25303 was stabled at Severn Tunnel Junction on May 21st.
25303 was sent out on August 27th's 07.05 Liverpool - Scarborough, making it as far as York, it returned westbound the same day on the 17.10 to Manchester Victoria.
On September 1st 25303 was the Manchester Victoria station pilot. 25303 was noted at Manchester Victoria on September 6th. 25303 was noted at Preston on September 9th.
1984
On the night of February 29th 25303 was noted at Manchester Victoria.
On March 26th 45113 failed at Chesterfield on the 08.20 Leeds - Birmingham, 56112 took the train forward to Derby where 25303 took over for the last leg to Birmingham.
On April 1st 25303 was noted hauling newly built 58010 at Toton. On April 9th 25303 was noted shunting coaching stock at Derby.
25303 was stabled at Saltley on May 9th.
25303 was noted at Tyseley on empty coaching stock duties on June 14th. The only recorded use of 25303 over the summer dated Cambrian passenger workings was on June 16th when it worked the 2J61 07.44 Shrewsbury - Aberystwyth and return 1A46 10.10 Aberystwyth - Euston (as far as Wolverhampton) with 25249. The next day the same pair worked a return Nottingham - Llandudno Town excursion via Chesterfield & Manchester.
25303 was noted with ten loaded bogie ballast wagons southbound at Wellingborough on July 26th.
25303 was noted passing southbound Luton with a short Speedlink freight for Willesden (?) on August 8th.
Short distance workings for 25303 in September included a Blackpool - Preston trip on 20th and a very short Wigan North Western - Lostock Jct drag for a diverted WCML service on 30th.
25303 was stabled at Leicester on October 31st.
1985
25303 worked the Birkenhead Victoria Dock Sidings - Garston (Target 10) on a wet January 29th comprised of 21 empty Catfish and a Shark. On this day it also shunted six brake vans off Drapers Siding at Birkenhead Mollington Street.
On February 23rd a shortage of electric locomotives found 25249 & 25303 in charge of the early morning Ditton - North Wembley BOC tanks.
On April 12th 25303 & 25300 were noted light engines at Mossend Yard.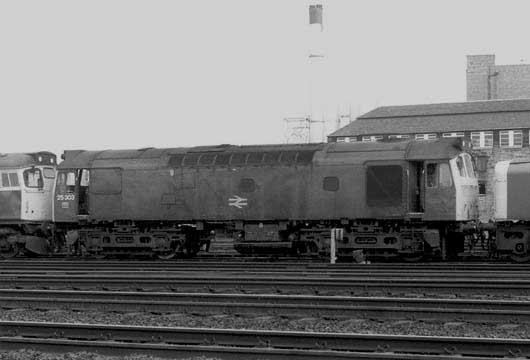 Photograph courtesy Mike Macdonald.
Just prior to 25303's strenuous passenger workings at the end of May it is captured here at Haymarket on May 15th laying over between turns and between a Class 27 & 40.
According to the detailed orientated amongst us (you know who you are!), 25303 was recorded as having the highest passenger mileage of any Class 25 during 1985, with a total of 1,723 miles. Much of that mileage was acquired between late May and the end of September.
It began with a very busy May 29th working the 06.15 Edinburgh - Kirkcaldy, the 08.16 Cardenden - Edinburgh, the 07.30 Aberdeen - Penzance between Edinburgh & Carstairs, returning with the 07.25 Nottingham - Edinburgh forward from Carstairs, then returning to Carstars with the 15.10 Edinburgh - Nottingham, then back to Edinburgh with the 07.34 Poole - Edinburgh, followed by a couple of local services, the 17.55 Edinburgh - Dunbar and the 18.42 Dunbar - Edinburgh. The next day, May 30th 25303 worked the 07.15 Edinburgh - Dundee and the 09.30 Dundee - Edinburgh.
On June 3rd 25303 worked the 08.40 Carlisle - Glasgow and the 15.45 Glasgow - Carlisle. The next day, June 4th the diesel multiple unit working the 06.05 Barrow - Carlisle failed before departure with 25303 & 25323 assisting throughout. On June 8th 25303 was stabled at Bescot. On June 18th 25303 was noted with a freight at Helsby taking the Ellesmere Port line. On June 14th 25303 worked the 16.45 Euston - Blackpool forward from Preston and later in the day worked the 18.15 Glasgow Central - Liverpool forward from Preston. 25303 worked the 12.55 Severn Tunnel Junction - Carlisle seventeen wagon freight on June 21st. 25303 was noted passing through Warrington Bank Quay with two ferry wagons on June 25th.
25303 was noted running light engine through Norton Bridge on July 11th. 25303 was back on Scottish metals on July 24th, working the 07.40 Glasgow Central - Carlisle .
On August 5th 25303 was noted eastbound at Chester with a freight. On August 7 the 10.41 Exeter - Edinburgh (relief) was worked from Carstairs by 25303 & 25283. On August 22nd 25303 worked the 17.40 Carlisle - Glasgow, whilst heading south the next day (23rd) with the 15.45 Glasgow - Carlisle . On August 24th 25303 & 25230 were stabled together at Crewe diesel depot.
25303 worked the 15.45 Glasgow - Carlisle on September 6th and the 07.47 Carlisle - Newcastle on September 9th following the failure of the booked diesel multiple unit.
Obviously perhaps the September 27th & 28th outings for 25303 & 25323 were the most interesting with them working a relief 14.25 York - Taunton on September 27th as far as Bristol, 37176 & 37236 taking over from here. This would be the last significant passenger working of a pair of Class 25s over a great chunk of the NE/SW route, both NE of Birmingham & SW of Birmingham. It is remarkable that the locomotives were able to complete most of the working without being prematurely removed. For those enthusiasts fortunate enough to ride any or part of this working, may the memories not fade too quickly. One can imagine the departure from York as the two Type 2s threaded the pointwork at the south end anxious to be on their way, with the opportunity, hopefully, for some 90 mph running before the speed restricted track of South Yorkshire. The entry into Sheffield, the run up to Bradway Tunnel, the descent into Chesterfield, more high speed running alongside the freight lines to Clay Cross, through the tunnel and down into familiar Derbyshire, eventually alongside the Derwent, past very familiar haunts until the power is eased off as Derby approaches. The train has been running for almost two hours, does Control have a replacement waiting at Derby?
The answer is no, the Class 25s have a few more miles to run. More opportunities for high speed running lie ahead, no other global purchaser of the Sulzer six cylinder engine built for traction purposes can offer what 25303 & 25323 are doing on this run. Other operators may have taken them on much longer journeys, in hotter and colder climates, at greater altitude, but pairs of locomotives running at 90mph+ for significant amounts of time truly belongs only to the Class 25s. The approaches to Birmingham require slowing for the complex trackwork and junctions ahead, were there any Class 25s on Saltley depot this day? Has Saltley provided a replacement locomotive for changeover at New Street? Power is eased off as the train approaches New Street, there's no mistaking the echo of the engines off the roof and sides of the tunnel. If the locomotives are to be changed surely it will be here. But there is no shunter waiting to uncouple the 25s, no replacement locomotive waiting on the center road, just the revelation of even more classic mileage ahead.
No matter, the train continues further south-west, through more tunnels, out into the suburbia of Birmingham, rejoining the Camp Hill line at Kings Norton. Up ahead is the descent of Lickey, then between Bromsgove & Cleeve, 29 miles of running above 80mph, with a top speed of 93.5mph noted at Defford. A stop is made at Cheltenham, the magic 90mph is again attained around Coaley, then the speed is moderated for Westerleigh Junction, Bristol Parkway & Bristol itself. For the Class 25s the journey ends at Temple Meads, hopefully the memories travelled much further.
The attached log is borrowed from "Class 25s Action 85" and highlights the latter half of the York - Bristol working on September 27th 1985. Obviously the twenty odd miles from Droitwich Road to Cleeve represent a fine memory of the Class 25s in the twilight of their careers. It is also a testimony to the 6LDA engine - although the Class 25s were not the last locomotives to carry the 6LDA, they were pretty close to the end of production orders. By the mid-1960s research and development had moved on from the LDA series & Sulzer were soon to leave the rail traction market. With a great portion of the world's 6LDA powered locomotives operating at slower speeds dictated by indifferent/marginal track conditions this log represents a solid performance in service on British Rail, with speeds unattained elsewhere in the world by the 6LDA.
| | | | | |
| --- | --- | --- | --- | --- |
| Passing point | Miles | Time | Speed | EDBHP/RailHP |
| BIRMINGHAM N.S. | 0.00 | 40 late | 0.00 | - / - |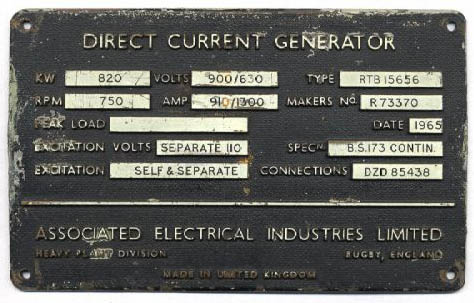 This is believed to be the AEI makers plate from the main generator last carried by 25303 prior to its withdrawal.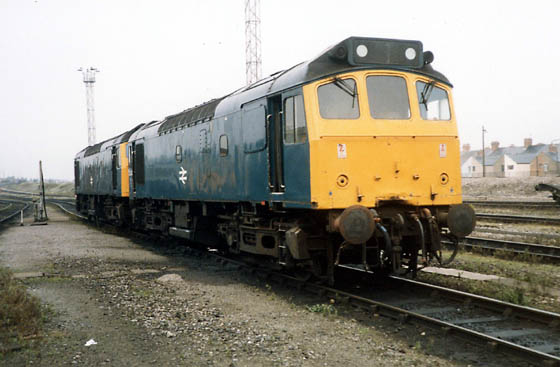 Photograph courtesy Steve Morris
The date of this view at Cardiff Canton is sometime in September 1985 so presume it is close to the dates when this pair were active on the NE/SW route and over the Cambrian line.
But all was not lost, by the next day (September 28th) the pair have returned to the West Midlands and were diagrammed for a North Walsham - Aberystwyth charter, taking the train on from Shrewsbury Abbey Foregate Junction to the coast.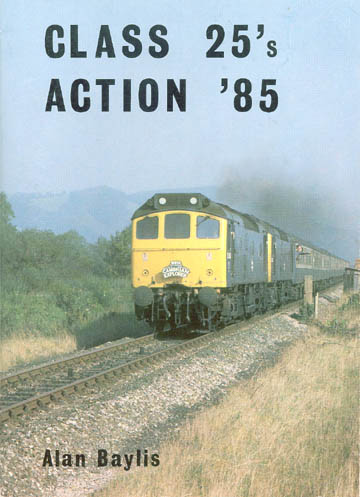 Photograph courtesy Dave Craik, as used on the "Class 25's Action 85" book produced by Alan Baylis.
25303 & 25323 run through the Dovey Valley, shortly after leaving Machynlleth on September 29th's North Walsham - Aberystwyth 'Cambrian Explorer'. The previous day this adventurous pair had worked a York - Taunton relief as far as Bristol!
25324 & 25303 worked the Stanlow - Leeds oil tanks on October 8th.
On November 2nd 25303 worked the 18.07 Harwich - Wolverhampton forward from Nuneaton following the failure of 31435.
On December 17th 25303 was noted on the avoiding line at Crewe with empty container flats. 25303 was stabled at Bescot on Boxing Day.
1986 & 1987
25303 was noted running light engine at Bescot on the early evening of January 3rd.
25303's active service ended on February 24th, being initially stored at Crewe. It was sold to Vic Berry, Leicester and reached their yard on January 26th 1987. By the middle of May 1987 it had been scrapped.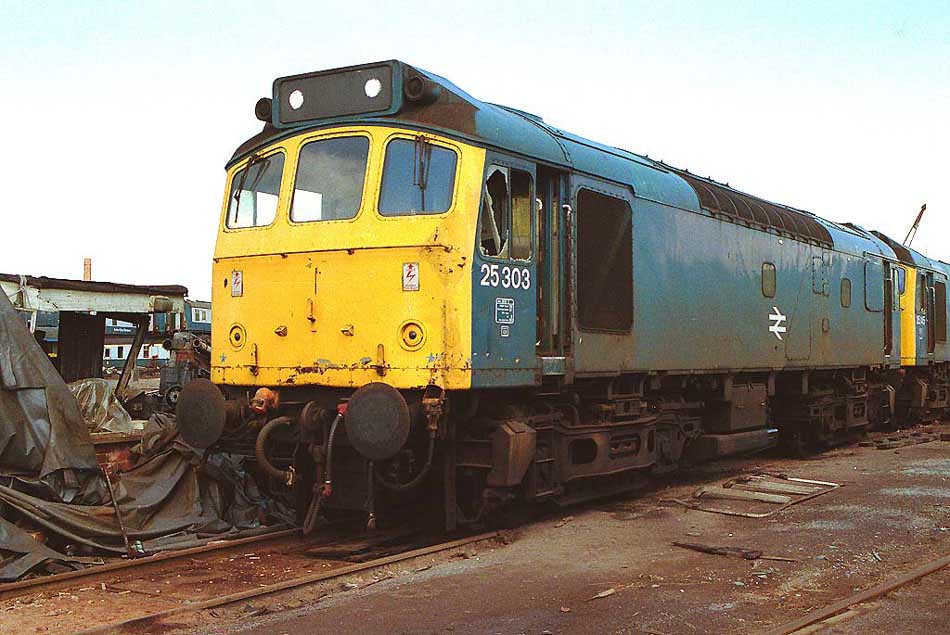 Photograph courtesy Martin Bray
It's May 1st 1987 and 25303 sits in Vic Berry's yard at Leicester, within earshot of the Midland line over which 25303 would have travelled countless times. By the end of the month 25303 will be just a memory.
Distinguishing Features
No.1 cab front: paint missing from top of centre valencing: May 1982 until withdrawn
No.1 cab front: driver's side corner, discoloured, patched paint: May 1982 until withdrawn
No.2 cab front: center valencing badly dented: (not present August 1984) February 1985 until withdrawn?
No.2 cab front: 2nd man's side corner valencing, big chunk of paint missing: July 1984 until withdrawn?
00/00
flk 0217
Page created February 2nd 2002.
Page updated September 23rd 2022.
Back to 25302
Forward to 25304