D7656, 7656, 25306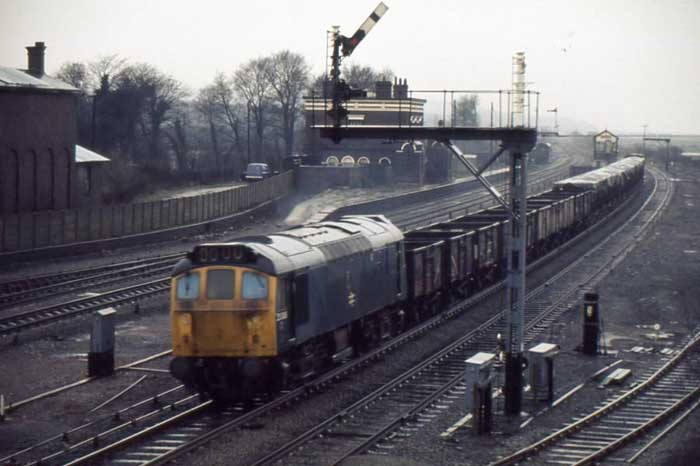 Photograph collection of webmaster
A very damp February 23rd 1977 finds 25306 with a lengthy heavy train at Holywell Junction on the North Wales mainline.
The working career of D7656/25306 totalled eighteen years and eight months allocated to London Midland & Western Region depots.
Built: Beyer Beacock, Manchester No. 8066.
When withdrawn 25306 was the 7th remaining vacuum brake only Class 25.
Time between last Classified repair and withdrawal: 66 months.
Time between withdrawal & scrapping: 35 months.
Allocations
D7656 was new to the London Midland (Midland) Lines LMML on July 5th 1966. Further transfers were:
March 1967 to London Division (Western Lines) (D01).
December 1968 to Nottingham Division (D16).
November 1970 to Liverpool Division (D08).
October 1971 to Laira (84A).
January 1972 to Bristol (82A).
May 1972 to Cardiff (86A).
December 1972 to Laira (84A).
August 1975 to Crewe.
Withdrawn February 25th 1985.
Renumbered May 1974.
After withdrawal 25306 was stored at Cricklewood from February to May 1985, then moved to Swindon Works via Acton between May 3rd & May 15th 1985. The Works closed prior to the scrapping of 25306 so it moved to Cocklebury Yard, then on to Leicester Humberstone Road on June 3rd 1987. It moved into Vic Berry's yard the next day, then added to the pyramid by October 1987. It was removed from the pyramid late in January 1988 and scrapped by the middle of February 1988.
Movement details:
25075, 25219, 25306/326 Cricklewood to Swindon May 3rd – 14th 1985
25093, 25126/134/161/164/180/193, 25207/208/260, 25306/327 Swindon Works to Cocklebury Yard, June 3rd 1987.
25093, 25180/193, 25306 Cocklebury Yard to Vic Berry Leicester June 3rd - 4th, 1987.
Works Visits
Works visits (records incomplete).
Noted Derby Works April 1974.
Noted Glasgow Works July - September (?) 1979 (General repair).
Noted Derby Works August 1979 (rectification?).
Highlights
1970
7656 & 7607 worked the roundtrip summer dated Nottingham - Llandudno on July 18th.
1971
D7656/25306 did not acquire much passenger mileage, but one of its longest passenger trips occurred on August 14th when 7656 & 5261 worked a Liverpool - Ipswich roundtrip Everton football special, a total of 502 miles assuming the locomotives worked throughout.
7656 noted Exeter December 7th ?? having worked the 6B65 20.20 Plymouth Friary - Exeter Central cement tanks with 1064, both retired to the stabling point.
On December 10th 7656 worked the 6B74 16.57 Hemyock - Exeter milk tanks (nine tanks).
On December 13th 7656 worked the 6B74 16.57 Hemyock - Exeter milk tanks (ten tanks).
On December 14th 7656 worked the 6B67 19.05 Barnstaple Junction - Exeter St David vans (three vans).
On the evening of December 30th 7577 & 7656 were in the steam shed at Newton Abbot.
1972
On the late afternoon of March 4th there were forty two locomotives on Bristol Bath Road including 5230 & 7656.
1973
On March 24th 7656 worked the 6B17 14.30? Exeter Riverside - Hemyock and the 6B27 16.35 Hemyock - Exeter milk (12 tanks).
On March 27th 7656 worked the 6B66 10.40 Barnstaple - Exeter vans and later worked the 7B70 13.15 Exeter Riverside - Hemyock and the 6B70 16.57 Hemyock - Exeter milk (ten tanks).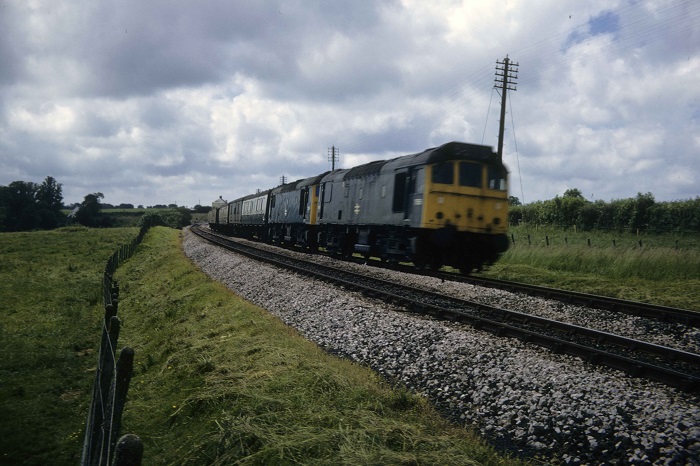 Photograph courtesy Roger Geach
Class 25 Nos.7656 & 7624 work the 4A17 Penzance - Bristol Temple Meads vans at Dobwalls, Liskeard on Saturday June 30th 1973. The Class 25s would work through to Plymouth and often return on the evening 6B31 Plymouth Friary - Truro freight.
On July 23rd & 26th 7656 worked the 20.15 Exeter St Davids - Newton Abbot.
On August 18th 7656 worked the 09.51 Exeter St David - Barnstaple, the 12.20 return, the 15.55 Exeter St Davids - Barnstaple and the 17.55 return. On August 25th 7656 worked the 15.55 Exeter St Davids - Barnstaple and the 17.55 return.
1977
Lenton permanent way yard was host to 25306 & 24087 on the afternoon of July 4th, arriving with a load of rails, later returning light engines to the west. On the evening of July 28th 25067 & 25306 were noted on a Llandudno - Leicester special (was this the return leg?).
1978
25292 & 25306 were noted at Seacombe Junction with an iron ore train on January 25th.
On August 10th 25306 & 25290 worked the 09.10 Birmingham New Street - Llandudno Town forward from Crewe, returning with the 18.15 ex-Llandudno Town as far as Crewe.
On the evening of September 22nd 25306 was noted at Crewe with an up van train.
1979
On February 4th 25306 worked the 22.30 Liverpool Lime Street - Manchester Red Bank vans (5J37).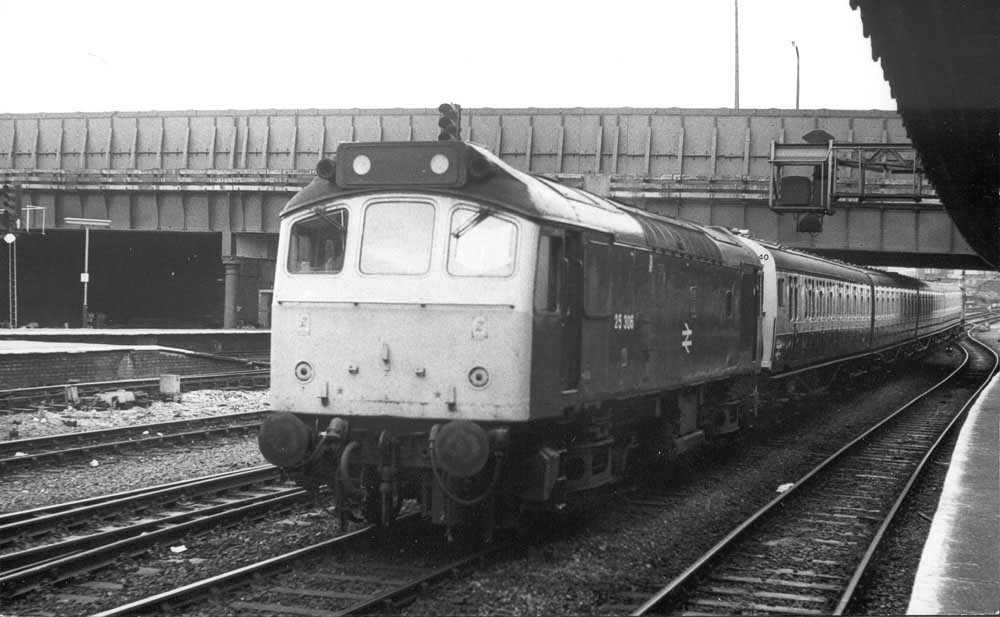 Photograph collection of webmaster
Manchester Victoria again, but this time a rather unusual movement with 25306 hauling a Southern Region electric multiple unit from Horwich, perhaps. Since the view from 1977 25306 has been through Glasgow Works and has received a repaint, including the repositioning of the numbers behind the cab door.
1981
25306 was noted passing through Whitehaven with a brakevan on April 22nd.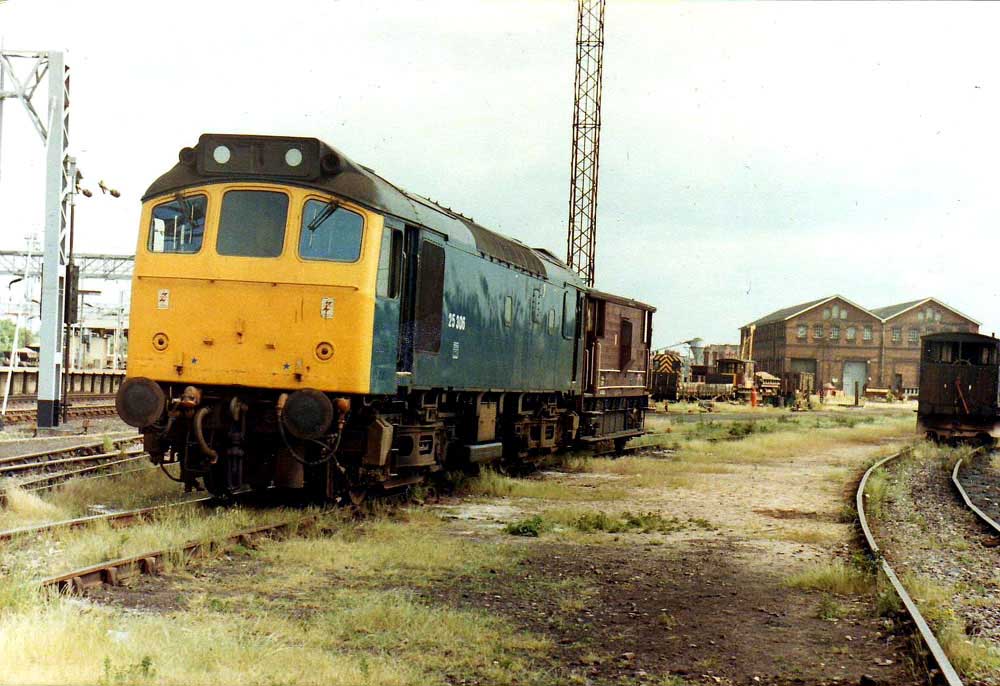 Photograph courtesy David Smith
An interesting view of Nuneaton north end yard on June 30th 1981. Present are several different types of brake vans and other vehicles used on the ballast/permanent way workings. Front and center of course is 25306 waiting for the afternoon T43 working, whilst just visible is a Class 08.
On August 15th the 07.52 Leeds - Llandudno Town failed at Chester behind 40170, 25306 dragged everything to Llandudno Town and then returned with the 14.00 Llandudno Town - York, see view below.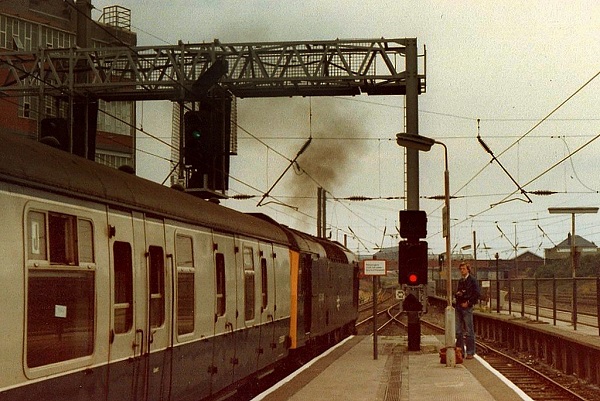 Photograph courtesy Chris Baines
25306 departing an overcast Warrington with the 14.00 Llandudno Town - York on August 15th 1981. At least by York the sun was shining making for a pleasant afternoon.
On the afternoon of August 19th 25306 was noted at Manchester Victoria with an up van train.
1982
The two recorded workings during 1982 involved the north-west. On September 26th 25306 worked the 02.10 Crewe - Bangor, whilst on December 16th 25306 worked a Euston - Blackpool North relief forward from Preston.
1983
1983 brought a small mixed bag of workings. On June 1st 25306 worked the 13.25 Crewe - Cardiff and the 17.15 Cardiff - Crewe and on June 6th (a Monday) it worked the 08.01 Crewe - Cardiff and the 11.40 return. Just over a month later on July 29th 25306 & 25276 worked the 10.10 Euston - Shrewsbury forward from Birmingham New Street. And on August 14th a relief 22.22 Stranraer Harbour - Euston required the assistance of 25306 & 25194 between Rugby & Bletchley, dragging 86324 due to the power being off for engineering work.
Track alterations at Ilkley required a ballast special which was hauled by 25195 & 25306 on October 9th.
1984
25302 & 25306 worked the 06.40 Severn Tunnel Junction - Carlisle (to Crewe?) on January 9th.
1984 brought the final year of passenger workings for 25306. A diesel multiple unit failure on February 10th led to 25306 working the 07.00 Gloucester - Cardiff. Late on July 14th 25306 & 25251 assisted the 23.05 Manchester Piccadilly - Gatwick Airport service between Stockport and Stafford when the power was off for engineering work. Two weeks later on July 27th a late afternoon Bristol Temple Meads - York relief required assistance from 25306 between Leeds & York following the failure of 46026. On October 23rd 31430 failed at Settle on the 07.38 Hull - Carlisle, 25306 took the train on to Carlisle and returned with the 16.35 Carlisle - Hull as far as Leeds. The final passenger working took place on November 2nd working the 12.30 Manchester Piccadilly - Cardiff to Crewe.
1985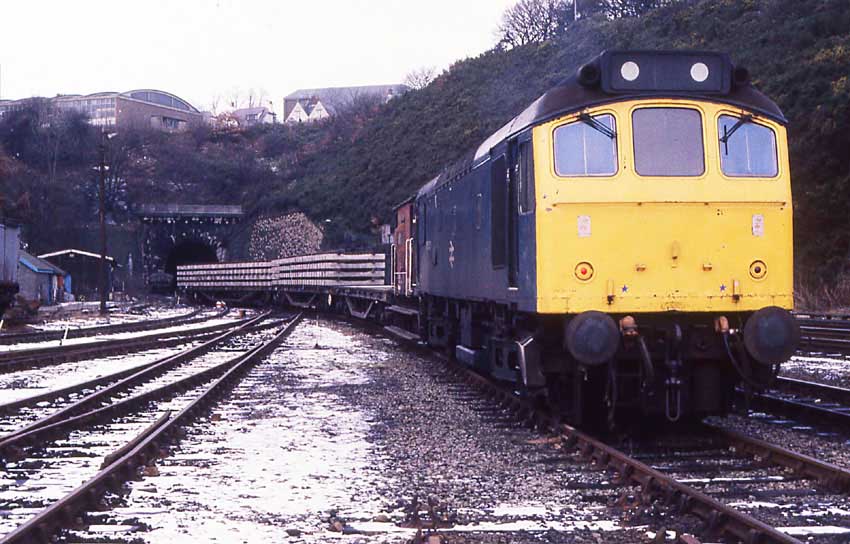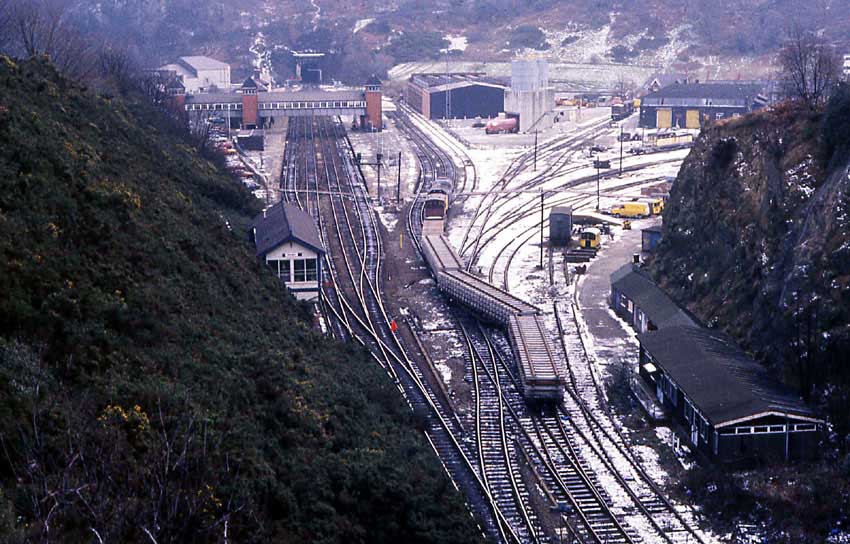 Photographs courtesy Colin Webb
Two views of 25306 at Bangor station on January 20th 1985, one month before its withdrawal. The two rear bogie track panel wagons are derailed and await the rerailing team.
25306 was withdrawn on February 25th 1985.
A builders plate from 25306 (Beyer Peacock 1966) sold at Stafford Auctions for £820 during January 2018.
Not all known passenger workings are recorded on this page.
flk 0815 (1)
18/1647
Page added May 11th 2013.
Last updated May 16th 2020.
Back to 25305
Forward to 25307