D7657, 7657, 25307, 25908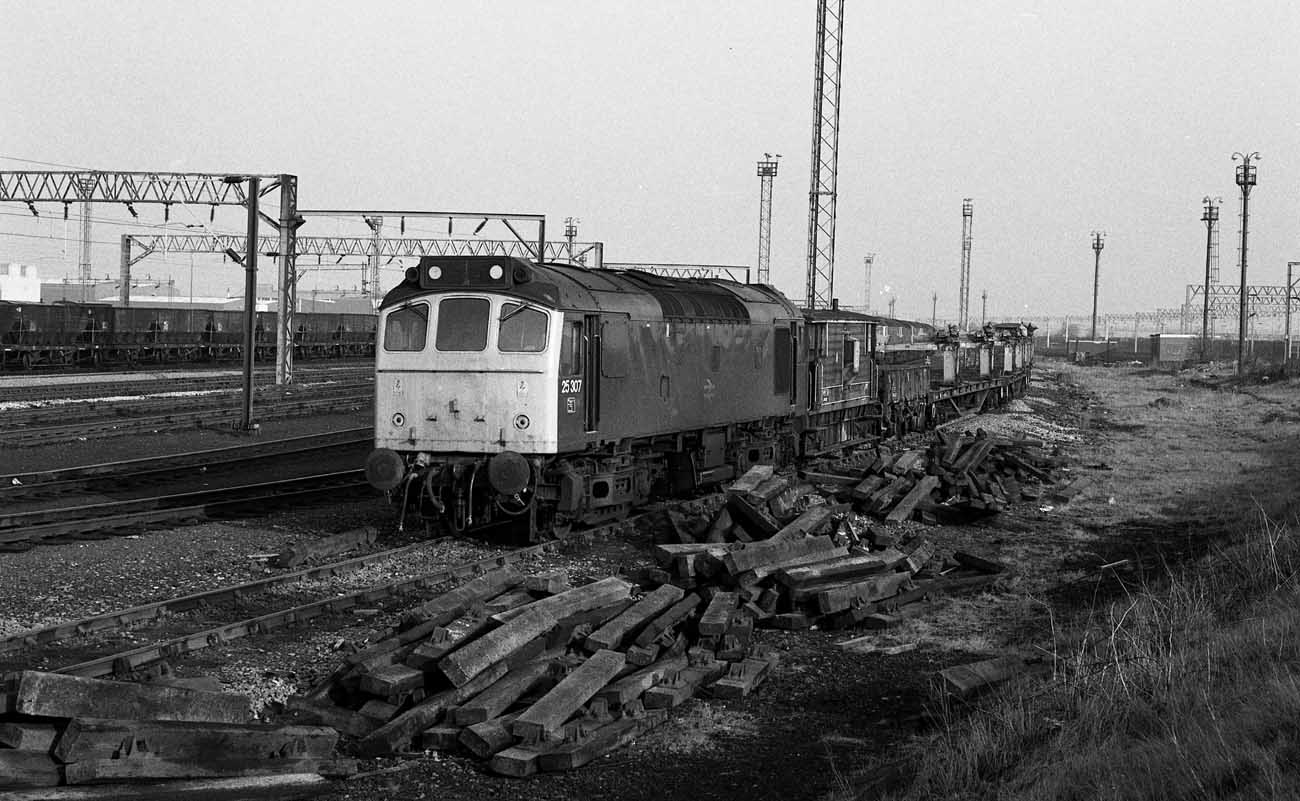 Photograph courtesy Danny Preston, collection Neil Johnson.
25307 at Speke Junction on February 18th 1984.
The twenty year four month career of D7657/25307/25908 included allocations up and down the London Midland Region and a four year stint on the Western Region.
Built: Beyer Peacock Ltd, Manchester (Works No. 8067).
Dual brake equipped (Sept 1977).
Time between last Classified repair and withdrawal: 110 months.
Time between withdrawal and scrapping: 26 months.
Allocations
D7657 was new to London Midland (Midland) Lines on July 4th 1966. Further transfers were:
March 1967 to London Division (D01).
December 1968 to Nottingham Division (D16).
September 1971 to Newport (86B) on loan, then made permanent the same month.
October 1971 to Laira (84A).
January 1972 to Bristol (82A).
May 1972 to Cardiff (86A).
December 1972 to Laira (84A).
August 1975 to Crewe.
November 1980 to Cricklewood.
January 1984 to Kingmoor (KM).
November 1985 to Kingmoor (KD).
Withdrawn November 7th 1986.
Renumbered into TOPS May 1974.
Renumbered to 25908 December 14th 1985.
25908 was the 300th Class 25 withdrawn, the only Class 25 retired during November 1986.
After withdrawal 25908 was stored at Springs Branch and taken into Departmental service under number ADB968026 based at Toton. It moved from Springs Branch to Crewe on April 4th 1987, then to Bescot the next day and to Toton on April 4th 1987. It appears the locomotive was never renumbered and saw no use whilst at Toton. 25908 moved to Vic Berry on July 5th 1988, by the end of January 1989 it had been broken up.
Works Visits
Works visits (records incomplete).
Noted Derby Works August 1967.
Works visit (Derby?) between September 1971 & April 1972; dates uncertain (repainted into blue livery, engine exhaust relocated).
Noted Derby Works August & September 1977 (Dual brake equipment fitted).
Highlights
1971
The end of July saw the Class 25s make their first appearances in the West Country, to replace the NBL Class 22s. On July 30th 5180 was noted arriving at St Blazey, followed by 5179 on August 19th, bound for Laira. With these machines, and later 5181 and 7657 (September 3rd) crew training commenced. There still remained thirteen Class 22s 6308/19/22/26/30/33/34/36-39/43/56 with ten diagrams to cover. The St Blazey turns visited St Dennis Junction and the Retew branch, Tavistock Jcn and Boscarne, Goonbarrow Jcn, Drinnick Mill and Lostwithiel and the Truro area. Laira turns went to Keyham and Liskeard, Plymstock and lastly Devonport. The Newton Abbot locomotive visited Heathfield and Stoneycombe. Exeter turns went out to Barnstaple Junction and Torrington, Tiverton Junction, Hemyock and Chard Junction. The last turn ran out to Okehampton. A number of these turns were not daily.
On August 30th 7668 & 7657 were noted on 17.50 Barmouth - Loughborough return day excursion.
Condition August: two-tone green livery with small yellow warning panels, blanking plates fitted, hand/footholds plated over, engine exhaust in original location, 'D' prefix present.
1973
On March 30th 7657 worked the 20.10 Exeter St Davids - Newton Abbot. The following day (31st) 7657 worked the 15.55 Exeter St Davids - Barnstaple and the 17.55 return.
On April 10th the 1B94 18.00 Penzance - Bristol Temple Meads with Class 52 No.1030 was assisted by 7657 from Exeter St Davids to Bristol. On April 13th the 1B94 18.00 Penzance - Bristol Temple Meads with D1065 was piloted by 7657 between Newton Abbot & Exeter St Davids.
1975
On July 26th the 13.20 Liverpool - Plymouth with 1012 required 25307 as pilot from Totnes after the Western suffered an engine failure. Also on this day the 1V48 09.23 Manchester Piccadilly - Penzance was noted departing Exeter behind green liveried 47365 & 25307, both locomotives were working.
The 07.54 Huntingdon - Kings Cross was hauled by 25307 on September 30th 1975.
1976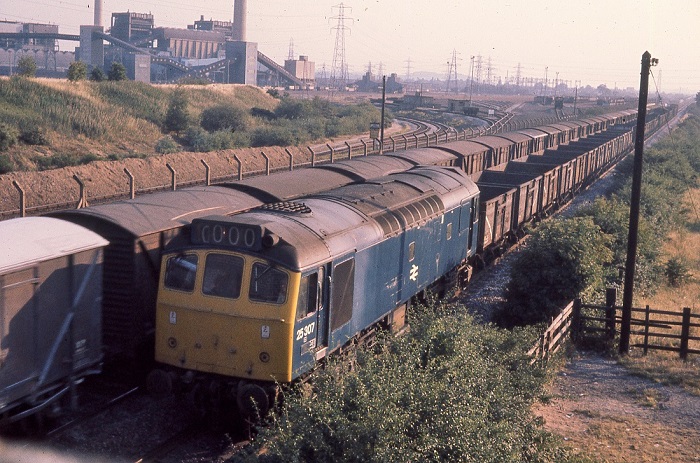 With a rather empty Willington Power Station yard in the background, 25307 heads north with empty mineral wagons, whilst a long consist of vans passes in the opposite direction, July 6th 1976.
At about 11.30am on October 30th 25307 was noted arriving at Llandudno Junction yard with an up freight.
1977
25307 & 24082 worked the 09.40 Euston - Aberystwyth from Wolverhampton to Shrewsbury on July 16th 1977, being replaced by 24091 & 25156.
The 17.10 Edinburgh - Berwick upon Tweed was worked by 25307 on October 18th.
1978
On August 12th 1978 25307 & 25163 worked the 09.19 Manchester Piccadilly - Yarmouth to Lincoln Central, returning with the 09.15 ex-Yarmouth.
1980
February 5th found an interesting test carried out using the 04.15 Stanlow – Rowley Regis oil tanks. The 2,000 ton train hauled by 25307 & 25311 worked to Nuneaton, here 25307 was replaced by 56051 and 25311 was shut down. The train then set out for Leicester – Marton – Wellingborough – Bedford – Bletchley, where 56051 was removed and 25307 rejoined the train for the run to Rowley Regis.
April 17th found 25307 working the 12.46 Holyhead - Euston as far as Crewe, arriving on time with a 12 coach load.
A visit to the Cambrian line on June 15th saw 25307 & 25282 working the 08.45 Birmingham New Street - Aberystwyth, returning with the 18.10 Aberystwyth - Euston to Wolverhampton.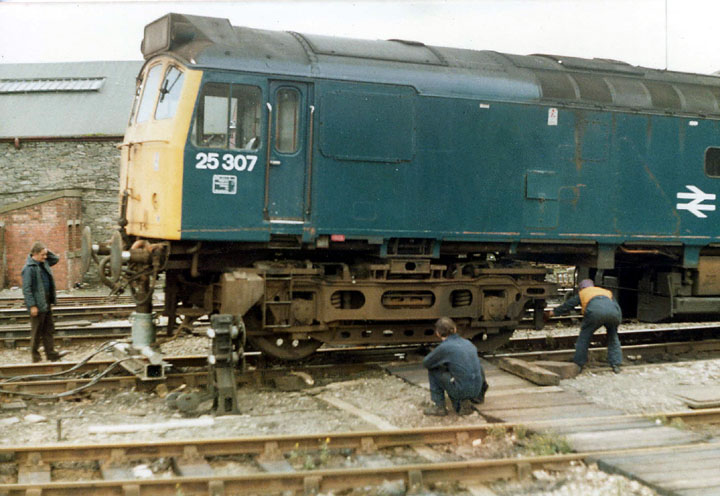 Photograph courtesy Colin Webb
25307 derailed at Holyhead on August 17th 1980. The rerailing train arrived at Holyhead with a Class 47, which also became derailed within yards of 25307.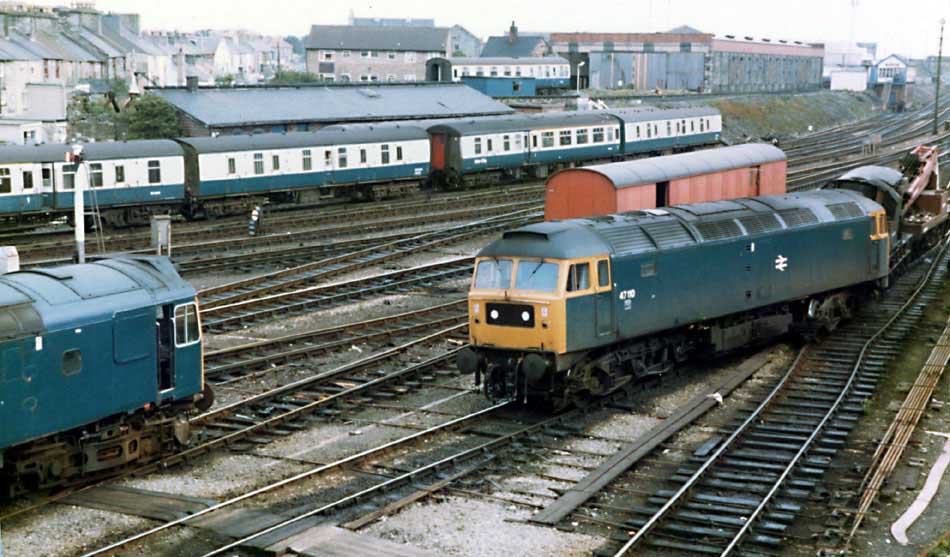 Photograph courtesy Colin Webb
25307 derailed at Holyhead on August 17th 1980. The rerailing train arrived at Holyhead with a Class 47, which also became derailed within yards of 25307.
On September 9th 25307 & 25321 worked the 07.40 Euston - Aberystwyth from Wolverhampton, returning with the 17.55 Aberystwyth - Wolverhampton.
On December 2nd 56055 failed on the southbound Tarmac working, 25307 & 25311 were noted southbound at Wellingborough with this train running about an hour late.
1981
25307 & 25296 were noted light engines at Toton on August 24th.
The only recorded working for 1981 took place on September 18th with 25307 working the 09.17 Leeds - Poole as far as Sheffield.
1982
25307 was noted passing through Workington with an engineers train on May 18th.
It was a roundtrip over the Settle & Carlisle for 25307 on June 14th 1982, working the 10.00 Carlisle - Leeds and 16.05 return. On August 28th 1982 25307 & 25245 worked the 10.07 Aberystwyth - Euston from Machynlleth to Wolverhampton, 25307 having replaced 25141.
25307 was noted at Derby on August 2nd with a mixed freight. 25307 was stabled at Northwich on August 18th.
1983
25307 was noted at Manchester Victoria on January 11th.
The passenger workings for the 1983 - 1986 period had a very distinct north west area bias. On February 16th 1983 25307 worked the 18.23 Blackpool North - Euston to Preston, returning with the 22.47 Crewe - Blackpool North.
On March 31st 25262 & 25307 were noted departing Clifton sidings, York with a southbound empty coaching stock move.
25307 was noted southbound at York on April 12th with an empty coaching stock train of four coaches.
The 08.10 Birmingham New Street - York on July 24th presented a problem to the new crew at Leicester who were not passed for 37068, it was replaced by 25307 which worked through to York. On July 26th 25307 was noted in charge of a Hartlepool – Widnes car train. The remarkable combination of a Class 25 & 40 on the Ditton – Broughton Lane BOC tanks continued throughout the summer, although pairs of Classes 25 or 40 were occasionally seen, such as 25106 & 25307 on July 28th.
On August 8th 25323 & 25307 were noted southbound at Lancaster with loaded mineral wagons. On August 11th 25316 & 25307 were noted northhbound at Warrington Bank Quay with empty bogie flats.
On November 6th 25296 & 25307 were noted on engineering trains along Woodvale aerodrome (Merseyside).
1984
25307 was noted southbound at Gresty Lane, Crewe with a freight on February 9th.
25307 worked the 9C06 08.15 Severn Tunnel Junction - Hereford on March 28th.
On April 14th 25307 (leading) & 40002 worked the Broughton Lane - Ditton BOC tanks.
25307 worked a trip freight on June 12th in the Hexham area. 25307 was the Manchester Victoria pilot on June 16th.
The last passenger working for 25307 on the Cambrian line occurred on July 14th 1984, with 25296 it worked the 10.10 Euston - Aberystwyth from Wolverhampton (with air-conditioned stock - the first on this route?). The return working was the 17.05 Aberystwyth - Shrewsbury, however 25296 was declared a failure at Machynlleth, the locomotive remained with the train as 25307 worked on to Shrewsbury.
On September 6th 25307 handled the 21.44 Preston - Liverpool (the portion off the 18.20 Glasgow - Manchester. 25307 was noted at Whitehall Junction, Leeds on September 19th with fifteen cement tanks. 25307 was noted southbound at Derby with a freight on September 24th.
On November 24th the SO 3V16 11.05 Curzon Street PCD, Birmingham - Worcester Shrub Hill N.P.C.C.S. van train was worked by 25307 with one bogie parcels van.
25307 was stabled at Severn Tunnel Junction on December 9th.
1985
1985 produced a small variety of workings, starting on February 9th with the 21.44 Preston - Liverpool.
When the 07.37 Cleethorpes - Manchester Piccadilly failed behind 31431 on April 5th 25307 assisted the train from ?? to its destination.
On June 29th the 09.50 Edinburgh - Blackpool North came forward from Preston with 25307, returning to Preston on the 16.30 Blackpool North - Euston.
25307 was noted northbound through Rotherham on July 2nd with the 6E44 08.50 Cardiff Tidal - Scunthorpe empty steel flats. 25307 was noted on a scrap train at Peterstone, Newport on July 3rd. 25307 worked a Severn Tunnel Junction - Gloucester New Yard freight (all mineral wagons) on July 14th. 25307 was stabled at March on July 19th.
The failure of a Class 47 on September 20th working the 12.55 Scarborough - Bangor saw 25307 take over at Manchester Victoria to Bangor, returning with the 19.10 Bangor - Manchester Victoria.
On November 2nd 25307 came to the rescue of 27051 which had failed at Corby Gates on the early morning Tyne – Carlisle cement. Another failure, this time north of the border on November 9th saw the 22.00 Stranraer Harbour - Euston worked by 25307 from Ayr to Carlisle. 25307 was recorded later in the month handling 19th's evening Parkeston – Mossend, a working that regularly featured Scottish Type 2s. On a snowy November 27th 25307 was noted at Wilmslow with a container train.
In the early hours of December 4th a Stanlow - Dalston oil train was worked to Warrington by 97408 & 25307, here 25904 & 25912 took over for the run to Dalston. The first week of December saw the afternoon Manchester – Bristol parcels almost totally in the hands of the Class 25s, with 25307 noted on 4th. Possibly the first Class 25/9 to visit the South Wales area was 25908 & 25201 on a Margam – Crewe coal empties on December 17th. 25908 was stabled at Preston on December 22nd.
1986
Noted through Huddersfield on January 12th were 25908 & 25901 on a Stanlow – Hunslet oil train, returning the next day with the empties.
The last recorded passenger workings for 25307/25908 took place in the first half of 1986. Another Class 47 failure saw 25908 & 25901 working the 17.03 Holyhead - York from Chester to Manchester Victoria. Similarly on April 8th 1986 45146 failed on the 09.31 Bangor - Newcastle at Colwyn Bay, 25908 with its freight train pushed the passenger train to Rhyl, here it was joined by 25288 to take the train forward to Manchester Victoria. Another failure led to the last passenger working for 25908 on May 2nd 1986 when the 14.17 Bangor - Cardiff with 33201 failed at Llanfairfechan, 25908 worked the train to Crewe.
On April 20th 25908 was noted at Llandudno Junction.
25908 was noted at Warrington Arpley on July 16th. 25908 was noted eastbound at Slutchers Lane, Warrington with a Speedlink working on July 17th.
25908 was noted at Ellesmere Port on October 19th with a lengthy train of bulk powder wagons. 25901 & 25908 worked a Warrington - Reading salt special on October 22nd.
25908 was withdrawn on November 7th 1986.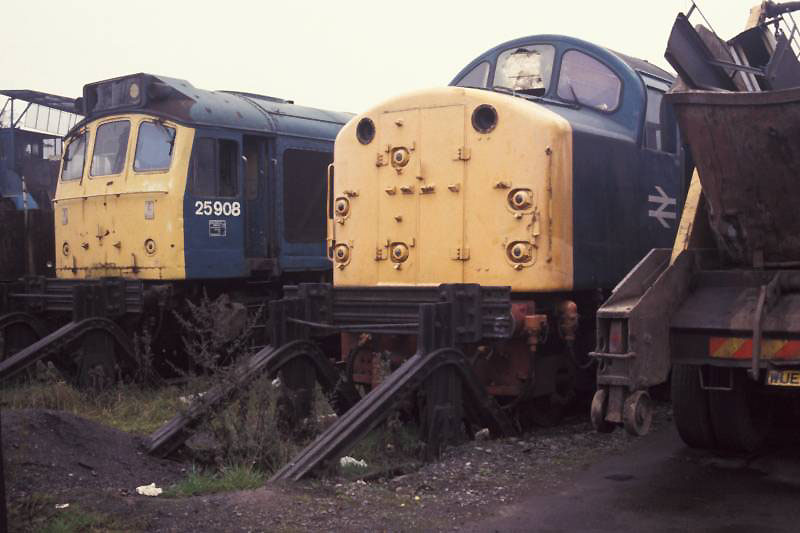 Photograph courtesy Gary Thornton
As they had in their service careers for over twenty years, a Class 25 & 40 sit side by side awaiting their next turn of duty, which in this case will never come. 25908 on October 30th 1988.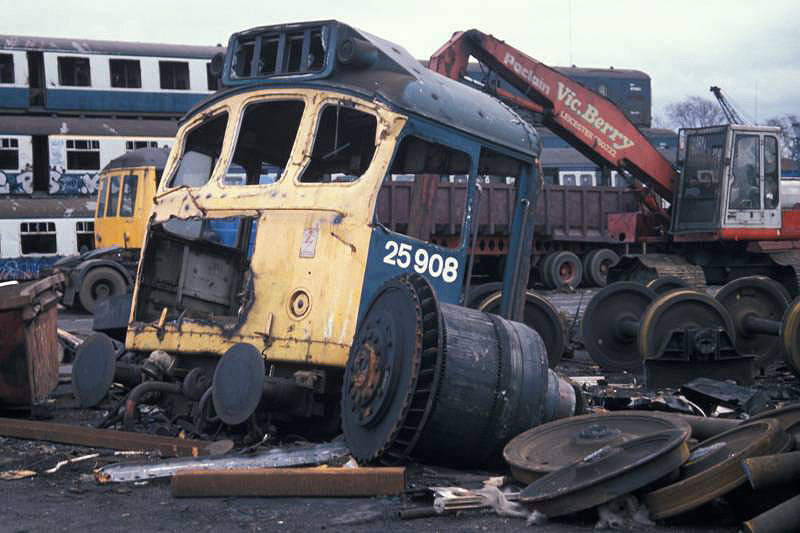 Photograph courtesy Gary Thornton
Its now January 15th 1989 and 25908 is now little more than a few bits and pieces, with the battered cabs being the most recogniseable parts.
Distinguishing Features
No.2 cab: 2nd man's side: unpainted side window frame: August 1978 until withdrawn.
Non BIS side: lengthy scrape just above frame level from No.1 cab to middle of bodyside (scrape painted at some point): April 1986 until withdrawn.
Not all known passenger workings are recorded on this page.
32/2260
flk 0317
Page added June 27th 2013.
Last updated March 18th 2020.