D7659, 7659, 25309, 25909
The last Class 25 from Beyer Peacock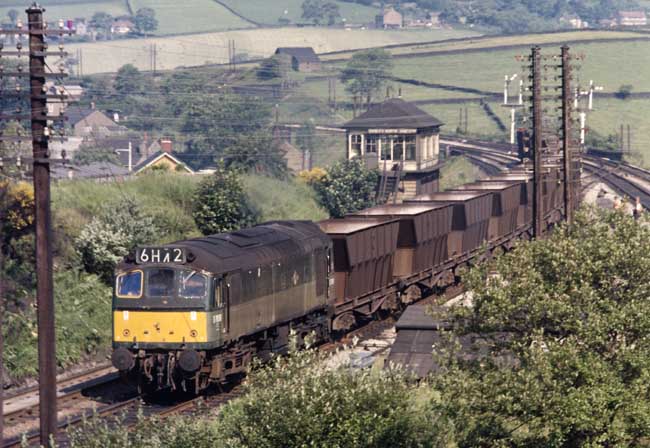 Photograph courtesy Bill Jamieson.
A fine view of 7659 at Chinley North on July 17th 1972 with empty limestone hoppers for Tunstead.
The twenty year two month career of D7659/25309/25909 included allocations to a great variety of London Midland Region depots.
Built: Beyer Peacock Gorton Ltd, Works No.8069.
Dual brake equipped.
Time between last Classified repair and withdrawal: 76 months.
Preserved.
Allocations
D7659 was new to London Midland (Midland) Lines on July 21st 1966. Further transfers were:
March 1967 to London Division (D01).
December 1968 to Nottingham Division (D16).
May 1970 to Liverpool Division (D08).
January 1971 to Manchester Division (D09).
April 1972 to Birmingham Division (D02).
July 1972 to Manchester Division (D09).
August 1972 to Birmingham Division (D02).
October 1972 to Preston Division (D10).
May 1973 to Kingmoor.
May 1973 to Springs Branch.
July 1973 to Longsight.
August 1973 to Willesden.
June 1975 to Cricklewood.
November 1977 to Toton.
April 1979 to Cricklewood.
September 1979 to Toton.
March 1980 to Cricklewood.
January 1984 to Kingmoor (KD).
November 1985 to Kingmoor (KM).
August 11th 1986 to unserviceable store.
Withdrawn September 13th 1986.
Renumbered into TOPS April 1974.
Renumber to 25909 December 11th 1985.
25309/25909 was the 284th Class 25 to be withdrawn, one of seven Class 25s to be withdrawn during September 1986.
After withdrawal 25909 was stored at Kingmoor. Between April 19th & 22nd 1988 25909 moved from Kingmoor to Vic Berry, Leicester via Crewe & Bescot. After asbestos removal the locomotive left Vic Berry's on June 2nd 1988 for display at Coalville Open Day on June 4th 1988 and forwarded to the East Lancashire Railway for preservation by June 7th 1988.
Works Visits
Works visits (records incomplete).
Noted Derby Works March 1967.
Noted Derby Works November 1969.
Noted Derby Works December 1971.
Noted Crewe Works February - April 1974 (received blue/yellow livery).
Noted Derby Works February - May 1980 (general repair).
Highlights
1969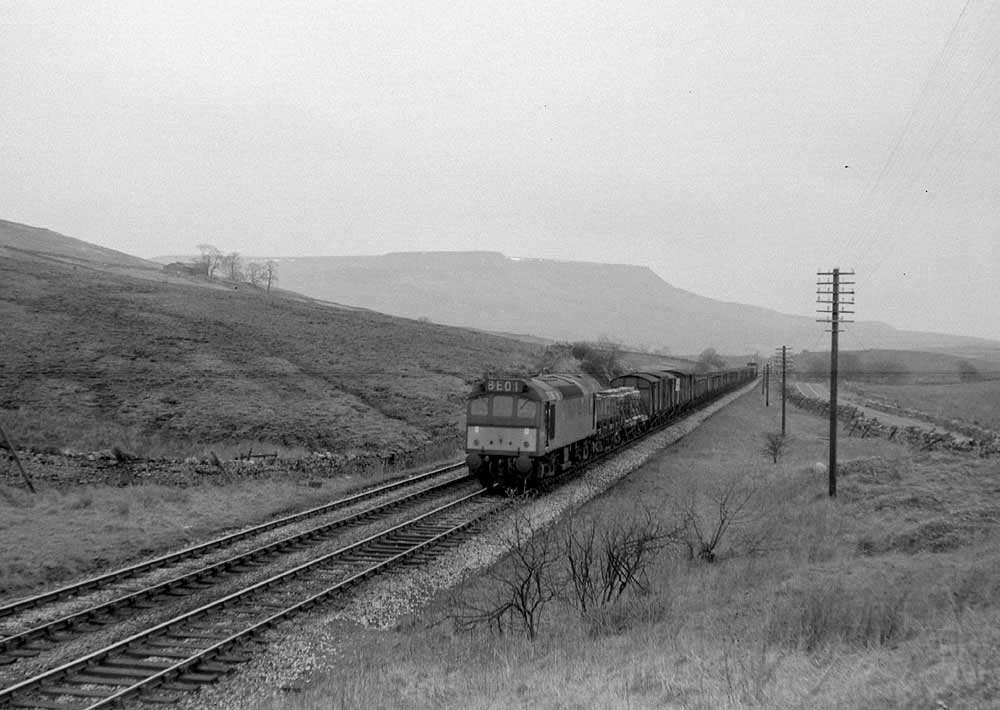 Photograph courtesy Kevin Hughes.
With a trace of snow on flat-topped Wild Boar Fell (2,234'), Beyer Peacock's last locomotive 7659 heads south with a lengthy 8E01 10.15 Carlisle - Carlton freight on April 30th 1969.
1971
On May 26th 7659 was the Manchester Victoria banker.
On June 18th 7659 was the Manchester Victoria banker.
1972
On September 9th an unidentified Manchester Victoria - Preston working was hauled by 7659.
1973
Condition December: two-tone green with small yellow warning panels, blanking plates fitted, hand/footholds plated over, straight sided sandboxes, three-rung bogie mounted footsteps, buffer beam steam pipe connections still present, 'D' number prefix present.
1974
July 10th found the southern end of the WCML blocked after a derailment near Bletchley. All lines were blocked just before noon when a coach became derailed, damaging a stanchion, bringing down the wires and finally hitting the flyover. Six down trains were trapped for two hours before being slowly worked past the accident scene. Two up trains were diverted into Marylebone, using 25182 & 25310 and 25309 & 25324, other services used St Pancras, including one hauled by 50036, whilst Paddington and Kings Cross dealt with the overflow.
1978
On June 17th the Derby - Norwich - Yarmouth - Norwich - Walsall passenger diagram was worked by 25309 & 25303.
When 86252 failed south of Watford Junction on August 9th, 25309 came out of the yard and dragged 86252 into a nearby siding, whilst 86249 arrived to take the train forward.
On September 12th the 22.30 Perth - Euston was noted arriving at Euston behind 25309 & 25266 following the failure of 85008 at ?
1979
The first half of July was a busy one for 25309. On July 7th 25309 & 25145 worked a relief Leicester - Yarmouth to Norwich, returning from there with the 14.15 Yarmouth - Derby. The next day (8th) the same pair worked 09.00 Derby - Skegness and 18.15 Skegness - Derby. On July 14th the 08.25 Leicester - Blackpool North from Nottingham and the return 14.25 Blackpool North - Leicester to Nottingham were worked by 25309 & 25318. The next day (15th) the same pair worked a relief roundtrip Nottingham - Skegness service. On July ?? 1979 the 09.40 Yarmouth - Sheffield from Norwich was worked by 25309 & 25183.
1980
The 11.18 Birmingham New Street - Euston on March 24th was dragged between Coventry & Nuneaton by 25309. On August 17th 1980 25309 & 25173 were noted on an unidentified service between Derby & New Mills.
Noted Nottingham on May 19th in ex-works condition.
On July 4th a Willesden – Salfords (SR) oil train was worked throughout by 25175 & 25309, returning at least as far as Acton with a train of empty stone hoppers for Westbury.
On September 2nd 25309 was noted at Bletchley on down container flats.
25309 was stabled at Holbeck on December 29th.
1981
A short turn on February 22nd saw 25309 assist the 01.07 Holyhead - Euston between Stonebridge Park & Euston due to the power being off for engineering work. On July 12th similar circumstances saw 25309 & 25317 assisting services in the vicinity of Rugby station. A month later on August 12th the 15.55 St. Pancras - Derby failed near Wellingborough behind 47540, the service was dragged to Derby by 25309.
On August 15th the Manchester - Bristol parcels arrived behind 25309.
1982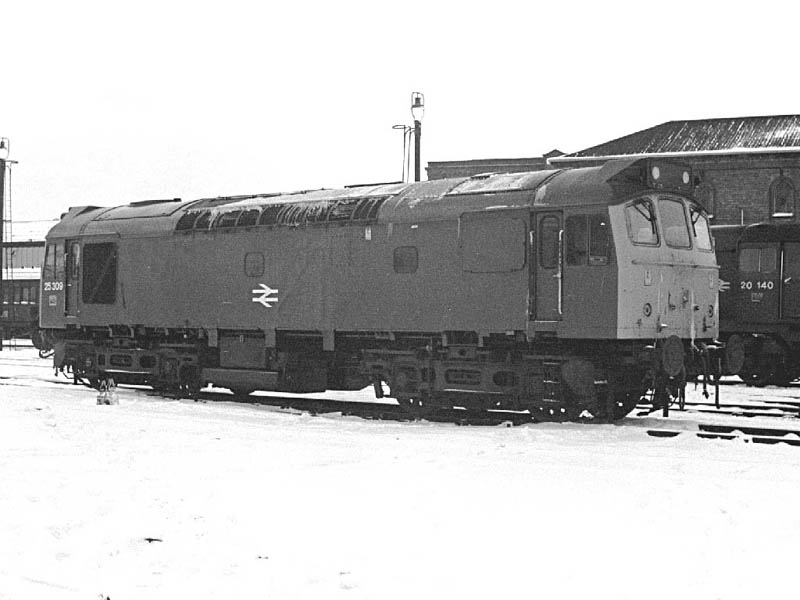 Photograph courtesy Tony Sayer.
1982 came in with quite a cold snowy spell over much of the country. Seen here at Leicester on January 9th 1982 is 25309 with a good coating of ice over parts of the roof. 25309 was the last of the batch to be built by Beyer Peacock, and the last new Class 25 to be delivered in green livery.
The allocation of further Class 31s to Toton inevitably brought greater chances of Class 25/31 parings, so noted on March 5th was 31131 & 25309 on a Toton – Acton working.
An Aslockton - Wembley Central school special on March 23rd was worked between Nuneaton & Wembley Central by 25309.
On May 26th 25309 & 25283 were noted at Guide Bridge with cement tanks. The next day (27th) 25309 was noted westbound at Chinley with loaded ballast hoppers.
On June 24th 25249 & 25309 were noted passing Diggle with a merry-go-round coal train.
A new freight working was introduced from August 16th, with uncoated gas pipes travelling between Leith & Heysham, again in the hands of pairs of Class 25s, so noted were 25308 & 25309 on August 16th.
On September 15th 25309 was north of the border working the 12.50 Carlisle - Glasgow Central and the 17.30 Glasgow Central - Carlisle.
On November 1st the Bedford – Garston 'Fletliner' having stopped at Sharnbrook was unable to restart due to wheel slip problems with 25309, requiring the assistance of 31129 to reach Wellingborough. Later that afternoon both locomotives ran south light engines.
1983
25309 was stabled at Llandudno Junction on January 22nd & 29th.
25309 was stabled at Severn Tunnel Junction on June 25th.
25309 was southbound at Lancaster & Winwick Junction on July 11th with a mixed freight.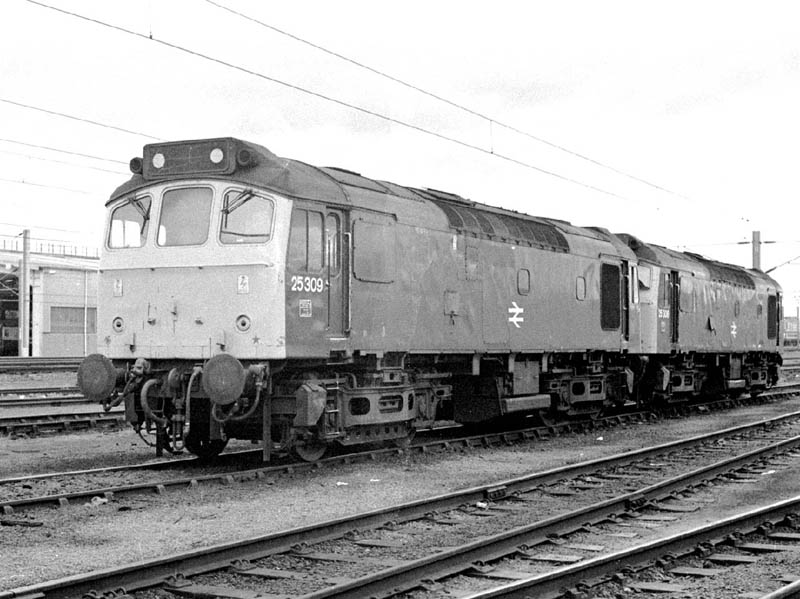 Photograph courtesy Tony Sayer.
25309 at Polmadie on September 17th 1983.
The 4V20 15.10 Manchester Piccadilly - Bristol Temple Meads was noted at Newport behind 25309 on October 4th with at least ten bogie vehicles.
1984
25309 was stabled at Bescot on January 28th.
25309 was stabled at Warrington Arpley on March 3rd.
25309 was noted at Barrow in Furness on April 27th with a freight train.
25309 was stabled at Carlisle Kingmoor on May 28th.
On July 17th 25309 was noted shunting wagons loaded with wheels at Toton, once finished 25309 retired to the depot.
On October 29th the 21.44 Preston - Liverpool was worked by 25309, this being the portion off the 18.20 Glasgow - Manchester.
25309 was noted at Preston with a Glasgow - Liverpool parcels train on the evening of December 15th.
1985
The 12.31 Birmingham New Street - Peterborough on March 9th was worked by 25309 between Nuneaton & Peterborough after the failure of 31413 at Whitacre Junction, 56088 had dragged the service to Nuneaton.
On March 16th 25278 & 25309 worked an early morning Ditton - North Wembley BOC tank train. Another rescue job took place on March 20th with 25309 assisting the 07.45 Cardiff - Manchester Piccadilly between Church Stretton & Crewe when the Class 33 failed. On March 30th 25309 was noted at Mold Junction hauling three Turbot YCV wagons.
25309 worked a Hereford - Crewe Basford Hall mixed freight on May 3rd. On May 30th 37214 was noted passing through Cardiff with a dead 25309 in tow headed for Canton.
On July 9th the 21.42 Preston - Liverpool was worked by 25309 being the portion off the 18.15 Glasgow - Manchester.
On August 21st the 18.30 Stranraer Harbour - Glasgow Central was worked to Ayr by 25309 & 26014
On September 13th the relief 13.50 Birmingham New Street - Edinburgh was worked forward from Carstairs by 25309 & 25265. The same pair worked the 14.05 York - Plymouth relief on September 15th 1985 to Sheffield, replaced there by 47574. On September 17th 25309 was noted northbound through Hereford with a long rake of empty mineral wagons. Later that evening the 22.50 Shrewsbury - York was worked to Crewe by 25309 following the failure of 47607 at Shrewsbury.
25309 was noted passing Bromborough on September 27th with electric multiple units 501178, 501151 & 507020.
25309 was noted passing through Chester with ferryvans on October 25th.
During the last quarter of 1985 25309 was chosen to become one of the twelve Class 25s to be allocated to a special traffic pool for dedicated workings in the North West. 25309 would be renumbered 25909.
An unusual visitor to Willesden on December 23rd was recently renumbered 25909.
1986
25909 & 25912 were noted at Chester depot on January 19th.
25909 was noted at Warrington on February 21st.
On March 8th 25902 & 25909 worked the 6T65 Warrington - Speke freight.
25911 & 25909 were noted at Chester with a mixed freight on April 1st.
25903 & 25909 worked the Stanlow - Leeds oil tanks on May 1st.
25909 was noted at Springs Branch depot on July 6th.
25909 & 25905 were noted passing Chester with a freight on July 29th. Two days later (31st) the same pair were northbound over Shap with a heavy loaded mineral/ballast train.
25909 was withdrawn on September 13th 1986 and would eventually reach preservation.
32/2319
flk 1216 (1)
Not all known passenger workings are recorded on this page.
Page added September 24th 2013
Last updated March 1st 2020.