D7660, 7660, 25310
97250, ETHEL 1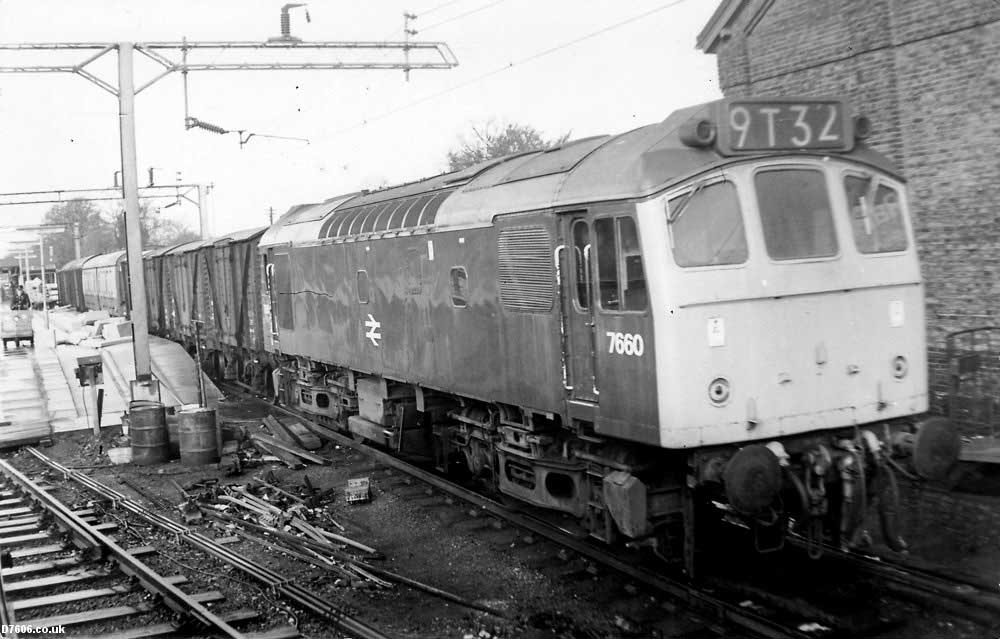 Photograph collection of Ian Hammond.
An undated view of 7660 and its parcels train at Hemel Hempstead. 7660 has lost its original livery and number/emblem placements, and is now pretty much standard prior to the TOPS renumbering.
The nineteen year career of D7660/25310 was spent entirely allocated to essentially three London Midland Region depots.
Built Derby Locomotive Works.
Dual brake equipped from new.
Time between last Classified repair and withdrawal: 97 months.
Allocations
D7670 was new to the London Division (D01) on December 31st 1966. Further transfers were:
May 1973 to Willesden following abandonment of the LMR Division allocations.
June 1975 to Cricklewood.
November 1977 to Toton.
April 1979 to Cricklewood.
October 1979 to Toton.
March 1980 to Cricklewood.
Withdrawn October 10th 1982.
Renumbered February 23rd 1974.
25310 was the 141st Class 25 to be withdrawn, one of four retired during October 1982.
After withdrawal 25310 was initially stored at Tyseley until December 1982. On December 22nd it moved to Mossend Yard and reached Glasgow Works by January 1983, to become the first of the ETHEL units. It would be renumbered ADB97250 'ETHEL 1' during May 1983.
Works Visits
Works visits (records incomplete).
Noted Derby Works October 1967.
Noted Derby Works June 1970.
Noted Crewe Works September 1974.
Highlights
1966
D7660 was the first of a batch of eighteen Type 2s intended for construction by Beyer Peacock but released to Derby Works for construction following the worsening financial condition of Beyer Peacock. This batch of locomotives were built under Derby order No. 11001 and were deliverd in the new corporate blue/yellow livery. These were the first of the Class 25s built at Derby delivered in the blue/yellow livery, it took Derby a little while to settle on the details with D7660 (and to some extent D7661) had non-standard number & emblem positioning:
(1) Two numbers were carried on each side, on the non-BIS side one was underneath the boiler room grille, the other on the second man's cabside, the emblem positioned on the driver's cabside.
(2) For a short while, the emblems would be carried on both cabside sheets, with the numbers behind the cab doors as would be found on D7661 - D7677.
(3) The final non-TOPS version would see the numbers on the driver's/secondman's cab sides with the one emblem carried in the middle of the bodyside (see view of 7660 above).
For D7660 the yellow warning panel on the cab front was of the small type, initially reaching only to the cab front handrails.
The transfer of these locomotives to Derby Works probably caused little interruption to the production line. Derby's last Type 2 of their current order, D7623 was delivered during October 1965, D7660 was introduced to traffic barely two months later.
Twelve new Type 2s (D7660 - D7671) were allocated to Willesden to take over the empty coaching stock, parcels and local freight duties in the London area. With the arrival of these locomotives it was possible to release the remaining Class 24s to the Stoke Division, as part of the eradication of steam in the North West. Of this batch of Class 25s D7660 - D7669 were dualbraked from new, whilst D7670 & D7671 were not, however these latter two were quickly transferred to the Nottingham Division (D16).
When delivered to Willesden 7660 would be part of the depot's allocation diagrammed to handle empty coaching stock workings, Stonebridge Park's inter-regional freight duties and the Motorail workings to/from Kensington Olympia.
The recorded passenger workings of 25310 are few, with perhaps its time at Toton providing the most consistant opportunities for passenger haulage. It probably ran more 'passenger' miles as an ETHEL unit than as 25310.
1974
On July 10th a Manchester Piccadilly - Euston service was diverted at Bletchley into Marylebone due to a derailment in the Bletchley area. 25310 & 25182 worked the train forward from Bletchley.
1976
On March 17th 25310 was noted at Exeter stabling point.
Condition June: blue/yellow livery, cab front roof gutter painted yellow, no blanking plates, hand/footholds plated over, ridge sided sandboxes, three-rung bogie mounted footsteps.
1978
On Tuesday April 11th 25310 worked the 09.55 Willesden to Norwood, returning with the 12.10 Norwood to Willesden.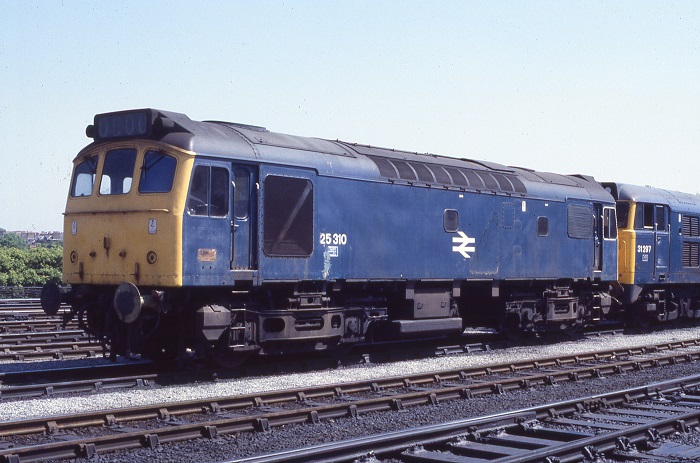 25310 at York depot on May 29th 1978. The positioning of the number indicates a repaint by Crewe Works, most likely after a visit there in 1974. The yellow paint on the cabfront has been extended to the roof level rain gutter.
On June 3rd the 08.41 Stoke-on-Trent - Holyhead exchanged 47529 for 25310 at Bangor, the Class 47 was required for the 10.04 Holyhead - Euston. 25310 returned eastwards with the 13.00 Holyhead - Euston as far as Crewe.
On June 11th an Alfreton & Mansfield - Barmouth mystery excursion was worked from Wellingborough (??) to Barmouth roundtrip by 25310 & 25131.
On August 10th 25310 & 25320 were noted passing through Luton with a lengthy train of high sided mineral wagons.
The 09.15 Derby - Skegness and the return 18.15 Skegness - Derby were worked by 25310 & 25320 on August 13th.
On August 19th a motorail service was noted at Sheffield and later at Derby behind 25310 & 31117, heading towards Birmingham.
The arrival of the 6Z57 11.30 Polmadie - Ditton BOC service with 25310 & 25319 on the evening of September 17th led to some traffic disruption in the Warrington area when one of the bogie tankers became derailed. The tanker was rerailed without incident in the early hours of September 18th.
Early November brought a variety of Class 25s to Kings Lynn, including a block oil train for the sugar beet factory with 25212 & 25310 (8th), deputising for a defective 37264.
1979
The 6M30 12.50 Hull - Rylstone Tylcon train was worked by 31181 & 25310 on a wintry January 31st.
25310 was stabled at Cricklewood on April 30th.
25310 was noted at Bedford Midland with an up freight on August 9th (showing 3 02 in the No.1 end headcode). On August 28th 25310 was noted at Cambridge Street, St Pancras.
1980
On the afternoon of October 6th 25310 was noted at Hillmorton on an up freight.
1981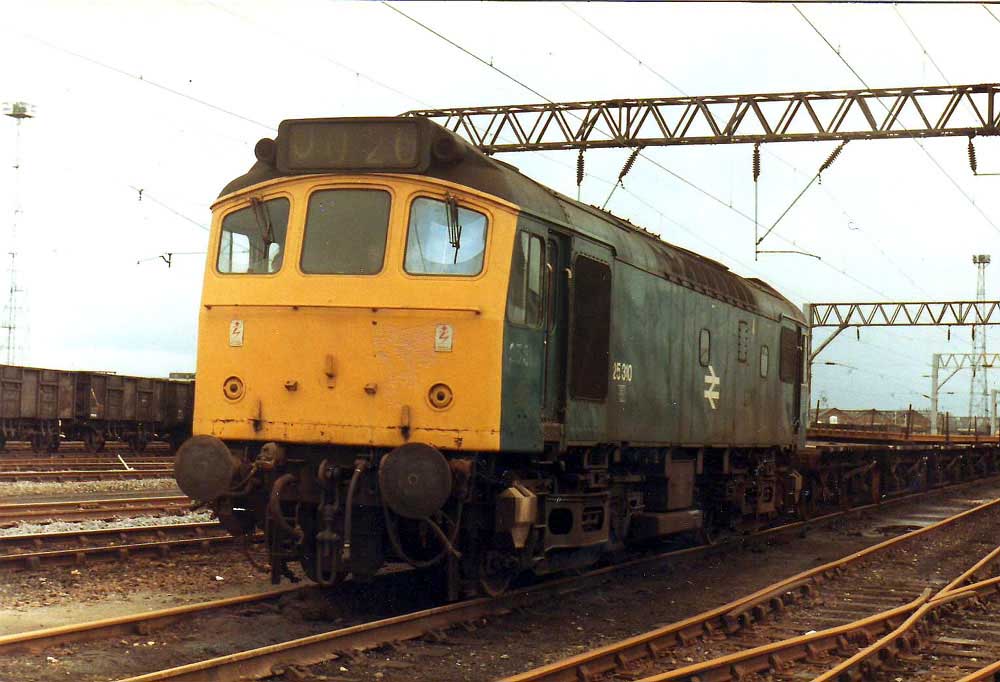 Photograph courtesy Dave Smith.
25310 waits at Crewe Basford Hall on March 11th 1981 with the 8X25 Crewe - Rugby long welded rail train, these types of extra workings were familiar to the Nuneaton crews, using either diesel or A/C electric power. 25310's last classified repair had been at Crewe in 1974, it was long overdue a Classified repair when it was withdrawn.
On March 29th engineering work between Rugby & Bletchley saw the 20.45 Barrow - Euston assisted over the dead section by by 25310.
On May 10th 25044 & 25310 assisted an electric service between Bletchley & Willesden due to power being off for engineering work.
Engineering work at Rugby station on July 12th saw 25310 assisting several services in the vicinity of the station area.
25310 was noted at Banbury on a snowy December 28th.
1982
On April 4th the 08.55 Euston - Holyhead was assisted between Northchurch (MP29.5) & Bletchley by 25310 & 25324 due to the power being off for engineering work.
The 14.10 St. Pancras - Derby on September 10th was assisted from Bedford by 25310 after 45141 failed. A week later on September 18th the 07.38 Shrewsbury - Aberystwyth and the 10.07 Aberystwyth - Euston to Machynlleth were worked by 25310 & 25323, 25310 was failed at Machynlleth and replaced by 25311.
25310's withdrawal on October 11th 1982 at Tyseley with bogie damage should have been recorded as just one more casualty, especially as it had run for eight years since its last classified repair. However late in December it journeyed to Aberdeen Ferryhill where the local staff would convert the machine to a non-powered electric generator vehicle. It would be renumbered ADB 97250 and named 'ETHEL 1'. The use of Mk III sleepers on the Fort William service had caused an operational dilemma as this service was operated by steam heat 37/0's and the 37/4 conversions were was still some ways off.
For more information on the ETHEL units please go here: The ETHEL units
Distinguishing Features
Cabfront painting: the yellow paint extends to the roof level rain guttering: presumably dates to its visit to Crewe Works in 1974.
13/1151
flk 1216
Page added November 12th 2012.
Last updated April 15th 2021.
Back to 25309
Forward to 25311