D7661, 7661, 25311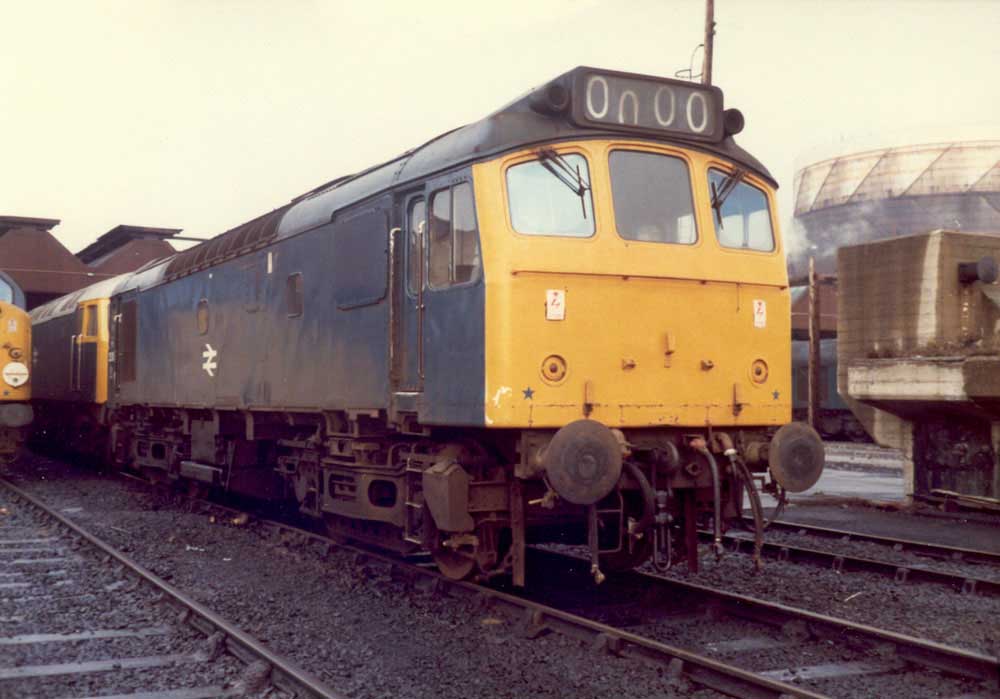 Photograph courtesy Jerry Glover.
February 2nd 1980 finds 25311 waiting its next turn of duty at Birkenhead. Behind it stands a Class 47 with customised white roof, possibly a Stratford based machine.
The almost nineteen year career of D7661/25311 (allowing for its two withdrawn periods) was spent allocated to a handful of depots, including a lengthy time in the London area.
Built: Derby Locomotive Works.
Dual brake equipped from new.
Time between last Classified repair and withdrawal: 116 months.
Time between withdrawal & scrapping: 36 months.
Allocations
D7661 was new to the London Division (D01) on November 8th 1966. Further transfers were:
May 1973 to Willesden following the abandonment of the LMR Division allocations.
June 1975 Cricklewood.
November 1977 to Toton.
April 1979 to Cricklewood.
October 1979 to Toton.
March 1980 to Cricklewood.
November 1984 to Carlisle Kingmoor.
Withdrawn February 28th 1985, reinstated October 18th 1985 to Crewe (stored at Toton).
Withdrawn February 2nd 1986, reinstated February 19th 1986 to Crewe.
Withdrawn March 19th 1986.
Renumbered February 23rd 1974.
25311 was the 278th Class 25 to be withdrawn, one of six retired during March 1986.
After its final withdrawal 25311 was initially stored at Crewe then moved to Carlisle Kingmoor by the end of October 1986. During July 1988 25321 was moved to Upperby for inspection and then returned to Kingmoor. It returned to Upperby on November 10th 1988, before moving to Crewe Basford Hall on December 12th 1988, then via Toton and Leicester (Dec 15th 1988) and into Vic Berry's yard on December 19th 1988. By the middle of March 1989 25311 had been broken up.
Works Visits
Works visits (records incomplete).
Noted Derby Works December 1970 & February.
Noted Derby Works June & July 1976 (last Classified repair).
Noted Derby Works March 1978.
Noted Derby Works April & June 1981 (N4 repairs).
Highlights
When delivered new the livery was blue with small yellow panels, numbers behind the cab doors and the BR emblem under both the driver's and secondman's cab windows. This livery was retained at least until the summer of 1969, possibly longer. At some point after gaining standard blue livery with full yellow ends and prior to TOPS renumbering the locomotive suffered collision damage to the No.1 cab front.
Twelve new Type 2s (D7660 - D7671) were allocated to Willesden to take over the empty coaching stock, parcels and local freight duties in the London area. With the arrival of these locomotives it was possible to release the remaining Class 24s to the Stoke Division, as part of the eradication of steam in the North West. Of this batch of Class 25s D7660 - D7669 were dual braked from new, whilst D7670 & D7671 were not, however these latter two were quickly transferred to the Nottingham Division (D16).
1974
On May 5th 25242 & 25311 were noted assisting an electric service between Bletchley & Watford whilst the power was off for engineering works. On May 16th 25311 & 25205 worked an LMR - Southfleet coal train, more normally a Type 4 turn.
During November Cricklewood lost its four remaining Class 25's (25048, 25176, 25244 & 25311) to other LM depots, leaving the London area depots without any BR/Sulzer Type 2's on allocation.
1977
On September 30th a St. Pancras - Wroxham special was worked by 25236 & 25311.
On November 25th 25311 worked a Tinsley - Tyne Yard feight.
1978
With a considerable length of time allocated to London area depots, which were not known for their regular use of Type 2's on passenger workings, the reported passenger workings for 25311 were not that many.
Whilst allocated to Toton, 25311 & 25269 had several busy days on August 28th, 30th & 31st, visiting Skegness each day from Nottingham, Derby & Leicester respectively.
On September 6th 25311 was noted arriving at Hall Road with GN Class 313 unit 313003, sent up from Hornsey as a back-up to the non-delivery of new Class 507s, pending the visit of the Queen to the area in early October.
1979
A test train of Laboratory coaches, APT vehicles and an HST trailer was worked from Derby as the 1X16 08.40 via Reading to Exeter on March 12th by a Class 47?? but was noted outbound at Exeter with 25258 & 25311, which presumably worked the train back to Derby.
On March 20th & 21st 25311 worked the 09.55 Willesden to Norwood and the return 12.00 Norwood to Willesden.
25311 & 25312 were noted on York depot on August 12th and were later noted southbound through Chesterfield with the return leg of a charter.
On September 21st 25311 was noted at Oxford with the morning Toton - Eastleigh freight.
On the morning of December 15th 25297 & 25311 were noted at Willesden on an up freight.
1980
February 5th found an interesting test carried out using the 04.15 Stanlow – Rowley Regis oil tanks. The 2,000 ton train hauled by 25307 & 25311 worked to Nuneaton, here 25307 was replaced by 56051 and 25311 was shut down. The train then set out for Leicester – Marton – Wellingborough – Bedford – Bletchley, where 56051 was removed and 25307 rejoined the train for the run to Rowley Regis.
On December 2nd 56055 failed on the southbound Tarmac working, 25307 & 25311 were noted southbound at Wellingborough with this train running about an hour late.
1981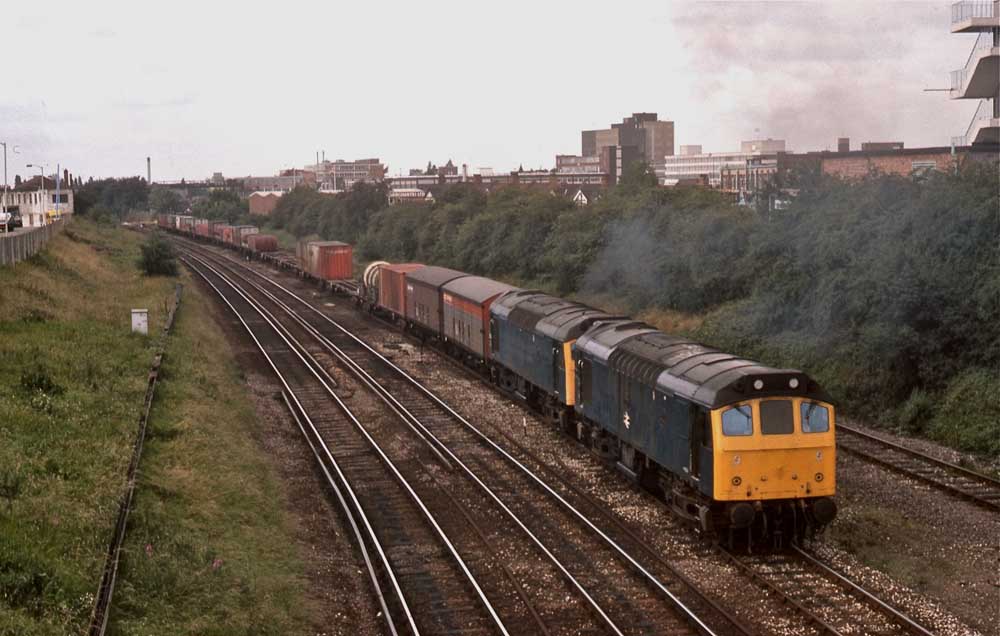 Photograph courtesy Peter Lovell.
On July 6th 1981 25311 & 25266 reverse a mixed train of containers and air-braked vans into Willesden South Western Sidings.
1982
25311 was busy shunting at Three Spires Junction on April 21st. This was 'target 46' trip and comprised a variety of air braked and vacuum braked wagons conveying coal and smokeless fuels and somewhat out of place several vent vans.
Whilst allocated to Cricklewood, 25311 handled a number of passenger workings far north of its home depot. On June 1st 25311 worked the 16.05 Leeds - Carlisle. On June 17th 25311 was noted passing Long Preston with four empty ballst wagons. On June 19th and even further north 25311 worked the 11.35 Glasgow Central - Stranraer Harbour and 15.30 return. And on June 27th 25311 was on the North Wales coast working the 11.55 Manchester Victoria - Holyhead and the 16.30 return.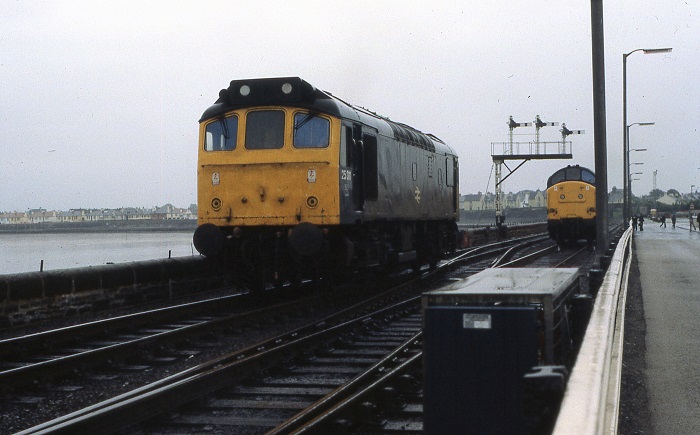 Photograph collection of webmaster.
As detailed above on June 19th 1982 Cricklewood allocated 25311 worked a Glasgow - Stranraer passenger service, seen here at Stranraer presumably running round its train before taking the diagrammed service back to Glasgow. Looks like a miserable wet day for a locomotive that could provide no heating.
The last working for 1982 took place on September 18th working the 10.07 Aberystwyth - Euston from Machynlleth to Wolverhampton with 25310 after 25323 had failed.
1983
25311 was the Manchester Victoria pilot on January 8th. 25311 was stabled at Cockshute on January 29th.
25289 & 25311 worked the 6M86 Kings Cross - Tring cement empties on March 20th. On a very wet March 30th 25311 & 25323 were noted at Chester working the 6G67 MWO 13.50 Stanlow Refinery to Rowley Regis bogie oil tanks.
On April 30th 25311 was noted at Conwy castle with ballast empties for Penmaenmawr. On the same day 25311 at Llandudno Junction yard with traffic for Octel, comprised of four tanks, two barrier wagons and two brakevans.
25311 was noted at Timperley with a mixed freight working from Warrington on May 12th.
The 18.09 Manchester Piccadilly - St Pancras parcels (comprised of four coaches) was worked at least to Derby by 25311 on June 14th.
25311 was stabled at Carlisle station on July 27th.
On September 5th 25311 was noted with a tamper at Oxenholme.
25311 was stabled at Saltley on October 5th.
25311 was stabled at Tinsley on November 13th, the only Class 25 amongst sixty other locomotives.
25327 & 25311 were noted northbound at Warrington Bank Quay with bogie oil tanks on December 29th.
1984
25311 was noted southbound at Clifton with a parcels train on January 4th.
25311 was the Manchester Victoria pilot on March 20th. 25311 was stabled at Bedford on March 24th.
The last recorded passenger working for 25311 with 25298 took place on July 7th 1984 working the 07.44 Shrewsbury - Aberystwyth and the 10.10 Aberystwyth - Euston as far as Wolverhampton.
1985
25311 was stabled at Carlisle station on February 23rd.
25311 would be withdrawn three times, the first on February 28th 1985, spending seven and a half months out of service (at Toton) before being reinstated on October 18th 1985 to Crewe.
On October 28th 25311 was noted eastbound at Chester with a short rerailing train.
1986
The second withdrawal for 25311 took place on February 2nd 1986, being out of service for seventeen days prior to being reinstated on February 19th 1986 to Crewe. Its final withdrawal occurred one month later on March 19th 1986.
00/0000
flk 0117 partial (1)
Page added January 7th 2013.
Last updated April 17th 2021.
Back to 25310
Forward to 25312