| | | | | | |
| --- | --- | --- | --- | --- | --- |
| Load | Speed | Amps | Volts | Notes | Other |
| 1 | 30 | 900 | - | - | - |
A Bank crankcase door
RI (route indicator?) cover dropping.
25317 & 25300 were noted at Polmadie on March 6th.
A new contract to move pipes from Leith Docks to several long distance locations including Derby, Wisbech and Salisbury, and shorter hauls to Carlisle, Darlington, Law Junction, Maud & Montrose would provide much work for pairs of Haymarket Class 25s. The Leith - Salisbury diagram involved the Scottish Type 2s working as far as Didcot, examples noted were 25011 & 25026 (March 13th) and 25002 & 25317 (March 27th), 25018 & 25031 (April 10th), 25026 & 25092 (April 24th), the locomotives generally returning north light, at least as far as the Birmingham area.
On May 26th 25317 was noted at Winwick Junction with a three car Merseyrail electric multiple unit.
On June 6th a Leicester - Pwllheli day excursion was worked from/to Nottingham by 25317 & ?, a total of 431 passenger miles!
On June 26th 25317 worked the 13.33 Taunton - Cardiff, the 17.45 Cardiff - Bristol Temple Meads and the 23.08 Bristol Temple Meads - Cardiff.
On July 23rd 40093 & 25317 light engines were northbound at Warrington (WCML).
25317 was stabled at Newton Heath on September 19th.
1977
On the morning of June 21st 25317 was northbound at Reddish with soda-ash Covhops.
On August 3rd 25286 & 25317 were noted light engines at Rock Ferry headed for Ellesmere Port.
25284 & 25317 and two brakevans were noted passing Upton on the afternoon of September 21st headed for Birkenhead.
The afternoon Whitemoor - King's Lynn freight was worked by 25317 on November 9th.
Gosford Green freightliner terminal commenced a new daily service to Scotland from December 7th, 25317 took out the first service, specially seen off by the Lord Mayor of Coventry.
1978
On July 30th an Ealing Broadway - Skegness excursion was worked between Nottingham & Skegness and back by 25317 & 25318.
On August 19th 25317 worked the 07.30 Nottingham - Llandudno Town as far as Chester where it was declared a failure and replaced by 25094. On August 24th 25317 was eastbound through Manchester Victoria with eight parcels vehicles presumably enroute to Red Bank, it later worked the 15.32 Manchester Victoria - Bangor and the 19.30 Bangor - Manchester Victoria, followed on August 25th with the same two workings. Three days later (28th) a Longton - Scarborough excursion was worked roundtrip by 25317 & 25060.
Whilst working the Mostyn Dock - Amlwch non-ferrous ore train on November 21st, ten hoppers became derailed due to a washout. 25317 remained on the track, the line was cleared by November 23rd when 25317 worked out with an Amlwch - Ellesmere Port freight.
On the afternoon of December 19th 25317 was southbound at York with three railcars.
1979
On July 15th 25317 was stabled at Springs Branch.
On the afternoon of July 19th 25317 was stabled at Springs Branch.
On the evening of September 9th 25317 was noted at Lancaster with a permanent way train.
During October 25317 was at Derby Works undergoing repair.
On October 30th the early morning Redhill - Manchester parcels was noted passing Oxford with 25317.
1980
25317 was stabled at Springs Branch on June 8th receiving attention. On June 15th the 21.25 Dover Western Docks - Stirling was worked forward from Mossend Yard by 25317 & 25244. On June 17th a derailment at Lockerbie saw many WCML services diverted via the former GSW route. The 07.45 Euston - Glasgow arrived at Glasgow at 14.30 in charge of 47227, 25317 & 25296 were promptly attached for the return journey south. On June 24th the 22.00 Stranraer Harbour - Euston required assistance from 25317 between Dunragit & Carlisle after 47541 failed.
1981
At about 7pm on June 16th 25317 was noted arriving light engine at Warrington Arpley.
On July 12th 25317 was in use at Rugby station assisting electrically hauled services in the vicinity of the station due to the power being off.
25317 was noted at Manchester Victoria on October 4th as banker?
25317 was noted passing through Bolton with a freight on October 14th.
25317 was noted light engine at Preston in heavy snow on December 14th.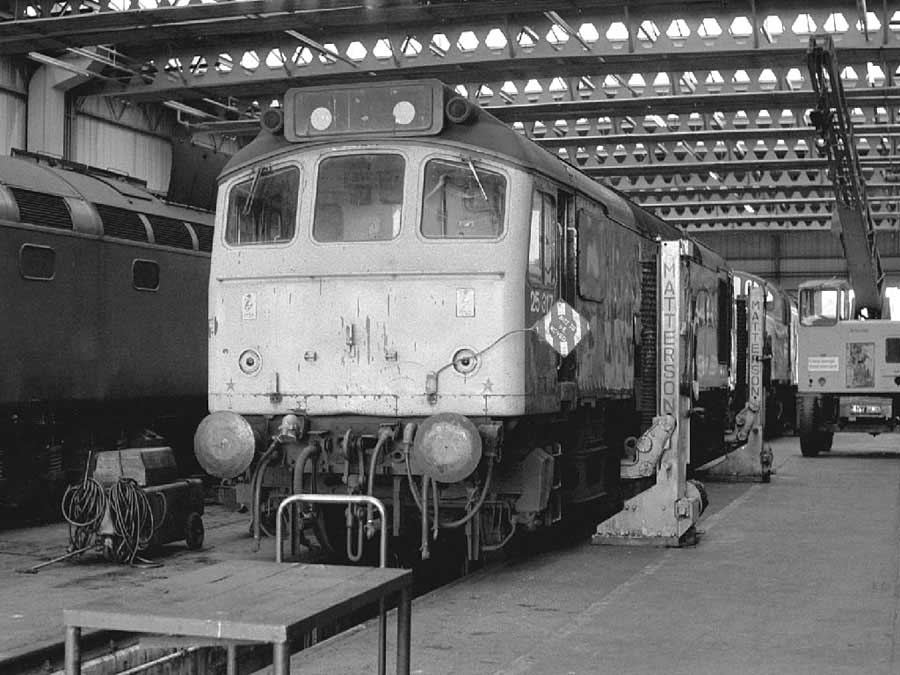 Photograph courtesy Tony Sayer.
Surrounded by the 'tools of the trade' 25317 rests at Springs Branch on July 26th 1981.
1982
On February 9th 25317 was stabled at Northwich.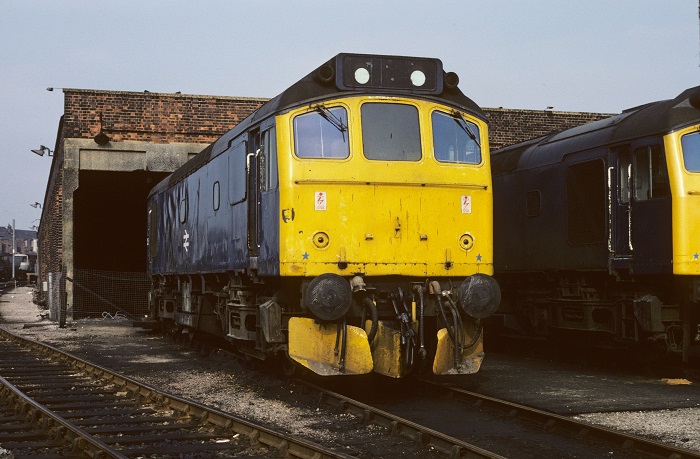 Photograph courtesy collection of Roger Geach.
25317 at Springs Branch circa March 1982.
On April 5th 25317 & 25277 worked a Mountsorrel - Barham extra.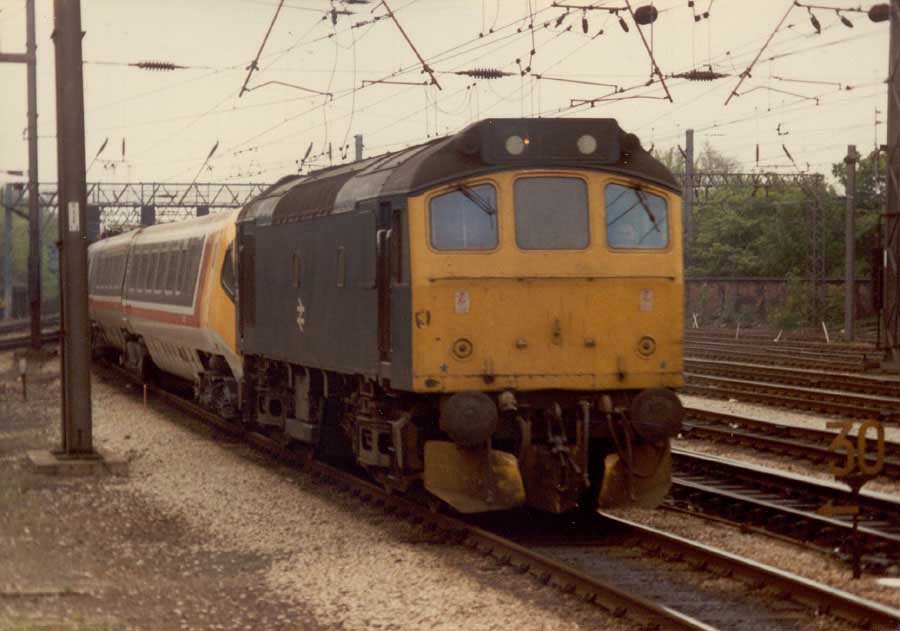 Photograph courtesy Jerry Glover.
25317 as it heads north through Preston station on May 12th 1982 with one of the APT sets.
Towards the end of May (actual date uncertain) 25317 worked a Glasgow Central - Stranraer Harbour service.
25317 was stabled at Birkenhead Mollington Street on August 1st. On August 29th the 23.05 Manchester Piccadilly - Brighton was assisted by 25317 & 25322 between Bletchley & Watford Junction due to the power being off for engineering work.
On September 14th 25317 was light engine at Warrington Arpley.
25317's last transfer came in October, with Crewe becoming its final home.
On November 28th 25101 & 25317 were on engineers turns at Leighton Buzzard.
The serious derailment of 81016 and some of its sleeper train at Old Linslade on December 9th required much activity to rerail the train and repair the line. On December 11th 25317 & 25253 were noted at Tunnel Hill with a loaded ballast train.
1983
On January 5th 25317 was noted at Guide Bridge.
On March 9th 1983 25317 working the 15.02 Manchester - Bristol parcels failed at Wem, Shrewsbury sent out 47197 to assist, the failed Class 25 being dumped at Hereford.
Withdrawal for 25317 came on April 25th 1983. At the time of its withdrawal 25317 had run seven years since its last Works overhaul.
Distinguishing Features
No.2 cab: 2nd man's side corner, dent with missing paint about halfway up the cab front: October 1981 until withdrawn.
No.2 cab: center of cab front: several vertical stains: December 1980 - July 1981 (may have been cleaned off or painted over at some point).
No.1 cab: driver's side corner, damage and rust where handrail joins the cabfront: ?? until withdrawn.
20/1952
flk 0322 (2).
Page added August 22nd 2001.
Last updated July 12th 2022.
Back to 25316
Forward to 25318