D7668, 7668, 25318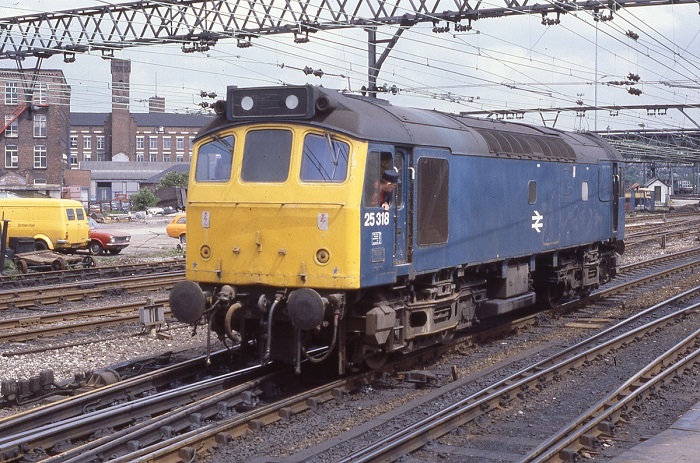 On June 6th 1980 25318 was noted at Guide Bridge.
The fifteen year six month career of D7668/25318 was spent allocated to a very few London Midland Region depots.
Built: BR Derby Locomotive Works
Dual brake equipped from new.
Time between last Classified repair and withdrawal: ?? months.
Time between withdrawal & scrapping: 59 months.
Allocations
D7668 was new to the London Division (D01) on January 21st 1967. Further transfers were:
January 1971 to Birmingham Division (D02).
July 1972 to Liverpool Division (D08).
May 1973 to Springs Branch.
Withdrawn July 25th 1982.
Renumbered March 8th 1974.
25318 was the 132nd Class 25 withdrawn, the only Class 25 retired during July 1982.
After withdrawal 25318 was stored at Toton until February 3rd 1983 when moved to Bescot (possibly in error) then as February 9th's 8M78 01.20 Bescot - Warrington, February 18th's 9Z73 14.00 Warrington - Blackburn, February 21st's 9Z73 08.10 Blackburn - Carlisle and finally February 22nd's 06.30 Carlisle - Glasgow Works. By February 27th the locomotive was noted in Glasgow Works with the intent to convert 25318 to an ETHEL unit.
The conversion did not occur, 25318 remained at Glasgow Works until January 29th 1987, having been sold to Vic Berry, Leicester and moved to Thornton Junction with 25028, 25318, 27016/027 for scrapping. Some locomotives were scrapped here, but operations ceased due to the presence of asbestos. The remaining locomotives were forwarded to Vic Berry's Leicester yard, thus 47238 hauled 25028, 25318, 26013 as a Thornton Junction - Mossend - Carlisle - Crewe - Leicester convoy between June 3rd - 9th. 25318 did not linger here, by month end it had been cut up, although the cabs lingered for a while.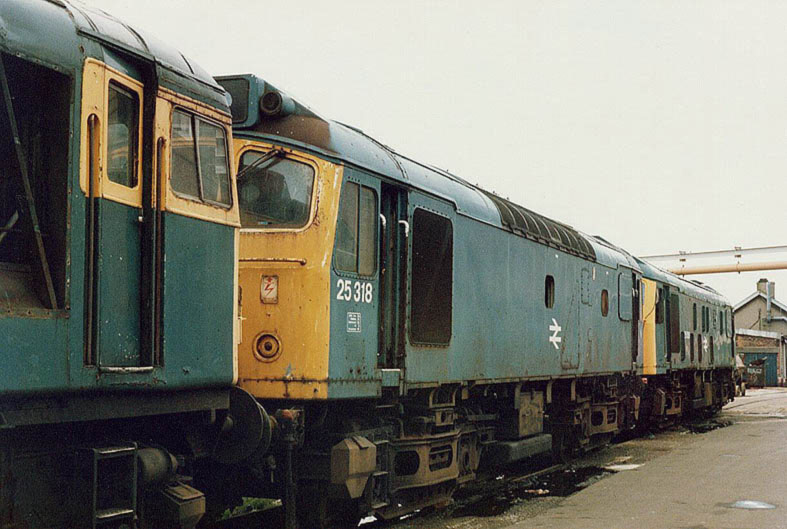 Photograph courtesy Paul Bettany
25318 & 25028 gather rust & dust at Glasgow Works, seen here on September 6th 1986.
Works Visits
Works visits (records incomplete).
Noted Derby Works July, August & October 1975 (full repaint).
Highlights
1967
The frames for D7668 were laid down at Derby Works during the autumn of 1966 under order number 11001 and delivered to the London Division (D01) during January - essentially Willesden would be their home depot.
Twelve new Type 2s (D7660 - D7671) were allocated to Willesden to take over the empty coaching stock, parcels and local freight duties in the London area. With the arrival of these locomotives it was possible to release the remaining Class 24s to the Stoke Division, as part of the eradication of steam in the North West. Of this batch of Class 25s D7660 - D7669 were dual braked from new, whilst D7670 & D7671 were not, however these latter two were quickly transferred to the Nottingham Division (D16).
1968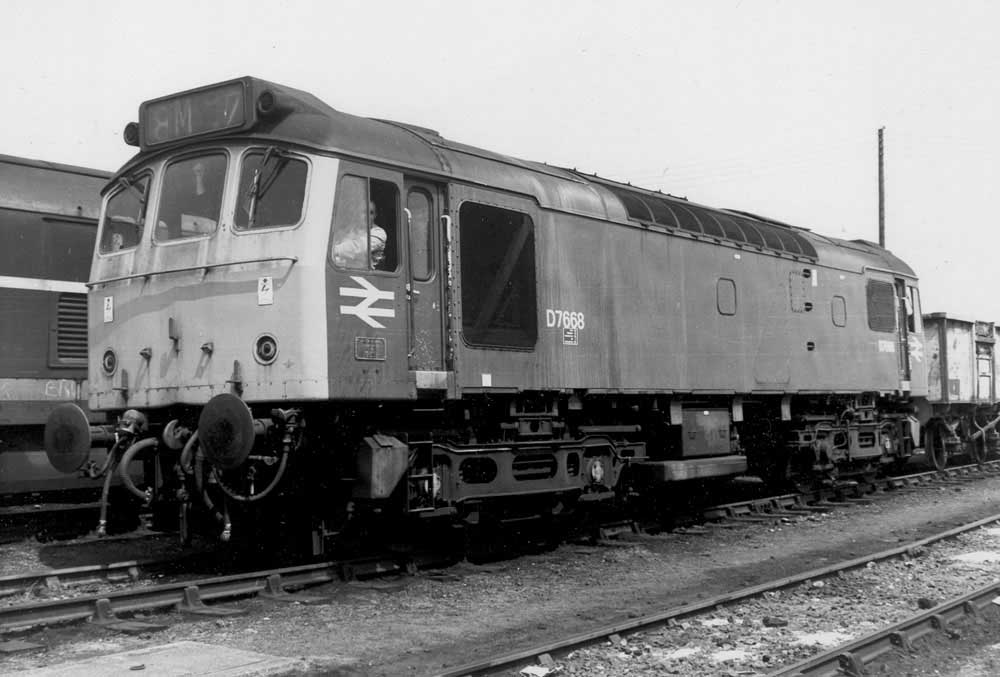 Photograph collection of webmaster
D7668 perhaps a year or so out of Derby Works, a bit mucky, but in as delivered condition. Even this final batch of Type 2s were delivered with the through steam pipe, the flexible coupling just visible in the photograph.
1971
7666 - 7669 were transferred to the Birmingham Division (D02) during January.
On the afternoon of January 12th 7534 & 7668 were noted at Hither Green depot.
On August 30th 7668 & 7657 worked the 17.50 Barmouth - Loughborough return day excursion.
1972
7668 was transferred to the Liverpool Division (D08) during July. This was effectively its last transfer, when the Division allocations were abolished during May 1973 25318 was allocated to Springs Branch (formerly shed code 8F).
1973
At about 6pm on March 22nd 7668 was noted passing Miles Platting with a down freight.
25318 has not been noted on many passenger workings, but its adventures on August 11th, must rate as one of its finest. A relief Euston - Glasgow Central was worked forward from by 7668 & 7639, presumably throughout to Glasgow. The northern advance of the WCML electrification would soon make such diesel workings obsolete.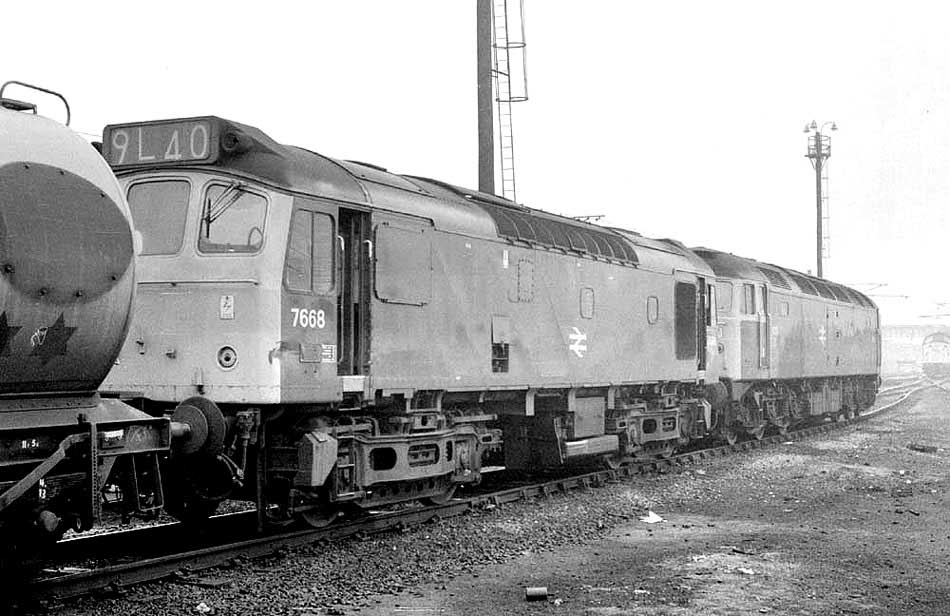 Photograph courtesy David Rogers
7668 & 1575 lay over at Springs Branch on October 13th 1973.
1975
At about 7am on March 25th 25318 was noted at Manchester Victoria with an empty coaching stock working.
At about 5.30pm on June 19th 25044 & 25318 were noted at Earlestown with a permanent way train (9X56).
1976
On May 17th the 00.12 Stalybridge - Manchester Victoria was worked by 25318, this was the portion off the 22.01 York - Aberystwyth.
1978
On July 30th an Ealing Broadway - Skegness charter was worked round trip Nottingham - Skegness by 25317 & 25318.
On the morning of August 18th 25318 was noted at Crewe with a down freight.
After 47500 failed at Bristol on December 27th with the 13.55 Glasgow - Taunton, the only available power was 25298 & 25318 for the short run to Taunton.
1979
25283 & 25318 were in charge of the 07.35 Toton - Halling coal as far as Hither Green on February 26th, returning with the 10.57 ex Shepherdswell.
25318 was noted at Gateshead depot on March 10th and at Springs Branch depot on March 25th.
On May 8th 25318 was noted operating between Newport and Cardiff on a weed spraying train.
On the afternoon of July 8th 25318 was noted at Crewe with a wiring train. It was off to Blackpool on July 14th, with 25318 & 25309 hauling the 08.25 Leicester - Blackpool North and 14.25 return from/to Nottingham. The next day (15th) the same pair worked a relief Nottingham - Skegness roundtrip. On July 26th 25254 & 25318 were noted working Redland PGAs on possibly a Mountsorrel - Elstow or Radlett job.
On August 13th 25318 was noted on the Cardiff - Crewe route. On the morning of August 18th 25318 was noted at Crewe on a down freight.
The 15.05 Paignton - Leeds on September 1st was worked from Birmingham New Street (?) to Leeds by 25318. On September 8th the 10.10 Euston - Aberystwyth from Birmingham New Street and the 16.10 Aberystwyth - Shrewsbury were worked by 25318 & 25293.
25318 was noted passing eastbound light engine through Manchester Victoria on October 27th.
25318 & 25283 were noted light engines at Helsby on November 19th.
1980
On June 7th the 17.10 Cardiff - Crewe failed at Ludlow behind 25323, the following 13.20 Cranmore - Ellesmere Port with 25283 & 25318 pushed the train to Craven Arms where the two Type 2's took over the Crewe service.
On August 23rd the relief 07.30 Blythe Bridge - Llandudno Town was worked out and back (?) by 25318 & 25253.
1981
Although the West Country was now without an allocation of Class 25s they were still frequent visitors, 25266 & 25318 were noted on January 29th in charge of the loaded Ellesmere Port - Riverside tar tanks and the afternoon return empties.
Construction work on the new joint BR - Festiniog Railway station saw 25318 present with a permanent way train on April 10th.
On the morning of May 18th 25318 was noted at Preston with a down permanent way train, later that the Carlisle - Red Bank vans exchanged locomotives at Preston, from 85014 to 25318. The last day of May witnessed an Open Day at Coalville, about twenty locomotives were on display, including 25318.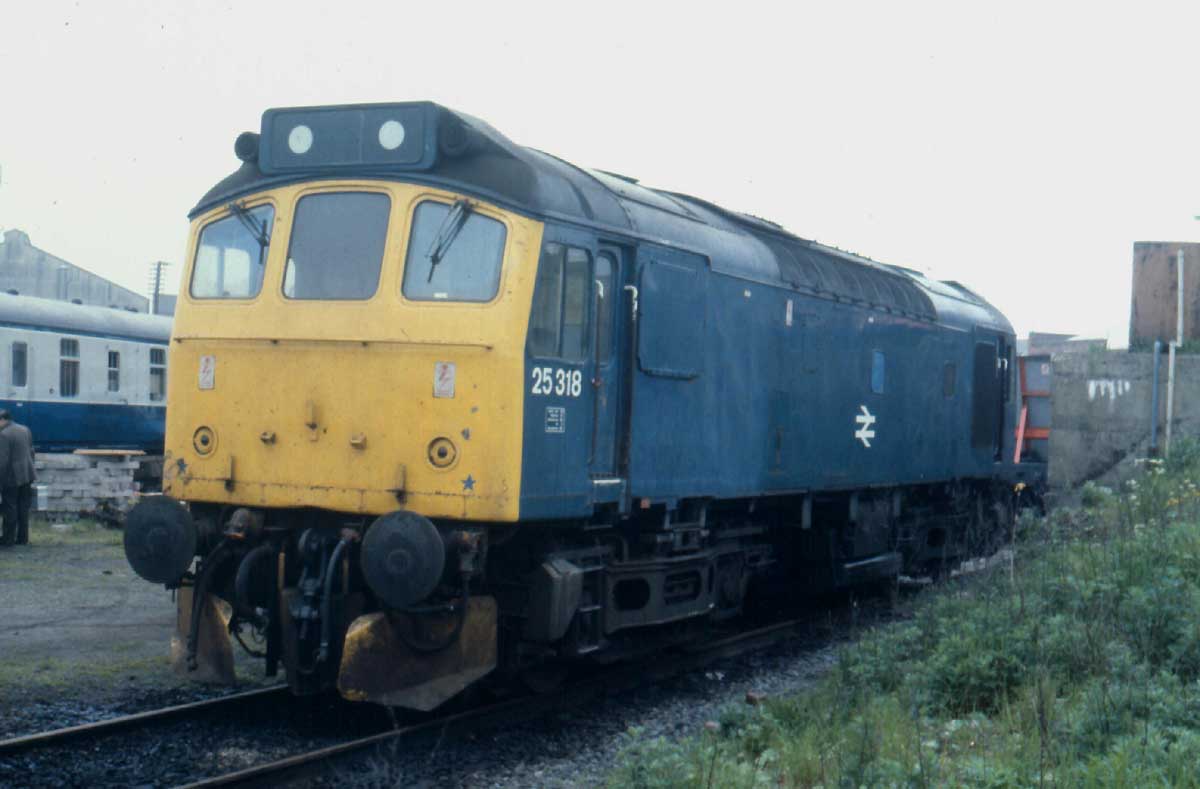 25318 at Coalville Open Day May 31st 1981.
On the afternoon of August 1st 25248 was stabled at Chester. On August 30th 25318 was noted on local passenger services in the Newton Abbott / Exeter St Davids area.
On September 4th 25318 arrived at Holbeck depot at 19.50pm off the M06 job.
25318 was stabled at Crewe diesel depot on October 4th.
A Nuneaton - Bishop Auckland football special on November 21st was worked from the Leicester area to Toton by 25318 after 31323 failed with fire damage, 45038 replaced the locomotives at Toton.
1982
On March 14th the 15.02 Manchester - Bristol parcels failed at Shrewsbury behind 25314, nearby 25318 & 25319 on a Cranmore - Ellesmere Port tank train took the parcels forward to Hereford. Here 25318 continued south, still with 25314 attached, whilst 25319 returned north to continue on with the tank train.
25318 & 25319 were stabled at Birkenhead Mollington Street on April 11th.
25318 was taken out of service on July 25th, being noted dumped at Toton during August.
Distinguishing Features
Three-piece miniature snowploughs fitted: April 1970, August 1971, November 1977, March 1979, August 1979, October 1979, November 1979, April 1982
17/1668
flk 0417 (1)
Not all known passenger workings are recorded on this page.
Page added August 22nd 2001.
Last updated September 19th 2020.
Back to 25317
Forward to 25319