D7670, 7670, 25320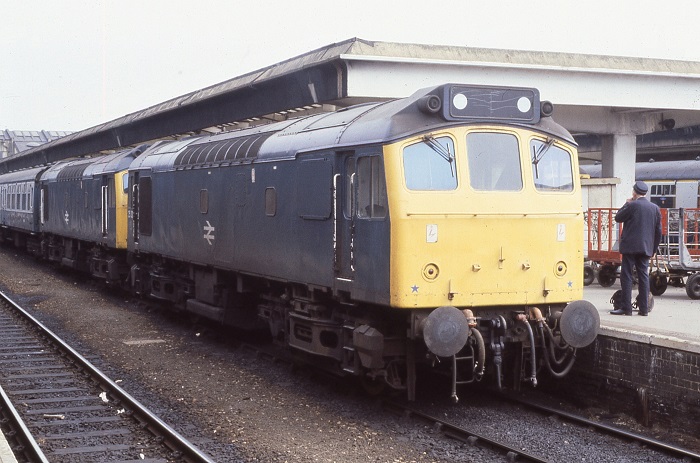 As mentioned in the notes below 25320 & 25277 worked a couple of Leicester - Blackpool workings during the summer of 1979. In this view from July 7th 1979 the train is on its outbound working via Stoke and Crewe. The return working was routed via the Hope Valley route and Chesterfield.
The eighteen year career of D7670/25320 was spent entirely allocated to London Midland Region depots.
Built: BR Derby Locomotive Works.
Dual brake fitted (April 1978).
Time between last Classified repair and withdrawal: 67 months.
Time between withdrawal & scrapping: 18 months.
Allocations
D7670 was new to the London Division (D01) on January 28th 1967. Further transfers were:
March 1967 to Nottingham Division (D16).
April 1967 to Birmingham Division (D02).
May 1973 to Bescot.
May 1973 to Kingmoor (KM).
January 1975 to Carlisle (KD).
August 1977 to Toton.
May 1981 to Longsight.
Withdrawn December 11th 1983.
Renumbered March 20th 1974.
25320 was the 205th Class 25 to be withdrawn, one of six retired during December 1983.
After withdrawal 25320 was moved to Derby Works and remained here until February 5th 1985 when it was moved with many others to Swindon Works. It was broken up there by late June 1985.
Works Visits
Works visits (records incomplete).
Noted Derby Works March 1970 (full repaint).
Noted Derby Works April 1978 (Classified including dual braking).
Noted Derby Works October & November 1983 (N6 repairs, bogie swap, then withdrawn).
Highlights
1967
Twelve new Type 2s (D7660 - D7671) were allocated to Willesden to take over the empty coaching stock, parcels and local freight duties in the London area. With the arrival of these locomotives it was possible to release the remaining Class 24s to the Stoke Division, as part of the eradication of steam in the North West. Of this batch of Class 25s D7660 - D7669 were dual braked from new, whilst D7670 & D7671 were not, however these latter two were quickly transferred to the Nottingham Division (D16).
1970
On July 4th 7670 & 5179 worked the 07.55 Walsall - Norwich, did they handle the return leg?
1972
An ex-works 7670 was noted at Nottingham on the morning of April 16th.
On August 27th an additional Derby - Yarmouth service was worked to Norwich by 7670 & 7568, presumably out & back?
1974
On December 2nd 25320 brought the Kingmoor breakdown crane to Daisyfield Crossing on the Hellifield – Blackburn line after 40134 had overran signals, ending up in a sand drag with its freight train piled up behind it. 40172 was also present with another crane.
1976
A cold spell during early January found 25320 handling the local shunting duties at Barrow in Furness, these were normally worked by shunters 08142 & 08216.
1977
Authorities at Barrow were obviously concerned about the effects of the cold spell early in January, with snow plough equipped 25320 handling the local shunting duties instead of 08142 & 08216.
The 08.00 Walsall - Yarmouth to Norwich and the return 14.15 Yarmouth - Walsall from Norwich were worked by 25320 & 25267 on September 3rd. Later that month on September 24th the return leg of a Keighley - Wellingborough day excursion was worked by 25320 & ??
Late on the evening of October 7th 25320 was noted northbound through Crewe with electric multiple units 313013 & 313063 headed for Southport.
1978
25320 worked the Heaton - Red Bank empty newspaper vans on June 18th, the train comprised at least seventeen bogie vehicles.
On July 1st the 07.30 Nottingham - Llandudno Town and the return 13.02 Llandudno Town - Nottingham were worked by 25320.
On August 10th 25320 & 25310 were noted at Luton with a lengthy mineral train. On August 13th the 09.15 Derby - Skegness and the 18.15 Skegness - Derby were worked by 25320 & 25310.
1979
25320 was noted arriving at Hinksey Yard, Oxford with empty Cartics on May 5th.
On June 17th 25320 & 25303 were noted at Skegness on an unidentified day excursion.
The 08.25 Leicester - Blackpool North from Nottingham and the return 14.25 Blackpool North - Leicester to Nottingham were worked by 25320 & 25277 on June 30th & July 7th.
1980
25320 was noted at Speke Junction on February 16th.
The 15.18 Norwich - Birmingham New Street was worked forward from Nuneaton on April 14th by 25320 dragging failed 31264.
On May 26th the 15.09 St. Pancras - Nottingham was worked by 25320 & 25262.
The 07.35 Nottingham - Llandudno Town and the return 13.00 Llandudno Town - Nottingham were worked by 25320 on June 14th & June 28th.
On August 16th the 07.40 Euston - Aberystwyth from Wolverhampton and the 17.55 Aberystwyth - Wolverhampton were worked by 25320 & 25221.
The 16.10 Whitemoor - Temple Mills freight was normally a Class 37 turn (via Cambridge and Lea Valley), however on September 3rd 25254 & 25320 worked the train and probably went back on the 20.45 Temple Mills - Whitemoor, both handled by March men.
On November 5th (or 11th) the 15.17 York - Swansea was noted behind 25320 & 31213 as far as Birmingham New Street, where 25320 was removed.
An E exam was completed on 25320 at Toton during December.
1981
The failure of 31133 on April 5th at Leicester whilst working the 13.15 Birmingham New Street - Norwich saw 25320 take over as far as Peterborough where 31204 took over. 25320 was stabled at Cockshute on April 11th.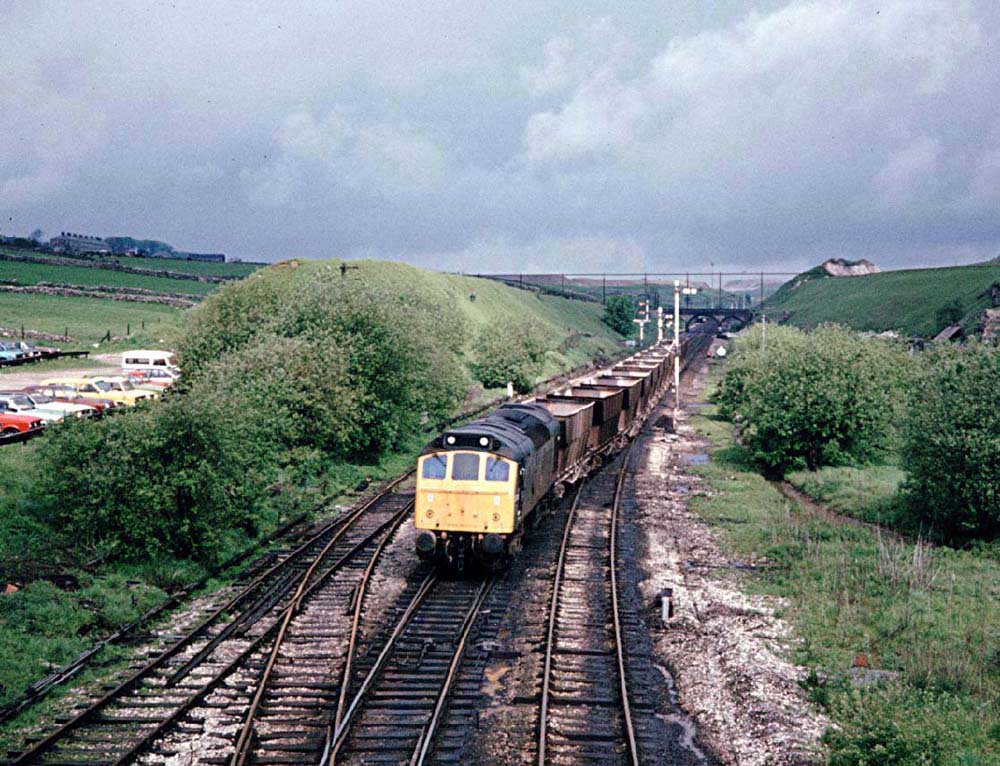 Photograph courtesy Tony Sayer.
May 26th 1981 finds 25320 approaching Great Rocks with a train load of empties, crossing from the Up to Down main prior to entering the Works sidings. A weak sun has broken through the storm clouds at the right moment for the photographer.
On May 28th 25320 was noted eastbound at Guide Bridge with empty ICI hopper wagons.
25320 & 25314 were noted northbound through Nuneaton on October 28th with a lengthy train of bogie wagons.
1982
25320 was stabled at Severn Tunnel Junction on January 30th.
On June 9th a Bangor - Manchester Victoria service was worked by 25320. The 07.40 Euston - Aberystwyth to Wolverhampton and the 14.00 Aberystwyth - Crewe were worked by 25320 & 25296 on June 26th.
On July 27th & 29th 25320 was in service hauling limestone between Tunstead - Northwich.
An unidentified St. Pancras - Nottingham service on September 21st was noted at Leicester with 25320, the train was terminated here.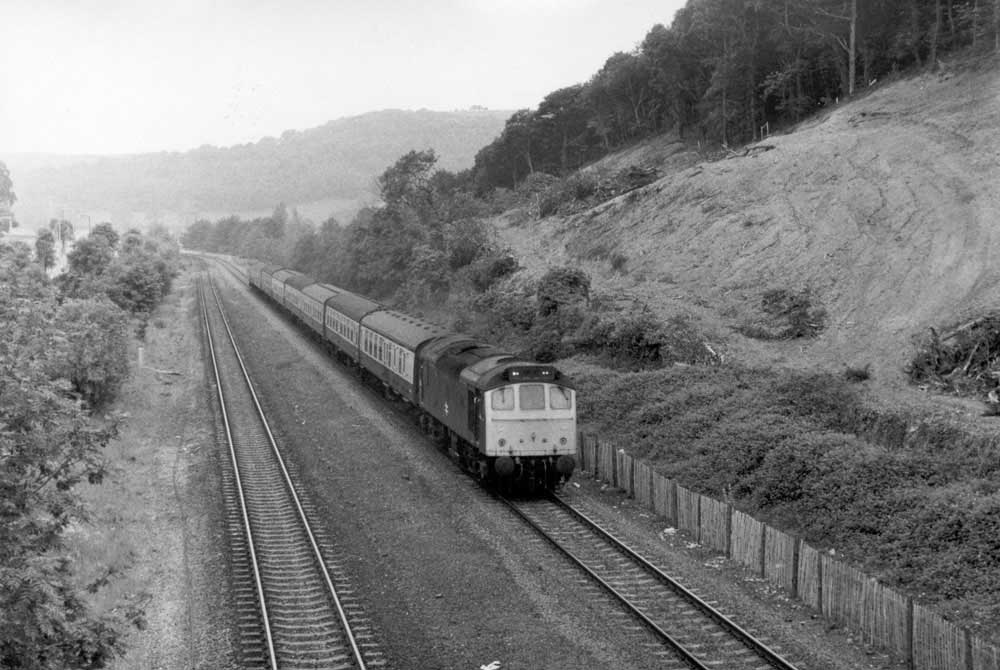 Photograph courtesy John Powell.
How it used to be - 25320 heads a Bangor - Manchester Victoria service on September 6th 1982, the A55 is just off-picture to the left, whilst the rough track cut into the cutting on the right suggests that clearing of the hillside for the major road improvements has just commenced.
1983
The northbound 'Redland' empties were noted at Wellingborough on January 11th with 25320 & failed 45003. The wagons were placed in a siding whilst 25320 took 45003 to the stabling point.
25320 was stabled at Chester on March 13th. On March 20th 25320 was noted at Northwich banking a train of ICI hoppers.
25320 & 25285 passed through Northampton with a track panel train on April 8th.
On June 27th 25320 & 25258 were noted southbound at Derby with an aggregates train.
25320 was noted southbound at Kearsley with a four coach parcels train on July 1st.
25320 was noted eastbound at Stenson Junction on July 4th with a track train comprised of eleven bogie flats, half of which were loaded with track panels. 25320 worked a southbound empty coaching stock through York on July 5th, the six coaches believed to be recently outshopped from York Carriage Works.
The middle of July proved to be a busy time for Cambrian passenger workings for 25320. On July 16th the 07.44 Shrewsbury - Aberystwyth worked as far as Machynlleth with 25320 & 25298, it was terminated at Machynlleth due to late running. The train then formed the 10.45 Machynlleth - Euston as far as Wolverhampton. The next day (17th) 25320 & 25298 were stabled at Rugby station. The following weekend (23rd) the 07.44 Shrewsbury - Aberystwyth and the 10.10 Aberystwyth - Euston to Wolverhampton were worked by 25320 & 25324. Four days later (27th) a diesel multiple unit failure saw 25320 assist the 10.55 Shrewsbury - Aberystwyth, the 14.00 Aberystwyth - Shrewsbury and the 16.40 Shrewsbury - Chester. These were possibly the last passenger workings for 25320.
Towards the end of October 25320 was noted at Derby Locomotive Works for a bogie swap, utilising the bogies from recently withdrawn 25253. However 25320 never left the Works and was withdrawn two months later.
25320 was withdrawn on December 11th 1983.
A builders plate from 25320 sold for at auction for £200 during May 2015.
A builders plate from 25320 sold for at auction for £500 during September 2015.
36/3915
flk 1216
Not all known passenger workings are recorded on this page.
Page added November 10th 2012.
Last updated January 17th 2019.