D7669, 7669, 25319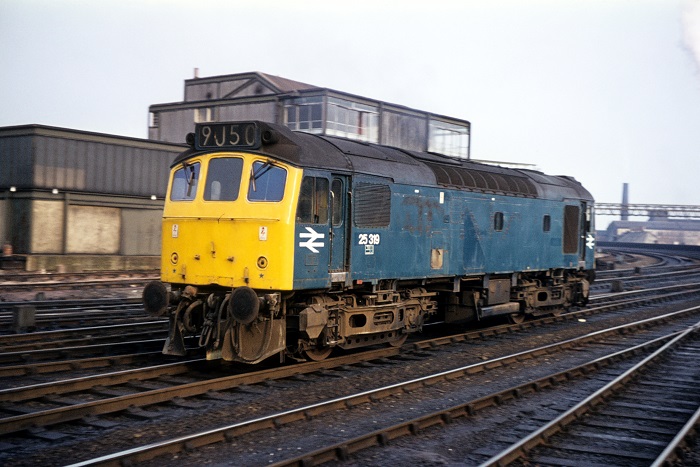 Photograph courtesy Tony Smith.
25319 at Manchester Victoria on December 10th 1975.
The sixteen year career of D7669/25319 was spent allocated to a handful of London Midland Region depots.
Built: BR Derby Locomotive Works.
Dual brake equipped from new.
Possibly the last Class 25 to retain the BR emblems on all cabside panels.
Final exhaust roof panel: raised, square.
Time between last Classified repair and withdrawal: 75 months.
Time between withdrawal & scrapping: 28 months.
Allocations
D7669 was new to the London Division (D01) on March 4th 1967. Further transfers were:
January 1971 to Birmingham Division (D02).
July 1972 to Liverpool Division (D08)).
May 1973 to Springs Branch.
October 1982 to Crewe.
Withdrawn March 20th 1983.
Renumbered March 5th 1974.
25319 was the 168th Class 25 withdrawn, one of five retired during March 1983.
On June 23rd Crewe depot sent withdrawn 25314 & 25319 (with 40007 & 40019 for Doncaster) to Derby Works. They had been out of service for about three months and were received at Derby for generator and bogie work prior to their moving to Aberdeen to join ADB 97250 as generator vehicles. However 25305 was substituted and work stopped on 25319, which lingered at Derby Works until movement to Swindon Works (see detail below) on Februry 21st 1985, and broken up there by late July 1985.
25093, 25105/164, 25234/248/260, 25312/319 9X12 17.05 Derby Works - Swindon Works July 23rd 1985, hauled by 45060.
Works Visits
Works visits (records incomplete).
Noted Derby Works September 1968.
Noted Crewe Works March 1971.
Noted Derby Works June 1973.
Nored Derby Works November & December 1976 (Classified repair).
Noted Derby Works November 1980 (N4 repairs).
Noted Derby Works July - September 1982 (N4 repairs).
Highlights
1967
D7669 was noted in ex-works condition at Derby Works on January 15th and shortly after being placed in service D7669 was noted running with three-piece black painted miniature snow ploughs.
Twelve new Type 2s (D7660 - D7671) were allocated to Willesden to take over the empty coaching stock, parcels and local freight duties in the London area. With the arrival of these locomotives it was possible to release the remaining Class 24s to the Stoke Division, as part of the eradication of steam in the North West. Of this batch of Class 25s D7660 - D7669 were dual braked from new, whilst D7670 & D7671 were not, however these latter two were quickly transferred to the Nottingham Division (D16).
1968
Noted on January 14th at Nuneaton were D7644 on a wiring train and stabled were D7663, D7668 & D7669.
1969
The derailment of a number of wagons of August 8th's 00.30 Wolverhampton - Ripple Lane at Kings Langley whilst on the up slow line caused quite an operating headache. The wreckage partially fouled the up fast, being run into by the 19.45 Perth - Kensington Motorail hauled by E3129. Although damage to this train was minor a number of coaches were derailed. For the Motorail terminal at Kensington a very busy weekend ensued. With Kensington servicing trains to St Austell, Fishguard and Perth, all in a very short period of time problems could quickly escalate due to the limited loading facilities and the necessity to separate the passenger coaches from the Cartics. Willesden's 7667 & 7669 were on the terminal's shunting duties that night and required some smart workmanship in train marshaling, especially following the delayed arrival of the vehicles from the derailed train. This was not made any easier by the use of this route for a variety of scheduled inter-regional freights and other special movements.
On September 1st the combined empty coaching stock of the 19.15 Kensington Olympia - Perth and the 21.45 Kensington Olympia - Perth were worked from Stonebridge by 7669 & 7666, at Kensington 7669 then took out the 19.15 service as far as Willesden and 7666 with the 21.45 as far as Willesden.
1970
On the afternoon of April 12th 7538, 7660 & 7669 were noted at Willesden.
Noted around Willesden on the evening of June 26th were 5184, 5226, 5271, 7666 & 7669.
1971
On September 7th 7669 was sent from March to Cambridge to takeover a Dagenham - Peterborough special, which had surrendered its locomotive to provide assistance elsewhere.
1973
At about 6pm on July 26th 7669 was noted at Manchester Exchange with the 4P05 down van train.
The recorded passenger workings for D7669/25319 were minimal, but the first run recorded was a mighty fine one. On August 4th 1973 7669 & 7629 worked the 12.08 Birmingham New Street - Glasgow Central from at least Carlisle (possibly Preston) to Glasgow Central.
1974
On March 21st the southbound 'Night Aberdonian' was noted leaving Aberdeen behind 25319 & 364.
At about 9am on September 11th 25319 was noted at Manchester Victoria with a down hopper train.
1975
On March 5th & 8th 25319 was noted at Manchester Victoria.
On April 2nd 25319 & 25132 were noted with a freight passing Madeley Junction headed in the Shrewsbury direction.
At about 5.30pm on June 18th 25044 & 25319 were noted at Ordsall Lane with a permanent way train (9X36).
On August 30th the 18.55 Birmingham New Street - Liverpool was worked via Cannock by 25319 & 25285 to at least Stafford.
On September 12th the 09.43 Liverpool - Glasgow arrived at Preston with failed 47480 being assisted by 25296 & 25319.
1976
Condition February: blue/yellow livery, still carrying BR emblems on each cabside, three-piece miniature snow plough fitted.
At about 8am on February 20th 25319 was noted at Birkenhead North with empty coaching stock. On February 21st 25319 was stabled at Warrington Arpley (BR emblems still on both cabsides).
25319 was stabled at Birkenhead on April 11th.
On September 23rd 25319 was noted at Warrington Arpley.
During November & December 25319 received a Classified repair at Derby, until this point 25319 had retained BR emblems on all cabside panels.
1977
On June 4th 25319 & 25190 were noted light engines at Chester Northgate.
On the morning of June 23rd 25319 was stabled at York.
On August 26th 25284 & 25319 were recorded as Holbeck - Hunslet - Skipton.
1978
On June 7th 25319 worked the 5.35 Cardiff - Crewe.
On July 15th 25319 & 40133 were light engines at Rock Ferry.
On September 13th 25319 & 25296 worked a Shotton - Bidston Dock iron ore empties, then retiring to Mollington Street.
The arrival of the 6Z57 11.30 Polmadie - Ditton BOC service with 25310 & 25319 on the evening of September 17th led to some traffic disruption in the Warrington area when one of the bogie tankers became derailed. The bogie was rerailed without incident in the early hours of September 18th.
On October 30th 25319 took brand new Class 507 units 507004/005 from Warrington to Birkenhead North via Mickle Trafford, Dee Marsh, Heswall & Bidston. They had reached Warrington behind 40120.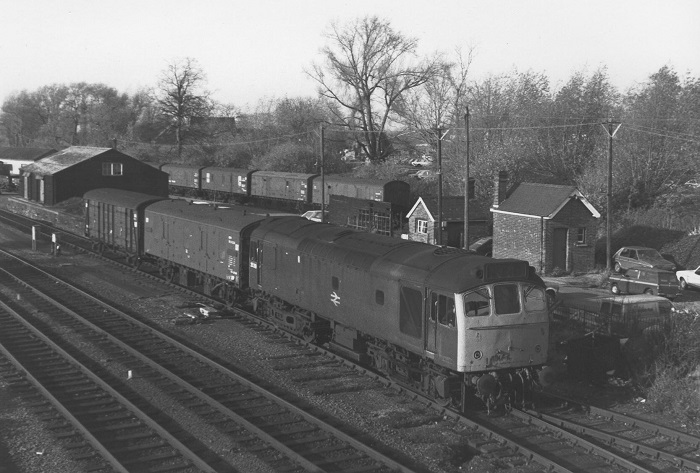 Photograph courtesy Mark Cook.
25319 at Aylesbury, date unknown.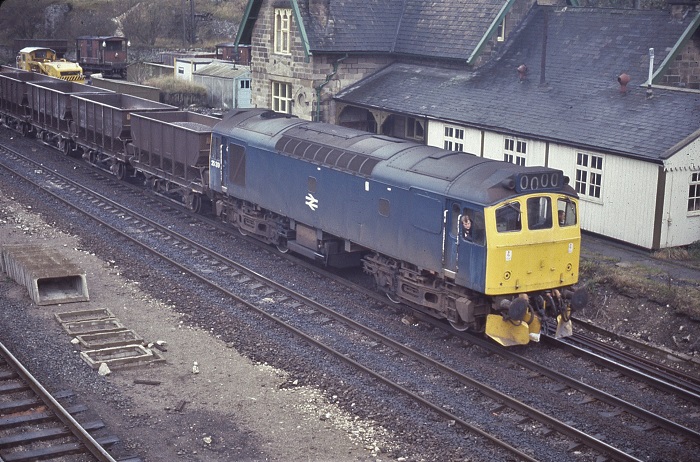 25319 at Peak Forest on November 23rd 1978.
1979
The 'Woldsman Railtour' on April 21st was worked by 25319 & 25297 from Liverpool to Guide Bridge and return, where 76014 & 76030 took over, with an ultimate destination of Cleethorpes.
On May 22nd 25319 worked the 19.30 Bangor - Manchester Victoria. Two days later (24th) 25319 worked the 15.42 Manchester Victoria - Bangor.
On June 14th 25319 worked the 17.10 Cardiff - Crewe, (the 12.25 Crewe - Cardiff had arrived at Cardiff with 37227, presumably 25319 took over the diagram).
On June 21st 25319 worked the 06.32 Peterborough - Kings Cross and the return 17.18 Kings Cross - Peterborough.
On July 5th 45109 failed somewhere south of Glendon Junction with the 13.08 St Pancras - Nottingham, being rescued by 20037 & 20044. Unfortunately a cracked rail in the Market Harborough area saw the service diverted via Manton & Syston Junction. At Leicester 25319 dropped on to the train to take it to Nottingham.
On July 19th 47452 failed before departure at Liverpool with the 16.15 Liverpool - Edinburgh/Glasgow, 25319 dragged everything to Preston. Later that day 25319 worked a Euston - Barrow service forward from Preston.
25276 & 25319 were noted northbound through Coventry with a mixed freight on October 12th.
1980
On January 3rd 25319 worked an evening Carlisle - Tyne Yard freight, returning the next day (4th) with an early morning Tyne Yard - Carlisle.
25319 was noted at Holyhead depot on the morning of March 6th.
On the early afternoon of July 30th 25287 & 25319 were noted at Bristol Bath Road.
On September 2nd 25319 was noted at Stafford with an up freight. On September 19th 25319 was southbound at Crewe with a rail train.
1981
On a very wet April 11th 25319 & 25325 worked the 6L39 Mountsorrel - Trowse loaded stone train. On April 23rd 25319 & 25173 were eastbound past Tinsley Yard with a lengthy freight.
1982
25319 was stabled at Saltley on January 21st. 25319 was stabled at York on January 30th.
25319 was noted at Warrington Bank Quay on February 23rd with ballast wagons.
On March 14th the 15.02 Manchester – Bristol parcels failed at Shrewsbury behind 25314, nearby 25318 & 25319 on a Cranmore – Ellesmere Port tank train took the parcels forward to Hereford. Here 25318 continued south, still with 25314 attached, whilst 25319 returned north to continue on with the tank train.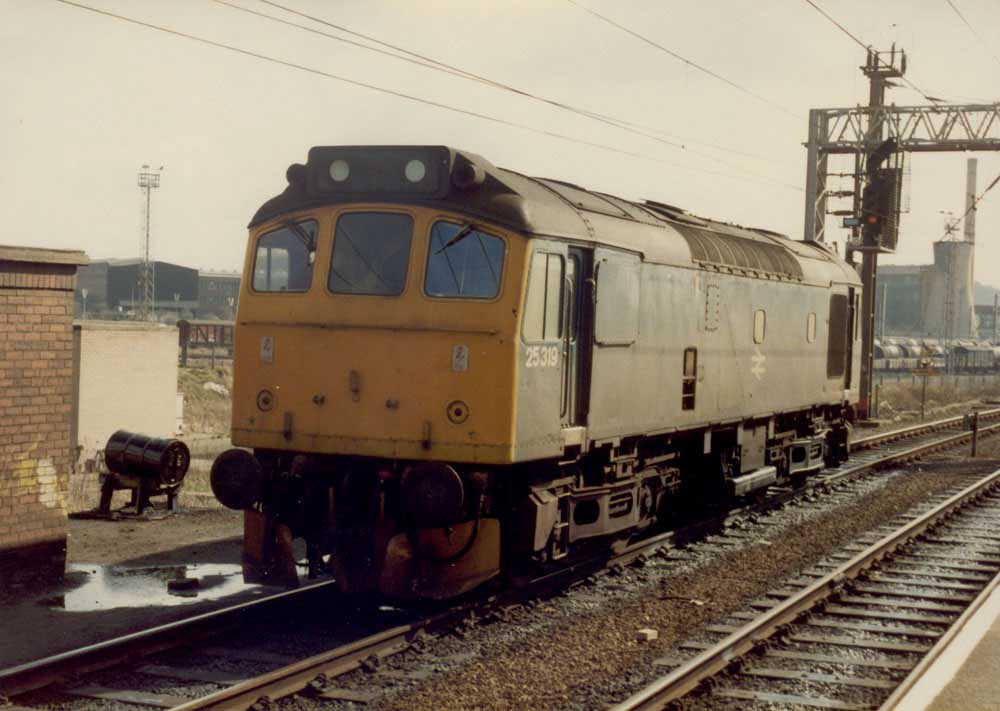 Photograph courtesy Jerry Glover.
Springs Branch allocated 25319 at Warrington on March 16th 1982. 25319 appears to have spent a considerable time in service with the three piece miniature snowploughs.
25319 was stabled at Birkenhead Mollington Street on April 11th.
On September 15th 25253 & 25319 worked the 8F21 Oakamoor - St Hellens sand train (28 wagons).
On the morning of October 7th 25319 was at Bedford on a local freight.
On November 28th 25319 was noted at Leighton Buzzard on an engineers working.
1983
25319 was stabled at Birkenhead Mollington Street on January 8th. 25319 and a short rake of coal wagons were noted at Millerhill on January 19th.
25319 was withdrawn on March 20th 1983.
Distinguishing Features
No.1 cab driver's side corner: large dent on corner above valencing and damage to cabside panel: Feb 1982 until withdrawn??
No.1 cab: displaying working headcode: Feb 1982 - November 1982 (No.2 cab headcode show dots Jan 1982 - and when withdrawn).
No.1 cabfront: electrification flash missing from driver's side leaving rusty patch: November 1982 until withdrawn??
Three-piece miniature snowploughs fitted: Feb 1976, Jan 1982, Feb 1982, April 1982.
Not all known passenger workings are recorded on this page.
13/661
flk 1121
Page added May 11th 2013.
Last updated May 14th 2023.
Back to 25318
Forward to 25320