D7674, 7674, 25324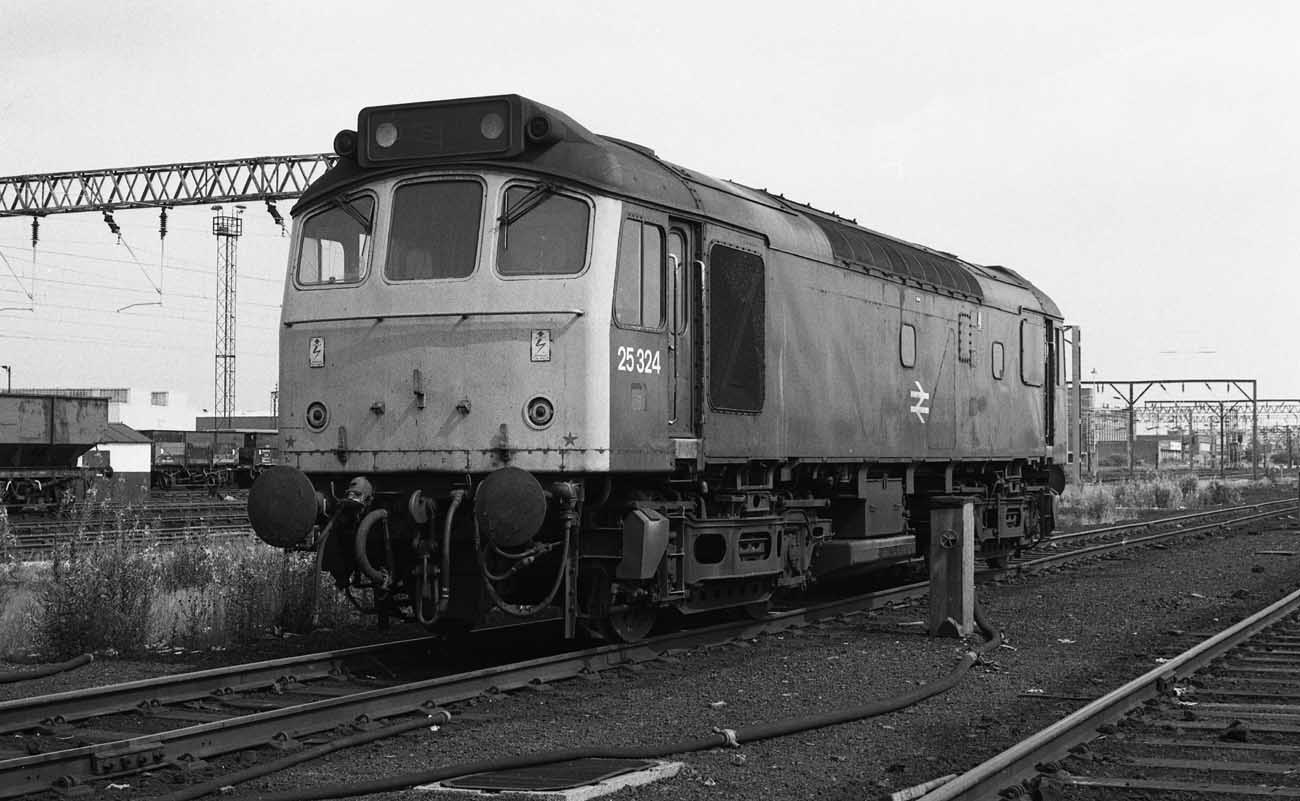 Photograph courtesy Danny Preston, collection Neil Johnson.
25324 at Speke Junction on August 23rd 1981.
The eighteen year nine month career of D7674/25324 was spent allocated to variety of London Midland depots.
Built: BR Derby Locomotive Works.
Blue & yellow livery from new.
Dual brake equipped.
Final exhaust roof panel: raised, square.
Time between last Classified repair and withdrawal: 82 months.
Time between withdrawal & scrapping: 22 months.
Allocations
D7674 was new to Nottingham Division (D16) on March 11th 1967. Further transfers were:
July 1967 to Carlisle (12A).
February 1968 to Carlisle (12B).
May 1968 to Longsight (9A).
June 1968 to Manchester Division (D09).
January 1971 to Liverpool Division (D08).
March 1972 to London Division (D01).
May 1973 to Willesden.
June 1975 to Cricklewood.
January 1984 to Longsight.
May 1985 to Crewe.
Withdrawn December 24th 1985.
Renumbered April 1974.
25324 was the 266th Class 25 withdrawn, one of ten retired during December 1985, including sister 25325 also on December 24th.
After withdrawal 25324 was stored at Willesden until moved to Crewe depot about March 1986 and then to Crewe Gresty Lane by March 1987. On July 15th 1987 25089, 25196, 25230 & 25324 were moved to Leicester Humberstone Road, then into Vic Berry's yard by July 20th 1987. The locomotive was placed briefly into the stack, scrapping had started by October 10th 1987 and was finished a week later.
Works Visits
Works visits (records incomplete).
Noted Derby Works January 1973.
Noted Derby Works December 1978 & January 1979 (Intermediate repair).
Highlights
1967
On the evening of July 4th D7526 & D7674 were at Egginton Junction with an up freight.
On the morning of July 11th D7674 & D7675 were stabled at Derby.
On the morning of July 12th D7673 & D7674 were stabled at Derby.
On July 22nd D7674 worked Larbert - Northwich soda ash whilst north of the border.
The first recorded passenger working for D7674/25324 was not a success, on August 12th the 06.40 Birmingham New Street - Glasgow Central was taken forward from Carlisle by D7674 which failed at Kirkconnel, D5055 took the train forward.
On the afternoon of August 26th D7674 was at Carlisle Citadel to take over the eight coach 09.20 St Pancras - Glasgow which had been worked from Leeds by 45593 'Kholapur'.
On September 5th D7674 took over the 10.25 Edinburgh – Birmingham New Street at Carlisle, after D1954 suffered a fuel leak. Twenty minutes was lost in exchanging locomotives, with only a further ten minutes lost on the journey as far as Crewe.
On the morning of September 14th D7674 was southbound at Crewe with a freight.
On December 1st (or 11th) the evening Wigan - Leeds vans was noted at Manchester Victoria with D7674 & 45282.
1968
On February 12th D7674 was noted at Manchester Victoria with an Ancoats - Glasgow freight (4L18).
On the afternoon of March 23rd D7674 was at Carlisle Kingmoor.
1969
On the evening of December 17th 7674 was at Stockport with a down freight.
1970
On the afternoon of August 22nd the eight coach 1J80 15.00 Barrow - Manchester Victoria noted at Preston with 7573 & 7674.
1971
On the late morning of January 5th 7603, 7646, 7663, 7664 & 7665 were stabled at Nuneaton, 7645 was shunting and 5232 passed through on a down freight.
1972
At about 6pm on January 11th 7674 was noted at Miles Platting with an up ballast train (6H02).
1973
A comment on a Derby Locomotive Works snag sheet from about January or February indicated 7674 as 'given'.
On August 16th the diesel multiple unit working the 14.05 Bedford St. Johns - Bletchley failed, 7674 hauled the unit to maintain the service, including the 15.05 (?) Bletchley - Bedford St. Johns and the 16.10 Bedford St. Johns - Bletchley.
7674 & 7530 were light engines at Watford Junction on the morning of November 15th.
1974
On May 26th 25324 & 25155 were noted at Yarmouth with an excursion from Derby?
July 10th found the southern end of the WCML blocked after a derailment near Bletchley. All lines were blocked just before noon when a coach became derailed, damaging a stanchion, bringing down the wires and finally hitting the flyover. Six down trains were trapped for two hours before being slowly worked past the accident scene. Two up trains were diverted into Marylebone, using 25182 & 25310 and 25309 & 25324, other services used St Pancras, including one hauled by 50036, whilst Paddington and Kings Cross dealt with the overflow.
On September 23rd 25324 & ?? were northbound at Lichfield with the loaded brick train (4F53).
1975
On August 26th 25324 & 25126 worked a roundtrip Nottingham - Skegness relief.
1977
On March 22nd 25324 was noted at Luton with a Bedford - St. Pancras substitution of 25222 and hauled stock, 25222 had failed at somepoint, whereby 25324 dragged everything to Luton where the service was cancelled.
On the morning of July 20th 25324 was stabled at York.
On November 14th 1977 the 15.55 St. Pancras - Derby was noted at Leicester running over an hour late with 25324 in charge.
1978
A returning day excursion to Plymouth on February 25th was worked by 25324 & 25269 between Kensington Olympia and Tring. North of the border on August 22nd 25324 worked the 10.45 Glasgow Central - Carlisle.
1979
On the early morning of April 7th 25324 was stabled at Bristol Bath Road.
On April 11th 25284 & 25324 worked the Mountsorrel - Kennett stone train.
The Chipman's weed killing train was noted at Watford on May 17th/18th with 25324.
On June 14th 25253 & 25324 were noted at Seacombe Junction with iron ore empties.
On July 17th 25324 & 25314 worked the 4F53 Stewartby - Garston brickliner.
1980
On March 21st 25315 & 25324 worked the down loaded 4F53 Fletliner from Forders' Sidings (Stewartby) to Trafford Park and Garston. Cricklewood had a batch of 25/3s for this work. Bedford drivers took the train from Stewartby to Wigston, handing over to Leicester men. The train was booked for 15 wagons.
On April 12th 25324 was noted southbound at Elstree with a dead 4-car Cricklewood based Class 127 set.
On July 28th 25326 & 25324 were noted at Forders Siding, presumably to work the northbound brickliner.
On September 23rd 25265 & 25324 were noted passing Birmingham International with a lengthy freight.
1981
During the afternoon of February 5th 25324 was northbound at Mill Hill with a spoil train.
31255 & 31273 working a southbound stone train on February 25th replaced 25133 & 25324 on the northbound Fletliner at Wellingborough, the stone train continued south behind 46047, one presumes there was a problem with the Class 25s.
On April 16th 25324 was noted passing Cossington (Leics) with a lengthy, well mixed freight.
25324 was stabled at Rugby station on May 17th.
On July 28th 25288 & 25324 were noted passing Bromborough light engines en-route to Birkenhead shed. 25324 & 25288 were noted eastbound through Reading with oil tankers on July 30th.
On August 5th 25324 was noted working a test train at Diggle Junction. The failure of 47077 on August 7th with the 08.55 Euston - Blackpool North saw 25324 work the train forward from Preston.
25265 & 25324 worked the 'Brickliner' Forders Siding - Garston on September 3rd with three five-wagons sets, two loaded, one empty.
With the power off between Coventry & Rugby on September 27th 25324 & 25278 assisted four electrically hauled expresses.
1982
Passenger workings during 1982 were of a short nature, assisting electric services on April 4th & December 12th because of engineering work and on December 8th rescuing 47414 after it failed working the 07.45 Scarborough - Liverpool at St. Helens Junction, 25324 finished the journey by propelling the train into Liverpool Lime Street.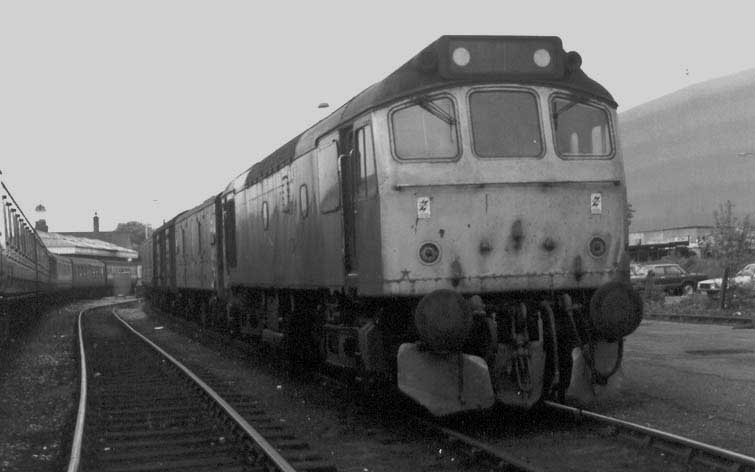 Photograph courtesy Mark Cook.
Another generator of traffic in the Aylesbury area was the Post Office. Seen here with a variety of parcels vehicles is 25324 on May 20th 1982.
1983
Sometime during February 25324 was noted at Aberystwyth with a well wagon carrying Vale of Rheidol No.9, being returned after display at the National Railway Museum, York.
1983 produced a small variety of workings, starting with an afternoon Llandudno Junction - Crewe (a Holyhead - Crewe working?) run on March 4th. On March 17th 25324 worked the 22.47 Crewe - Blackpool North from Preston. 25324 was stabled at Saltley on March 23rd.
25324 was noted southbound at Warrington Bank Quay with ferryvans on April 12th.
On May 16th 25324 was noted eastbound with passenger stock on the center roads at Cardiff General.
On June 3rd 25324 worked the 18.20 Glasgow Central - Manchester Victoria forward from Preston.
On July 17th 25324 was eastbound through Chester with a Speedlink working. The Cambrian line was visited on July 23rd with 25320 working the 07.44 Shrewsbury - Aberystwyth and the return 10.10 Aberystwyth - Euston to Wolverhampton.
More WCML assistance was provided on August 7th, with 25213 dragging two services between Rugby & Bletchley because of engineering work. 25324 & 25298 worked the Kings Cross - Tring cement empties on August 10th. 25324 was noted northbound at Nuneaton on August 23rd with the brick (?) train. 25324 was noted at Ribblehead with a ballast train on August 30th & 31st.
25324 was noted at Liverpool Lime Street on November 19th.
25324 was stabled at Bescot on December 1st. Whilst propelling a ballast train at Bletchley on December 2nd 25324 derailed one wagon, a mis-communication causing the train to set back without the route being properly set.
1984
On March 3rd 25324 was the Manchester Victoria station pilot and was noted passing through the station on March 18th. On March 29th 25324 & 25276 worked the 04.25 Glasgow - Preston vans, noted southbound on the Settle & Carlisle with the lengthy train.
25324 was stabled at Severn Tunnel Junction on May 29th.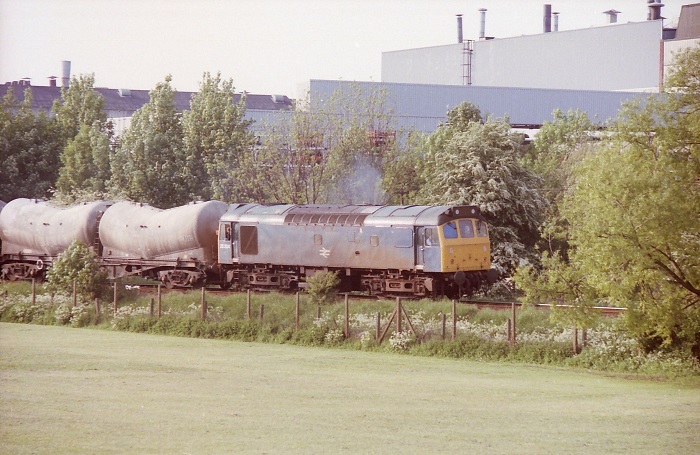 Photograph courtesy Tony Ewer.
25324 at Dunstable Kingsway on May 31st 1984 with the 6O93 Dunstable - Northfleet.
25324 was stabled at Cardiff Canton on July 5th and at Severn Tunnel Junction on July 9th. A visit to the Cambrian line was made on July 21st 1984 with 25282 working the 10.10 Euston - Aberystwyth from Wolverhampton and returning with the 17.05 Aberystwyth - Shrewsbury.
On December 8th 25324 was noted at Preston with oil tanks. 25324 was noted westbound at Manchester Victoria with a short engineering train on December 28th.
1985
On a snowy February 10th 25324 was noted at Northampton.
On the late afternoon of March 30th 25324 was noted southbound passing Soho depot.
25324 was noted passing Springs Branch depot on May 1st. 25324 & 25276 were noted southbound at Ais Gill on May 4th with the lengthy 4M09 Stranraer - Euston parcels train. 25324 was noted at Stonebridge Park on May 26th.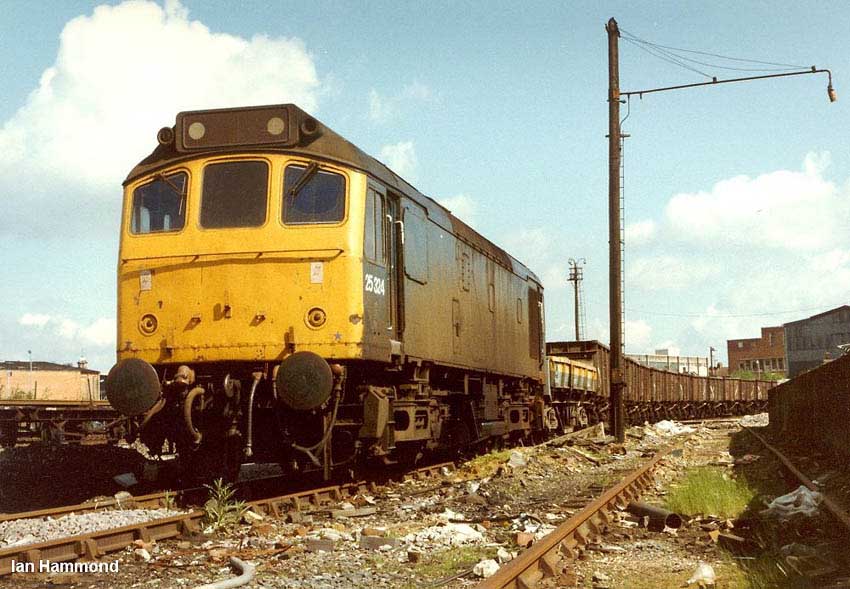 Photograph courtesy Ian Hammond.
A wonderful sunny May 28th 1985 finds 25324 in Watford Yard ready to work target 78.
25324 was stabled at Bescot on June 8th. On June 11th 37075 (leading) & 25324 worked a loaded merry-go-round coal train from Dodworth Colliery. On June 19th 25324 worked the 3V20 Manchester - Bristol parcels.
The last recorded passenger workings took place during 1985, on August 8th 25324 handled the 18.15 Glasgow Central - Manchester Victoria from Preston. The next day (9th) 25324 was noted hauling a three-car Swindon multiple unit through Bolton. On August 22nd 25058 & 25324 were noted at Tyne Yard.
On September 19th 25324 was stabled at Workington.
On October 4th 25324 worked the 07.47 Cardiff - Edinburgh from Carstairs. 25324 & 25303 worked the Stanlow - Leeds oil tanks on October 8th. 25324 was stabled at March on October 12th.
25324 was noted northbound at West Hendon on November 11th with a freight from Brent comprised of low-sided bogie wagons, possibly loaded with spoil/dirt. 25324 was at Leicester depot on the morning of November 17th.
25324 was withdrawn on December 24th 1985.
1986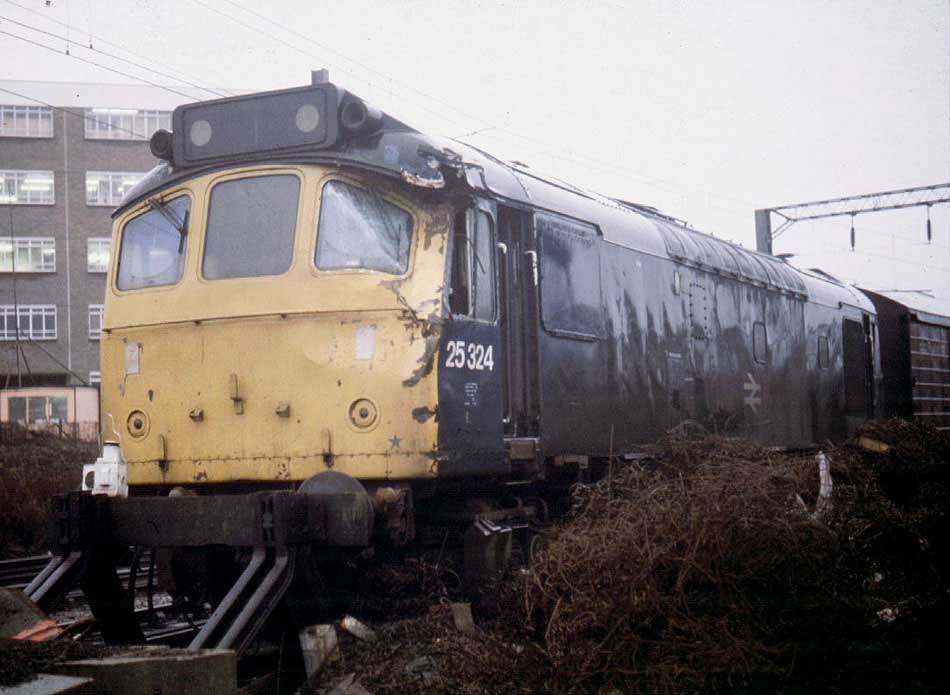 Photograph courtesy Neil Middleton.
A rainy day at Willesden on January 10th 1986 finds 25324 a little the worse for wear. It was withdrawn on Christmas Eve 1985, later towed to Crewe for spares removal then off to Vic Berry's for scrapping.
Distinguishing Features
No.2 cab: 2nd man's side: old number '7674' bleeding through the paintwork: (not visible December 1983) March 1984 until withdrawn.
No.2 cabfront: 2nd man's side: several points of paint discolouration around the electrication flash: July 1981 (at least one discolouration) until withdrawn.
No.2 cabfront: driver's side corner: scrape/missing paint on corner at marker light height: April 1980 until withdrawn.
No.2 cab front: no electrification flashes: April 1980.
Non-BIS bodyside: minor scrape high up on the bodyside, about the length of the air filters: July 1981 until withdrawn.
Three-piece miniature snowploughs: March 1983, April 1983.
Two number panels saved from scrapping.
Not all known passenger workings are recorded on this page.
31/1430
flk 0221
Page added June 26th 2013.
Last updated May 14th 2023.
Back to 25323
Forward to 25325