| | | | | | |
| --- | --- | --- | --- | --- | --- |
| Load | Speed | Amps | Volts | Notes | Other |
| 1 | 30 | 800 | - | - | - |
Speedometer fluctuates above 65mph
A side generator con box cover missing
A side oil ?? union below blower leaking (return to sump)
No.1 bulkhead door seal
A side generator end leaking bracket for ??
Loco low on power
2 nuts missing on governor drive.
1978
25323 was stabled at Nuneaton station on January 31st.
On an unrecorded day during August 25323 rescued failed 85023 on an unidentified northbound passenger service at Shap, dragging everything to Carlisle. On August 24th 25323 was noted at Cardiff Canton.
1979
On the early morning of April 7th 25323 was at Bristol Temple Meads.
On April 22nd 25323 was receiving attention at Crewe diesel depot. On April 23rd 25323 was noted on the Portishead branch with the tunnel inspection train.
25323 was stabled at Cricklewood on September 20th.
1980
25323, two Ferrywagons and a brakevan were noted through Stafford on April 10th.
On June 7th 25323 worked the 17.10 Cardiff - Crewe, but failed at Ludlow, being pushed to Craven Arms by 25283 & 25318.
On June 16th 25323 worked the 20.00 Cardiff - Crewe.
On June 17th 25323 worked the 17.10 Cardiff - Crewe.
25323 was stabled at Toton on August 23rd.
On September 30th 25323 & 25304 worked the 6L44 09.30 Carlisle Yard - Heysham Harbour loaded BP oil tanks, upon arrival some shunting was carried out at the oil terminal.
On November 4th 25277 & 25323 were noted at Roade with a loaded merry-go-round coal train. On November 10th 25323 was in charge of an Edinburgh – Cardiff freightliner (noted passing Darlington). On the morning of November 11th 25323 was noted at Leeds.
1981
During August 1981 25323 was transferred to Springs Branch.
25150 & 25323 were stabled at the London Road curve, Derby on August 1st. Heading east with empty coaching stock from Tyseley to Parkeston was 25323 on August 6th. On August 31st 25323 was noted working the 13.43 Kilmarnock - Stranraer Harbour.
On September 5th 25323 & 25274 worked the 08.35 Derby - Yarmouth to Norwich returning from Norwich with the 14.20 ex-Yarmouth. The next day (6th) the same pair worked the 08.21 Leicester - Skegness and 18.30 return.
On November 13th 25288 & 25323 worked the Leith South - Heysham Harbour pipe train (from Carlisle?).
1982
25323 was stabled at Birkenhead depot on March 7th.
A Toton - Acton freight was worked by 31159, 25277 & 25323 on May 12th. The next morning the two Class 25s were stabled at Wellingborough. On May 29th 25323 was noted westbound at Colwyn Bay with an engineers bogie wagon and a brakevan.
A weekend on the Cambrian line occurred late in July 1982. On July 24th 25323 & 25036 worked the 10.10 Euston - Aberystwyth from Birmingham New Street, returning with the 16.05 Aberystwyth - Shrewsbury. The next day (25th) the same pair worked the 08.45 Birmingham New Street - Aberystwyth forward from Shrewsbury, the 16.40 Aberystwyth - Machynlleth and 17.25 return followed by the 18.15 Aberystwyth - Euston to Shrewsbury.
On August 20th 25323 was the Manchester Victoria banker. On August 21st two Manchester Victoria - Bangor round trips were worked for a total of 400 miles.
And finally for 1982 it was back to the Cambrian line on September 18th with 25323 & 25310 working the 07.38 Shrewsbury - Aberystwyth and 10.07 Aberystwyth - Euston as far as Machynlleth where 25323 failed and was replaced by 25311.
1983
From February 9th - 12th 25323 worked the 22.47 Crewe - Blackpool North forward from Preston.
On March 10th 25323 was noted eastbound at Manchester Victoria with a new or ex-works Class 313 multiple unit, barrier wagons and a brakevan. 25323 & 25207 were noted passing Stockport with Blue Circle cement wagons for Northenden on March 25th. 25311 & 25323 worked the 6G67 MWO 13.50 Stanlow Refinery - Rowley Regis oil tanks on March 30th.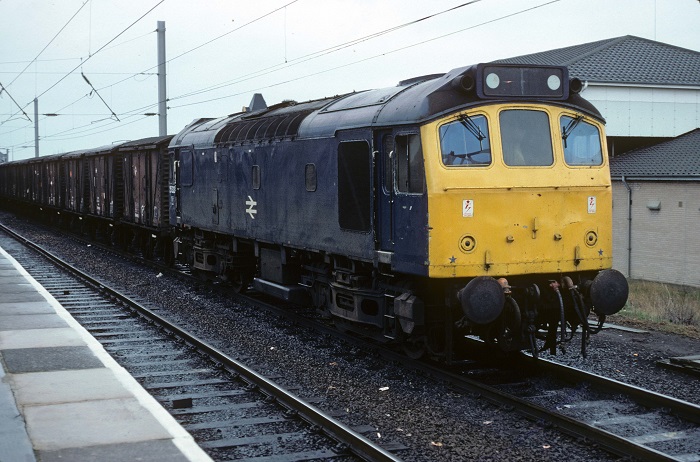 Photograph courtesy Roger Geach.
A damp March 29th finds 25323 southbound at Warrington Bank Quay.
25323 was noted passing Thorpes Bridge Junction on May 17th with GN unit 313009 returning from Horwich to the London area after overhaul. 25323 was stabled at Rugby station on May 29th.
On July 7th 25323 & 40035 worked the 03.54 Ditton - Broughton Lane BOC tanks. On the evening of July 19th 25279 & 25323 were noted at Skelton Junction running round their train of cement tank empties from Northenden.
On August 8th 25323 & 25307 were noted southbound at Lancaster with loaded mineral wagons. For three days in August 25323 was north of the border. On August 22nd the 15.38 Carlisle - Edinburgh was diverted via the East Coast Mainline because of a derailment, 25323 worked forward from Newcastle to Edinburgh. The next day (23rd) 25323 worked the 20.50 Carlisle - Perth forward from Mossend Yard. Finally on August 24th 25323 worked the 07.30 Glasgow Central - Carlisle.
25323 was noted at Manchester Victoria on September 9th. A short working took place on September 10th with 25323 handling the 09.45 Blackpool North - Stranraer Harbour to Preston.
25323 was stabled at Carlisle station on the evening of November 15th.
25323 was stabled at Saltley on December 28th.
1984
The passenger workings for 1984 were mostly in the north-west area. On January 4th the 23.00 Kings Cross - Newcastle expired at Church Fenton behind a Class 47, 25323 dragged the train to York. Another failure occurred on January 24th requiring 25323 to work the 09.20 Morecambe - Leeds following a diesel multiple unit failure.
On a damp February 20th 25323 was noted on loaded Tunstead - Northwich ICI hoppers.
On March 13th 25323 was eastbound ar Warrington Arpley with three empty merry-go-round wagons.
On April 27th 25323 was noted eastbound through Alsager with empty coaching stock for Derby.
The Manchester Victoria pilot on May 5th was 25323. On May 21st 25323 worked the evening Tees - Bescot Speedlink.
The 6O34 11.55 Stanlow - Salfords began its journey behind 25321 & 25323 on June 25th.
On July 5th 25323 was noted at Willesden with a short engineers train. 25323 was stabled at Severn Tunnel Junction on July 11th and would work the 09.45 Severn Tunnel Junction - Bescot comprising three wagons and a brake van. 25323 was noted at Newcastle Central light engine on July 14th, later in the day it was noted southbound through Durham. On July 18th 25323 was noted southbound at Newark with empty mineral wagons. On July 23rd 25323 worked the later afternoon Severn Beach - Dringhouses Speedlink.
A third failure, on August 17th saw 25323 assist the 17.12 Manchester Piccadilly - Euston from Prestbury to Stafford after 86228 failed. On August 22nd 25323 and hauled stock was required to fill in for a diesel multiple unit on the 16.38 Manchester Victoria - Southport and 18.27 return.
Noted around Willesden on the morning of September 6th were 25205, 25322, 25323 & 25325. 25323 & 25325 were noted later that day at Basford Hall with oil tankers.
The final passenger working for 1984 took place on September 20th with the 16.20 Glasgow Central - Liverpool forward from Preston.
1985
25323 was stabled at Toton on March 2nd and was receiving there attention on March 10th.
1985 produced a variety of workings. The first recorded was to cover yet another diesel multiple unit failure, on June 4th the 06.05 Barrow - Carlisle was hauled by 25323.
25323 was noted southbound through Crewe with a parcels train on August 16th.
On September 2nd 25323 worked the 18.00 Llandudno Town - Stoke-on-Trent. On September 18th 25323 was eastbound at Chester with a freight. 25323 was noted southbound through Crewe station with an engineers train on September 22nd. 25323 was stabled at Birkenhead on September 25th. On September 27th 25303 (leading) & 25323 had an excellent adventure on the NE/SW mainline with the 14.25 York - Taunton relief, working through to Bristol Temple Meads where 37176 & 37236 took over. The next day (28th) the same pair were on the 'Cambrian Explorer' railtour running from North Walsham to Aberystwyth, with the Class 25s working from/to Shrewsbury Abbey Foregate Junction.
25323 was receiving attention at Toton on October 3rd. A derailment on October 9th saw the 17.55 Preston - Coventry diverted via Chester with 25323 added between Warrington and Crewe, dragging 85012. 25323 returned to the north east on October 15th working a Stanlow – Jarrow oil train. 25323 was noted shunting parcels stock at Crewe station on October 19th. 25323 was noted at Severn Tunnel Junction on October 26th.
A Class 86 failure on December 14th saw 25323 assisting the 17.27 Wolverhampton - Euston from Linslade Tunnel to Euston after 86251 suffered severe arcing to its damaged pantograph. Arrival at Euston was some three hours late, with half the time lost put against the Class 25, which according to the driver was useless!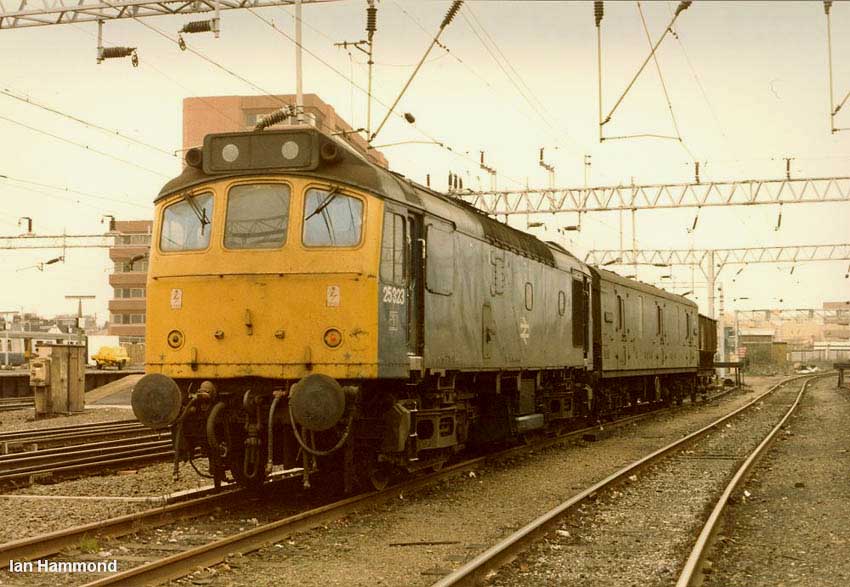 Photograph courtesy Ian Hammond
25323 works the local job T78 on December 14th 1985.
1986
On January 24th 25323 was noted eastbound at Chester with a freight.
Although 25323 was not withdrawn until March 1987 its remaining passenger workings all took place in 1986 with many covering for some sort of failure. The first occurred on January 27th with 25323 assisting an ailing 31434 on the 09.35 Norwich - Birmingham New Street forward from Nuneaton. 25323 then took out the 14.25 Birmingham New Street - Norwich as far as March.
25323 received accident damage at Fazakerley Yard, Liverpool about February 15th, moved to Allerton on February 19th 1986 by 31425 and received repairs.
On April 11th 25323 worked the 6V32 Ellesmere Port to Severn Tunnel Junction oil tanks (comprised nine short wheelbase tanks). 25323 was noted at Derby on April 22nd. 25323 & 25288 were noted at Chester on April 30th.
25323 was noted passing Manchester Victoria on May 22nd. 25323 was stabled at York on May 27th.
On June 17th 25323 appeared at Hereford with a tank train, the Class 25 was taken off here, stabled overnight and then became the station pilot the next day after the Class 08 wouldn't start. On June 25th 25323 was noted passing Headstone Lane headed toward Watford Junction pushing failed 81017 and a set of Mk1 coaches.
25323 was stabled at March on July 6th.
On August 15th 25323 worked a Bury St Edmunds - Whitemoor Speedlink, with two loaded grain wagons for Muir of Ord.
An unusual working on September 13th was the addition of 25323 to 37429 on the 07.25 Birmingham New Street - Aberystwyth between Shrewsbury and Machynlleth for use on a ballast working. 25323 worked the 6G24 Coton Hill - Bescot Speedlink on September 17th. September 20th brought two passenger workings, the 16.15 Liverpool - Preston and the 21.42 Preston - Liverpool.
25323 was stabled at Cockshute on October 4th. 25323 was noted at Farington Junction engaged in engineering work on October 26th.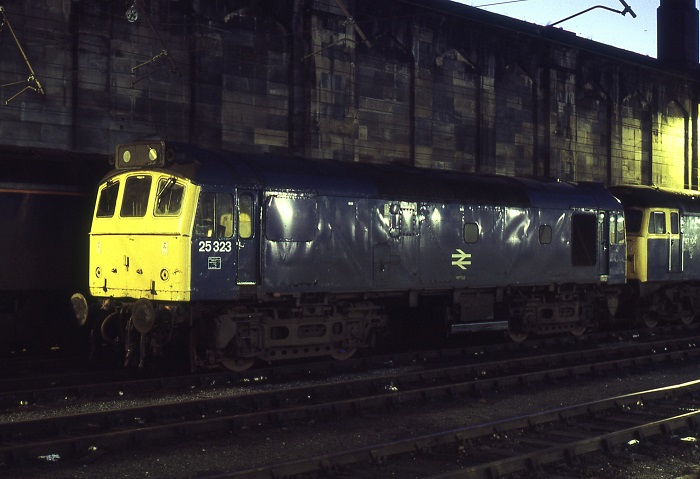 Photograph collection of webmaster.
25323 stabled at Carlisle station late on the evening of November 15th 1986.
The last passenger workings for 25323 were all north of the border, on November 20th 25323 handled the 09.40 Dundee - Montrose following a diesel multiple unit failure, returning with the 14.00 Montrose - Dundee. Finally on November 24th 1986 25323 worked the 10.55 Carlisle - Glasgow Central forward from Dumfries after 47412 failed, returning with the 15.45 Glasgow Central - Carlisle with 27008.
Sometime during December and a long way from its normal haunts 25323 was noted on a works train at Fairlie, no doubt part of the Ayrshire electrification project.
1987
On January 24th 25323 was noted hauling 47118 northbound through Newark.
On February 6th 25313 & 25323 were on the Churnet valley line with empty British Industrial Sand hoppers for Moneystone quarry, Oakamoor.
February 27th found 25323 on a short parcels train in the Coventry area.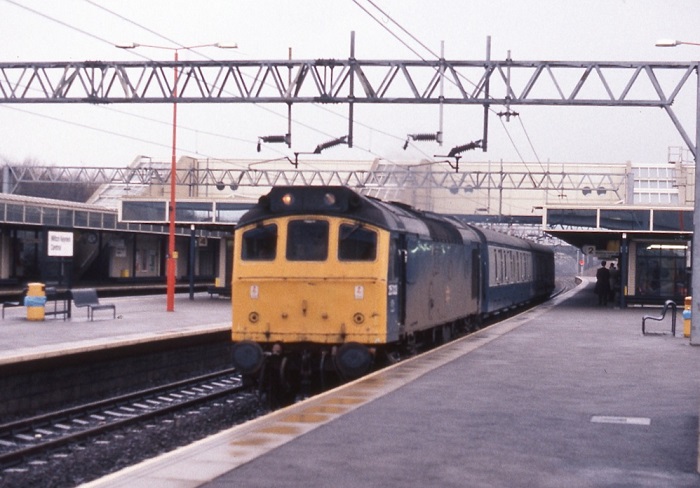 Photograph courtesy Peter Lovell
25323 with a short down parcels working at Milton Keynes on February 27th 1987.
25323 was noted at Saltley on March 2nd, the next day 25323 left Saltley with the 3V10 to Bristol, it was taken off at Gloucester, being noted here with traction motor problems. It was towed back to Saltley on 7th, then to Crewe on 8th and was withdrawn on March 9th.
Distinguishing Features
No.2 cab: various dents with paint missing, in center below hand rail, on driver's side corner below handrail and to right of marker light: begins approx August 1981 until withdrawn.
No.1 cab: midway between center lampbracket & driver's side corner - a short thin scrape, paint missing: July 1982 until withdrawn.
No.1 cab: various dents, two at handrail height, and to left of center lampbracket: July 1982 until withdrawn?
No.1 cabroof: three circular discolourations on driver's side: July 1982 until withdrawn?
Non BIS side: missing paint below blanking plate cover: May 1984 until withdrawn.
Cab swap: the number 25327 was visible on one of the cabs: noted September 1985.
Both number and data panels were salvaged when the locomotive was scrapped.
Not all known passenger workings are recorded on this page.
54/3705
flk 1021 (1)
Page added May 11th 2013.
Last updated May 14th 2023.
Back to 25322
Forward to 25324