D5053, 5053, 24053
One of the Two-Tone Green Class 24s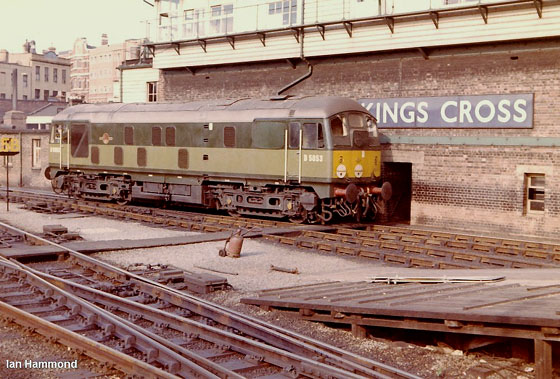 Photograph collection of Ian Hammond

A fine shot of a very clean D5053 at Kings Cross, presumably in the latter half of 1965.


The sixteen year five month career of 5053/24053 saw allocations to Eastern Region, Scottish Region & London Midland Region depots.

Built Crewe Locomotive Works.
Shortened fuel tank & full size water tank (retained until withdrawn).
Four upper and four lower air filters on non-BIS side, three upper and four lower on BIS side.
Cab roof ventilators sheeted over (Eastern Region modification): may not have occurred until 1974/1975.
Time between last Classified repair and withdrawal: ?? months.
Time between withdrawal and scrapping: 3 months.

Allocations

The frames for D5053 were laid down at Crewe Works during the late summer of 1959, D5053 was new to March (31B) on December 3rd 1959. Further transfers were:

March 1961 to Finsbury Park (34G).
October 1966 to Eastfield (65A) on loan, made permanent December 1966.
March 1968 to Carlisle Kingmoor (12A) on loan, made permanent April 1968.
April 1968 to Longsight (9A).
June 1968 to Manchester Division (D09).
September 1968 to Stoke Division (D05).
May 1973 to Crewe.
April 4th 1976 - to serviceable store.
January 31st 1976 - withdrawn.

Renumbered November 9th 1973.

After withdrawal 24053 was stored at Crewe Basford Hall until February 12th 1976 when it was moved to Swindon Works and broken up there by the middle of May 1976.

Movement: 24053/75, 24143/145 06.45 9X22 Crewe – Swindon February 12th 1976.

The allocation histories of 24053, 24054, 24055 & 24056 are virtually identical, although 24053 & 24054 had slightly longer careers whilst allocated to Crewe.

Works Visits

Works visits (records incomplete).

Noted Stratford Works April & July 1962.
Noted Doncaster Works October 1964.
Noted Derby Works July & August 1965.
Noted Inverurie Works September 1967.
Noted Derby Works August 1973.

Highlights

1959
D5053 was one of a large batch delivered to March (31B), being outshopped from Crewe during early December.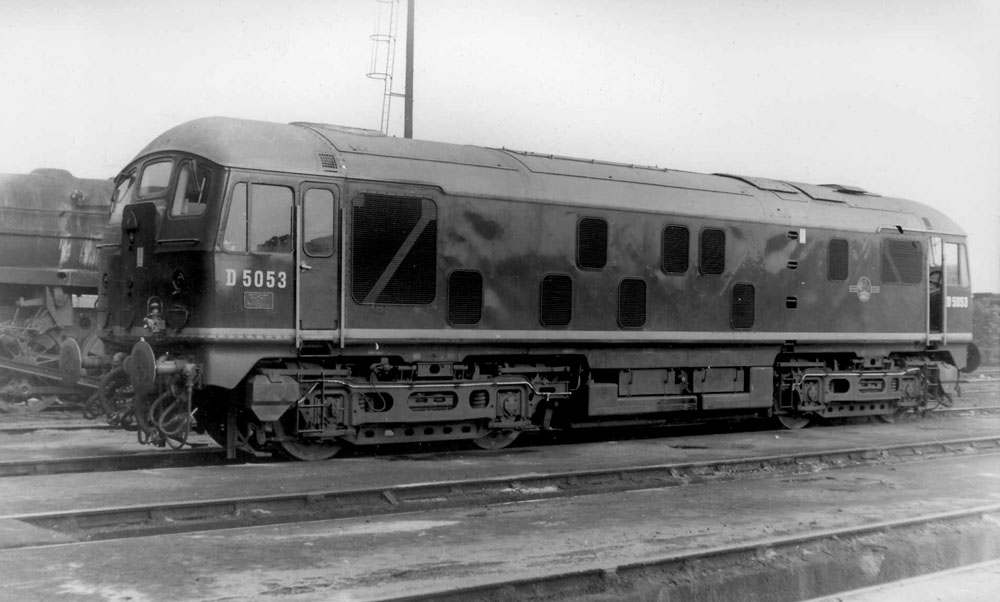 Photograph courtesy Rex Conway collection

Almost brand new D5053 poses for the photographer, date & location unknown. This locomotive has the slightly smaller fuel tank (the end section does not reach frame level).


1961
D5053 was transferred to Finsbury Park (34G) in January.

1962
D5053 was noted at Stratford Works during April & July.

1964
A visit to Doncaster Works was made by D5053 in October.

1965
A Works repair was made at Derby in July & August, it was at this time that D5053 gained its two-tone green livery

Condition August: two tone green livery with small yellow warning panels, being the same width as the light green band; full size water tank, shortened fuel tank, blanking plates fitted, hand/footholds present, trip cock fitted, all valencing present, cantrail water filler cover present.

1966
During October Eastfield (65A) became the new home of D5050 - D5056.

On October 2nd seven locomotives departed Finsbury Park on transfer to Eastfield, the locomotives heading northbound light engines: D5051 & D5052, D5050 & D5055 and D5053, D5056 & D7600.

1968
In March D5053 moved briefly to Carlisle (12A) before moving on to Longsight (9A) in April with D5052 - D5056. From June Longsight became part of the Manchester Division (D09). It then movedto the Stoke Division (D05) in September.

On Good Friday (12th) things were truly interesting, the ScR operating a weekday service, the LMR a Sunday service! On the eastern side of the country the Easter holidays brought many extras, D5053 (new to the Longsight workings) worked the 09.30 Manchester Exchange – Newcastle passenger on April 11th, returning with the 15.54 Darlington - Manchester Exchange.

On April 20th D5053 worked the 09.00 Liverpool Exchange - Preston and may have worked the earlier part of the diagram, the 03.15 Manchester - Southport newspaper, then light engine to Liverpool.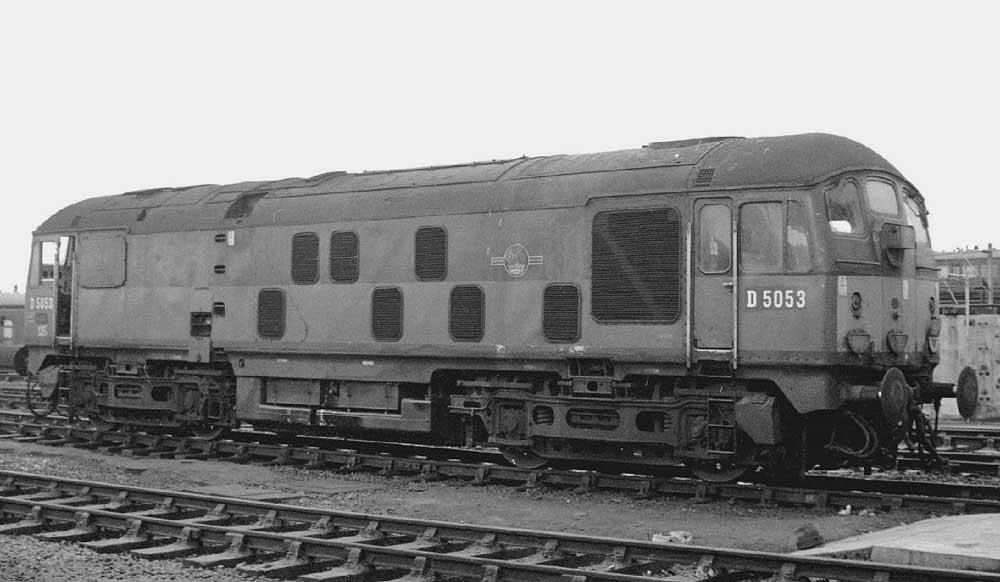 Photograph courtesy Tony Sayer

Its March 30th 1970 and 5053 still carries its two-tone green livery, seen here at Crewe. It still carries the 'D' prefix and retains all the frame level valencing.


1970
Condition March: two tone green livery with small yellow warning panels, being the same width as the light green band; full size water tank, shortened fuel tank, blanking plates fitted, hand/footholds present, most valencing present, 'D' prefix present.

Condition November: blue/yellow livery, gangway doors in place, blanking plates fitted, hand/footholds plated over.

1973
With the abandonment of the LMR Division allocations 5053 was now allocated to Crewe effective May.

5053 was noted at Derby Works during in August.

1974
Shortly after midnight on May 22nd 24053 was used to take a heater van & BSK from Crewe to Madeley chord in support of a Royal Train that was overnighting there.

On October 5th a thirteen coach Talyllyn Railway Preservation Society special 'Cambrian Express' (1L05) ran from Euston to Pwllheli. 86012 handled the out and return legs between Euston and Wolverhampton. 24053 & 24082 worked the route Wolverhampton - Cosford - Wellington - Abbey Foregate Junction - English Bridge Junction - Sutton Bridge Junction - Welshpool - Machynlleth - Dovey Junction - Tywyn - Barmouth - Harlech - Minffordd - Portmadoc - Pwllheli and returning over the same route.

1975
On May 11th 24053 was used to start the journey of LMS 4-6-2 6203 Princess Margaret Rose from Butlins Holiday Camp, Pwllheli to Derby Works for some much needed attention. The view below shows the move being made with 24053 in charge. 24053 would work the train to Crewe, here 25267 took over for the run to Derby. Total journey time was sixteen hours, on the Cambrian lines the speed limit was 15 mph except for 5 mph at Old Chaple Viaduct, Barmouth Tunnel & Viaduct and Aberdovey tunnels. From Shrewsbury to Derby the speed limit was 25 mph with the exception of 5 mph through Meir tunnel on the Stoke - Derby section.

Condition July: blue/yellow livery, gangway doors sheeted over, blanking plates fitted, hand/footholds plated over, both cab roofs have no ventilators above the doors.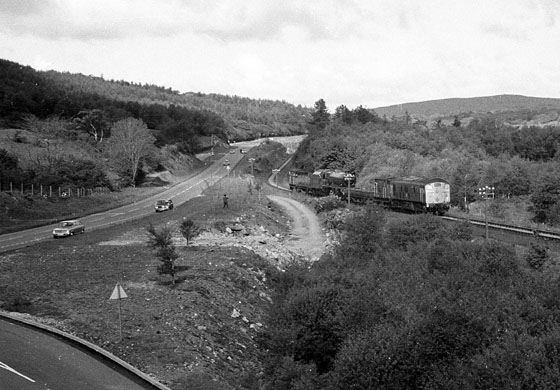 Photograph courtesy Pat Webb.
1976
During January 1976 24053 was withdrawn, it did not linger long at Crewe Basford Hall for on February 12th it began its last journey, to Swindon with 24075, 24143/145 as the 06.45 9X22 Crewe – Swindon.
Neither did it linger long once it had arrived at Swindon for by May 1976 it was no more.
flk 0616
Page added June 10th 2006.
Last updated February 10th 2020.