D5054, 5054, 24054, ADB968008



Photographer not known at this time

In a period view at Peterborough East D5054 awaits departure with an eastbound service. This locomotive was new to Ipswich (31B) during the middle of December 1959, being one of a number of machines used to dieselise East Anglia, one of the first areas in the country to have all its train services dieselised. Presumably from the condition of the locomotive it is not long out of Crewe Works. During January 1961 D5054 was transferred to Finsbury Park (34G), being featured frequently on the suburban services out of Kings Cross.

The sixteen year seven month revenue earning career of 5054/24054 saw allocations to Eastern Region, Scottish Region & London Midland Region depots.

Built Crewe Locomotive Works.
Shortened fuel tank & full size water tank (shortened water tank fitted later).
Four upper and four lower air filters on non-BIS side, three upper and four lower on BIS side.
Tripcock fitted (Eastern Region modification).
Roof modification (above generator/brake cubicle): original style retained until withdrawn (raised panels).
Circular gauge added to fuel & water tank (at least by 1969).
Time between last Classified repair and withdrawal: ?? months.
Preserved.

Allocations

The frames for D5054 were laid down at Crewe Works during the late summer of 1959, D5054 was new to March (31B) on December 18th 1959. Further transfers were:

January 1961 to Finsbury Park (34G).
October 1966 to Eastfield (65A) on loan, made permanent December 1966.
March 1968 to Carlisle Kingmoor (12A) on loan, made permanent April 1968.
April 1968 to Longsight (9A).
June 1968 to Manchester Division (D09).
September 1968 to Stoke Division (D05).
May 1973 to Crewe.
May 2nd 1976 - to serviceable store.
July 17th 1976 - withdrawn.

Renumbered February 16th 1974.

After withdrawal 24054 was stored at Crewe Basford Hall until August 1976 when it was reactivated into Departmental stock and renumbered ADB968008, departing for Exeter on August 31st 1976.

The allocation histories of 24054, 24055 & 24056 are virtually identical, although 24054 lasted an extra year in ordinairy service.

Works Visits

Works visits (records incomplete).

Noted Derby Works October & November 1965.
Noted Derby Works February 1971.
Noted Derby Works June & August 1974 (Classified).
Noted Derby Works yard June - August 1975.

Highlights

1960
D5054 was stabled at March on April 24th.

Super power took hold of June 22nd's 8.30pm Dagenham Dock - Cambridge freight with D5054 & D5064 rescuing an ailing D5509.

On November 1st 70035 failed at Ipswich on the down Harwich - Liverpool Central working, D5054 substituted as far as Sheffield, returning somewhat late with the up working!

1962
D5054 worked the 16.58 Moorgate - Hertford North on May 23rd.

1964
On August 21st D5054 worked the 17.35 Broad St - Hertford North.

1965
On July 6th D5054 worked the 17.35 Broad Street - Hertford North.

On December 7th D5054 was derailed on the fast lines at Millbrook (Bedford) causing delays to numerous passenger expresses.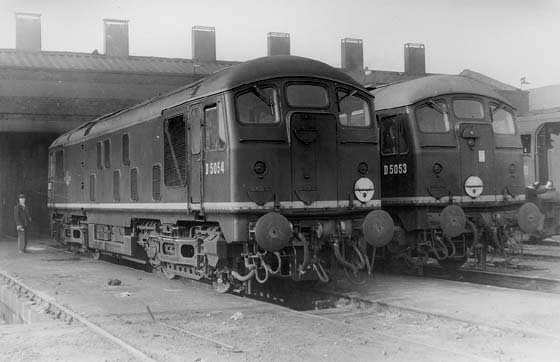 Photograph courtesy the Rex Conway collection

Another fine period view of sisters D5053 & D5054 on shed at Hornsey. The locomotives are not long out of Crewe Works, but enough time has passed for D5054 to have lost its curved roof panel that covered the boiler water filler. The locomotive sports the smaller fuel tank. They are also fitted with trip-cock equipment.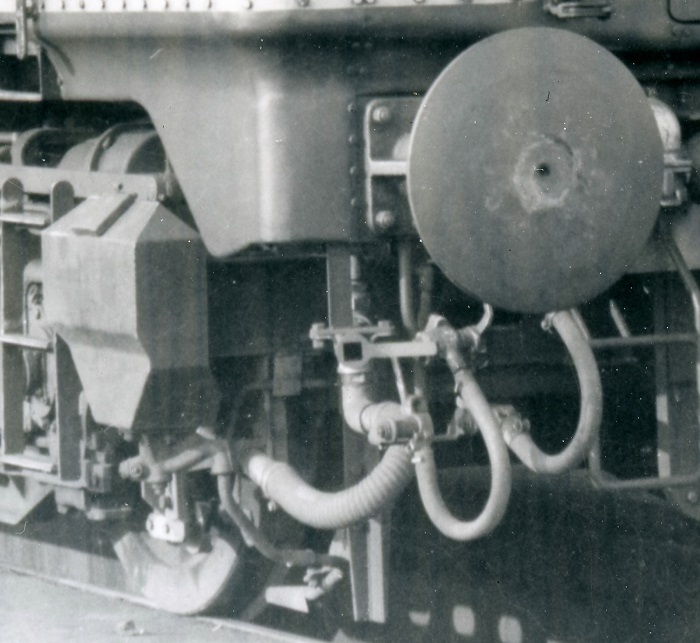 A close-up of the tripcock equipment fitted to D5054.
1966
On March 2nd D5054 worked the 08.11 Gordon Hill - Broad Street.
On April 21st D5054 worked the 17.35 Broad Street - Hertford North.
On June 21st D5054 worked the 17.35 Broad Street - Hertford North.
On October 4th & 7th D5054 worked the 17.35 Broad Street - Hertford North.
During October D5054 moved to Eastfield (65A), remaining here until March 1968 when the locomotive headed south to Carlisle (12A).
1967
D5054 worked the 17.08 Ayr - Kilmarnock on May 4th.
D5054 worked the 07.20 Perth - Glasgow Queen Street on May 17th.
D5054 worked the 11.10 Glasgow Queen Street - Dundee on May 27th.
June 7th saw the end of regular steam hauled passenger service into Scotland with the 20.32 Carlisle - Perth succumbing to diesel power, Type 2s being the norm, recent examples being ScR based D5054 & D5128.
D5054 worked the 07.20 Perth - Glasgow Queen Street on November 21st.
1968
During April the locomotive was transferred to Longsight (9A), then the Manchester Division (D09) in June 1968, then in September the Stoke Division (D05) became its home, the last move for this machine. Like many of the Crewe machines 5054 would be well travelled, along the North Wales coast to Holyhead, over the Cambrian lines to Aberystwyth & Pwllheli, as well as much work in the Stoke and Birmingham areas.
Condition no month: green livery with small yellow warning panels, square upper corners, bottom of panel does not cover frame level stripe; gangway doors fitted, shortened fuel tank, full size water tank (no circular gauges fitted), ridge sided sandboxes, three rung bogie mounted footsteps, blanking plate fitted, hand/footholds present, valencing fitted, 'D' prefixes present.
1969
Condition no month: green livery with full yellow cab fronts (no frame level stripe), gangway doors fitted, shortened fuel & water tanks, both fitted with circular gauges, engine exhaust located above engine, ridge sided sandboxes, three rung bogie mounted footsteps, blanking plate fitted, hand/footholds present, valencing fitted, 'D' prefixes present.
1970
5054 was noted at Fairbourne with a down freight on July 7th & 16th.
1971
Condition June: blue/yellow livery, very ex-works.
1972
On May 6th the LNER Society Railtours operated an eleven coach 'Cambrian Coast Express' railtour roundtrip Euston - Pwllheli, with the Shrewsbury - Pwllheli - Shrewsbury section worked by 5054 & 5062.
1973
On December 8th the eleven coach Wirral Railway Circle 'Cambrian Coast Express' was worked roundtrip Crewe - Pwllheli by 5054 & 5076.
1974
At about 9am on October 7th 24054 was at Manchester Victoria with a down freight.
1975
The summer of 1975 found 24054 in Derby Works, no doubt for the last major attention it would receive.
On September 7th 24140 & 24054 were noted on a permanent way train at Norton Bridge.
1976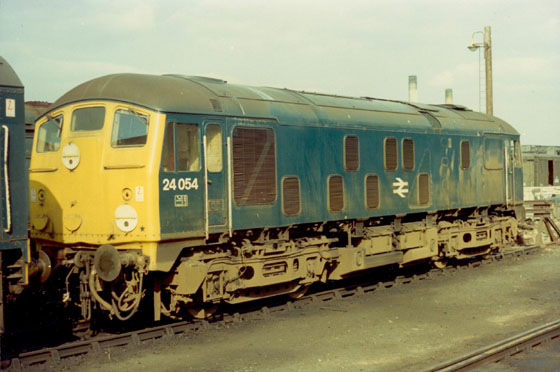 Photograph courtesy R Riley
24054 sometime after its last visit to Derby Works during 1975.
On April 2nd 24054 was noted at Stoke on Trent with a train of stone from Cauldon Low quarry.
24054 was stabled at Birkenhead Mollington Street on April 19th.
On May 1st 24054 & 24133 handled the Crewe – Llandudno leg of an excursion from Euston. The next day 24054 was placed in store at Crewe.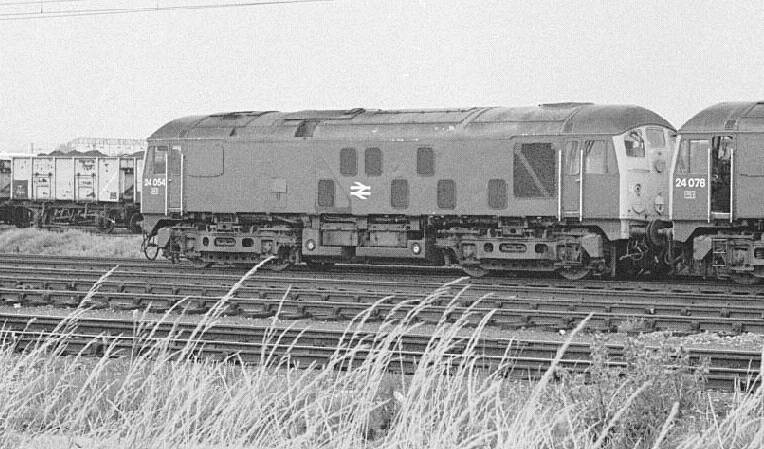 Photograph courtesy Tony Sayer

24054 awaits in the deadline at Crewe Basford Hall, July 26th 1976. In its final condition 24054 carries blue/yellow livery, the gangway doors have been sheeted over, the bodyside valencing has been removed, blanking plates are fitted, the hand/footholds are plated over. The full size water tank has been replaced with a shortened version and both fuel & water tanks have circular gauges. Two-rung bogie footsteps are fitted.

24054 was withdrawn on July 17th 1976.

At the end of August 24054 & 24142 were pulled from the deadlines at Basford Hall and sent to the Western Region for further use as carriage heating units. On August 31st they arrived at Exeter Riverside at 4.38pm behind 45012 as part of a milk train, or an 'unidentified' fitted freight (6V53 Down Stoke - St. Blazey china clay empties from Bescot is a candidate), then 45012 tripped the Class 24s to Exeter stabling point, by September 3rd they were still at Exeter but now coupled to a BV ready for onward movement to Laira.

As a train heating unit changes included having the boiler exhaust plated over, eth connections fitted and external controls added to the valencing on the driver's side of the cab.

1977
During April ADB968008 was noted at Penzance.

On May 9th a reshuffle of the WR carriage heating units took place, with unit ADB968008 (24054) moved from Penzance to Plymouth, whilst ADB968009 (24142) moved from Plymouth to Worcester.

During September ADB968008 was transferred from Laira to Newton Abbot.

1978
Carriage heating unit ADB968008 (24054) was noted at Newton Abbot on March 5th.

1981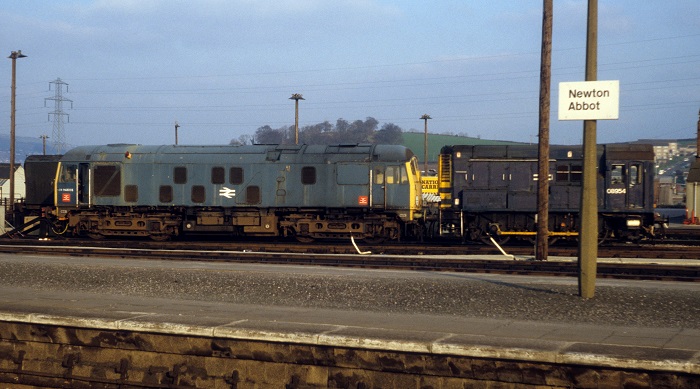 Photograph courtesy Bernard Mills.
ADB968008 and 08954 at Newton Abbot during February 1981.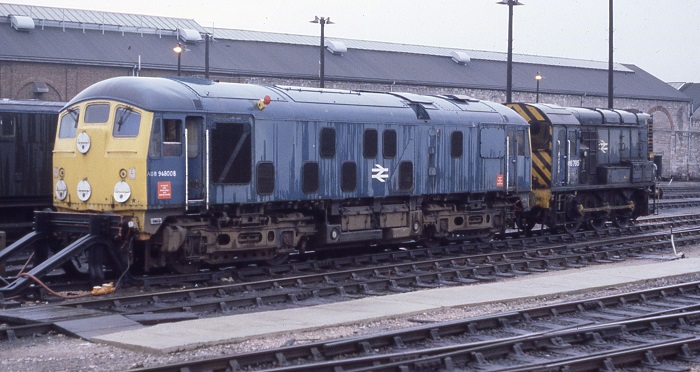 Photograph courtesy Adrian Healey.
ADB968008 at rest at Newton Abbot.
1982
The completion of the Crown Point (Norwich) carriage depot led to a significant shake up of the various train heating units with a number of the former Class 31 & BTH units condemned. ADB968008 (ex 24054) journeyed from Newton Abbot to Stratford, being noted there from (at least) mid-March 1982 to October 1982. It appears a repaint of the body, cab fronts and roof was undertaken at Stratford, the roof was painted black and the cab handrails were yellow. It also received its number (ADB968008) in large letters. It arrived at Cambridge during December to act as a spare whilst withdrawn ADB968009 (ex 24142) was moved to Stratford for spares removal prior to being sold for scrap.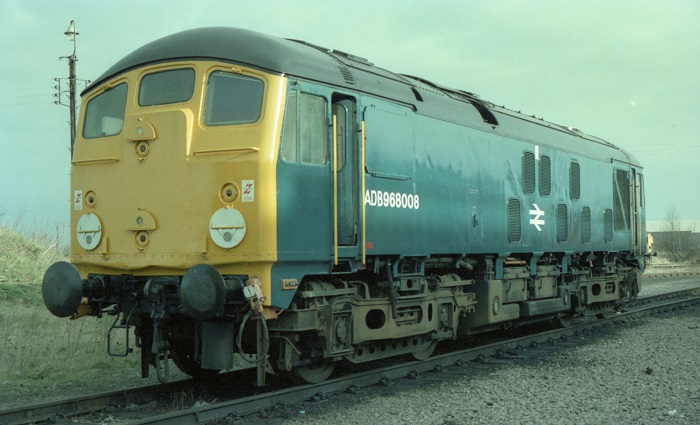 Photograph courtesy 'richiebek'
Freshly repainted ADB 968008 at March during September 1983.
The move of ADB968008 (24054) and the two former Class 31 train heating units to Cambridge proved to be short-lived due to the excessive noise created especially with the close proximity of a residential neighbourhood. By mid December all three machines had moved to March.
1983
During October ADB968008 (24054) finally reached preservation with its purchase by the East Lancashire Railway, Bury. It had spent the first half of the month in transit from March, arriving at Bury on October 17th(?).
Photograph courtesy Mark Bennett
Better times at the ELR for 24054, the third Class 24 to be preserved.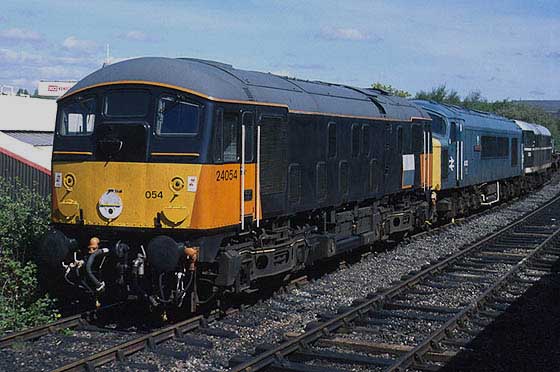 Photograph courtesy Phillip Moore
Stranger times at the ELR, what a Class 24 might have looked like had they survived two decades longer! March 2002.
A builders plate (Crewe 1959) from 24054 sold at Stafford Auctions for £300 during January 2016.
flk 0222 (not D5054).
Page added November 3rd 2000.
Last updated February 14th 2022.
Back to 24053
Forward to 24055