D5079, 5079, 24079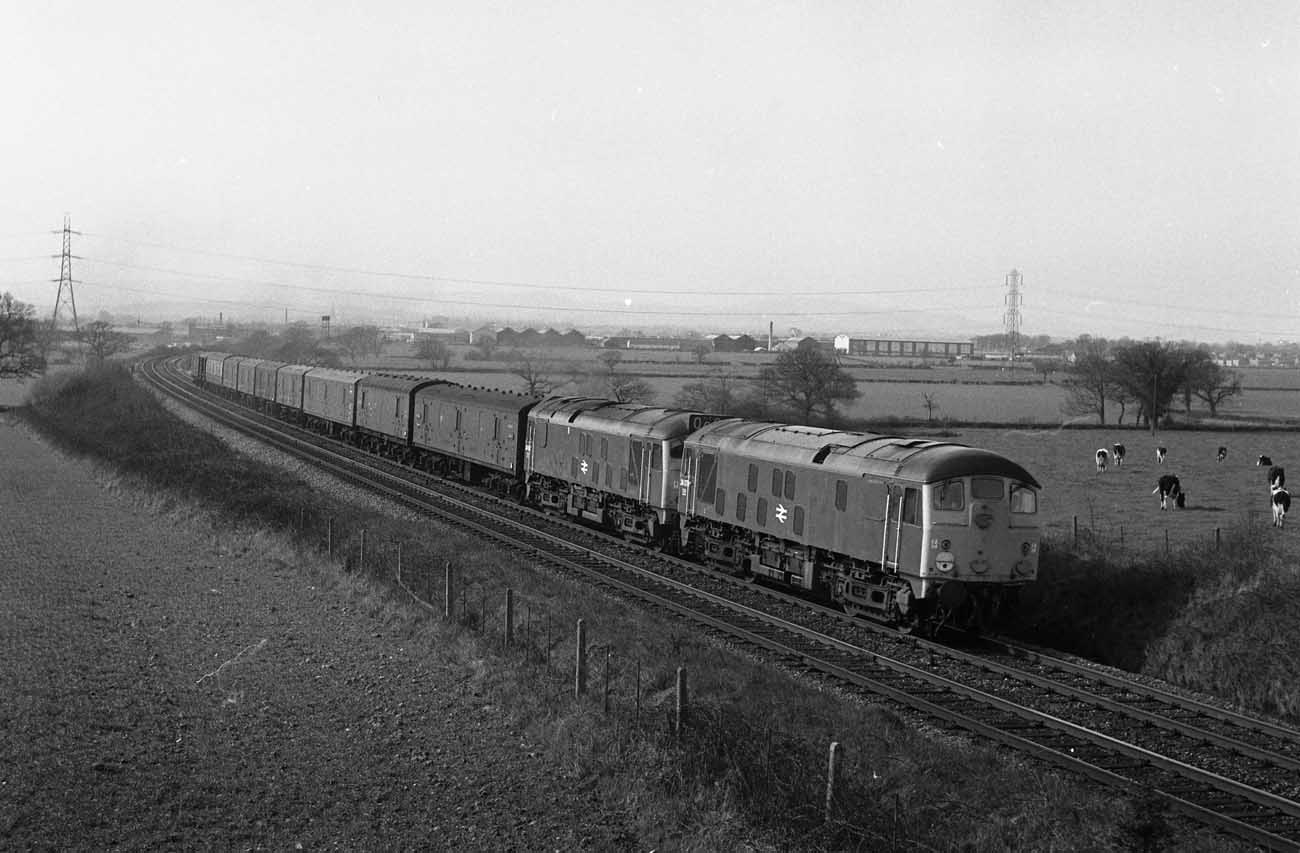 Photograph courtesy Danny Preston, collection of Neil Johnson.
24079 & 24133 work April 3rd 1976's Shrewsbury - Red Bank parcels train, seen somewhere near Shrewsbury.
The sixteen year two month career of D5079/24079 was spent entirely on the London Midland Region apart from its very brief (paper only?) allocation to the Eastern Region.
Built Crewe Locomotive Works (from batch 5076 - 5093).
Shortened fuel tank & full size water tank (shortened water tank fitted later).
Four upper and four lower air filters on non-BIS side, three upper and four lower on BIS side.
Time between last Classified repair and withdrawal: 25 months.
Time between withdrawal & scrapping: 26 months.
Allocations
The frames for D5079 were laid down at Crewe Works during November 1959, D5079 was new to March (31B) on February 25th 1960. Further transfers were:
March 1960 to Willesden (1A), on loan.
August 1960 to Rugby (2A) on loan.
September 1960 to Willesden (1A).
October 1960 to Longsight (9A).
October 1960 to Carlisle Upperby (12B) on loan.
May 1961 to Willesden (1A) .
April 1966 to London Division (D01).
December 1966 to Stoke Division (D05).
May 1973 to Crewe.
May 2nd 1976 to serviceable store.
July 17th 1976 - withdrawn.
Renumbered June 8th 1974.
After withdrawal 24079 was stored at Crewe until May 31st 1977 when it was moved to Swindon Works, and scrapped there during the last week of September 1978.
Movement: 24079/85, 24134/41 as the Crewe - Swindon on May 31st 1977.
Works Visits
Works visits (records incomplete).
Noted Derby Works September & October 1962.
Noted Derby Works January, February & May 1964.
Noted Derby Works February 1970.
Noted Derby Works July 1971.
Noted Derby Works March & October 1972.
Noted Derby Works May 1974 (Classified, green to blue livery?).
Highlights
1960
D5079 was from a batch of eighteen machines (D5076 - D5093) built at Crewe, with delivery to March (31B), for a very brief time, being quickly transferred to Willesden (1A) during March.
On March 5th D5042, D5047, D5065, D5076 and almost brand new D5079 were stabled at March depot.
D5079 moved to Rugby (2A) in September. With the end of the summer season the Rugby - Norwich working reverted to a Type 2, usually D5079, during the summer this was a Rugby Stanier Class 5 duty, required for the 10-12 bogies, the winter service only carried five. On August 27th D5079 worked the 6.12pm Peterborough East - Rugby.
A further move north for D5079 was to Longsight (9A) in October, and then onto Carlisle Upperby (12B) in November. This is believed to be the first BR/Sulzer Type 2 allocated here. Whilst at Carlisle it became a regular performer from October 19th on the 8.05am to Hellifield and its 11.17am return, a duty it performed to the end of the year with few absences. The down working also involved the collection of loaded milk tankers from various locations, adding considerably to the weight of this working.
1961
During January D5079 was also noted on trips to Carstairs, on the Carlisle - Carstairs leg of the 1.05pm Euston - Perth. By the end of March it had been replaced on the Hellifield run by Class 5s, Clans or Jubilees. During June D5079 headed south, its home for the next five years became Willesden (1A).
Photographer not known at this time.
The view here of D5079, believed to be Camden, shows the locomotive in pretty much the condition it was delivered in, though somewhat grimier. Clearly visible is the original location of the exhaust port, very close to the boiler exhaust. The roof mounted water filler cover is still in place and the locomotive carries the smaller capacity fuel tank.
On July 14th D5079 worked the 18.12 Euston - Bletchley.
1965
D5079 was the Marylebone pilot on March 12th.
Condition June: green livery with small yellow warning panels, rounded upper corners, warning panel partially covers frame level stripe; gangway doors present, full size water tank, shortened fuel tank, blanking plates fitted, hand/footholds present, ridge sided sandboxes, three rung bogie mounted footsteps, valencing present, engine exhaust above engine room.
1966
With electrification virtually complete at the London end of the WCML and Willesden receiving the latest Class 25s from Derby Works the mass exodus began to the Stoke Division (D05), with D5079 heading north in December, as part of the first batch (D5073 - D5081) to reach here.
1967
As the New Year opened Shrewsbury commenced diagramming Class 24s for the Cambrian freight working, which would have included the three featured locomotives, they would work these services for the next seven years.
Condition July: small yellow ends with curved upper corners, blanking plates in place, hand/footholds still present.
1969
5079 was noted at Llwyngwril with a freight on June 4th.
On August 30th 5079 & 5140 worked the 10.10 Aberystwyth - Euston as far as Shrewsbury.
1970
5079 worked the 09.40 Euston - Aberystwyth forward from Shrewsbury on June 6th.
5079 worked the 1E24 18.28 Aberystwyth - York (to Crewe) on December 19th.
1971
5079 was under repair at Derby Works during January.
On August 17th 5079 was at Aberystwyth to work the mail/passenger service to York.
Condition August: Green with full yellow ends, gangway doors in place, shortened fuel & water tanks, blanking plates in place, hand/footholds plated over, valencing removed, no visible totem/emblem on non-BIS side.
1972
5079 visited Derby Works at least twice, in March and October.
1973
On June 10th the first F&W railtour took passengers from Gloucester to Pwllheli on 'The Snowdonian' with 5079 & 5087 in use west of Birmingham New Street.
With the discontinuance of the LMR Divisional allocations, 5079 was now allocated to Crewe.
5079 was stabled at Bangor on September 17th.
Condition September: green livery with full yellow ends, frame level stripe barely visible, gangway doors present, shortened fuel and water tanks, solid blanking plate, hand/footholds plated over, two rung bogie mounted footsteps, mixed style sandboxes.
1974
5079 was at Derby Works during May.
Condition summer: Blue/yellow livery, gangway doors sheeted over, shortened fuel & water tanks, blanking plates in place, hand/footholds plate over.
1975
24079 worked the Aberystwyth - York postal to? on June 27th.
1976
24079 missed the massive withdrawals of the LMR Class 24s during the summer of 1975, seeing service into early 1976.
At about 8am on February 25th 24079 + 24063 were noted at Birkenhead North with iron ore for Shotton.
24076 was noted light engine at Crewe station on March 6th.
On April 3rd 1976 24133 & 24079 arrived at Shrewsbury with a mystery excursion from Manchester to Swansea the Class 24s were replaced by headlight equipped 37181, the excursion was therefore most likely destined for the Central Wales route to South Wales.
A pair of Class 24s led by 24079 feature on a programme for a Class 24 railtour run by the Wirral Railway Circle. The tour on June 5th 1977 ran from Crewe to Barmouth and the locomotives used on this day featured 24082 & 24133.
24079 was withdrawn on July 17th 1976.
flk 0222
Page added March 5th 2004.
Last updated February 4th 2022.
Back to 24078
Forward to 24080