D5078, 5078, 24078

The sixteen year one month career of D5078/24078 was spent entirely on the London Midland Region apart from its very brief (paper only?) allocation to the Eastern Region.

Built Crewe Locomotive Works (from batch 5076 - 5093).
Shortened fuel tank & full size water tank (shortened water tank fitted later).
Four upper and four lower air filters on non-BIS side, three upper and four lower on BIS side.
Circular gauge added to fuel & water tanks (1968).
Time between last Classified repair and withdrawal: ?? months.
Time between withdrawal & scrapping: 25 months.

Allocations

The frames for D5078 were laid down at Crewe Works during November 1959, D5078 was new to March (31B) on February 18th 1960. Further transfers were:

March 1960 to Willesden (1A), on loan, made permanent April 1960.
April 1966 to London Division (D01).
December 1966 to Stoke Division (D05).
May 1973 to Crewe.
March 1976 to unserviceable store (collision damage).
April 24th 1976 - withdrawn.

Renumbered March 6th 1974.

After withdrawal 24078 was stored at Crewe from March 1976 until May 19th 1977 when it was moved to Oxford, remaining here until May 31st 1977 when it completed its journey to Swindon Works, and scrapped there by the first week of June 1978.

Movement: 24052/77/78/84 as the Crewe - Oxford - Swindon during May 19th-31st, hauled by 25130 for at least one leg.

Works Visits

Works visits (records incomplete).

Noted Derby Works September - November 1960.
Noted Derby Works July 1963.
Noted Derby Works December 1963 - February 1964.
Noted Derby Works February & April 1968 (repainted to blue).
Noted Derby Works February 1970.
Noted Derby Works February 1974.

Highlights

1960
D5078 was one of a batch of eighteen machines (D5076 - D5093) built at Crewe, with delivery at least on paper to March (31B), if it actually reached here in February, the stay was brief for it was quickly transferred to Willesden (1A) during March.

D5078 was at Derby Locomotive Works from September to November, a lengthy stay for a machine less than a year old, had it been involved in a collision?

1963
Derby Works was host to D5078 during July and from December 1963 to February 1964.

1966
With electrification virtually complete at the London end of the WCML and Willesden receiving the latest Class 25's from Derby Locomotive Works the mass exodus of the Class 24s began to the Stoke Division (D05), with D5078 heading north in December, as part of the first batch (D5073 - D5081) to move north.

1967
Condition August: green livery with small yellow warning panels with curved upper corners, yellow paint did not reach the front corners of the lower cab and only partially covered the frame level stripe.

1968
Visitors to Derby Works included D5078 from February to April, whilst at Derby D5078 acquired blue livery with BR arrows on each cab side and numbers on the bodysides. The gangway doors had been retained, as was the valencing, shortened fuel/water tanks, both with circular gauges were fitted, the hand/footholds were still present as were the boiler room grilles. The exhaust was located over the engineroom.

1973
On July 7th the Bescot breakdown crane with 5078 was sent to Lightmoor Junction to attend to some derailed wagons.

1974
5078 was at Derby Works during February.

1975
On March 16th 24078 and a steam crane were noted at Llanaber with a train of large boulders to reinforce the seaward side of the track.

24078 was the Manchester Victoria banker (T42) on June 13th.

1976
24078 avoided the massive withdrawals of the LMR Class 24s during the summer of 1975, lasting until March 1976 when it was placed into unserviceable store after receiving collision damage and finally retired on April 24th 1976.

Final condition: blue/yellow livery, gangway doors sheeted over, shortened fuel/water tanks, both with circular gauges, blanking plates fitted, hand/footholds plated over.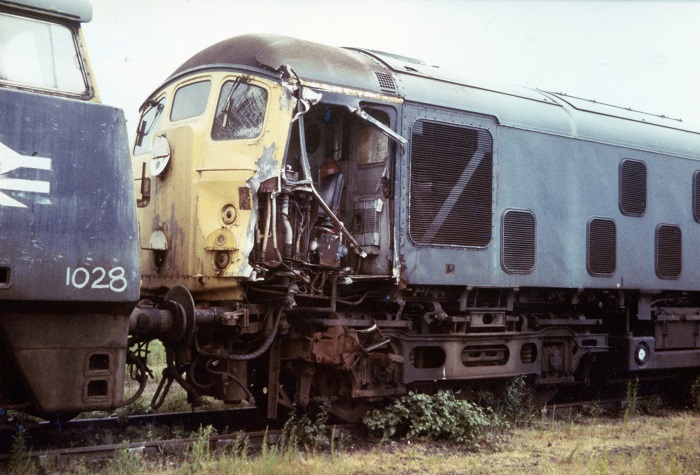 Most of the retired machines were withdrawn surplus to requirements, but a number suffered collision damage in their final days which sealed their fate immediately. Here accident damnaged 24078 waits at Swindon on June 12th 1977 for the final call to the cutting line.
Seventeen years after 24077 & 24078 left Crewe Works, they are still together, this time at Swindon Works awaiting cutting. On a gloriously damp April 30th 1978 a group tour, led by a Swindon Works guide complete with hat (extreme right) passes by 24078.
flk 1117
Page added May 25th 2016.
Last updated February 16th 2020.