D5157, 5157, 25007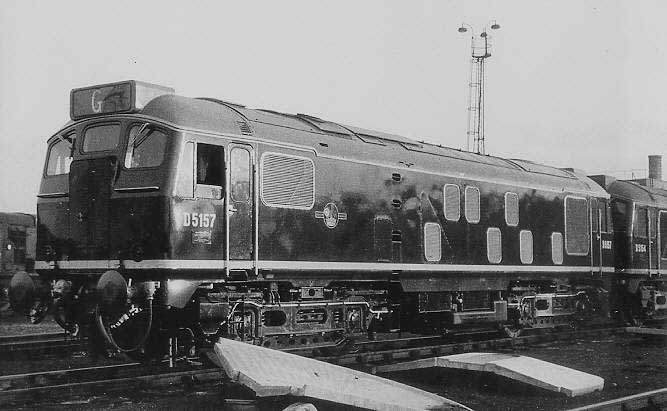 Photographer unknown at this time.

July 1961 finds D5157 standing at Darlington Works shortly after completion. D5157 was part of a batch of twenty five locomotives built at Darlington, upon delivery all were allocated to Thornaby to assist in the removal of local steam working in the Middlesborough area. This batch, later to become the Class 25/0 were a transition between the 75mph 1,160 hp Class 24 and the 90mph 1,250 hp Class 25/1. D5151 - D5175 were powered by the uprated 1,250 hp 6LDA28B Sulzer 6 cylinder engine, but carried the same traction motors of the earlier Type 2s, but with a modified gearing to attain the higher maximum speed. This difference in characteristics tended to keep the sub-group allocated together for most of their lives.

The nineteen year three month career of D5157/25007 included allocations to Eastern and Scottish Region depots.

Built: BR Darlington Locomotive Works.
Circular gauge added to fuel tank.
Time between last Classified repair and withdrawal: 20 months.
Time between withdrawal & scrapping: 22 months.

Allocations

D5157 was new to Thornaby (51L) on July 7th 1961. Further transfers were:

December 1961 to Gateshead (52A).
September 1964 to Thornaby (51L).
July 1971 to Holbeck (55A).
October 1971 to Eastfield (65A).
April 1974 to Haymarket (64B).
February 1975 to Tinsley.
August 1975 to Eastfield.
May 1980 to Haymarket.
September 28th 1980 to unserviceable store.
Withdrawn December 1st 1980.

Renumbered May 1974.

25007 was the 70th Class 25 withdrawn, one of seventeen retired during December 1980, including sisters 25002, 25005, 25006, 25010 & 25011.

25007 was moved to Swindon Works on November 6th 1980 with 25006, being withdrawn whilst at the Works. 25007 was broken up at Swindon during the third week of September 1982.
Photograph courtesy Jerry Glover
25007 waits at Swindon Works for the final coup-de-grace, April 26th 1982
Works Visits
Works visits (records incomplete).
Noted Darlington Works April & May 1963.
Noted Derby Works October 1965.
Noted Derby Works August 1968.
Noted Derby Works June 1970.
Noted Derby Works July 1971.
Noted Glasgow Works May 1973
Noted Glasgow Works June 1974
Noted Glasgow Works February 1975
Noted Derby Works June 1976
Noted Glasgow Works January - February 1979 (Intermediate repair).
Highlights
1961
The frames for D5157 were laid down at Darlington during April, construction on average took about ten weeks. D5157 was released on July 7th and allocated to Thornaby (51L), being noted there in sparkling condition on July 9th.
During December Gateshead sent D5112 & D5113 to Thornaby in exchange for D5156 & D5157.
1963
D5157 was present in Darlington yard for part of April & May.
From the collection of Rex Conway

D5157 stands at Thornaby not too long after delivery. It has gained a good coating of dust and a '51L' shed plate on the cab front. In contrast to the first view, this one reveals the other side of the locomotive, with two rows of four air filters, in contrast to the three/four arrangement on the other side. Although this batch of locomotives were not boiler equipped they carried a through steam pipe, the steam pipe fittings being clearly visible on the buffer beam. In later years this connection would be removed.

The allocation of this build to Darlington was probably due to Derby being preoccupied with the later batch of BR/Sulzer Type 4's (the Class 46's), and its responsibility for overhauling much of the growing LMR fleet of diesels. The bodyshell of this batch was very similar to the previously built Type 2's, though in the Class 25/0's no boilers were fitted, thus the boiler water tank was omitted, but the ventilation grille for the boiler room remained! Darlington, in painting the locomotives picked out the grilles in grey, as Derby & Crewe had done on the bigger Type 4's.

1968
On August 31st the Open Day at Derby Works had an interesting display of locomotives, including HS4000 and D5157 in sparkling blue paint, steam was represented by 44888.

1970
Derby received 5157 during June for repair. Possibly during this visit the locomotive received a cab roof at the 'A' end with the sloped 'wings'.

1972
The Open Day held at Eastfield depot during September found 5157 present with a damaged cab, it would soon be moved to Glasgow Works for repair.

1973
On May 12th Glasgow Works held its first Open Day, remarkably there were sixty four diesels on display that day, although twenty seven of those were condemned Claytons. Two class 25's were present, 5178 and 5157, the latter having a replacement cab fitted from withdrawn 5149. Class 24's noted were 5006/19, 5121/27 under repair and elsewhere withdrawn 5067, 5114/49. Parts of 5068 were still present.

1975
More repairs took place to 25007, this time at Derby in February.

The transfer of 25006/07/08/11 to Tinsley during February brought all twenty five members of the Class 25/0's together again.

On July 26th Ipswich was host to 25007 & 25021 passing through with the empty stock of a Glasgow - Brandon troop special.

To cover the withdrawal of a number of Scottish Class 24's 25005 - 25014 moved from Tinsley to Eastfield in August.

1976
25007 was back at Derby again during June for further attention.

1977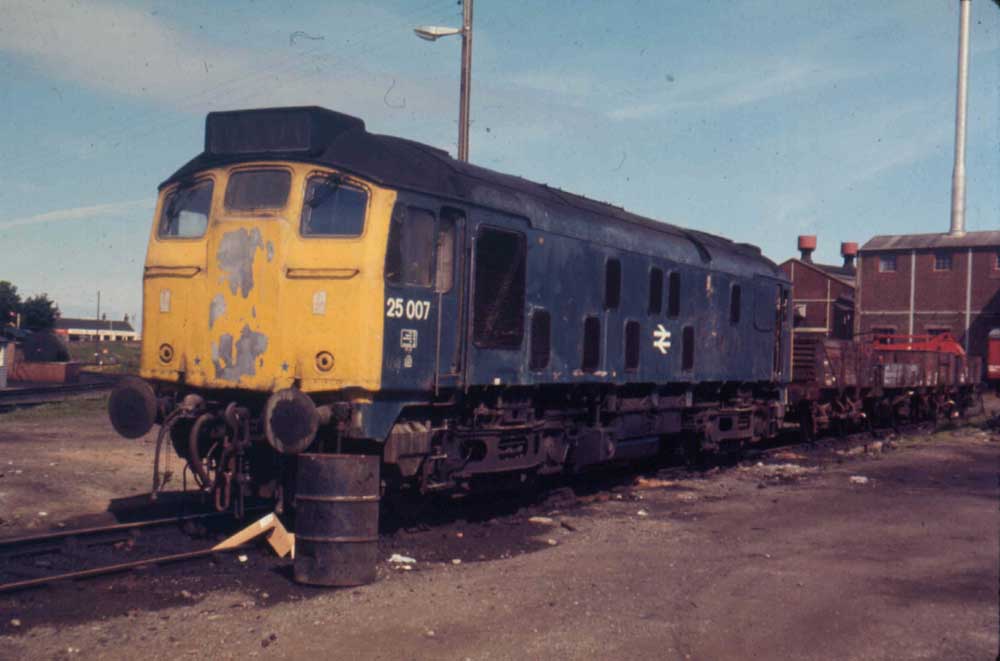 With faded and peeling paint 25007 rests in the sunshine at Ayr depot on June 25th 1977. It'll be another eighteen months until 25007 reaches Glasgow Works for an intermediate repair and a much needed repaint.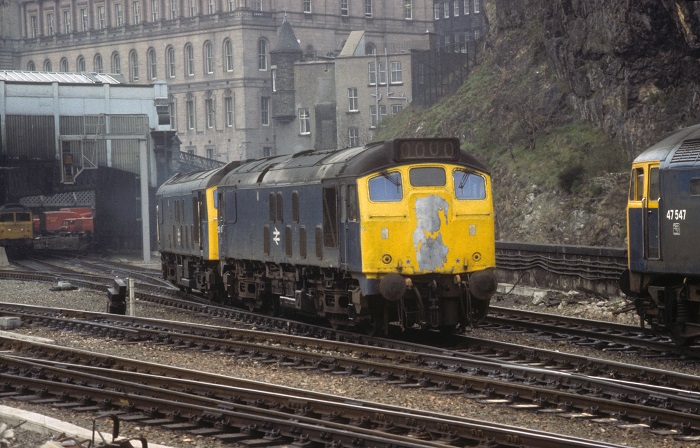 Photograph courtesy of Roger Geach collection.

25007 at Edinburgh Waverley, date unknown, but most likely sometime during 1978 as the loss of paint on the cabfront is greater than the Ayr view above.

1978
The British Open Golf Championship at St Andrews (July 12th - 15th) brought a number of additional locomotive hauled trains to Leuchars station each day. July 15th saw 25007 arrive from Edinburgh, 20109 from Glasgow and a diesel multiple unit from Perth.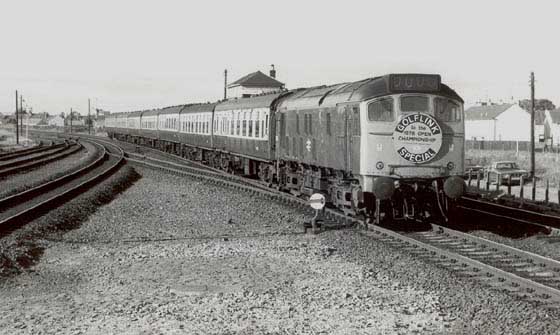 Photograph from the Michael MacDonald collection.
One of the July 15th workings featured 25007 complete with headboard, seen here at Leuchars.
1979
Glasgow received 25007 for intermediate repairs during January & February.
On July 10th the 21.40 Edinburgh - Carstairs was worked by 25007.
Considerable mileage was covered on August 18th when 25007 & 25062 worked an SRPS special throughout from Dundee via the Forth Bridge and Falkirk to Oban and return.
On September 11th an early afternoon Dundee - Glasgow Queen Street relief was worked by 25007.
1980
January 14th saw the 17.07 Edinburgh - Newcastle in trouble behind 40060, the journey was completed with the help of 25007, albeit over two hours late.
During May 25006 & 25007 were transferred to Haymarket.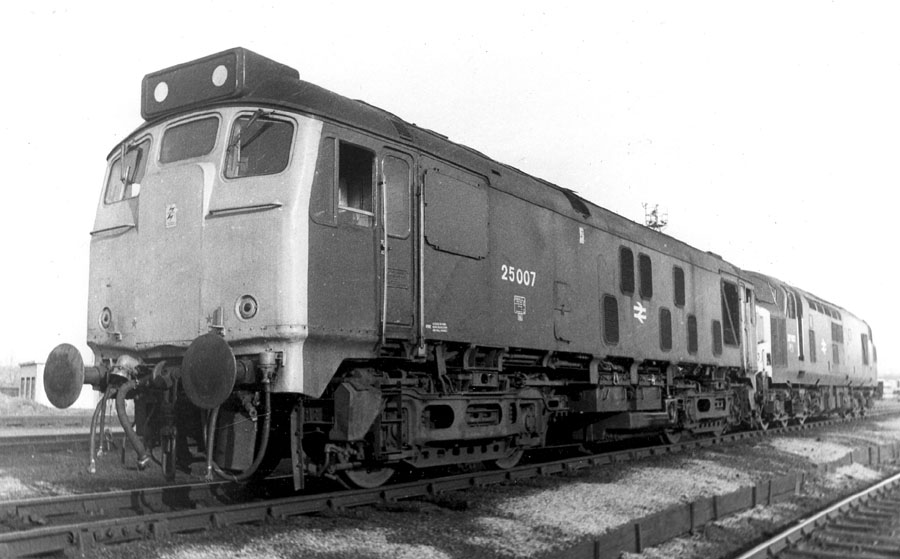 Photograph courtesy A Forster.

25007 keeps company with a Class 37 at Millerhill on April 25th 1980.

On June 14th 25007 worked the 17.12 Perth - Arbroath and the 18.33 Arbroath - Dundee.

25007 was used on July 12th to take forward the 14.24 Scarborough - Glasgow Queen Street relief from Edinburgh, this may have been 25007's last passenger working. At the close of the summer timetable in September (18th?) both 25006/007 were stored unserviceable at Millerhill.

After three months store at Millerhill, during early November 25006 & 25007 were moved to Swindon Works.

During March 2016 a builders plate from 25007 sold on Ebay for GBP536.55. A plate sold at the same time from 25188 only reached GBP275.00

9/828
flk 0915 (1)

Page added February 25th 2000.
Page updated March 23rd 2018.