D5156, 5156, 25006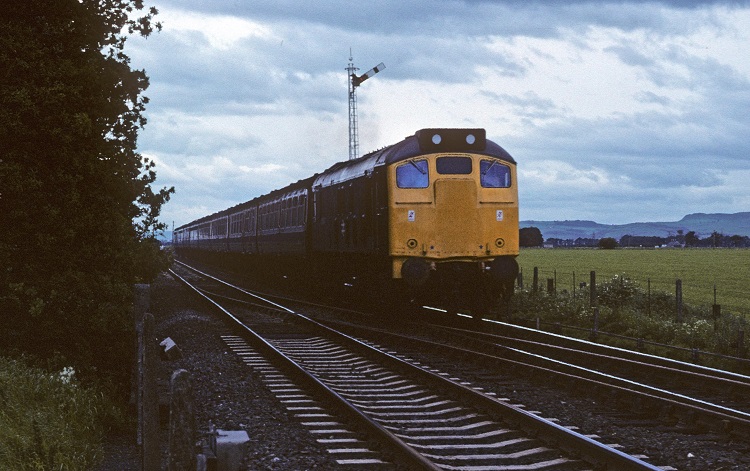 Photograph courtesy Roger Geach
25006 at Longforgain on June 26th 1979, working a Glasgow - Dundee or maybe a Glasgow - Aberdeen service.
The nineteen year five month career of D5156/25006 included allocations to Eastern, London Midland & Scottish Region depots.
Built: BR Darlington Locomotive Works.
The last Class 25/0 to retain green livery.
Cantrail level water fillers sheeted over.
Modified Headcode boxes - Class 25/1 style (with horn receptacles): No.2 cab only (1975).
Time between last Classified repair and withdrawal: 14 months.
Time between withdrawal & scrapping: 31 months.
Allocations
D5156 was new to Thornaby (51L) on June 17th 1961. Further transfers were:
December 1961 to Gateshead (52A).
September 1964 to Thornaby (51L).
November 1967 to Carlisle (12A) on loan, made permanent December 1967.
January 1968 to Springs Branch (8F).
May 1968 to Longsight (9A).
June 1968 to Manchester Division (D09).
March 1972 to Eastfield (65A).
April 1974 to Haymarket (64B).
February 1975 to Tinsley.
August 1975 to Eastfield.
May 1980 to Haymarket.
September 28th 1980 to unserviceable store.
Withdrawn December 1st 1980.
Renumbered March 1974.
25006 was the 69th Class 25 withdrawn, one of seventeen retired during December 1980, including sisters 25002, 25005, 25007, 25010 & 25011.
25006 was moved to Swindon Works during November 1980, being withdrawn whilst at the Works. 25006 was broken up at Swindon during July 1983.
Works Visits
Works visits (records incomplete).
Noted Darlington Works December 1963.
Noted Glasgow Works April 1966 (full repaint).
Noted Crewe Works November 1968.
Noted Crewe Works November 1969.
Noted Derby Works June - September 1975.
Noted Glasgow Works March - May 1979 (Intermediate repair).
Highlights
1961
The frames for D5156 were laid down at Darlington during April, being released on June 17th and allocated to Thornaby (51L).
During December Gateshead sent D5112 & D5113 to Thornaby in exchange for D5156 & D5157.
1969
On July 19th the 09.27 Manchester Piccadilly - Yarmouth to Sheffield and the return 11.55 Yarmouth - Manchester Victoria from Sheffield were worked by 5156 & 7538. The next day (20th) the 14.40 Manchester Piccadilly - Sheffield Victoria was worked by 5156.
Condition July: green livery with frame level stripe, small yellow warning panels, curved upper corners; gangway doors in place, engine exhaust in original location.
5152 & 5156 were the Manchester Victoria pilots on December 23rd. 7594 & 5156 were the Manchester Victoria pilots on December 24th.
1970
5156 was the Manchester Victoria pilot on January 7th, 8th, 9th (these three with 7542); 16th, 20th, 21st (with 5212) & 22nd.
On August 8th the 09.20 Manchester Piccadilly - Yarmouth to Lincoln Central and the 09.28 Yarmouth - Manchester Piccadilly from Lincoln Central were worked by 5156 & 7595.
1971
At about 7am on June 14th 5156 was noted passing Manchester Victoria with an up van train.
1972
With the transfer of 5155/56 to Eastfield in September, the first ten Class 25s were now all on the Scottish Region.
1975
The transfer of 25006/07/08/11 to Tinsley during February brought all twenty five members of the Class 25/0s together again. Interestingly 25006 was still in green livery as were twenty five other Class 25s and eleven Class 24s.
From June to September 25006 was under repair at Derby, the locomotive receiving a new cab at the 'B' end, with the cab roof sporting the air horn receptacles. The removed cab was later noted still extant during January 1986, mostly in green undercoat and sporting the white roof with air horn receptacles, the majority of the windows were boarded up.
To cover the withdrawal of a number of Scottish Class 24s 25005 - 25014 moved from Tinsley to Eastfield in August.
1976
On June 8th 25006 worked the 21.40 Edinburgh - Carstairs.
On October 27th 55016 working the 08.50 Aberdeen - Kings Cross near Cockburnspath suffered a major internal explosion causing considerable damage to one cab and engine compartment. Help arrived in the shape of 40152, albeit now over three hours late due to attendance by the fire department, whilst 25006 arrived to tow the Deltic back to Haymarket.
1977
The 17.38 Dundee - Glasgow Queen Street was worked by 25006 on August 1st. The next day (2nd) 25006 worked the 19.38 Dundee - Glasgow Queen Street. A longer working on August 11th saw 25006 work the 16.38 Glasgow Queen Street - Mallaig to Fort William (presumed). A week later on August 19th 25006 was noted arriving at Edinburgh Waverley with an excursion from the WCML, presumably having replaced an electric at Carstairs.
1978
25006 was noted in Glasgow Works during April.
25006 worked the 11.38 Dundee - Glasgow on August 7th.
On August 23rd 25006 worked the 16.54 Glasgow Queen Street - Dundee and the 19.38 Dundee - Glasgow Queen Street.
1979
Glasgow Works received 25006 for an Intermediate repair between March and May. 25006 was repainted during this visit, receiving the typical Glasgow trademarks, though with only sixteen months remaining in service, the Intermediate repair may not have been money well spent.
Passenger workings during the summer months included on July 23rd the 16.44 Glasgow Queen Street - Dundee and the next day's (24th) 21.40 Edinburgh - Carstairs. On August 13th the 17.30 Glasgow Central - Carlisle was worked by 25006, followed on August 25th by the 22.45 Carstairs - Edinburgh and on August 30th the 12.50 Mallaig - Glasgow Queen Street from Fort William.
On October 10th the 06.20 Carlisle - Glasgow via Dumfries failed completely near Carron Bridge. Dumfries provided 25006 which pushed the train to Kirkconnel, after running round here proceeded about two hours late. At Kilmarnock the offending locomotive, 45023 was removed before the rest of the train continued to Glasgow.
On November 5th the 04.20 Mossend Yard - Glasgow Queen Street was worked forward from Cowlairs Junction by 25006, being the portion off the 1S07 Euston - Inverness.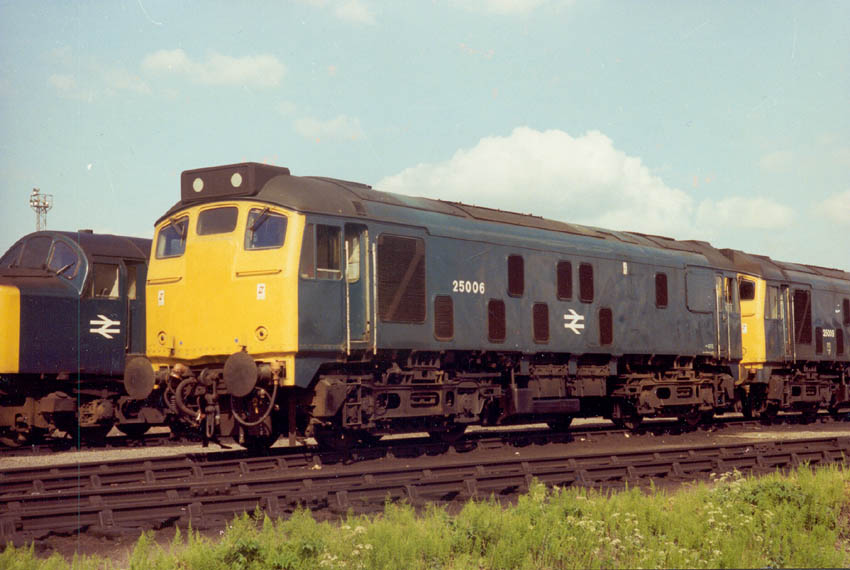 Photograph collection of webmaster
A fine undated study of 25006 & 25009, possibly at Millerhill. Glasgow's positioning of the numbers clearly varies between the two locomotives.
1980
During May 25006 was transferred to Haymarket, this would be its last move.
On May 24th the 10.14 Perth - Motherwell was worked by 25006. A month later on June 25th 25006 worked the 12.52 Mallaig - Glasgow Queen Street throughout, or just a portion?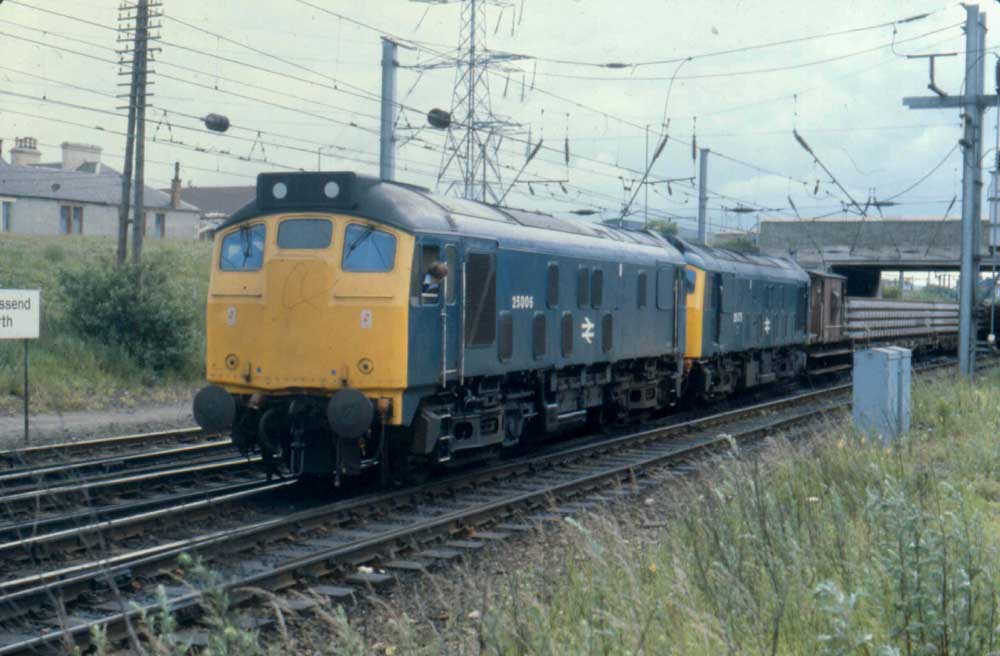 25006 & 25075 manouevre a heavy track panel train at Mossend on July 5th 1980.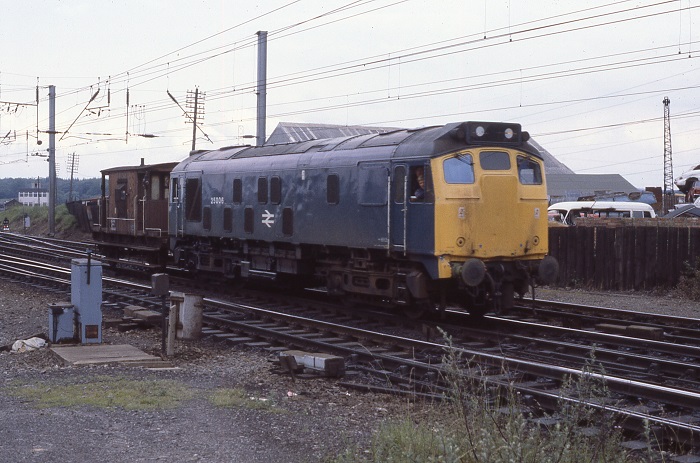 Two days later on July 7th 1980 25006 has a slightly lighter train in tow, just a brake van. The nearer cab reveals that it now carries the style of roof carried by 25026 onwards, with the air horn receptacles situated next to the headcode box.
On July 25th 25006 worked the 18.58 Dundee - Glasgow Queen Street throughout, was this its last passenger working? Towards the close of the summer timetable in September (18th?) both 25006/007 were stored unserviceable at Millerhill. Whilst still stored unserviceable 25006 made the long journey down to Swindon Works where it would be officially withdrawn. It would be broken up by July 1983.
25006 was withdrawn on December 1st 1980.
21/1534
flk 0915 (1)
Not all known passenger workings are recorded on this page.
Page added February 25th 2000.
Page updated January 10th 2020.