D5188, 5188, 25038
Photograph courtesy G W Sharpe
An ex-works D5188 on test from Derby Works - the 1T48 headcode indicates the test run made to Corby and back.
The eighteen year two month career of D5188/25038 included allocations to only London Midland Region depots. The lack of dual braking equipment on this locomotive would result in its early demise when considered against the likes of its elder sisters 25032/33/34/35/37.
Built: BR Derby Locomotive Works.
Boiler equipped.
Time between last Classified repair and withdrawal: ?? months.
Time between withdrawal & scrapping: 15 months.
Allocations
D5188 was new to Toton on March 23rd 1963. Further transfers were:
September 1963 to Toton (16A).
April 1964 to Saltley (2E).
June 1964 to Derby (16C).
January 1965 to Nottingham Division (D16).
June 1965 to Leicester Division (D15).
September 1965 to London Midland (Midland) Lines.
June 1968 to Nottingham Division.
November 1968 to Preston Division (D10).
May 1973 to Kingmoor.
May 1973 to Bescot.
November 1980 to Kingmoor.
Withdrawn May 31st 1981.
Renumbered February 25th 1974.
After withdrawal 25038 was stored at Crewe before moving to Derby Works with 25299 on February 19th 1982 and scrapped there during September 1982.
Works Visits
Works visits (records incomplete).
Noted Derby Works September & October 1966.
Noted Derby Works February 1967 with accident damage.
Noted Derby Works April 1970.
Noted Derby Works February 1975.
Noted Derby Works February 1980 with collision damage.
Highlights
1963
Laid down at Derby in January 1963 D5188 would be the 3rd Derby built Class 25 to enter traffic, being delivered in March 1963 to Toton (18A) into a railway system recovering from the infamous winter of 1962/63, any new locomotives were welcomed by the operating authorities. During April 1963 D5188 was sent to Cricklewood for crew training, to assist with the removal of steam workings northwards from St Pancras.
D5188 made its test run from Derby to Corby and back on March 18th 1963.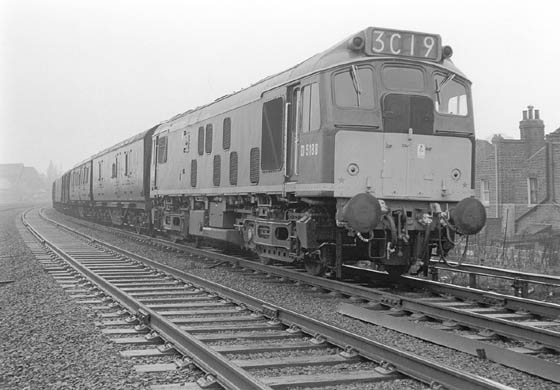 Photograph courtesy Alec Swain/Transport Treasures
Wet weather greets D5188, not long after out-shopping from Derby Works, as it handles one of the workings it was designed for, parcels traffic over the Midland mainline. Possibly this was taken whilst D5188 was on loan to Cricklewood for crew training.
1964
On May 20th D5188 was noted southbound at York with a passenger train, the locomotive displaying headcode 1O42.
D5188 moved to Derby during June 1964, on July 18th 1964 D5188 was noted on a Chinley - Derby passenger service.
1966
Noted at Derby station on March 24th between 4.30pm & 7pm were about fifty train and locomotive movements involving diesel Classes 08/25/37/45/46/47. Class 25s and steam locomotives included:
D7528 shunting empty coaching stock
48350 up freight - oil tanks
D7548 down light engine
D7561 down light engine
D5188 Nottingham?? - Derby passenger (2P92)
D5299 empty coaching stock for Derby - Bakewell service
D5190 empty coaching stock for Derby - Sheffield service
48143 down light engine
D7584 up freight (5G52)
45211 up light engine
D7511 & D7565 down freight (9T44)
48672 down light engine
D7505 up light engine
48103 down freight, later retiring to the shed
48646 up freight
92008 up light engine
48752 down freight
D7572 shunting empty coaching stock
76043 down light engine
D5206 up local
D5204 Sheffield - Derby passenger (2M76)
48214 down special freight
48177 down movement with brake van
45224 down light engine
D7502 up light engine
D5223 up local (2P53)
D68 & D7583 19.45 Derby - St Pancras
Amongst the locomotives on shed during this period included 12039, D2504, D7514, D7572, D7581, D7585, D7646, E6022 & 48064.
On the afternoon of May 15th D5188, D5235, D7512, D7582, D7587, D7592 were stabled at Derby along with 45289, 45350, 48153, 48270, 48286, 48442, 90078 & 90352.
D5188 was noted at Derby Works during September.
1967
D5188 arrived at Derby Works during February for repairs to accident damage.
On the morning of April 25th D5188 was at Stoke on Trent with a down parcels.
On the morning of October 1st D5188 was at Monument Lane with a ballast train.
On the afternoon of October 15th D5188 was at Crewe with a northbound parcels.
1969
The summer only passenger workings between Newcastle, Ayr & Stranraer continued to feature Type 2's. The 23.45FO Newcastle - Stranraer and the 13.50SO return working brought 5188 & 5190 on July 4th/5th. This service had seen Class 40's in 1968, though these had not ventured beyond Ayr due to lack of driver knowledge on the Stranraer line. Loads varied between nine & twelve coaches.
1970
During April 5188 was noted in Derby Works.
On October 2nd 5188 & 5299 were noted in charge of the Stirling - Newton Abbot Motorail service, presumably as far as Carlisle.
1973
On February 20th (?) 1973 5188 worked the 10.30 Worcester Shrub Hill - Birmingham New Street.
October 1973 - 5188 still in green livery with full yellow ends.
1974
On January 1st 1974 5188 & 5187 were noted between Derby & Birmingham on an unidentified excursion. June: green livery with full yellow ends.
On August 18th 1974 the 08.50 Leicester - Skegness & the diagrammed return were worked by 25038 & 25258.
25038 was in charge of December 10th's Tees - Leyburn freight.
1975
Derby Works was visited by 25038 during February.
On March 31st a roundtrip ten coach Leamington Spa - Paignton day excursion was worked by 25038 & 25188, a total of 444 passenger miles.
On the afternoon of April 17th 25038 was shunting at Banbury.
The middle of July was a busy one for 25038 on passenger workings. On July 19th 25038 & 25135 worked the Walsall - Norwich (for Yarmouth) - Derby diagram. Two days later (21st) 25038 & 25132 worked a roundtrip Derby - Skegness service, carrying 'Jolly Fisherman' headboards. The same pair on July 26th 1975 worked the full Derby - Norwich - Yarmouth - Norwich - Walsall diagram. On September 13th 1975 the 16.30 Nottingham - Leicester diesel multiple unit failed before departure, 25038 & 25272 dragged the service.
1976
The 10.15 Birmingham - Norwich on April 17th was worked by 25038 (throughout?).
On May 15th 25070, 25038, 25209 & 25130 were noted at Saltley depot.
The Leamington/Coventry area started their holiday weeks on July 11th and featured amongst others 25038 & 25145 to Rhyl on July 21st.
On July 31st 1976 the Walsall - Walsall (for Yarmouth) - Derby diagram was worked by 25038 & 25188. Two days later (August 2nd) the same pair worked a relief Derby - Skegness roundtrip. On August 7th 1976 the Walsall - Norwich (for Yarmouth) - Derby diagram was worked by 25038 & 25158.
1977
On April 26th 25038 was noted at Stockport with a train of continuously welded rail.
On June 2nd 25038 was noted with the Bescot - Spring Vale steel works trip.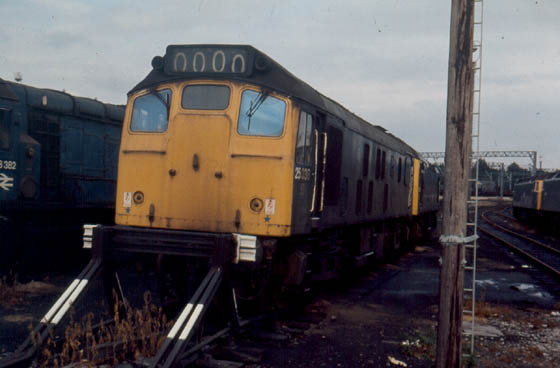 Its an overcast July 28th 1977 and a Works visit to Crewe provides the inevitable stop-off at Cockshute, as usual the regular diet of 08/25/40/47s was on display this day - 25038 stands front & center.
On September 16th 25038 was noted southbound at Oxford with a mixed freight.
A special was run for the Royal Smithfield Show on December 6th from Aberystwyth to Euston, 25038 & 25043 hauled the train to and from Wolverhampton. On the return leg the train was failed at Machynlleth with a diesel multiple unit taking the passengers forward.
1978
The Crewe - Cardiff services suffered from indifferent reliability during the January, on the 14th 25038 worked the 12.22 Crewe - Cardiff but then failed south of Hereford on the 17.00 Cardiff - Crewe, with 37294 coming to the rescue.
On March 4th 25038 was in charge of the 10.15am Birmingham - Norwich throughout.
A TBILS railtour on April 8th 1978 roundtrip Marylebone to Godley (for Dinting) was worked by 25038 & 25070, a total of 414 passenger miles over the route via Coventry, Nuneaton, Crewe, Northwich, Altrincham, Deansgate Junction, Skelton Junction, Northendon Junction, Woodley and returning via Dinting, Godley, Guide Bridge, Reddish South, Stockport, Stoke, Stafford and Birmingham. On April 27th 25038 was noted at Leamington Spa with an inspection saloon.
On the afternoon of May 21st 25038 was noted at Saltley depot.
On September 1st 25038 was noted at Fenny Compton with the trip freight for Kineton Army depot. On September 2nd 1978 the 04.15 Shrewsbury - Aberystwyth and the 10.07 Aberystwyth - Euston to Wolverhampton were worked by 25038 & 25032.
Stabled at Saltley on the afternoon of October 28th were 25038, 25123, 25133, 25276 & 25280.
1979
On the late afternoon of March 15th 25038, 25258 & 25269 were noted at March depot.
25038 was noted light engine at Nottingham on June 8th. The forty one locomotives stabled at Saltley at 11am on June 10th included 25038, 25124, 25131, 25268, 25273 & 25279.
The start of the local holiday weeks on July 14th at Birmingham did not see many 'extras' due to the ongoing oil shortages. 25038 & 25153 worked the 08.28 Walsall - Yarmouth as far as Norwich, returning with the 14.15 ex-Yarmouth to Derby. At about 6.30pm on July 15th 25038, 25088, 25114, 25153 & 25300 were stabled at Leicester depot. On the morning of July 21st 25038 was at Bristol Bath Road.
On September 1st 1979 the 04.15 Shrewsbury - Aberystwyth and the 10.09 Aberystwyth - Euston to Wolverhampton were worked by 25038 & 25289.
The return leg of the Pennine Rose railtour on October 13th 1979 was worked by 25038 & 25263 from Coventry - Marylebone.
On the early afternoon of October 20th 25038 & 25039 were northbound at Washwood Heath with nine Mk1s, working unknown.
Class 25s stabled at Bescot on the morning of November 10th were 25038, 25122, 25124, 25263 & 25273.
1980
25038 yet again returned to Derby Works, this time for more collision damage repairs during February.
Noted stabled in Bescot yard on the morning of March 9th were 25038, 25145, 25192 & 25324.
On the morning of March 28th 25038 was noted passing Saltley with a freight. On March 29th an RPPR Paddington - Manchester 'Spotter Special' railtour set out with 31188 & 31250, changing to 25038 & 25073 at Birmingham but getting no further than Water Orton where both locomotives were failed and replaced by 45022.
A railtour on April 5th 1980 saw 25038 & 25073 work the Euston - Pwllheli 'Cambrian Coast Express' out & back between Wolverhampton and Twywn.
On June 2nd 1980 25038 was north of the border working the 10.44 Glasgow Queen Street - Dundee and the 13.39 return both with 27029. The NE/SW produced a fine set of workings on July 11th 1980, with 25038 & 25093 working the 15.35 Birmingham New Street - York and returning with the 19.31 York - Penzance as far as Bristol Temple Meads.
25038 was noted at Stoke Prior on July 13th with a ballast working.
25038 was noted at Wolverhampton on the morning of August 1st. 25038 was noted running light engine at Stourbridge Junction on August 21st.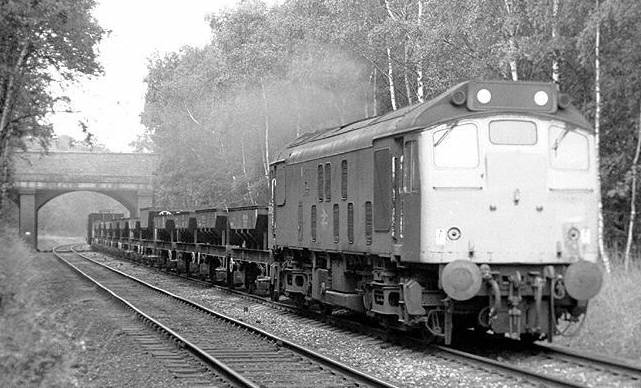 Photograph courtesy Steve Jones
September 25th 1980 finds 25038 on a ballast working at Streetly, on the old Midland line between Sutton Coldfield and Walsall. Not too much has changed on the locomotive. The boiler room ventilation grille is now a solid panel, the cab front gangway doors have long since been sheeted over and the locomotive now carries the infamous corporate BR blue livery with full yellow ends.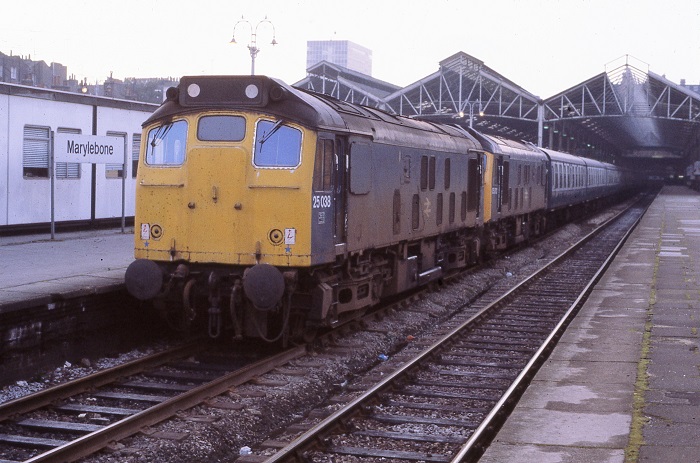 October 5th 1980 & 25038 & 25073 wait to leave Marylebone with an enthusiast charter to Barrow Hill Open Day and a private visit to Doncaster Works.
Photograph courtesy Paul Bettany
Because October 5th was a Sunday the engineers had possesion of the line north of Derby. The above view captures the two locomotives running round the train at Derby before heading east to Trent and the Erewash Valley route. Passenger mileage on this railtour totalled 413 miles.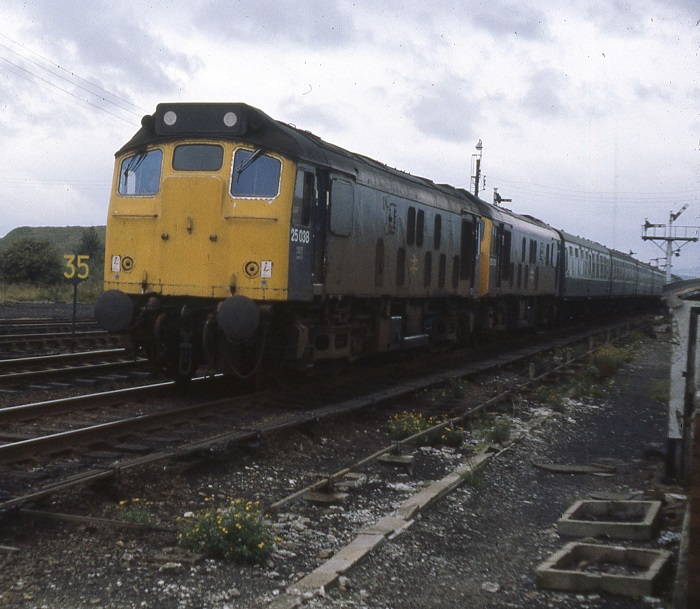 Later the same day 25038 & 25073 draw into the remains of the station at Barrow Hill, to pick up its cargo of enthusiasts for the short run to Doncaster Works. Despite the ominous looking weather the rain held off!
25038 paid a visit to the East Coast Mainline on October 30th whilst working the 1B25 07.00 Peterborough - Kings Cross.
During November 25038 moved north to Kingmoor, despite this move 25038 put in some mileage on passenger workings that were many miles away from Carlisle. On November 19th it worked the 19.30 Crewe - Cardiff service, by 28th it was on the 13.15 Birmingham New Street - Norwich, coming back the next day (29th) with the 15.18 ex Norwich.
On December 27th 2508 was stabled at Springs Branch.
1981
On February 25th 25038 and an inspection saloon were noted in the New Brighton area.
On the morning of February 28th 25038 and another Class 25 were stabled at York.
25038 was noted at York on March 1st. On the afternoon of March 5th 25038, 25245 & 25291 were at Healey Mills. 25038 was noted on a down van train at Coventry on March 12th. On March 19th 25038 worked the 16.02 Crewe - Cardiff, coming back the next day (20th) with the 05.35 ex Cardiff, unfortunately 25038 expired at Shrewsbury.
The last recorded passenger working for 25038 occurred on April 7th when it worked the 08.15 Birmingham New Street - Plymouth with 25033 as far as Gloucester. On April 10th 25038 was noted at Crewe depot.
25038 was noted on permanent way duties at Preston station on May 22nd. On the morning of May 24th 25038 was noted at Ordsall Lane with a permanent way train.
25038 was withdrawn on May 31st 1981.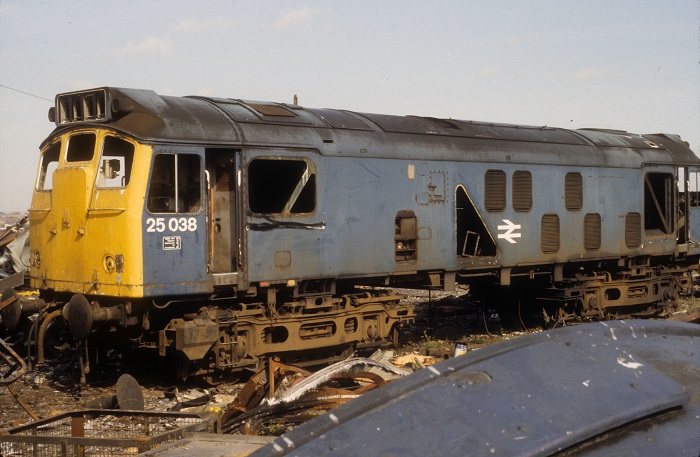 Photograph courtesy collection of Roger Geach.
25038 in the scrapping area at Derby on September 30th 1982.
Distinguishing Features
No.2 cabfront: temporary horseshoe like metal item hung on center lamp bracket: June 1979.
Both cab fronts: electrification flashes located to outside of marker lights: April 1977 until withdrawn.
No.1 cabfront/cabside - drivers side: minor damage to valencing, cab corner and front, patched up including painting of patched areas - lighter shade of blue on valencing: at least December 1980 until withdrawn.
Three-piece minature snowploughs fitted: (not fitted August 1977), April 1978, June 1979 - July 1979 (not fitted July 1980 - October 1980, May 1981).
51/7021
flk 0421 (1)
Page added October 27th 2004.
Last updated November 16th 2022.
Back to 25037
Forward to 25039