D5189, 5189, 25039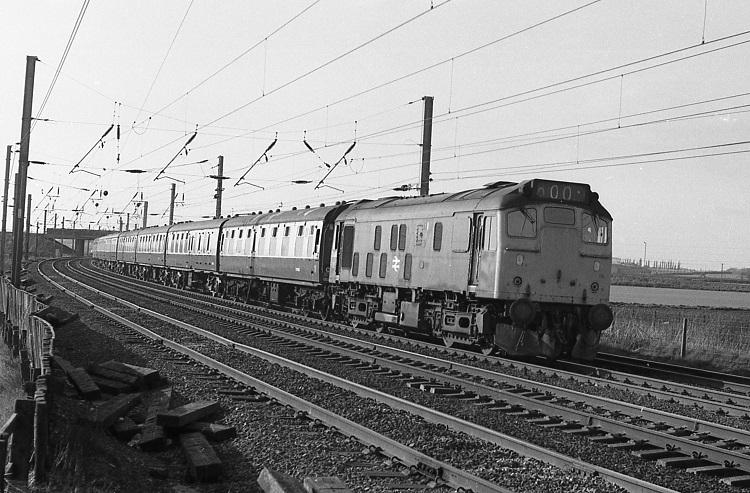 Photograph collection of webmaster
25039 southbound at Winwick Junction with an unidentified working on May 5th 1978.
The eighteen year two month career of D5189/25039 included allocations to only London Midland Region depots. Although many Class 25s followed very similar allocation histories and timeframes, there are probably very few similar to 25038 & 25039. Both were delivered within a week of each other during March 1963, their allocation histories were very similar and they were both withdrawn on the same day, May 31st 1981, although their final demise would be at different Workshops.
Built: BR Derby Locomotive Works.
Boiler equipped.
Time between last Classified repair and withdrawal: 63 months.
Time between withdrawal & scrapping: 6 months.
Allocations
D5189 was new to Toton on March 30th 1963. Further transfers were:
March 1964 to Derby (16C).
January 1965 to Nottingham Division (D16).
June 1965 to Leicester Division (D15).
December 1965 to London Midland (Midland) Lines.
June 1968 to Nottingham Division.
November 1968 to Preston Division (D10).
May 1973 to Kingmoor.
May 1973 to Bescot.
January 1980 to Longsight.
Withdrawn May 31st 1981.
Renumbered February 23rd 1974.
25039 was the 102nd Class 25 withdrawn, one of eight retired during May 1981, including sister 25038.
After withdrawal 25039 was stored at Saltley, then moved to Swindon Works on August 3rd 1981 and scrapped there by the middle of December 1981.
Works Visits
Works visits (records incomplete).
Noted Derby Works March 1965.
Noted Derby Works June 1966.
Noted Derby Works October 1970.
Noted Derby Works February & March 1976 (gangway doors sheeted over).
Highlights
1963
D 5189 was laid down at Derby in January 1963 and would be the 4th Derby built Class 25 to enter traffic. It was delivered in March 1963 to Toton (18A) into a railway system recovering from the infamous winter of 1962/63, after running-in its mission lay in assisting with the removal of steam workings northwards from St Pancras.
D5189 made its test run from Derby to Corby and back on March 20th 1963.
1964
Stabled at Cricklewood on Sunday April 5th were D5085, D5086, D5089, D5189, D5204, D5222, D5223, D5228, D5237, D5241, D5250 & D7576.
1967
On the evening of April 17th noted at Derby were D7675 down parcels (3P25) and D5189 up mails (1M58) replacing D5400.
On the morning of May 3rd D5189 was at Stoke on Trent with a down parcels.
On the morning of May 27th D5189 was shunting parcels stock at Derby.
A mid-day visit to Derby shed on June 29th produced:
ED2, ED4, ED5 - all withdrawn, the latter two were on-Works
12084
15001 - withdrawn
D60, D61, D83, D93, D97, D122
D2381, D2382
D2501, D2507, D2517 - all withdrawn
D3374, D3763, D3839, D3968, D4139
D5080, D5106 ex-works
D5189, D5200, D7507, D7588, D7591
D8170, D8180.
On the afternoon of July 28th D5189 was noted with empty coaching stock at Leeds City, possibly to work a service to Sheffield.
1968
On March 18th D1653 caught fire on a northbound passenger working in the Chesterfield area - D5189 was taken off a passing freight to assist the Class 47 on to Sheffield.
On the evening of May 11th D5189 was stabled at Stockport.
In November 5189 was transferred to the Preston Division (D10), the move included 5186 - 5192.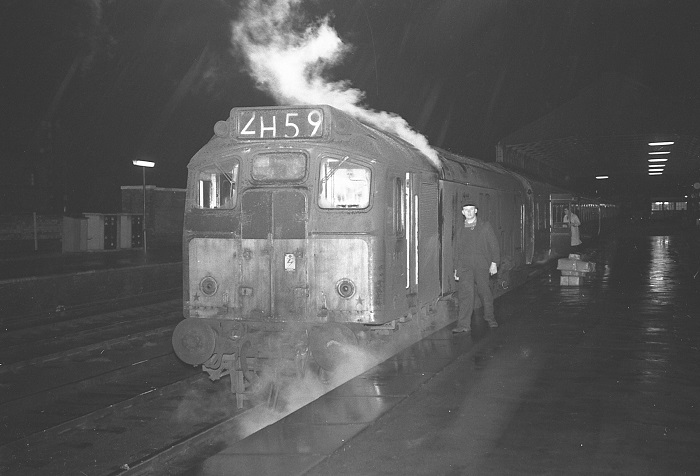 Photograph collection of webmaster.
D5189 at Chester Northgate on a service to Manchester Central. The image came with no date but 5189 moved from the Nottingham Division to the Preston Division during November 1968 and Chester Northgate closed on October 6th 1969, putting this picture presumably within this eleven month time frame.
1970
On the afternoon of August 22nd amongst a steady diet of paired Class 50s, the ten coach 1S80 12.45 Euston - Glasgow was noted at Preston with 7552 & 5189.
During November 5189 was noted in Derby Works.
1971
5189 spent a couple of days (at least) early in January on the Larbert - Wallerscote soda ash workings, being noted in multiple with 5262 on January 8th.
Condition May: green livery with frame level stripe, full yellow ends with gangway doors and three piece miniature snowploughs.
5189 was north of the border on July 28th being noted working the 12.50 Dundee - Glasgow Queen Street.
On August 7th 5189 was at Preston with a freight.
1973
5188 - 5190 moved to Bescot during May. On May 26th 5190 & 5189 were noted between Birmingham and Stetchford on an unidentified day excursion.
June 26th found 5189 & 7621 handling the 12.49 Garston - Maidenhead freight throughout.
On July 29th 1973 5189 worked the 20.43 Birmingham New Street - Peterborough.
On September 26th the following Class 25s were noted in passing:
Bristol Parkway: 7507 with freight 8B25 about 10.30am
Ebbw Junction Newport: 5182, 7502, 7516, 7517, 7518, 7521, 25080. 1000 & 1200 were also present.
Severn Tunnel Junction: 5189 & 7520.
1974
On February 17th 1974 engineering work on the WCML saw 5189 & 7644 assisting two services: the 08.52 Liverpool - Euston was assisted between Hednesford & Birmingham New Street following the failure of 47506 which was dragging 86022, and secondly a Glasgow Central - Euston service between Crewe & Nuneaton, dragging 86043 and routed via Cannock & Water Orton.
The 20.43 Birmingham New Street - Peterborough was worked by 25039 on April 14th & April 28th 1974.
1975
On March 5th 25039 was noted at Manchester Victoria with the 4H29.
Gangway doors still fitted.
1976
25039 was noted in Derby Works during February & March.
On March 4th, 5th & 6th 25039 made test runs from Derby Works.
The snag sheet for March 4th recorded:
The recordings were made from the No.2 cab.
25039; March 4th 1976; 1C41 Nottingham
| | | | | | |
| --- | --- | --- | --- | --- | --- |
| Load | Speed | Amps | Volts | Notes | Other |
| 1 | 28 | 875 | - | - | - |
No.2 cab driver's side horn one note
Fuel filter bypass union leak
Turbo-charger siezed
FD3 tips to line up
Paint to complete
New test run requested.
The snag sheet for March 5th recorded:
25039; March 5th 1976; 3C48 Nottingham
| | | | | | |
| --- | --- | --- | --- | --- | --- |
| Load | Speed | Amps | Volts | Notes | Other |
| 1 | - | - | - | - | - |
The tests on March 4th & 5th appears not to have gone well due to turbo-charger problems so on March 6th 25039 made a 3rd test run from Derby Works.
The snag sheet for March 6th recorded:
Recordings made from the No.1 end.
25039; March 6th 1976; 1C41 Nottingham
| | | | | | |
| --- | --- | --- | --- | --- | --- |
| Load | Speed | Amps | Volts | Notes | Other |
| 1 | 28 | 875 | - | - | - |
On April 3rd 1976 the 06.50 Ealing Broadway - Barmouth was worked over Cambrian metals by 25039 & 25070, possibly roundtrip between Wolverhampton & Barmouth? April 17th found 25039 in charge of the 10.15 Birmingham – Norwich, normally a diesel multiple unit working but during the Easter holiday period these services were locomotive hauled, and then generally by Class 31's. On arrival at Norwich 25039 was declared a failure, not returning west until 20th on the 12.52 to Birmingham.
The 10.07 Aberystwyth - Euston was worked between Shrewsbury & Wolverhampton by 25039 & 25274 on September 4th.
1977
Easter was a busy time for 25039 & 25042; on April 8th they worked a roundtrip Leamington Spa - Aberystwyth day excursion, three days later (11th) the same pair worked a roundtrip Coventry - Aberystwyth day excursion.
On April 12th 25042 & 25039 worked the return day excursion 1Z76 20.05 Barnstaple - Wolverhampton (running round at Exeter St Davids), presumably they also handled the outward leg?
On June 7th 25039 & 25268 worked a Wolverhampton - Brighton excursion as far as Birmingham New Street, here 86008 took over. On July 23rd the 08.00 Walsall - Yarmouth (to Norwich) and the return 14.15 Yarmouth - Walsall (from Norwich) were worked by 25039 & 25245, the latter failed at or before Thetford and was removed at Thetford (25245 was leading at the time).
On July 23rd 25039 was westbound at March with a passenger service.
A Lichfield City - Barmouth day excursion on September 20th was worked out & back by 25039 & 25048.
On the evening of September 21st 25039 & 25048 was stabled at York.
1978
25039 hauled March 12th's 17.20 Birmingham - Norwich.
On May 5th 25039 was noted southbound at Winwick Junction with an empty coaching stock working.
On the afternoon of August 12th 25039 was noted at Haymarket shed.
On the evening of November 8th 25039 was stabled at Holbeck.
A football special on December 16th took 25039 & 25040 from Liverpool to Bristol Parson Street.
1979
On April 18th 25039 worked the 06:03 Crewe - Cardiff.
On May 1st 25039 was noted shunting at Norton Junction Yard.
At noon on June 10th the fourteen locomotives present included 25039, 25186, 25261 & 25262.
The 06.32 Peterborough – Kings Cross was worked by 25039 on June 19th.
The first few days of September were busy for 25039 & 25148. On September 1st they worked the 08.00 Walsall - Yarmouth (to Norwich) and the 14.15 Yarmouth - Derby (from Norwich). Two days later (3rd) the same pair worked the 08.46 Burton on Trent - Skegness and the 18.39 return. The next day (4th) they worked the 09.28 Derby - Skegness and 18.39 return.
On September 29th 25039 was noted at Crewe.
On the early afternoon of October 20th 25038 & 25039 were northbound at Washwood Heath with nine Mk1s, working unknown.
When 86257 failed at Coventry with the 11.00 ex-Euston on November 3rd 25039 & 25200 were on hand to take the train forward to Birmingham New Street.
25039, 25112 & 25132 were stabled at Leicester at 10am on November 26th.
As the year closed 25039 was transferred to Longsight.
1980
The 19.30 Bangor - Manchester Victoria on January 15th was hauled by 25039. 25039 was the Manchester Victoria banker (T42) on January 26th.
On March 8th the 13.15 Birmingham New Street - Norwich was worked by 25039.
On April 9th 25039 was eastbound at Chinley with empty ICI hoppers.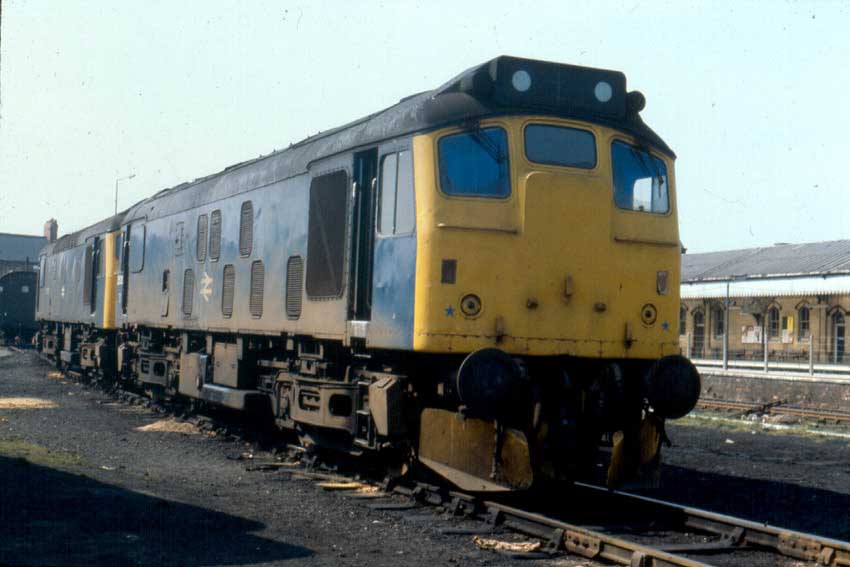 With its home shed as Longsight its no surprise to find 25039 basking in the sun at Northwich shed on April 11th 1980.
On May 23rd 25039 was noted at York and later worked the 21.20 Bradford - Kings Cross from Bradford to Doncaster. 25039 was noted at Manchester Victoria on May 24th & 25th.
On June 29th 25039 assisted 4-6-2 No.6201 from Manchester Victoria to Red Bank carriage sidings with its train of passenger stock.
25039 was stabled at Northwich on July 20th.
On July 29th 25039 & 25104 were noted at Arnside with a mixed freight.
25039 was stabled at Springs Branch on August 10th.
On the evening of August 22nd 25039 was noted at Springs Branch, the next morning (23rd) it was stabled at Blackburn.
On the evening of September 27th Class 25s noted at Newton Heath depot were 25039, 25061, 25100 & 25215.
On October 11th 25039 & 25043 worked the 20.51 Barrow in Furness – Euston, as far as Preston.
A Crewe - Cardiff service was worked by 25039 on December 8th.
1981
Engineering work in the Euston area on February 22nd found 25039 assisting the 00.25 ex-Manchester from Stonebridge Park to Euston.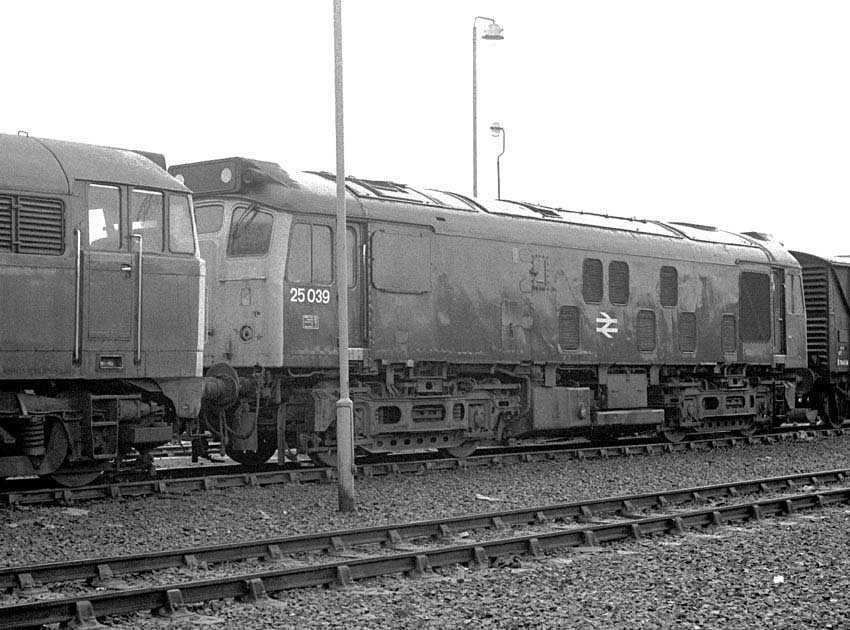 Photograph courtesy Tony Sayer
With little time left 25039 sits in the rain at Saltley on March 1st 1981.
On March 23rd 25039 took out the 18.35 Birmingham - Norwich but had to be replaced at Leicester due to a boiler failure - this was the last passenger working for 25039.
On the morning of May 1st 25039 was noted at Preston with a permanent way train. 25039 was noted at Newcastle on May 8th with the 21.50 Bristol - Sunderland BMD parcels. On the morning of May 31st 25039 was noted at Nuneaton, this was the day it was withdrawn.
25039 was withdrawn on May 31st 1981,being stored at Saltley.
Distinguishing Features
No.2 cab front: driver's side: small rusty patch above & to right of driver's side marker light: May 1978 - until withdrawn.
No.2 cab front: 2nd man's side: small rusty patch to right of handrail: August 1980.
36/4132
flk 0422 (2)
Not all known passenger workings are recorded on this page.
Page added October 27th 2004.
Last updated November 16th 2022.
Back to 25038
Forward to 25040