D5278, 5278, (25128)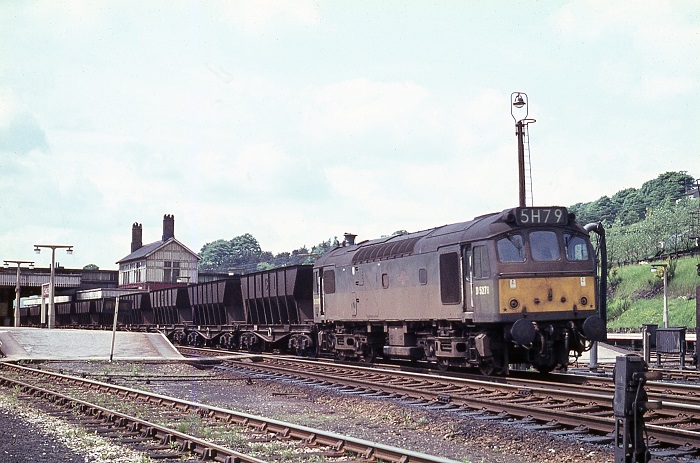 Photograph collection of webmaster
D5278 eastbound at Chinley with ICI empties for Tunstead, date unknown but circa 1967.
The six year eleven month career of D5278 included allocations to only London Midland Region depots.
Built: BR Derby Locomotive Works.
Carried only two-tone green livery.
Withdrawn with severe collision damage.
1st Class 25 withdrawn.
Allocations
D5278 was new to Toton (16A) on June 12th 1964. Further transfers were:
July 1964 to Derby (16C).
July 1964 to Trafford Park (9E).
March 1968 to Longsight (9A).
June 1968 to Manchester Division (D09).
Withdrawn May 2nd 1971.
During early January 1971 5278 sustained severe damage in the Great Rocks area. The locomotive was removed to Peak Forest and remained there until October 1971 when G Cohen, Tinsley broke up the locomotive on site.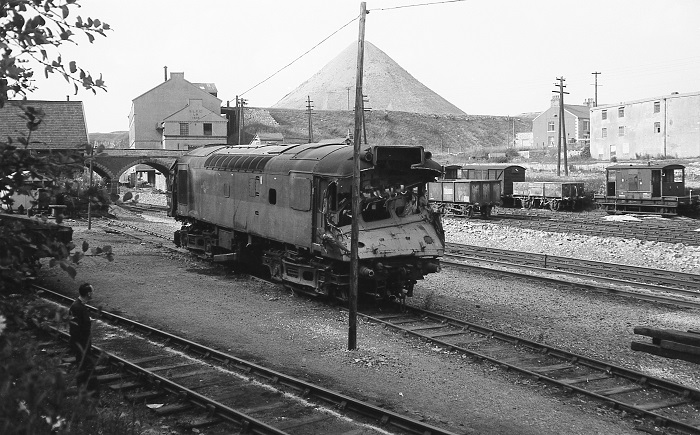 The end of the line for 5278, seen here at Peak Forest awaiting scrapping. 5278 spent nearly all its working life on the Peak Forest - Northwich workings, one of the original batch of Class 25s dedicated to this service. It was also one of only two Class 25s not to receive blue livery.
Works Visits
Works visits (records incomplete).
Noted Crewe Works September 1966.
Noted Derby Works July 1967.
Highlights
1964
The frames for D5278 were laid down at Derby Works during the spring, with delivery to Toton during the middle of June.
On July 11th D5278 was noted on a Llandudno Town - Todmorden passenger working.
1966
On the evening of July 9th D5278 was noted passing Stalybridge with a down freight.
1967
A visit to Trafford Park shed on December 21st found four of the original Tunstead - Northwich ICI limestone train locomotives on shed: D5275, D5276, D5278 & D7586. Other diesels present were D43, D205, D269, D2373, D3359, D3699, D3766, D5142, D5203, D7642 & D7677. Twenty three steam locomotives were also present, comprised of Black Fives and 8Fs.
1968

Photograph collection of webmaster.
D5278 and 70013 'Oliver Cromwell' at Lostock Hall on July 20th 1968. The building cost of the Class 25 was about three times that of the Britannia. It appears D5278 has just acquired a full yellow cab front.
1971
After brief transfers to Toton & Derby D5278 became one of a small fleet of Class 25s to dieselise the Northwich - Great Rocks limestone services, using the dedicated ICI bogie hopper wagons. It was transferred to Trafford Park, one of only a few Class 25s to be allocated here, then to Longsight when Trafford Park closed, and finally to the Manchester Division. It was whilst allocated here that 5278 received severe collision damage during January 1971, ending its service life.
On the evening of January 5th 5278 was coming out of Tunstead with freight 9T41 for Peak Forest, the Great Rocks signalman forgot about it and sent 0V23 with Class 45 No.135 which had come light from Buxton into Tunstead on the Tunstead Siding resulting in a head on collision. The Peak was to have powered the 6V23 18.06 Tunstead - Margam CBA covhops. Both drivers jumped clear, the nose end shape of 135 could clearly be seen in the crushed No.1 end cab of 5278. Following the investigation of the incident signalling alterations at Great Rocks were made, which were only possible after closure of the through route and singling from Great Rocks to Buxton No.1 in 1970.
1/107
flk 0516 (2)
Page added ??
Last updated January 22nd 2022.
Back to 25127
Forward to 25129