Terukuni Maru
Nippon Yusen Kaisha (NYK) Line
1930 - 1939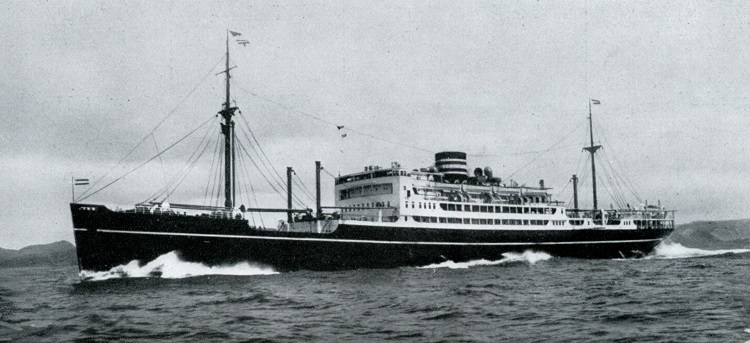 A publicity view of the Terukuni Maru
1929
Launched December 19th with ceremonies and festivities.
A report on the Terukuni Maru from the Malaya Tribune of May 22nd 1930 states:
The Terukuni Maru is equipped with the most modern navigation and safety appliances and also with the Thermotank Punkah Louvre ventilating system. Since the vessels use oil for propulsion the previous restrictions and annoyances of coaling at various ports has been removed.
Every effort has been made to provide the utmost comfort and luxury for the passengers and arrangements of the various passenger quarters of the vessels are the result of long experience of the NYK Line and of the careful study of the accommodation of some of the most recent liners.
The first class staterooms are arranged on the A & B decks and also on the forward part of the C deck. There are 55 staterooms, for 121 passengers and many of the single and double rooms have private baths attached. There is also a suite deluxe on the starboard side and one at the front part of the A deck, comprising a sitting room and a bedroom with a private bath.
All the first class rooms are not only spacious, but are outside rooms with windows opening directly on the sea. They are equipped with wardrobe, bedside cabinet, wash stand with cold running water, table etc.
Except the rooms for three persons, which have two beds and one pullman berth, all the rooms are equipped with beds of the land type, with Simmons 'Beautyrest' mattresses. The decoration of the rooms is neat and pleasing.
The smoking rooms are located aft of the boat deck and the structure and decoration are quiet and plain after the Jacobean style. The frieze and the ceilings have a plaster finish. The walls are panelled oak, stained a light hue and the floor is covered with ruboleum. The wall lanterns are of antique brass, the oil paintings and the mantelpiece of carved stone give dignity to the room.
The Verandah cafe adjoining the smoking room commands a fine view to port and starboard as well as in the rear and the lounge, located at the foremost part of the A deck is decorated after the style of the Italian renaissance. The cornice with dentil enrichment and the ornamental frieze are all in fibrous plaster and the wall panelling is executed in hardwood mouldings. The room has an attractive fireplace, wrought iron antique windows and Axminster carpets while the reading and writing room is situated on the port side of A deck adjacent to the lounge. The ceiling of plywood, the walls with handpainted decorations and the Chinese carpets are all in excellent harmonry.
The gymnasium is situated on the rear of A deck and its walls and ceiling have a light painted finish. It is equipped with the most modern gymnasium accessories.
The first class dining room on the front part of A deck, extending to port and starboard is decorated after the 18th century English style. A cornice with leaf enrichment, wall panelling of hardwood and Axminster carpet runners present the saloon with a cosy appearance. A large sideboard with a marble top and an elliptical mirror are in the room.
At the aft end of the middle part of B deck, on the starboard side, the nursery or children's room is located and is attractively decorated and furnished with all kinds of playthings and toys for the amusement of the younger passengers.
The second class staterooms are situated on the after part of C deck and there are 20 staterooms for 68 passengers. The second class smoking room, at the rear of B deck is decorated after the old Spanish style, the floor being rubber tiled and the furniture upholstered in leather or tapestry. The lounge is located on the starboard side of B deck adjoining the smoking room, the floor is covered with ruboleum, the furniture consists of a piano, sofas, chairs and writing desks.
The third class cabins are on D deck, consisting of 12 compartments for 60 passengers and these compartments are all of a large size and have proper berths. The public rooms for the third class passengers include a smoking room on B deck and a large dining room finished in modern style on C deck. There is also promenade space on B deck.
1930
The NYK European service featured three destinations, London, Liverpool and Hamburg, the latter two being freight only. The fortnightly service was maintained by eleven passenger and cargo ships with the four most modern vessels built 1921 - 1923 of 10,000 gross tons. However in the late 1920s competing shipping companies on this route were introducing passenger ships with superior amenities and shortened sailing times, leading to NYK placing orders in 1929 for two new well equipped vessels, the Terukuni Maru and the Yasukuni Maru. These were built at the Mitsubishi Nagasaki Dockyard and equipped with Sulzer diesel engines that could make almost 18 knots.
On May 6th the Terukuni Maru underwent successful sea trials, with an average speed just under 18 knots.
The maiden voyage of the Terukuni Maru took place from Yokohama on June 30th 1930 and the Yasukuni Maru on September 22nd 1930. Once in service, three of the older 8,000 ton were transferred away from the Yokohama - London route during September 1930. These three older vessels, the Kamo Maru, Kitano Maru and Atsuta Maru were transferred to the Japan - Australia service.
Both ships were specially designed for tropical conditions, with state-of-the-art air conditioning and fresh air circulation systems, as their routing was south from Japan, through the Indian Ocean, Suez Canal and Mediterranean Sea. Both ships were initially designed for use with geared turbine engines for projected cruising speed of 18 knots. However, under increasing pressure from the Japanese government to use only equipment and technologies available domestically, the design was changed to use standard Mitsubishi-Sulzer marine diesel engines, leading to a slightly lower cruising speed.
Maiden voyage to reach Singapore on July 16th (actual), sailing next day for Europe.
October 9th at Singapore for Japan.
December 17th at Singapore for Europe (voyage No.2).
1931
At Singapore March 12th for Japan.
Timetabled at Singapore for Europe May 6th (voyage No.3).
Departed London July 2nd, at Singapore July 29th.
The off season rates (generally July to December) from Singapore to London were S$771 (luxorious cabin, private bathroom), S$746 for other accommodations.
At Singapore September 13th - timetable? / 23rd actual (westbound) (voyage No.4).
At Colombo December 12th, at Singapore December 17th for Japan
1932
At Singapore for London February 10th (voyage No.5).
At Singapore May 5th for Japan.
Scheduled Singapore June 28th for Europe (voyage No.6).
Scheduled September 22nd for Japan.
At Singapore November 16th for Europe (voyage No.7).
At Tilbury December 15th.
1933
Departed Tilbury January 13th.
At Singapore February 10th for Japan.
At Singapore April 4th for Europe (voyage no.8).
At Singapore June 29th for Japan.
At Singapore August 22nd for Europe (voyage No.9) .
Scheduled November 16th for Japan.
1934
At Singapore January 10th for Europe (voyage No.10).
At Singapore April 5th for Japan.
Special return trip tickets:
Singapore - Japan $223
Singapore - Shanghai $189
Singapore - Hong Kong $137
At Singapore May 31st for Europe (voyage No.11).
At Singapore August 24th for Japan.
Scheduled at Singapore October 17th for Europe (voyage No.12).
Fares Singapore - Marseilles first class $686, second class $471
Fares Singapore - London first class $720, second class $489.
1935
Scheduled at Singapore January 10th for Japan.
Scheduled at Singapore March 6th for Europe (voyage No.13).
Fares Singapore - Naples first class $660, second class $463
Fares Singapore - Marseilles first class $677, second class $471
Fares Singapore - London first class $720, second class $489.
Round trip tickets discounted by 25% on the return portion, available for two years.
At Singapore May 31st for Japan.
At Singapore July 24th for Europe, under command of Captain Y Okuno (voyage No.14).
On August 17th passenger H A Albrecht, en-route from Shanghai to Britain died from a stomach ulcer whilst aboard the Terukuni Maru. The deceased was landed at Gibraltar for a local burial.
At Singapore October 18th for Japan, at Hong Kong from Singapore October 19th
At Singapore December 11th for Europe (voyage No.15).
1936
At London February 6th for Japan.
At Singapore March 5th for Japan.
At Singapore April 30th for Europe (voyage No.16).
At Singapore July 24th for Japan.
Scheduled at Singapore September 16th for Europe (voyage No.17).
Fares from Singapore:
Naples: 1st Class $497 - $540, 2nd Class $317 - $343
Marseilles: 1st Class $514 - $557, 2nd Class $326 - $351
London: $557 - $600, 2nd Class $343 - $369
The higher fares listed above applied to the Terukuni Maru.
At Singapore December 11th for Japan.
Fares from Singapore (cheap return tickets):
Hong Kong: 1st Class $137, 2nd Class $103
Shanghai: 1st Class $188, 2nd Class $137
Japan: $223, 2nd Class $154
1937
At Singapore February 3rd or 8th for Europe (voyage No.18).
At Singapore April 30th for Japan.
At Singapore June 23rd for Europe (voyage No.19).
At Singapore September 17th for Japan.
Sailed Japan for Singapore October 29th.
At Singapore November 10th for Europe (voyage No.20).
1938
At Singapore February 4th for Japan.
At Singapore March 30th for Europe (voyage No.21).
Fares from Singapore:
Naples: 1st Class $574 - $621, 2nd Class $334 - $381
Marseilles: 1st Class $591 - $630, 2nd Class $373 - $390
London: $643 - $690, 2nd Class $407 - $424
When compared to the fares of 1936, the fares had definately increased.
At Singapore June 23rd for Japan.
Fares from Singapore (cheap return tickets):
Hong Kong: 1st Class $137, 2nd Class $103
Shanghai: 1st Class $189, 2nd Class $137
Japan: $223, 2nd Class $154
When compared to the fares of 1936 they were almost unchanged.
Departed Moji August 5th for Europe.
At Singapore August 16th for Europe (voyage No.22).
At Singapore November 14th for Japan.
On December 24th passengers boarding the Terukuni Maru at Kobe included a party of 28 Japanese salvage workers headed for Penang to salvage the Danish freighter Tongking, 6,640 tons which had sunk off Penang in April following a serious fire. Previous attempts to refloat the Tongking had been unsuccessful.
1939
At Singapore January 4th for Europe (voyage No.23)
Scheduled at Singapore March 31st for Japan.
At Shanghai? April 10th for Japan. Passengers on this sailing included Sir Robert Craigie, British Ambassador to Japan, returning to Tokyo from Shanghai.
At Singapore May 25th for Europe (voyage No.24).
Passengers arriving at Singapore on May 25th included the captain and crew of the Greek freighter Agio Vlasios, 4,297 tons and recently sold to the Yamashita KK Company, the Greek crew presumed on passage to Naples?
Information from the passenger list on the westbound sailing from Singapore on May 25th revealed passengers for:
Columbo: 5
Port Said: 13
Naples: 28
Marseilles: 31
London: 15.
At Singapore August 19th for Japan?
Despite the recent declaration of war between Great Britain and Germany on September 1st 1939 following the German invasion of Poland, at 5pm on September 24th the Terukuni Maru set sail from Yokohama on her 25th sailing to Europe. Rising Sun flags had been painted on the upper deck and both sides of the hull. The schedule would include stops at Nagoya, Osaka, Kobe (September 29th), Moji, Shanghai, Hong Kong, Singapore (October 11th), Penang, Colombo, Beirut, Naples, Marseilles (four days), and Casablanca. By the morning of November 19th the Terukuni Maru was in the English Channel, having taken aboard a pilot off the South Downs and underwent contraband inspection while Royal Navy minesweepers checked her route into London (Tilbury) for mines. This clearance was received shortly after midnight Tuesday November 21st.
This delay incurred by the Terukuni Maru so close to her destination was due to an abundance of caution due to the presence of U-boats and German mines in areas of the North Sea. A few days earlier on November 18th the Dutch passenger ship the Simon Bolivar of about 8,300 tons and with about 400 passengers and crew en-route from Amsterdam to Paramaribo hit a mine at position 51.49N, 01.36E, approximately thirteen miles east of Frinton-on-Sea in about 45 feet of water. The explosion was violent, killing many on the ship including Captain H Voorspuiy, the masts were blown down and the radio equipment was rendered unusable. It is reported the ship set off a 2nd mine causing further damage. No SOS had been sent but rescue ships were quickly on hand to assist, made more urgent because the 2nd explosion damaged more of the ship's lifeboats. The loss of life is reported between 84 & 102 souls. Captain Matukura in an interview on November 22nd referenced the recent sinking of the Simon Bolivar: 'I anchored off the Downs on Sunday and waited till Tuesday until the channel into London had been swept for mines after the sinking of the Simon Boliver,' he said. 'I sailed from the Downs at 8 a.m. yesterday and posted a special look out of five men to watch for floating mines'.
Because of this incident and the continued sinking of small trawlers and other coastal vessels by mines or U-boat activity Captain Matakura on the Terukuni Maru had five lookouts stationed on the ship as it began its journey up the Thames Estuary. As the Captain states in an interview shortly afterwards: 'We saw no mines, but at 12.53pm there was a terrific explosion. Some of the passengers, who were at lunch, were injured by flying dishes. The pilot suggested that we beach the ship and I agreed, but we discovered that the engines were flooded. I think the look-out system was so good that the men would have seen a floating mine. We did not see the one we struck, so it must have been submerged and anchored.'
The explosion occurred at 51.50N 01.30E (eight miles north of Margate, 20 miles east of Shoeburyness), seriously damaging the ship between her second and third holds, with the bridge also sustaining considerable damage. The ship had been travelling at about 15 knots and initially remained upright, but soon developed a list. The light passenger load allowed for an organised disembarkation using the ship's lifeboats. It progessed so smoothly that the ship's photographer K Asami was able to capture views of the ship, both shortly after hitting the mine and as the lifeboats pulled away from the stricken vessel. There were no fatalities with just a handful of minor injuries, all 28 passengers and 177 crew members were able to escape safely. Reportedly there was 3,000 tons of cargo aboard. The ship would take about 45 minutes to sink, going under the waves at 1.35pm.
The pilot remained on the bridge with the ship's captain and was reluctant to leave even when being ordered to do so by the captain.
The loss of the Terukuni Maru was the first victim of the Japanese mercantile marine since the outbreak of the war in Europe.
Six auxiliary craft and a pilot boat transferred the passengers and crew from the ship's lifeboats in order to reach the shore.
It was estimated that the vessel carried £2,350 worth of cargo, Japanese underwriters would bear the full loss of the vessel.
With regard to the sinking of the Terukuni Maru the British Admiralty advised that on the nights of November 20th & 21st German mine laying aircraft laid mines in five different locations along the east coast of England. Suggested reprisals included the bombing of German submarine bases, intensive air attacks on minelayers and seizing exports of German origin or ownership on the high seas.
Older vessels taken from the Australian route were transfered to European service following the sinking, being the Atsuta Maru & Kitano Maru.
Although the mines that sunk the Terukuni Maru were placed by German planes or U-boats, the British at this time were also actively engaged in mining operations, including in the vicinity of Singapore, which led to the loss of the Norwegian freighter Hoegh Transporter on October 4th and the British India liner Sirdhana on November 13th.
The Terukuni Maru was the 11th victim in three days of mine sinkings off the English coast, with six being vessels from neutral countries.
The wrecked ship lay partly submerged on its side at 8 fathoms (48 ft; 15 m) depth, visible to wartime shipping. The wreckage was examined for salvage potential, but salvage work was not undertaken. In 1946 the ship was demolished with explosives as part of a British effort to remove war debris from coastal waters.
After unloading in London the Terukuni Maru had been scheduled to call at Antwerp and Rotterdam.
Seven members of the crew of the ill-fated Norwegian vessel Hoegh Transporter, which had sunk in a British minefield at Singapore on October 4th had boarded the Terukuni Maru at Singapore on October 12th in order to return to Europe, only to have this 2nd ship sink whilst they were aboard.
Passengers (list incomplete):
R Wang (crew ex-Hoegh Transporter)
O E Mjelva (crew ex-Hoegh Transporter)
S Cristoffersen (crew ex-Hoegh Transporter)
H S Hansen (crew ex-Hoegh Transporter)
R Hoberg (crew ex-Hoegh Transporter)
O Fransvug (crew ex-Hoegh Transporter)
I M Holton (crew ex-Hoegh Transporter)
W Heusser Swiss boarded Singapore
Kintaro Mase (First Secretary of the Japanese Legation, Berne)
Kenya Iwasaki (Chancellor of the Japanese Embassy, London)
P D Outwin, resident of Scarborough, Yorkshire
W Ferguson (embarked Singapore)
Helen Swailes (wife of the Chief Petty Officer)
B Whiteaway (embarked at Columbo, sustained injuries)
C R H Emery (embarked at Gibraltar, sustained injuries)
J P B Jones (British)
G A Williams (resident of London)
E M Huntley (resident of Ware, Hertfordshire)
The third reported injury was to the Japanese coxswain, K Iwasaki.
1940
On January 21st the Suwa Maru arrived at Singpore carrying 107 survivors from the Terukuni Maru and were headed for Japan. Seventy other survivors including Captain Matsukura elected to travel home westbound via America.
Details
Built: Mitsubishi Shipbuiulding & Engineering Co Ltd, Nagasaki; Yard No. 467, Official No.36214.
Laid down: January 9th 1929
Launched: December 19th 1929
Completed: May 30th 1930
Tons: 11,931 gross
Length: 505ft (153.92m)
Breadth: 64ft (19.51m)
Draught: 37ft (11.28m)
Propulsion: 2 x 10-cylinder ST68 Mitsubishi-Sulzer diesel engines 10,000bhp @ 100rpm.
Auxiliaries: 3 four-cycle engines of 700bhp each at 250rpm, 1 type 4C34 compressor.
Screws: 2
Speed: 17 knots
Passengers: 121 First Class; 68 Second Class; 60 Third Class.
Crew: 177.
Resources:
National Library of Australia : Trove website of archived Australian Newspapers (trove.nla.gov.au).
Singapore Newspaper Archive).
Sulzer: List of Motorships.
Page added October 29th 2022.
Return to Ship menu
Return to Picture menu