D5011, 5011, 24011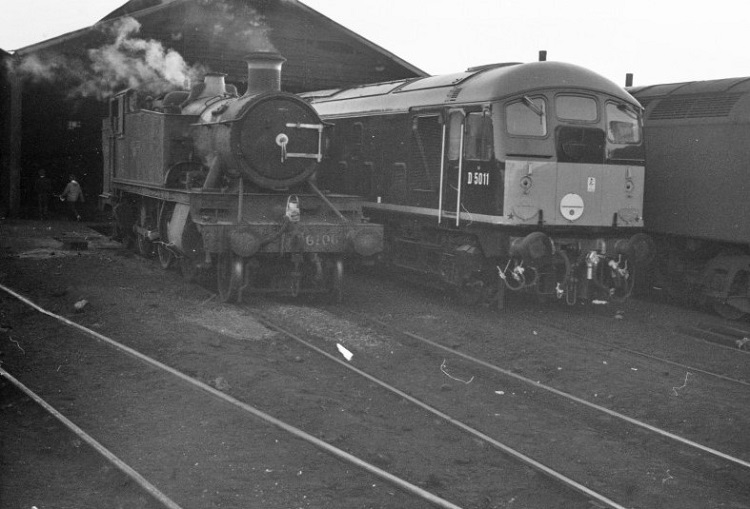 Photograph collection of webmaster.
Oxford shed on a gloomy November 12th 1965, 4MT 2-6-2T No.6106 keeps company with recently outshopped Class 24 No.5011.
The sixteen year three month career of D5011/24011 saw allocation to London Midland, Southern & Scottish depots.
Built Derby Locomotive Works.
Delivered with Athermos axleboxes (D5010 - D5019).
Full size fuel & water tanks (shortened water tank added later).
Four upper and four lower air filters on non-BIS side, three upper and four lower on BIS side (standard arrangement).
Additional headcode disc brackets fitted (for use with SR six disc headcodes).
Headcode discs centered on cab front (Glasgow modification).
Roof modification (above generator/brake cubicle): no raised panels.
Time between last Classified repair and withdrawal: ?? months.
Time between withdrawal & scrapping: 18 months.
Allocations
The frames for D5011 were laid down during the winter of 1958 at Derby Works. D5011 was new to Crewe South (5B) on March 28th 1959. Further transfers were:
March 1959 to Derby (17A) on loan.
April 1959 to Hither Green (73C) on loan.
May 1962 to Crewe South (5B).
May 1962 to Willesden (1A).
June 1962 to Crewe South (5B).
June 1962 to Rugby (2A).
September 1963 to Rugby (1F).
June 1965 to Bletchley (1E).
April 1966 to London Division (D01).
July 1966 to Birmingham Division (D02).
May 1967 to Stoke Division (D05).
January 1969, stored (at Chester).
June 1969, reinstated to Stoke Division (D05).
October 1971 to Polmadie (66A).
March 1972 to Eastfield (65A).
July 7th 1975, stored unserviceable.
October 5th 1975 - withdrawn.
Renumbered November 1973.
24011 was stored at Carlisle from July 1975 to March 1976. It was moved to Glasgow Works on March 15th 1976 with 24002/04/10 and scrapped there by April 1977.
Works Visits
Works visits (records incomplete).
Noted Eastleigh Works December 1961.
Noted Derby Works September 1962.
Noted Derby Works January 1965.
Noted Glasgow Works April 1965.
Noted Derby Works October/November 1965 (repainted).
Noted Glasgow Works May, August - October 1973.
Highlights
For locomotives D5010 - D5019 the Athermos plain bearing, pressure lubricated axle boxes were fitted from new but were later replaced by SKF roller bearing equipped axles
The working history of D5011/24011 belongs to a small sub-group of the class, particularly its three years of service on the Southern Region, a period of store during 1969 and its closing years spent in service on the Scottish Region.
1960
On February 27th D5011 was noted at Dover with a westbound freight (additional headcode disc brackets fitted).
1962
Prior to its return from the Southern Region, D5011 visited Eastleigh Works for overhaul before heading north. On January 25th ex-works D5011 was tested on the 11pm freight to Nine Elms prior to its release from Eastleigh Works.
Photograph courtesy G W Sharpe.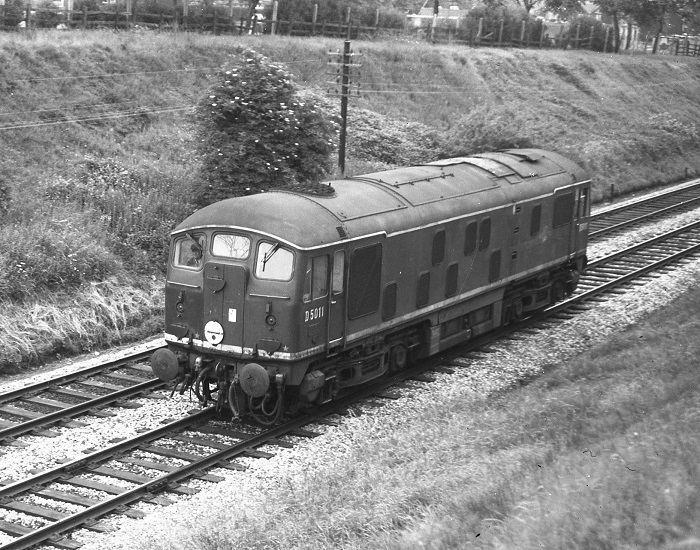 Photograph collection of webmaster.
Two views of D5011, at Birmingham New Street on July 30th 1962 and at Erdington sometime in 1962. The locomotive has recently returned from the Southern Region and is now allocated to Rugby depot. Both bogies carry axles with Athermos axle boxes and the two-rung bogie mounted steps. The cab front carries the headcode disc brackets fitted for use with SR six disc headcodes, whilst one of the blue star coupling symbols is in an unusual place. The locomotive still sports the original sized fuel/water tanks.
1963
D5011 worked the 15.50 Birmingham - Liverpool on November 12th.
1965
On July 4th D5011 worked the 13.45 Euston - Northampton.
1966
Condition January: green livery with frame level stripe, small yellow warning panel with square upper corners, warning panel covers frame level stripe, gangway doors present, Southern Region headlamp brackets fitted, full size fuel tank, shortened water tank, blanking plates fitted, hand/footholds present, ridge sided sandboxes, two-rung bogie mounted footsteps, three upper & four lower ventilators on BIS side, all valencing fitted, Athermos axleboxes fitted, engine exhaust located above engine room.
On a wintry February 12th the Warwickshire Railway Society 'Midlander Tour' utilised 43002 over the route Birmingham Snow Hill - Old Hill - Dudley - Aldridge - Nuneaton Abbey Street - Measham - Burton-on-Trent - Stenson Junction - Trent - Codnor Park - Ambergate - Gresley- Wigston - Market Harborough - Rugby Midland - Marton Junction - Leamington Spa. D5011 was added at Rugby Midland to assist 43002 which was reported as low on coal. At Leamington Spa both locomotives were replaced by 45031 for the run back to Birmingham Snow Hill.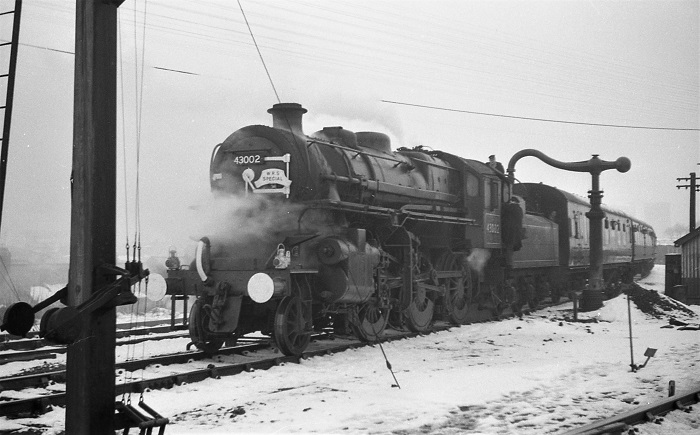 Photograph courtesy John Bates.
43002 taking water at Knighton South Junction whilst working a W.R.S. special on February 12th 1966. D5011 had assisted this special between Rugby Midland - Marton Junction - Leamington Spa (see note above). One wonders if any photographs exist when D5011 was assisting.
On March 29th D5011 worked the 07.48 Tring - Broad Street.
1967
On July 13th D5011 was noted at Crewe with an inspection coach, D5011 was still equipped with Athermos axleboxes.
1968
During August 5011 was noted at Llanuwchllyn being used on the demolition train of the closed line between Dolgellau & west of Bala Lake.
1971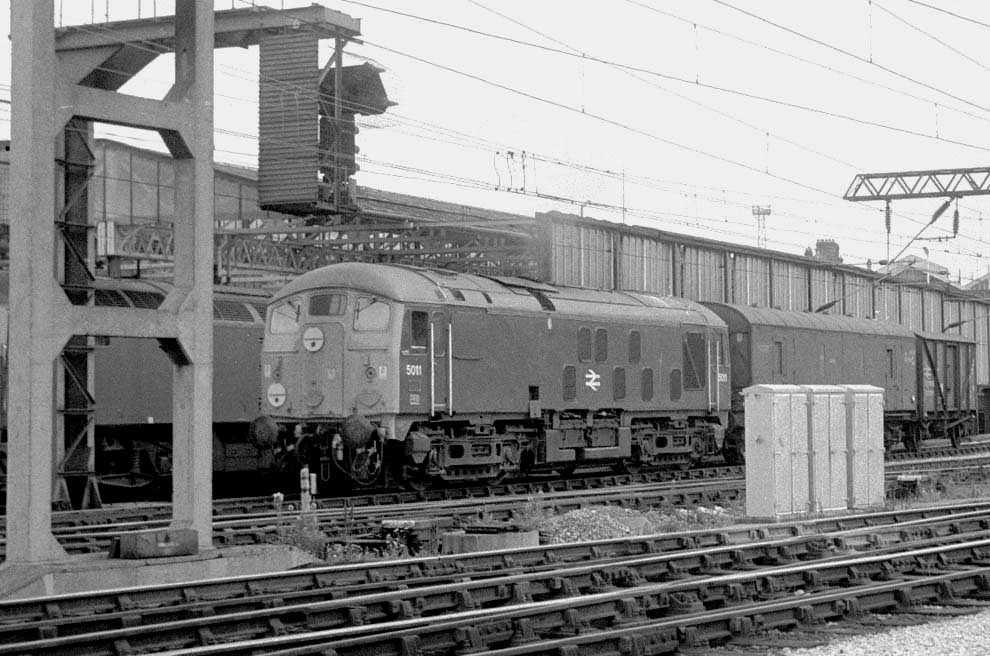 Photograph courtesy Tony Sayer
A very short parcels working runs through Crewe behind 5011 on August 9th 1971. Between April 1967 and November 1968 5000 - 5066 were transferred to the Stoke Division (D05). 5011 has acquired a smaller water tank.
1973
On the afternoon of May 27th 5011 was stabled at Haymarket.
1976
Upon arrival at Glasgow Works for scrapping the locomotive carried bogies fitted with SKF axleboxes and three-rung footsteps. Headcode disc brackets fitted (for use with SR six disc headcodes), whilst the builders plates were present on the cabsides. Prior to its storage at Carlisle the engine exhaust and boiler exhaust vents had been capped. Externally the locomotive was in a very presentable condition, having completed an overhaul at Glasgow Works less than two years previously.
flk 0322 (1)
Page added January 6th 2016.
Last updated March 27th 2022.
Back to 24010
Forward to 24012