D5034, 5034, 24034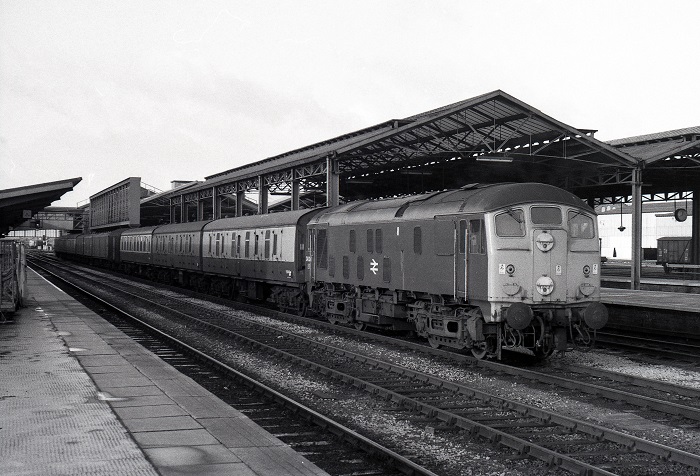 Photograph courtesy John Turner (via RG).
24034 heads eastbound through Chester with a parcels train, sometime during November 1974.
The fifteen year eleven month career of D5034/24034 saw allocation to Eastern and London Midland depots.
Built Crewe Locomotive Works.
Full size fuel & water tanks (shortened water tank fitted later).
Four upper and four lower air filters on non-BIS side, three upper and four lower on BIS side.
Boiler water tank removed (at least by May 1973).
Time between last Classified repair and withdrawal: ?? months.
Time between withdrawal and scrapping: 15 months.
Allocations
The frames for D5034 were laid down during the early summer of 1959 at Crewe Works. D5034 was new to March (31B) on September 3rd 1959. Further transfers were:
February 1960 to Stratford (30A).
March 1961 to Willesden (1A) on loan, made permanent April 1961.
January 1966 to Bletchley (1E).
April 1966 to London Division (D01).
March 1967 to Birmingham Division (D02).
August 1967 to Stoke Division (D05).
May 1973 to Crewe.
August 3rd 1975 stored serviceable.
January 31st 1976 - withdrawn.
Renumbered March 19th 1974.
24034 was stored at Crewe from August 1975 to January 1977. It was moved to Swindon Works on January 10/11th as the 06.45 Crewe - Swindon behind 25269 and with 24025/29/33 attached, where the end finally came for 24034 in the middle of May 1977. However one of the cabs from 24034 remained extant at Derby Works at least until November 1986, interestingly the gangway doors had been sheeted over.
Works Visits
Works visits (records incomplete).
Noted Derby Works May - July 1961.
Noted Derby Works June 1967 (possible repaint to blue/yellow).
Noted Derby Works October 1972.
Noted Derby Works March 1974.
Noted Derby Works February 1975.
Highlights
1959
D5034 was one of the first batch of Class 24's to be built at Crewe Works (D5030 - D5037) and one of the forty eight allocated to March (31B). D5034 would join the new Brush & NBL Type 2s in the dieselisation of East Anglia.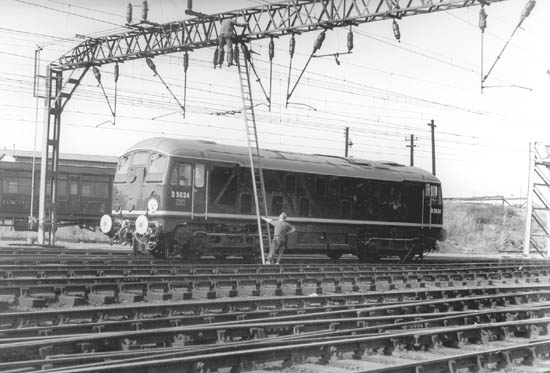 Photograph courtesy Rex Conway Collection.

With burnished buffers and shining paintwork D5034 cannot be long off the Crewe production line, probably making this view sometime in the latter half of 1959, taken in the Crewe area. No doubt today Health & Safety would not allow such activities as being performed with the lengthy ladder.

1960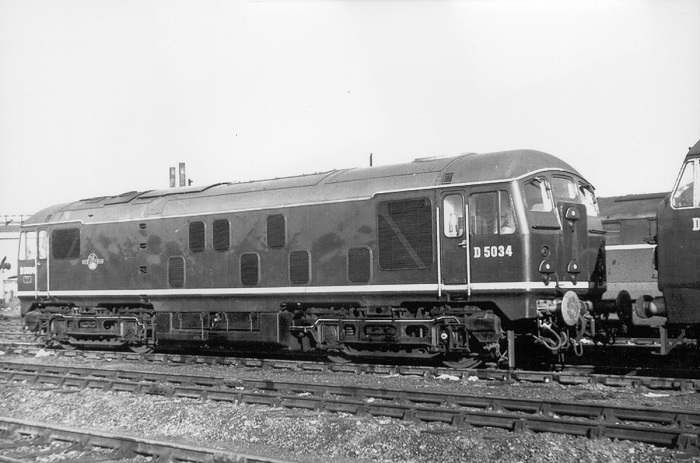 Photographer not known (possibly F W Day?).
D5034 at Stratford on a sunny day, providing a wealth of detail, including that of the bogies and fuel tanks. Judging by the shine of the paintwork and the relatively clean roof, the locomotive is not long out of Crewe Works.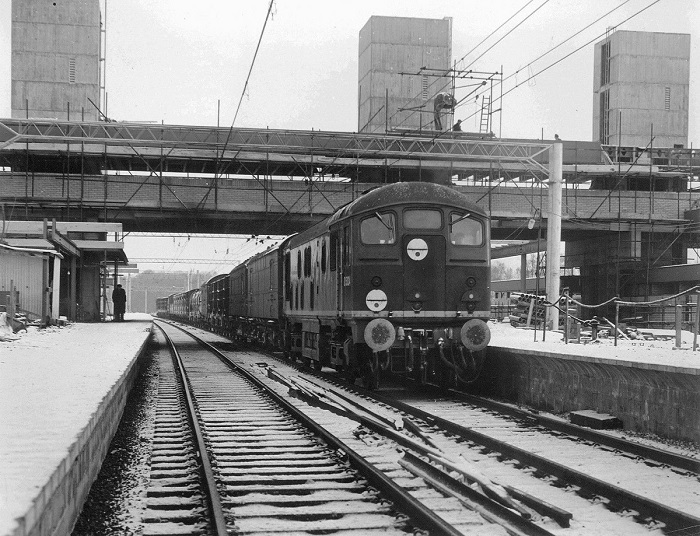 Photograph courtesy BR.
D5034 passes through Harlow station on a snowy January 14th 1960 with a mixed freight.
1961
On September 18th D5034 worked the 18.12 Euston - Bletchley.
1965
On July 3rd D5034 worked a Leicester - Eastbourne holiday extra running the empty coaching stock to Forest Row via Uckfield.
1967
With the electrification at the southern end of the LMR progressing and with more arrivals from Derby Works of the latest Class 25s, there began a gradual migration northwards of the older Type 2s, during March D5034 found a new home in the Birmingham Division (D02). For D5034 some time was spent in Derby Works during June. During August a further move north, along with a great many others saw D5034 reach the Stoke Division (D05).
1969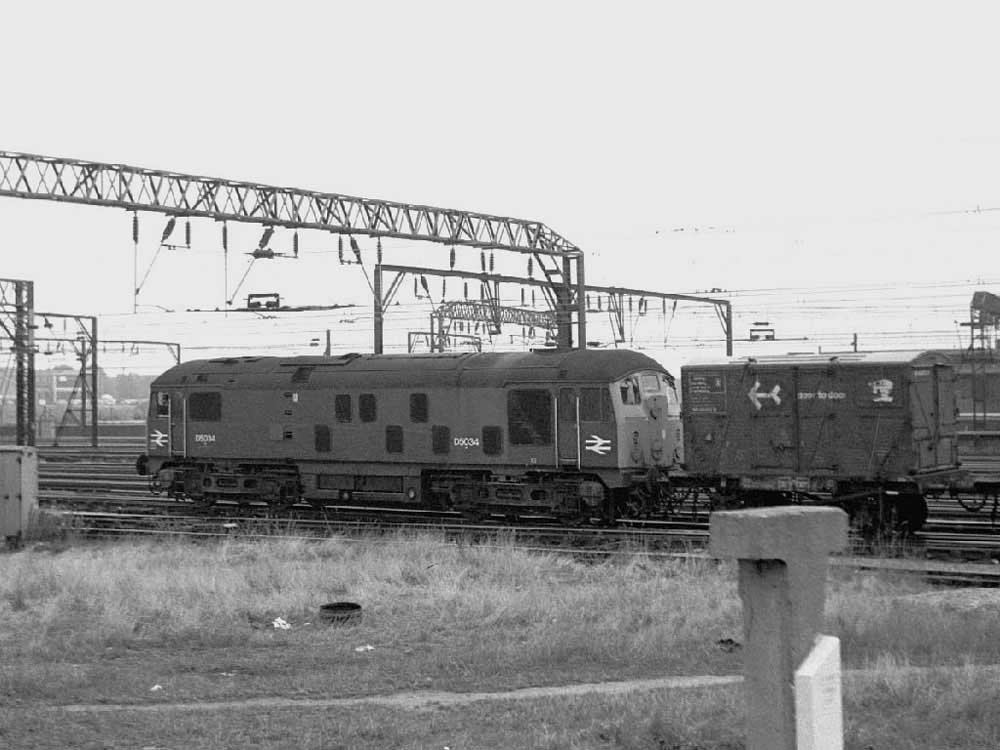 Photograph courtesy Tony Sayer.
D5034 trundles northwards through Crewe on August 15th 1969. Already carrying blue livery, the two sets of numbers and BR emblems on each side create something of an untidy appearance due to the un-symetrical placing of the air vents. The use of the 'D' prefix suggests it received its blue livery during its visit to Derby Works during 1967.
Comparing the above view with that of the opening view of D5034 at Kings Cross reveals a numbers of changes over ten years of service. The engine exhaust port has been repositioned closer to the engine compartment, the boiler water tank is now of the shortened variety and the fuel tank has a large circular gauge fitted.
1970
5034 was one of three Class 24s stranded on Anglesey by the Menai bridge fire on May 24th. Along with 5083, 5034 remained on the island to handle the local freight traffic and support the diesel multiple units (50404 & 56167) on passenger services. A third Class 24, No.5044 was shipped to the mainland through Barrow in June along with fourteen other locomotives and seventy two coaches. Whilst stranded on Anglesey the train heating boiler was re-activated as occasionally the Type 2s were used to assist the diesel multiple units on passenger workings.
The other mainline locomotives stranded on Anglesey were 219/231/232/233/241, 307/390, 1724, 1851 & 1940. Three shunters were at Holyhead: 3004, 3175 & 4139, with 2954 & 2955 at the breakwater.
1972
At about 7am on October 9th 5034 was noted passing Manchester Victoria with a down freight.
1973
5034 was on empty stock coaching stock duty at Edge Hill April 6th.
On May 8th 5034 was noted westbound at Llandudno Junction hauling a two car diesel multiple unit.
1975
On January 11th 24034 & 24035 were noted heading north through Huddersfield with an aggregates train. 24034 visited Derby Works during February.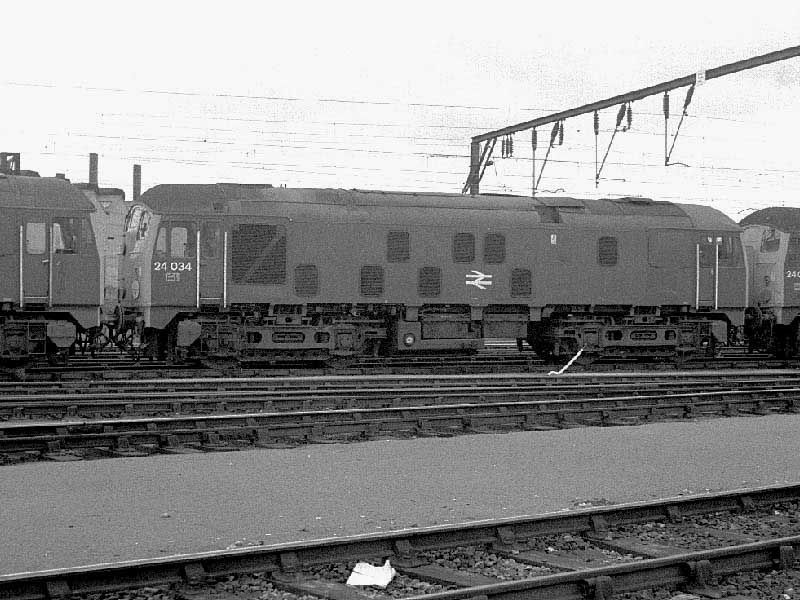 Photograph courtesy Tony Sayer.
September 25th 1975 finds 24034 sidelined at Crewe, one of a great number stored there prior to their removal to Swindon for breaking. This side view clearly reveals that the boiler water tank has been removed, probably at her last shopping at Derby.
1976
24034 was withdrawn on January 31st 1976.
flk 1021 (1)
Page created January 15th 2001
Last updated October 28th 2020.
Back to 24033
Forward to 24035