D5035, 5035, 24035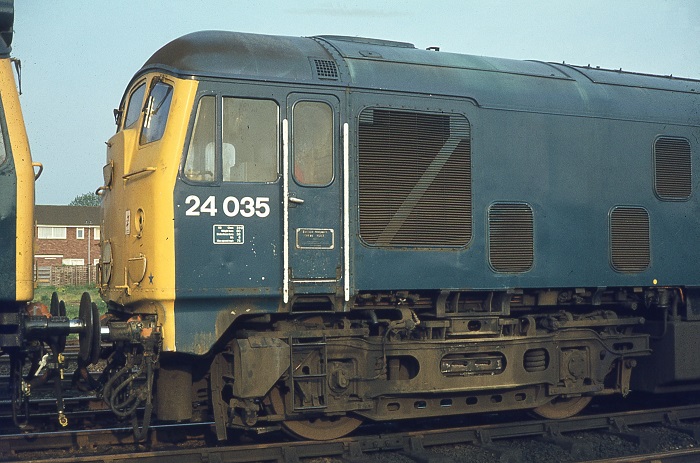 Photograph collection of webmaster
24035 stabled at Stourbridge Junction on June 3rd 1978.
Built Crewe Locomotive Works.
Full size fuel & water tanks (shortened water tank fitted later).
Four upper and four lower air filters on non-BIS side, three upper and four lower on BIS side.
Boiler water tank removed (1975).
Roof modification (above generator/brake cubicle): raised square panel containing the engine exhaust.
No.2 cab roof ventilators not present at withdrawal.
Time between last Classified repair and withdrawal: 38 months.
Time between withdrawal and scrapping: 3 months.
Allocations
The frames for D5035 were laid down during the late spring of 1959 at Crewe Works. D5035 was new to March (31B) on August 31st 1959. Further transfers were:
February 1960 to Stratford (30A).
March 1961 to Willesden (1A) on loan.
March 1961 to Stratford (30A).
April 1961 to Willesden (1A) on loan, made permanent May 1961.
September 1961 to Watford (1C).
January 1965 to Willesden (1A).
April 1966 to London Division (D01).
March 1967 to Birmingham Division (D02).
August 1967 to Stoke Division (D05).
May 1973 to Crewe.
November 2nd 1977 stored serviceable.
November 3rd 1977 reinstated to Crewe.
October 15th 1978 - withdrawn.
Renumbered April 7th 1974.
After withdrawal 24035 was stored at Crewe until moved to Doncaster Works on December 13th 1978, when 24035 & 24047 were dragged across the Pennines as the 05.00 9Z10 Crewe Depot - Doncaster Works special. After a career of just under twenty years 24035 was reduced to scrap during January 1979.
Works Visits
Works visits (records incomplete).
Noted Derby Works March 1962.
Noted Derby Works August 1963.
Noted Derby Works November 1964 - January 1965.
Noted Derby Works March & April 1966.
Noted Derby Works March 1972.
Noted Derby Works June - August 1975
Highlights
1959
D5035 was part of the first batch of Class 24s to be built at Crewe Works (D5030 - D5037), being one of the forty eight allocated to March (31B). These locomotives would join the new Brush & NBL Type 2s in the dieselisation of East Anglia.
Photograph courtesy F W Day
Shortly after delivery D5035 in pristine condition stands at Stratford on a murky day. The bogie mounted cab footsteps are of the two rung type.
1961
On June 14th D5035 was on empty coaching stock duty at Euston.
On July 19th D5035 worked the 21.01 Euston - Bletchley.
On August 19th D5035 was noted with nine coaches passing Harrow & Wealdstone with possibly a Euston - Northampton service.
1962
During March D5035 visited Derby Works. Possibly whilst at the Works it acquired the small yellow warning panel, with rounded corners at the top. The cantrail level boiler water filler cover appeared new, possibly a replacement added during its visit.
Condition April: green livery, small yellow warning panels, rounded upper corners, warning panel covers frame level stripe, full size fuel & water tanks, two rung bogie mounted footsteps, ridge sided sand boxes, engine exhaust in original position, cantrail water filler cover present.
On the afternoon of November 3rd D5004, D5035, D5076, D5134 & D5146 were all noted at Euston.
1964
On the evening of April 26th D5015 & D5035 were at Berkhampstead with wiring trains.
Noted at Camden on the morning of July 14th were D5026, D5028, D5035, D5073 & D5076.
1965
D5035 was at Marylebone with an up parcels on September 18th.
On the afternoon of October 29th D5035 was shunting at Watford Junction.
1966
On June 4th D5035 with vans was noted at Rugby station.
1967
With the electrification at the southern end of the LMR progressing and with more new Class 25s ex-Derby Works being allocated to the London Division there began a gradual migration northwards of the older Type 2s, during March D5035 found a new home in the Birmingham Division (D02). During August a further move north, along with a great many others saw D5035 reach the Stoke Division (D05).
On the afternoon of August 5th D5035 was northbound at Warrington Bank Quay.
Noted at Stoke on Trent on the afternoon of November 13th were D5005 (light engine), D5025 (up parcels), D5035 (down freight) with 75046, 75047 & 75052 lying condemned at Stoke shed.
1968
D5035 was noted at Llanuwchllyn being used on the demolition train of the closed line between Dolgellau & west of Bala Lake (date?).
On the evening of June 12th D5035 was northbound at Crewe with a freight.
On September 5th 5035 was noted at Towyn with open wagons, possibly being used to pick up materials from the Corwen line.
1969
On the evening of April 19th noted at Crewe were 5001 (stored), 5035, 5049 & 5090.
1970
An unusual working for 5035 was the 6F01 10.35 Millerhill - Tyne on December 15th, somewhat off the beaten track for a Crewe based Class 24.
1971
June: green livery with full yellow ends.
1972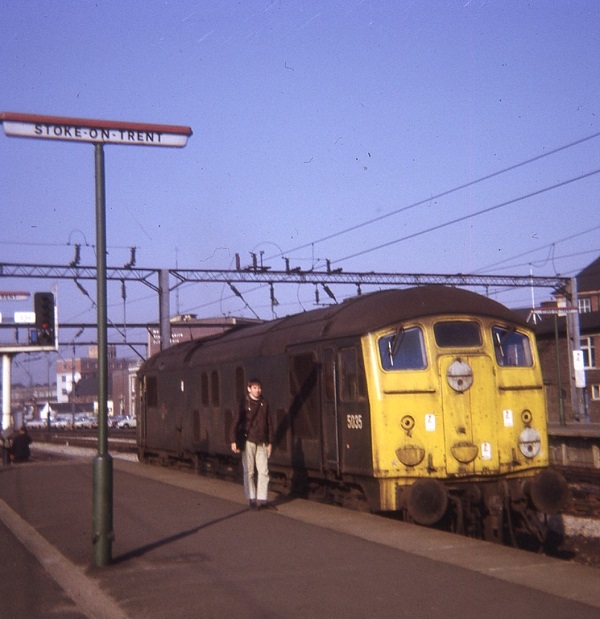 An unremarkable shot circa April 1972 of 5035 at Stoke on Trent in green livery with full yellow ends. What is amazing is this was taken with a venerable Kodak Instamatic 100. Little else of this film has survived and it is most certain that the locomotive, in the guise of 24035 outlived the camera by quite a bit.

At about 5.30pm on May 30th 5035 was noted passing Newton le Willows with a down empty coaching stock working (electric stock). At about 7.30am on May 31st 5035 was noted passing Newton le Willows on an up freight.

1974
On August 25th 24035 was stabled at Shrewsbury station.

On September 10th 24035 was stabled at Warrington Arpley.

1975
On January 11th 24034 & 24035 were noted heading north through Huddersfield with an aggregates train.

The mass storage and withdrawals of the Class 24s in the summer included 24033 (August) & 24034 (July) but passed 24035 by, the locomotive was in Derby Works from June to August undergoing a major repair, alongside 24023 & 24083 these would be the last of the Class to receive a major repair anywhere. During this repair the boiler water tank was removed, as happened to several other Class 24s late in their lives.

1976
24035 & 24080 were noted at Stafford on May 8th.

24035 was at Chester on June 6th.

24035 was noted northbound through Macclesfield on July 14th.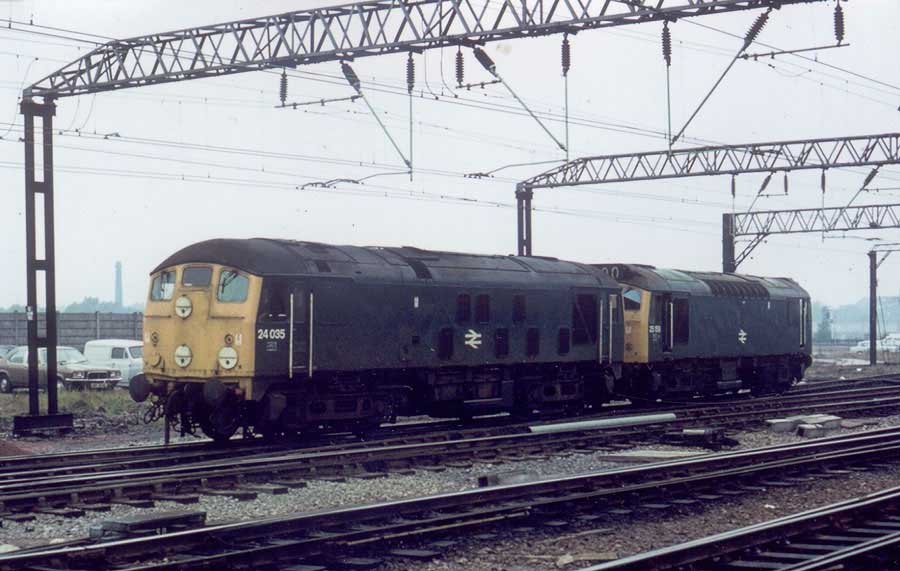 Photograph courtesy Peter Wilmott
A dull day at Crewe in September 1976 finds 24035 & 25159 passing through the station. Just visible is the fact that 24035 has had its boiler water tank removed. It still has two years left in service.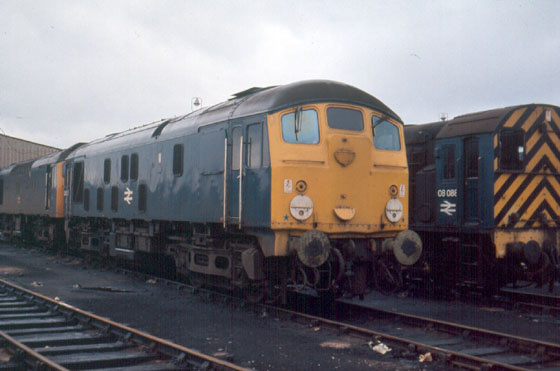 On a murky overcast February 17th, 1977 Cockshute is home to 24035. Just visible is the absence of the boiler water tank. In contrast to the view of 24035 in Holyhead shed (above) the electrification flashes at this end of the locomotive are outboard of the marker lights.
1977
24035 & 24047 worked an early morning Grange Junction - Shotwick freight on February 26th. 24035 was stabled at Crewe Diesel deot on February 27th.
24035 was stabled at Northwich on March 12th.
24035 & 24023 were noted at St Helens Junction on the evening of March 24th.
April 15th found 24035 & 24023 working a freight to Rugby, about as far south as the Class 24s would now venture.
24035 & 24036 were stabled at Cockshute on June 18th.
24035 was noted at St Helen's Shaw Street on June 30th.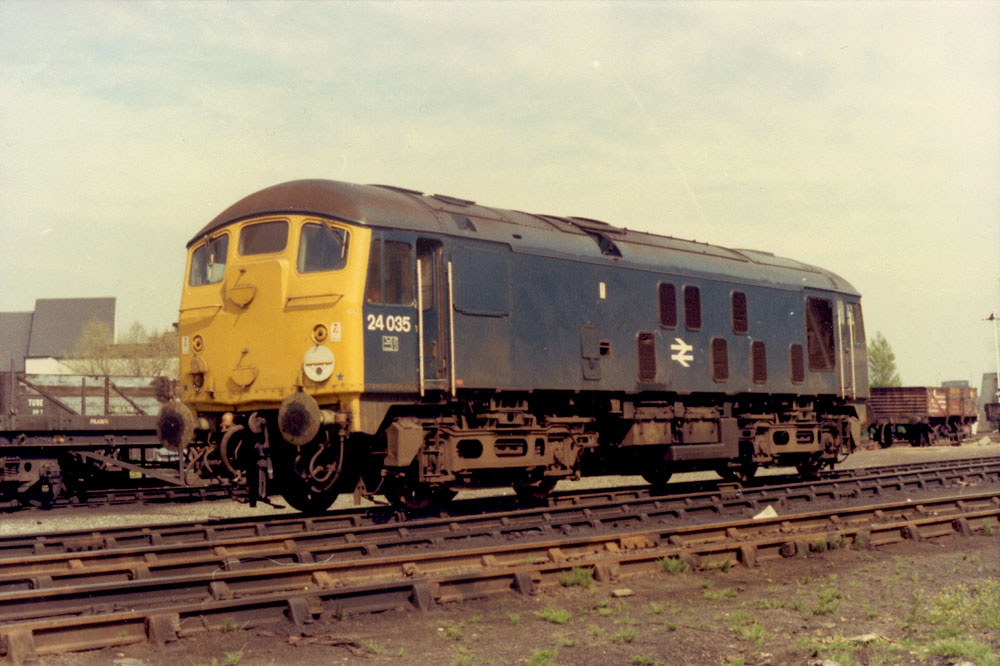 Photograph courtesy R Riley.
Whilst 24033 & 24034 were ending their days at Swindon, 24035 was racking up a few more miles in revenue earning service. The date and location are unknown for this view, but is believed to be in the Chester area.
On July 10th 24035 was stabled at Llandudno Junction.
On July 24th 24035 was noted at Northwich.
24035 was noted at Chester on August 26th.
On October 2nd 24035 was stabled at Warrington Arpley.
On October 15th 24035 & 24057 were stabled at Birkenhead Mollington Street.
24035 was noted at Nuneaton on December 1st.
1978
24035 worked a Wrexham - Brymbo freight on January 9th.
24035 & 25161 were noted light engines passing Gobowen headed for Shrewsbury on February 3rd.
On February 14th 24047 & 24035 were noted at Crewe station light engines on February 14th. 24035 was stabled at Crewe Diesel depot on February 19th.
24035 was stabled at Chester on May 13th.
24035 was stabled at Stourbridge Junction on June 3rd.
Additional summer services and holiday extras provided plenty of unusual diesel haulage on the North Wales line, however the star turn was still the diagram commencing with the 09.42 Llandudno - Manchester. The few remaining Class 24s were frequent performers on this diagram, July 12th saw 24023 start the diagram but it was replaced on the 20.30 Crewe - Bangor by 24063, which got only got as far as Chester before 24035 took over, which succumbed at Llandudno Junction!
On July 13th 24035 & 24063 were moved from Llandudno Junction to Crewe depot for attention.
24035 was at Crewe Diesel depot on August 7th.
24035 was withdrawn on October 15th 1978.
flk 0222 (2)
Page created January 15th 2001.
Last updated October 4th 2022.
Back to 24034
Forward to 24036