D5055, 5055, 24055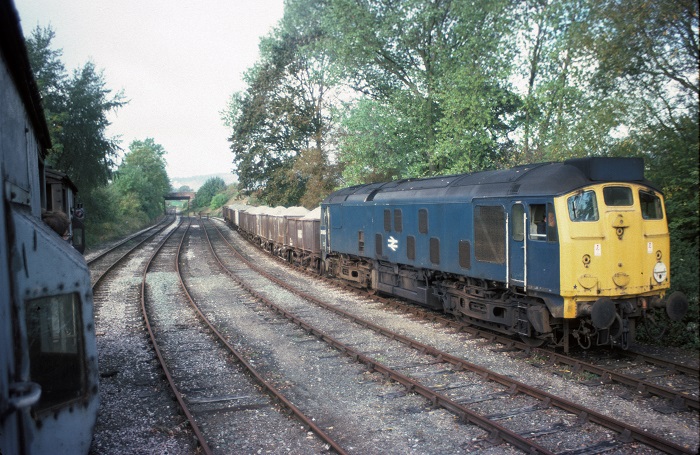 Photograph collection of Roger Geach.
24055 and loaded train at Llynclys with stone from Blodwell Quarry, possibly headed for Bescot, circa September 1975. The No.1 cab reveals its headcode box fitted cabroof.
The fifteen year ten month career of 5055/24055 saw allocations to Eastern Region, Scottish Region & London Midland Region depots.
Built Crewe Locomotive Works.
Shortened fuel tank & full size water tank (retained until withdrawn).
Four upper and four lower air filters on non-BIS side, three upper and four lower on BIS side.
Modified Headcode boxes, cabroof mounted - Class 24/1 style (No.1 cab only).
Gangway doors never removed No.2 cab.
Roof modification (above generator/brake cubicle): raised square panel containing the engine exhaust.
Time between last Classified repair and withdrawal: 25 months.
Time between withdrawal and scrapping: 14 months.
Allocations
The frames for D5055 were laid down at Crewe Works during the late summer of 1959, D5055 was new to March (31B) on December 18th 1959. Further transfers were:
January 1961 to Finsbury Park (34G).
October 1966 to Eastfield (65A) on loan, made permanent December 1966.
March 1968 to Carlisle Kingmoor (12A on loan, made permanent April 1968.
April 1968 to Longsight (9A).
June 1968 to Manchester Division (D09).
September 1968 to Stoke Division (D05).
May 1973 to Crewe.
October 4th 1975 - withdrawn.
Renumbered February 9th 1974.
After withdrawal 24055 was stored at Crewe until September 7th 1976 when it moved to Swindon Works and was broken up by the second week of December 1976.
Movement: 24055/56/60/136 9X75 06.45 Crewe - Banbury – Swindon September 7th 1976 by 25063.
The allocation histories of 24055 & 24056 are virtually identical.
Works Visits
Works visits (records incomplete).
Noted Stratford Works August 1962.
Noted Doncaster Works May 1963.
Noted Doncaster Works March & December 1964.
Noted Derby Works May 1966.
Noted Derby Works July - September 1971.
Noted Derby Works October 1972.
Noted Derby Works March - August, November 1973.
Highlights
1960
On May 28th D5055 was stabled at Ripple Lane, the solitary BR/Sulzer Type 2 amongst many Brush & NBL diesels.
1963
On May 31st D5055 was on empty coaching stock duty at Kings Cross.
Condition no month: green livery with small yellow warning panels, rounded upper corners, small gap between frame level stripe and bottom of warning panel; gangway doors present, full size water tank, shortened fuel tank, no blanking plates, hand/footholds present, ridge sided sandboxes, three rung bogie mounted footsteps, valencing present.
1964
D5055 worked the 08.38 Gordon Hill - Moorgate on July 2nd.
1966
On June 29th D5055 worked the 17.35 Broad Street - Hertford North.
On October 2nd seven locomotives departed Finsbury Park on transfer to Eastfield, the locomotives heading northbound light engines: D5051 & D5052, D5050 & D5055 and D5053, D5056 & D7600.
1967
The Class 24s did not get the chance to haul many named trains but on April 14th D5055 & D5365 were noted through Ayr with the Up 'Northern Irishman'.
D5055 worked the 18.10 Glasgow Queen Street - Dundee on May 11th.
D5055 worked the 07.10 Aberdeen - Glasgow Queen Street on May 13th.
The Liverpool/Manchester services still brought steam into the border capital changing here to diesels for the continued run north. Typical of this was on August 12th with D7674 taking over the 06.40 Birmingham - Glasgow at Carlisle, only to fail at Kirkconnel and be rescued by D5055!
1968
On July 27th D5055 & D5003 were noted at Preston on the 09.10 Euston - Blackpool South, having taken over the train at Crewe?
1969
Condition June: green livery with small yellow warning panels, square upper corners, warning panel covers frame level stripe; gangway doors present, full size water tank, shortened fuel tank, blanking plates fitted, hand/footholds present, ridge sided sandboxes, three rung bogie mounted footsteps, valencing present.
5055 was noted at Llwyngwril with a freight on June 13th.
1973
During November the two complete cabs from withdrawn D5114 were sent from Glasgow Works to Derby Works for re-use, at Derby 5055 was noted having one of these cabs fitted at the No.1 end. The cab retained the headcode housing on the roof but it was blanked off, whilst discs & lights were fitted in the normal position on the No.1 end cab front! The No.2 end remained unchanged, even retaining the gangway doors until withdrawn.
1974
On September 9th 24055 was noted at Cockshute sidings with the Crewe breakdown crane.
1975
Class 24s noted at Manchester Victoria on March 7th included 24020/023/024/027/052/055 & 24140.
24055 was noted at Barmouth on May 25th with a freight train.
24055 & 24140 were noted in Stafford yard at about 8.30pm on June 28th.
On July 24th & 30th excursions ran from Coventry to Aberystwyth with 24055 & 24145 and 24056 & 24146 respectively. On July 25th 24055 was noted light engine at Crewe station.
On September 7th 24055 & 24049 were noted at Stafford.
Final condition: blue/yellow livery, gangway doors sheeted over (at least for No.1 end), full size water tank, shortened fuel tank, blanking plates fitted, hand/footholds plated over, bodyside valencing removed, steam pipe connections removed from buffer beam.
Final condition - No.1 cab: the No.1 cab was fitted from withdrawn D5114, the headcode indicator was retained but blanked over, the headcode discs remained functional, the driver's side window was of the horizontal sliding type (fitted to D5114 onwards) rather than the vertically opening coach style window. The No.2 end cab remained unchanged with regard to the 1973 repair at Derby.
flk 0222
Page added June 15th 2016.
Last updated March 21st 2022.
Back to 24054
Forward to 24056