D5072, 5072, 24072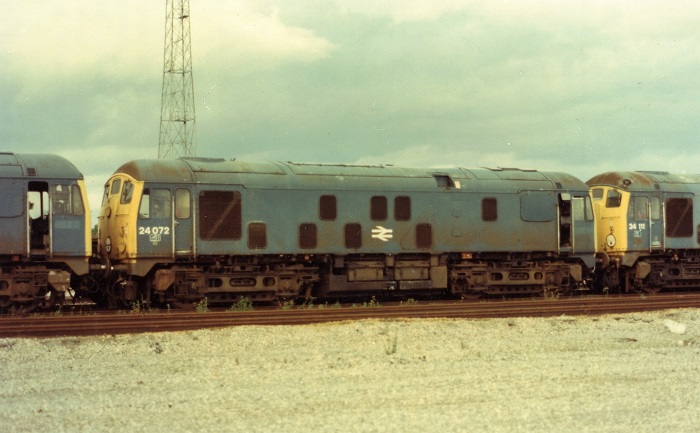 24072 in store at Carlisle, date unknown.
The fifteen year five month career of D5072/24072 saw allocations to Eastern Region, London Midland Region & Scottish Region depots .
Built Derby Locomotive Works.
Shortened fuel tank & full size water tank (retained until withdrawn).
Four upper and four lower air filters on non-BIS side, three upper and four lower on BIS side.
Cab roof ventilators sheeted over (Eastern Region modification), maybe a late modification or cab roof swap, No.1 cab only.
Carried two-tone green livery 1965 - 1972.
Time between last Classified repair and withdrawal: ?? months.
Time between withdrawal & scrapping: 25 months.
Allocations
The frames for D5072 were laid down at Derby Works during October 1959, D5072 was new to March (31B) on February 17th 1960. Further transfers were:
March 1960 to Willesden (1A), on loan.
May 1961 to Finsbury Park (34G) on loan, made permanent June 1961.
August 1966 to Haymarket (64B) on loan, made permanent September 1966.
August 1975 - stored serviceable.
October 1975 - withdrawn.
Renumbered April 1974.
After withdrawal 24072 was stored at Carlisle from August 1975 to October 26th 1977 when it was moved to Doncaster Works and broken up there during December 1977.
Movement: 24001/72 & 24148 9Z14 07.00 Carlisle - Doncaster October 26th 1977.
Works Visits
Works visits (records incomplete).
Noted Derby Works March 1961.
Noted Stratford Works July 1962.
Noted Derby Works August 1965 (repainted two-tone green).
Noted Glasgow Works June 1970.
Noted Derby Works September & October 1972 (collision damage).
Noted Glasgow Works February 1973.
Noted Glasgow Works May & June 1975.
Highlights
Numerically D5072 marks the end of a pattern of locomotive histories, with the service life of the batch including D5072 seeing extensive service operating from Finsbury Park and later Edinburgh Haymarket. The next batch of locomotives (D5073 - D5093) saw extensive use operating from Willesden or Cricklewood prior to heading north to the Stoke Division. D5094 & D5095 would follow the allocation history similar to D5072.
1960
The last day of March found D5072 & D8035 working a test train down the LNW mainline.
1961
On the morning of July 15th D5072 was light engine at Kings Cross.
1962
D5072 work an afternoon Hatfield - Luton passenger service on April 14th.
1963
On June 19th D5072 worked the 17.05 Broad Street - Gordon Hill.
Condition July: green livery with small yellow warning panel, squared upper corners, yellow panel does not cover stripe.
On the morning of September 3rd D5072 was at Moorgate with passenger stock.
1964
On April 7th D5072 worked the 08.27 Hertford North - Broad Street.
On November 1st D5072 worked the 13.40 Euston - Northampton.
1966
D5072 worked the 16.58 Moorgate - Hertford North on February 7th.
1967
Condition September: two-tone green livery with small yellow warning panels, squared off upper corners, depth of yellow panels matches the pale green band, full size water tank, shortened fuel tank, no blanking plates, hand/footholds in place.
D5072 worked the 17.35 Glasgow Queen Street - Aberdeen on September 22nd.
1968
On the afternoon of July 27th D5072 worked the 13.00 Carlisle - Edinburgh Waverley.
1969
Over the Easter period ten relief trains ran between Glasgow & Edinburgh with the 20.50 service using corridor stock and 5072. On April 26th the 12.30 Aberdeen - Edinburgh had 5095 & 5072, the next evening found them working a single parcels coach to Carstairs.
1970
Condition June: no blanking plates fitted, hand/footholds plated over.
The 19.10 Glasgow - Perth was worked by 5072 on July 25th.
1971
A Sunderland - Newcastle parcels train was worked by 5072 on December 17th.
1972
5072 was noted during May with a nasty corner scrape to the driver's side of the No.2 cab, at this time the locomotive retained its two-tone green livery with full yellow ends.
1973
On the evening of May 26th 5072 was noted at Dundee.
1974
Condition April: blue/yellow livery, gangway doors sheeted over, discs centered on cab front, shortened fuel tank, full size water tank, no blanking plate BIS side, hand/footholds plated over, no ventilator in cab roof above door No.1 end only.
24072 was noted at Carstairs on December 14th.
Detail differences
Yellow livery on cab fronts includes the painting of the gutter trim (at withdrawal).
flk 0222
Page added May 31st 2016.
Last updated September 7th 2022.
Back to 24071
Forward to 24073