D5073, 5073, 24073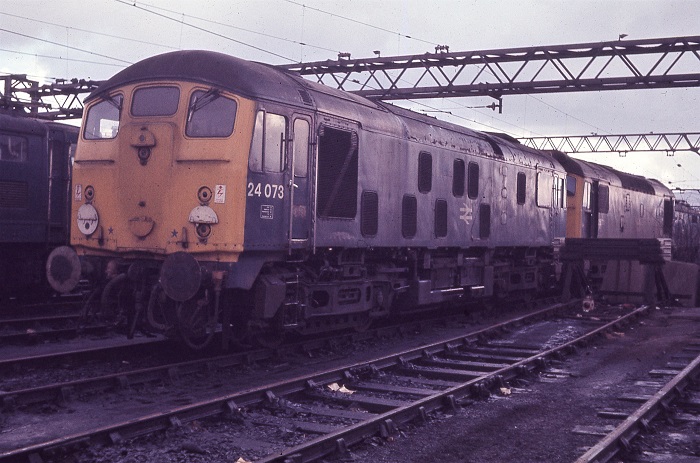 24073 at Guide Bridge on October 2nd 1977.

The sixteen year ten month (excludes time stored/withdrawn) career of D5073/24073 was spent entirely on the London Midland Region apart from a brief one month allocation to the Eastern Region.

Built Derby Locomotive Works.
Shortened fuel tank & full size water tank (shortened water tank added later).
Four upper and four lower air filters on non-BIS side, three upper and four lower on BIS side.
Headcode discs centered on cab front (Glasgow modification).
Time between last Classified repair and withdrawal: ?? months.
Time between withdrawal & scrapping: 3 months.

Allocations

The frames for D5073 were laid down at Derby Works during October 1959, D5073 was new to March (31B) on March 3rd 1960. Further transfers were:

March 1960 to Willesden (1A), on loan, made permanent April 1960.
April 1966 to London Division (D01).
December 1966 to Stoke Division (D05).
October 1971 to Polmadie (66A).
March 1972 to Eastfield (65A).
August 1975 - stored serviceable.
February 2nd 1976 - withdrawn.
February 1977 - unofficially reinstated to Crewe.
September 1978 - withdrawn.

Renumbered December 1973.

From August 1975 to January 1977 24073 was stored at Carlisle. On January 29th 1977 24073 received repairs at Carlisle sufficient to put it back into service. It was moved to Crewe and re-entered service (unofficially?) until finally withdrawn during September 1978. 24073 was moved to Doncaster Works on October 23rd 1978 and broken up there during December 1978.

Works Visits

Works visits (records incomplete).

Noted Derby Works July & November 1960.
Noted Crewe Works December 1961.
Noted Derby Works March & October 1962.
Noted Derby Works May - July 1965.
Noted Darlington Works December 1965.
Noted Derby Works June 1972.
Assumed Glasgow Works 1972/1973.

Highlights

1961
On May 23rd D5073 worked the 21.00 Euston - Bletchley.

1966
On July 24th D5073 expired at Bedford whilst working the 04.55 Chaddesden - Brent, once repaired it spent several days in the Bedford area.

Effective December 5th Chester & Crewe depots became home to a number Class 24s, recently reallocated to Stoke Division (D05), whilst Holyhead depot closed to steam. The Class 24s took over all freight workings along the North Wales coast. As the New Year began Shrewsbury diagrammed Class 24s to handle the Cambrian freight workings, on January 2nd 1967 D5073 handled the 04.20 to Aberystwyth, D5140 the 05.00 to Machynlleth and D5144 the 07.25 to Newtown.

1970
The 6M78 Tyne - Washwood Heath was hauled by 5073 & 5170 on June 12th.

1974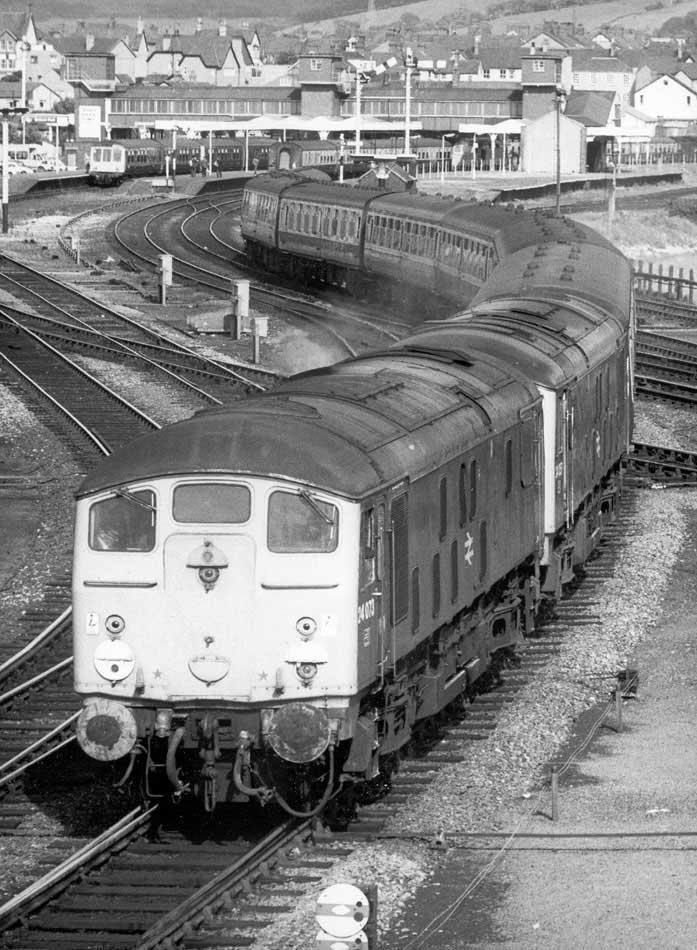 Photograph courtesy Larry Goddard.
24073 and another Class 24 depart Llandudno Junction with a passenger service for Llandudno Town.
1977
During February 20068/84, 20142/43/48/59 were transferred from Toton to the Eastern Region, these were quickly returned to Toton but not before the LMR authorities had taken steps to cover their expected loss. The intention was to reactivate five stored Class 24s, 24073 was removed from storage at Kingmoor on January 29th and made ready for traffic. By February 19th 24073 had moved from Carlisle to Crewe for re-entry into revenue earning service. With the Class 20s quickly returned to Toton the other reinstatements were cancelled, but 24073 remained in service assisting the other Class 24s in their regular duties. On February 28th 24073 was noted on a special freight from Crewe to Adderley Park.
On the morning of March 2nd 24073 worked a round trip Croes Newydd - Dee Marsh turn.
On June 25th the London Euston - Blaenau Ffestiniog M&GNJRS 'Conway Bay Express' railtour utilised 24073 & 24057 on the roundtrip Llandudno Junction - Blaenau Ffestiniog portion of the tour.
On the afternoon of July 23rd 24073 & 25043 were noted arriving light engines at Llandudno Junction. 24073 was noted at Croes Newydd on July 30th.
On the evening of August 1st 24073 was noted at Chester on a terminating down freight. On August 22nd 24073 worked the 4B06 18.00 Chester - Rugby via Shrewsbury and Wolverhampton parcels service.
24073 & 25271 were noted at Bidston Dock on October 7th with an iron ore train.
1978
On the early morning of June 18th 24073 was noted at Crewe diesel depot.
24073 was withdrawn during September 1978.
Final condition: blue/yellow livery, gangway doors sheeted over, discs centered on cab front, yellow applied to top of bufferbeam, shortened fuel/water tanks, blanking plates fitted, hand/footholds plated over.
flk 1117
Page added May 30th 2016.
Last updated November 2nd 2020.
Back to 24072
Forward to 24074