D5074, 5074, 24074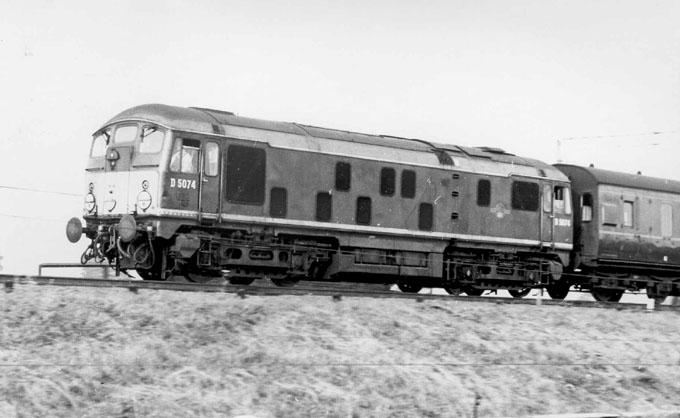 Photographer unknown at this time.
D5074 cruises along in an action shot of unknowns, no date, no location and no knowledge of the working.
The fifteen year six month career of D5074/24074 was spent entirely on the London Midland Region apart from a brief one month allocation to the Eastern Region.
Built Derby Locomotive Works.
Shortened fuel tank & full size water tank (shortened water tank fitted later).
Four upper and four lower air filters on non-BIS side, three upper and four lower on BIS side.
Gangway doors never removed.
Time between last Classified repair and withdrawal: ?? months.
Time between withdrawal & scrapping: 7 months.
Allocations
The frames for D5074 were laid down at Derby Works during October 1959, D5074 was new to March (31B) on March 14th 1960. Further transfers were:
March 1960 to Willesden (1A), on loan, made permanent April 1960.
November 1960 to Watford (1C).
January 1965 to Willesden (1A).
April 1966 to London Division (D01).
December 1966 to Stoke Division (D05).
May 1973 to Crewe.
October 4th 1975 - withdrawn.
Renumbered March 8th 1974.
After withdrawal 24074 was stored at Crewe from October 1975 until May 1976 when it was moved to J Cashmore, Great Gridge, West Midlands, and scrapped there by the end of May 1976.
Works Visits
Works visits (records incomplete).
Noted Crewe September 1961.
Noted Derby Works May 1963.
Noted Derby Works September 1964.
Noted Derby Works February 1966.
Noted Derby Works March 1967.
Noted Derby Works February & March 1972.
Noted Derby Works January 1973.
Highlights
1960
This locomotive was new to March (31B) in March, one of a batch of ten (D5066 - D5075) to come out of Derby Locomotive Works, whether it actually made it to March depot is not certain as it was immediately transferred to Willesden (1A). On Easter Sunday D5074 worked a Bletchley - Bognor Regis day excursion throughout, including working over the Mid-Sussex line. In July it was a consistent performer on the 02.25pm Rugby - Birmingham and the 07.40pm Birmingham - Euston.
During September (?) D5074 was noted on loan to Rugby.
Its stay at Willesden was brief, by November Watford (1C) was its new home.
1961
A visit to Crewe Works in early September found D5074 & D5080 present for attention, possibly the first to be received there for repairs.
1963
Condition October: green livery with small yellow warning panels with curved upper corners, frame level stripe only partially coverd by the yellow panel, shortened fuel tank, full size water tank.
1965
Just over four years were spent at Watford, before the short move to Willesden (1A) was made in January.
1966
During February D5074 was once again at Derby Works, by December the exodus of the Type 2's to the Stoke Division (D05) had begun with D5073 - D5081 being the first to move there.
1967
Condition November: green livery with small yellow warning panels, squared upper corners, bottom of panel covers frame level stripe entirely, shortened fuel & water tanks, boiler room grilles and hand/footholds still present, three rung bogie mounted footsteps, straight sided sandboxes.
1972
February and March were spent at Derby Works under repair, most likely its last classified repair. A mystery excursion from the Malvern area to Barmouth on September 16th was powered by 5074 & 5075, the Class 24s being infrequent visitors to the Hereford - Worcester line.
1973
Once again, this time in January, 5074 visited Derby Works. With the end of the LMR Divisional allocations 5074 was allocated to Crewe.
1974
5074 was renumbered during early March.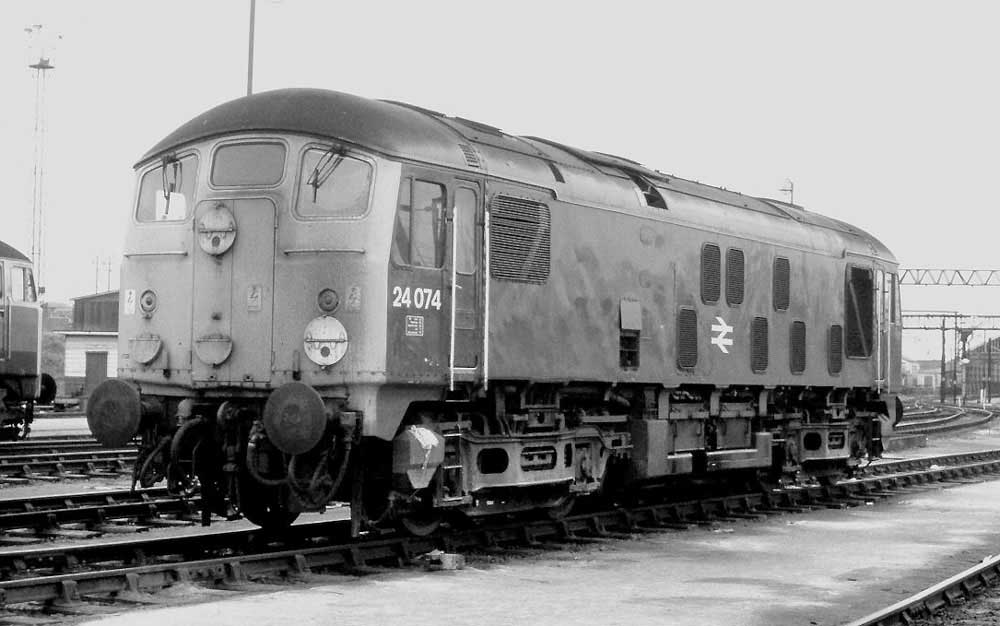 Photograph courtesy Tom Sutch.
A fine study of 24074 at Crewe on May 9th 1974. Changes to the locomotive are typical, it has acquired the shortened water tank and lost its frame level valencing. The builders plate is now mounted on the cab door whilst the boiler room grille has not been covered by a blanking plate.
1975 - 1976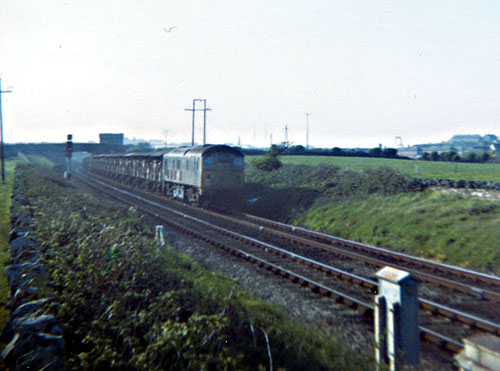 Photograph courtesy Steve Morris.

An undated view from 1975 showing 24074 accelerating away from Holyhead with the 6E66 cattle train, bringing imported Irish livestock to the English market.

In the early hours of June 6th whilst waiting on the slow lines with a coal train at Nuneaton station 25286 witnessed the high speed derailment of the 5th's 23.30 Euston - Glasgow sleeper service. The two locomotives, 86006 & 86242 became parted, with the latter causing considerable damage to itself and the station, bringing down several gantries that caused minor damage to the Class 25. All the coaches were derailed, with damage being heaviest at the front of the train, tragically six lives were lost. By the evening of 6th the Bescot, Crewe & Saltley cranes were present alongside other engineering trains, in the hands of 24074, 47034 and three Class 25s. Six coaches, (five sleepers and a BG) were broken up on site. By the 11th engineering/rewiring trains were still present including 24074 and 25193, the latter having been present since the day of the accident. Two days later only 24058 was on hand with an engineers train.

24074's career, like many others drew to a close during the summer of 1975, withdrawal coming at the end of September, with storage at Basford Hall, Crewe. Of all the Class 24s retired at this time only three went to private scrapyards, 24032 went to T. J. Thomson's at Stockton, whilst 24074 was sold to J. Cashmore's, Great Bridge, being moved on May 24th 1976: Crewe - Cockshute - Bescot - Great Bridge, and thence cut up very quickly. The third machine, 24142 had its demise delayed after it was selected for further use as a carriage heating unit, meeting its end at Heselwood's, Attercliffe yard during May 1984.

flk 1117

Page added April 17th 2000.
Last updated March 11th 2019.