D5075, 5075, 24075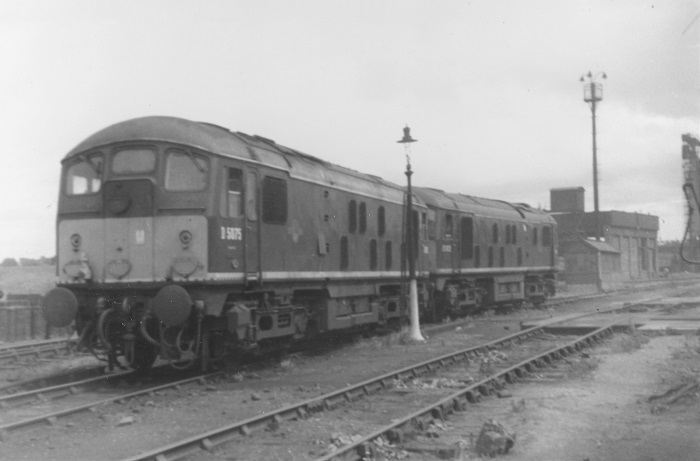 Photograph collection of webmaster.
D5075 and another Class 24, date and location unknown.
The fifteen year nine month career of D5075/24075 was spent entirely on the London Midland Region apart from a brief one month allocation to the Eastern Region.
Built Derby Locomotive Works.
Shortened fuel tank & full size water tank (shortened water tank fitted later).
Four upper and four lower air filters on non-BIS side, three upper and four lower on BIS side.
Gangway doors never removed.
Time between last Classified repair and withdrawal: ?? months.
Time between withdrawal & scrapping: 5 months.
Allocations
The frames for D5075 were laid down at Derby Works during November 1959, D5075 was new to March (31B) on March 26th 1960. Further transfers were:
April 1960 to Willesden (1A), on loan, made permanent May 1960.
April 1966 to London Division (D01).
December 1966 to Stoke Division (D05).
May 1973 to Crewe.
January 4th 1976 - stored serviceable.
January 31st 1976 - withdrawn.
Renumbered February 23rd 1974.
After withdrawal 24075 was stored at Crewe from January 1976 until February 12th 1976 when it was moved to Swindon Works, and scrapped there by the first week of July 1976.
Movement: 24053/75, 24143/145 06.45 9X22 Crewe – Swindon February 12th 1976.
Works Visits
Works visits (records incomplete).
Noted Derby Works May & September 1960.
Noted Derby Works January - March, August 1962.
Noted Derby Works July - October 1966.
Noted Derby Works September 1968.
Noted Derby Works March & April 1972.
Highlights
The delivery of D5075 completed an order of ten built by Derby Locomotive Works. Sequentially D5076 - D5093 would follow but built by Crewe Locomotive Works, whilst Darlington would build D5094 - D5113. Derby would then complete the final Class 24 order with D5114 - D5150.
1961
On August 3rd D5075 worked the 18.12 Euston - Bletchley.
1963
On August 10th D5075 worked the seven coach 17.13 Euston - Bletchley.
1965
On December 21st D5075 worked the 17.21 Broad Street - Tring.
1968
On the evening of February 16th D5075 was noted at Manchester Exchange with empty vans for the newspaper traffic.
1969
On May 24th D5075 worked the Wirral Railway Circle 'Welsh Borderer' brakevan tour. The route mileage for the tour was just over 94 miles, with the tour scheduled to take just under eight hours, though whether it ran to time is not known to the writer.
The tour route was:
Wrexham General - Gobowen - Oswestry - Nantmawr (run round)
Nantmawr - Oswestry - Ruabon - Croes Newydd South Fork - Croes Newydd East Fork - Brymbo Middle - Coedpoeth - Minera (run round)
Minera - Coedpoeth - Brymbo Middle - Wrexham North (run round)
Wrexham North - Wrexham Central - Pickhill (Cadburys) - propel train back to Marchwiel station loop (run round)
Marchwiel - Wrexham Central - Penyfford - Hope Junction - propel train to Hope & Penyfford then normal running to Mold (run round)
Mold - Hope & Penyfford - propel train to Hope Junction then normal running to Penyford and Wrexham Exchange.
The area visited by this tour had seen extensive mining for such resources since the 18th century, including coal, iron ore, lead, copper, gold & limestone. At the time of the tour coal and limestone were the only resources being mined.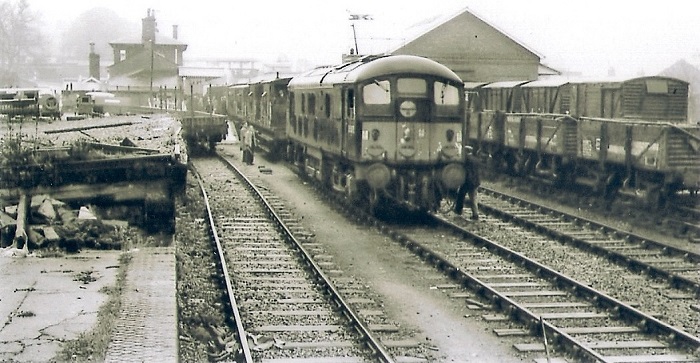 Photograph collection of Barrie Hughes.
5075 runs round the WRC brakevan railtour at Mold on May 24th 1969.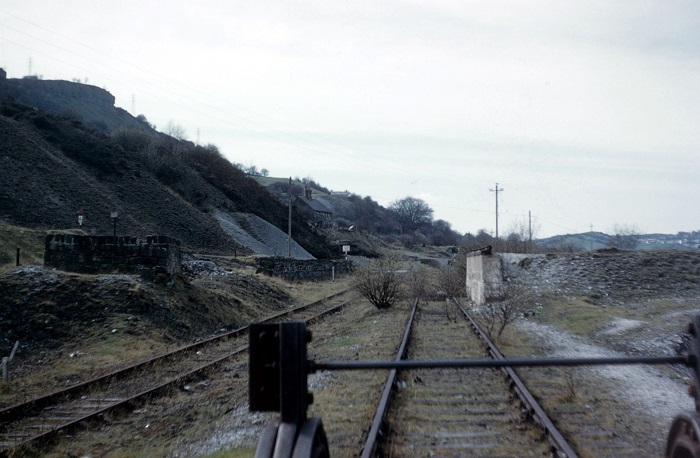 Photograph collection of Roger Geach.
One location visited by the brakevan railtour was the Minera branch, where a runround took place. This view is not dated but its presumed to be somewhere near the end of the branch at Minera Quarry after the line had closed.
On June 16th the 13.25 Chester - Rock Ferry multiple unit service (50411 & 56164) required the assistance of 5075.
On August 15th the 18.28 Aberystwyth - Shrewsbury was worked by 5075, at Machynlleth 5065 was noted on an up freight.
1970
On the evening of May 4th 5075 was at Crewe with a down freight.
5075 and brakevan were noted at Stoke-on-Trent on December 19th.
1972
On May 1st 5075 made a test run from Derby Works.
The snag sheet for May 1st recorded:
5075; May 1st 1972; light engine
| | | | | | |
| --- | --- | --- | --- | --- | --- |
| Load | Speed | Amps | Volts | Notes | Other |
| 1 | 28 | 800 | - | - | - |
No other comments were made so presumably the test run was successful.
On the afternoon of May 5th 5075 was noted at Crewe with a down freight.
A mystery excursion from the Malvern area to Barmouth on September 16th was powered by 5074 & 5075, the Class 24's being infrequent visitors to the Hereford – Worcester line.
1973
On September 22nd 5075, in blue & yellow livery, was noted at Crewe with a wiring train.
1974
On September 16th 24075 was active at Crewe.
24074 was stabled at Shrewsbury on October 19th.
On December 5th 24075 was noted at Crewe Diesel depot attached to 20016 and a brakevan.
Condition December: blue/yellow livery, gangway doors still in place, shortened fuel/water tanks, blanking plates fitted, hand/footholds plated over.
1975
On May 4th 24075 was noted at Great Bridgeford with an electrification maintenance train.
1976
24076 was withdrawn on January 31st 1976.
flk 0222
Page added May 30th 2016.
Last updated May 28th 2022.
Back to 24074
Forward to 24076