D5076, 5076, 24076

The fifteen year eight month career of D5076/24076 was spent entirely on the London Midland Region apart from a brief six month allocation to the Eastern Region.

Built Crewe Locomotive Works (from batch 5076 - 5093).
Shortened fuel tank & full size water tank (shortened water tank fitted later).
Four upper and four lower air filters on non-BIS side, three upper and four lower on BIS side.
Gangway doors never removed.
Time between last Classified repair and withdrawal: ?? months.
Time between withdrawal & scrapping: 15 months.

Allocations

The frames for D5076 were laid down at Crewe Works during November 1959, D5076 was new to March (31B) on February 10th 1960. Further transfers were:

July 1960 to Willesden (1A), on loan, made permanent August 1960.
April 1966 to London Division (D01).
December 1966 to Stoke Division (D05).
May 1973 to Crewe.
October 4th 1975 - withdrawn.

Renumbered April 17th 1974.

After withdrawal 24076 was stored at Crewe from October 1975 until October 20th 1976 when it was moved to Swindon Works, and scrapped there by the last week of January 1977.

Movement: 24026/31/44/76 Crewe – Swindon October 18th 1976 by 25245.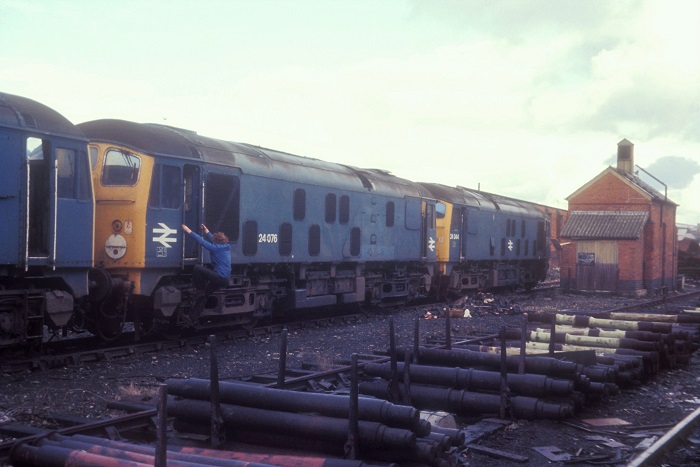 Swindon Works, November 7th 1976, 24076 & 24044 await the cutters torch. 24076 survived to the end carrying the BR emblems on both cabsides. This suggests that 24076 had not received a full repain since 1967/68.
Works Visits
Works visits (records incomplete).
Noted Derby Works September 1960.
Noted Derby Works February - April 1962.
Noted Derby Works January & February, August & September 1963.
Noted Derby Works January & February 1964.
Noted Derby Works May - August 1965.
Noted Crewe Works January 1969.
Noted Derby Works March 1969.
Noted Derby Works October 1970.
Noted Derby Works July 1971.
Noted Derby Works April - June, November 1973.
Highlights
1960
The batch numbered D5076 - D5093 were built directly following Crewe's first order for the BR/Sulzer Type 2 (Nos. D5030 - D5065). Derby would built the intervening ten, Nos D5066 - D5075. For Crewe the completion of D5093 would mark the end of its BR/Sulzer Type 2 build, the Works would then transition to the BR/Sulzer Type 4 build, commencing with the completion of D68 during October 1960.
Noted at March depot on March 5th were D5047, D5065, D5076 & D5079.
1961
On August 2nd D5076 worked the 18.06 Euston - Northampton.
1963
D5076 worked the 17.24 Rugby - Euston on May 22nd.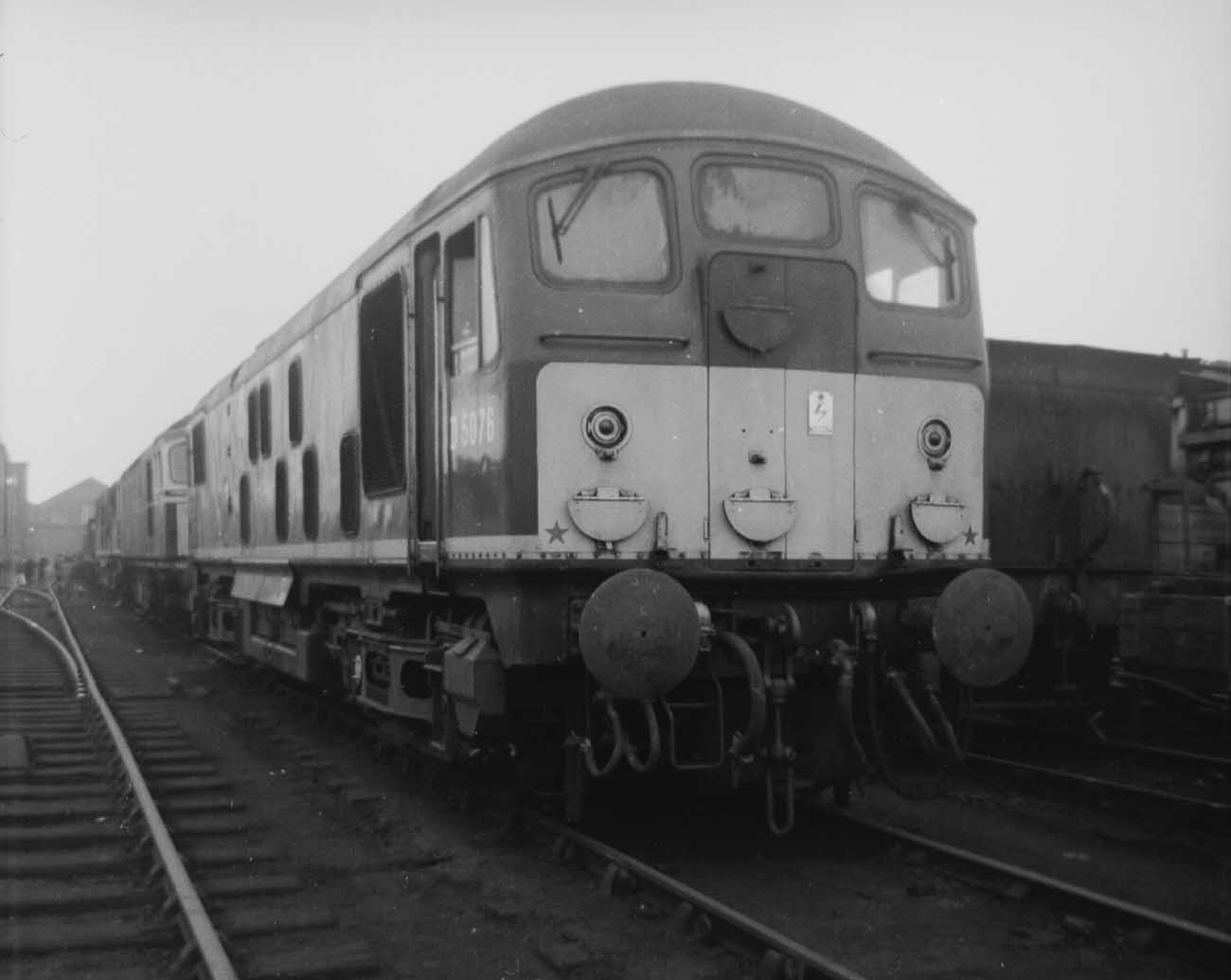 Photograph collection of webmaster
D5076 at Derby Locomotive Works on September 22nd 1963. Amongst many details the bogie carries the two-rung footstep. From 1962 to 1965 D5076 was a frequent visitor to Derby Works.
1964
Condition May: green livery with small yellow warning panels with curved upper corners, fullsize water tank, shortened fuel tank.
1965
On Sunday September 12th D5076 was at Rugby station with a permanent way train.
1966
D5076 had a rough couple of days early in the year. On January 31st it failed at Canley on an engineers rubbish working to Bell Green, being rescued by D5033 from Coventry, whilst on February 2nd it passed Coventry three hours late on an early morning Stafford – Kilburn parcels, with the assistance of D298.
1967
Condition May: green livery with small yellow warning panels with curved upper corners, shortened fuel & water tanks, blanking plates in place, hand/footholds still present, exhaust located above engine room.
1970
Condition March: blue/yellow livery.
5076 worked the 18.28 Aberystwyth - York (to Crewe?) on March 27th.
1973
At about 7am on March 16th 5076 was noted passing Chester with an up van train.
On July 14th 5076 worked the 09.50 Llandudno - Manchester Victoria and the 13.30 Manchester Victoria - Bangor. At this time this was normally a Class 40 turn.
On December 8th the eleven coach Wirral Railway Circle 'Cambrian Coast Express' was worked roundtrip Crewe - Pwllheli by 5054 & 5076.
1975
On September 7th 24076 was noted at Bescot shed.
24076 was withdrawn on October 4th 1975.
Distinguishing Features
No.2 cab front: badly faded yellow paint, particularly on driver's side: noted July 1974, but repainted prior to withdrawal.
BR emblems: carried emblems on each cabside panel until withdrawn.
A builders plate from 24076 (Crewe 1960) sold at Great Central Railwayana Auctions for £500 during March 2018.
flk 0222 (1)
Page added May 28th 2016.
Last updated February 7th 2022.
Back to 24075
Forward to 24077