D5077, 5077, 24077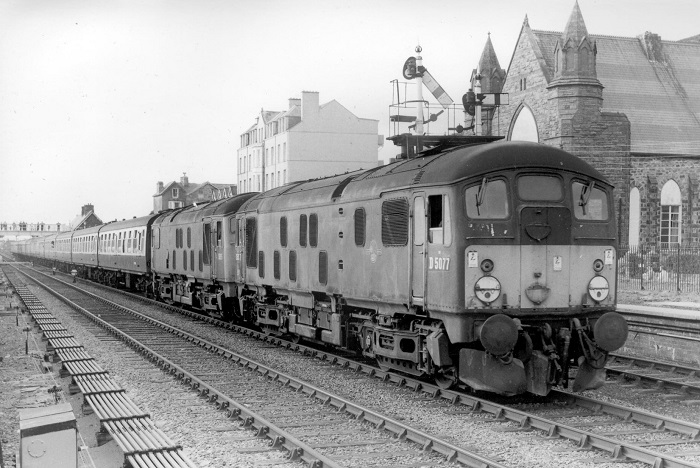 Photograph courtesy Rex Conway collection.
Green liveried D5077 & D5055 wait departure from Barmouth with a return excursion on an unknown date. Photographs of the LMR Class 24s carrying the three piece miniature snowploughs are quite rare, particularly at Barmouth where there have been several recorded incidents of these miniature snowploughs damaging the check rails on Barmouth bridge.
The sixteen year career of D5077/24077 was spent entirely on the London Midland Region apart from a brief six month allocation to the Eastern Region.
Built Crewe Locomotive Works (from batch 5076 - 5093).
Shortened fuel tank & full size water tank (shortened water tank fitted later).
Four upper and four lower air filters on non-BIS side, three upper and four lower on BIS side.
Gangway doors never removed.
Time between last Classified repair and withdrawal: 38 months.
Time between withdrawal & scrapping: 23 months.
Allocations
The frames for D5077 were laid down at Crewe Works during November 1959, D5077 was new to March (31B) on February 17th 1960. Further transfers were:
July 1960 to Willesden (1A), on loan, made permanent August 1960.
April 1966 to London Division (D01).
December 1966 to Stoke Division (D05).
May 1973 to Crewe.
February 1976 to serviceable store.
July 17th 1976 - withdrawn.
Renumbered April 1974.
After withdrawal 24077 was stored at Crewe from February 1976 until May 19th 1977 when it was moved to Oxford, remaining here until May 31st 1977 when it completed its journey to Swindon Works, and scrapped there by the third week of June 1978.
Movement: 24052/77/78/84 as the Crewe - Oxford - Swindon during May 19th-31st, hauled by 25130 for at least one leg.
Works Visits
Works visits (records incomplete).
Noted Derby Works January & February 1962.
Noted Derby Works January, February & May 1964.
Noted Derby Works January, February, May, June, September & November 1964.
Noted Derby Works November 1966.
Noted Derby Works June & July 1967.
Noted Derby Works May 1968.
Noted Derby Works March & April 1972 (collision damage, repaint to blue).
Highlights
1960
D5077 was one of a batch of eighteen machines (D5076 - D5093) built at Crewe, initially delivered to March (31B), but after six months transferred to Willesden (1A) during July. D5077 was used for crew training between Rugby and Crewe in the second week of March.
Whitsun Bank holiday found a number of Type 2s visiting Southend with excursions from the north London area, so noted were D5032/38/44 & 77.
1961
On May 21st D5077 worked a roundtrip Tring to Bognor Regis excursion throughout.
On July 21st D5077 worked the 18.12 Euston - Bletchley.
1962
D5077 was at Derby Locomotive Works during January & February.
On the morning of June 26th D5077 was stabled at Watford Junction shed.
On September 1st D5077 with a load of ten coaches worked the 7.00am Lowestoft Central - Birmingham New Street.
On the afternoon of November 3rd D5077 was at Euston.
1963
On the evening of September 1st D5077 was on empty coaching stock duty at Euston.
1964
D5077 appears to have spent much time at Derby Locomotive Works during 1964, being noted at the Works at some point during the months of January, February, May, June, September & November.
On May 29th D5077 worked the 09.35 Northampton - Euston.
On June 5th D5077 was at Rugby with the 14.18 Camden - Sighthill freight.
On the morning of July 4th D5077 was noted Camden.
On July 29th D5077 was at Rugby with the 3K07 11.27 Euston - Crewe parcels.
On October 13th a hanging obstruction in Linslade Tunnel caused minor damage to two trains, with D307 working the 17.05 ex Euston being replaced at Bletchley by D5077.
1966
On the morning of June 6th D5077 was light engine at Bletchley.
Present at Derby shed on September 18th were D5070, D5077, D5171, D5287, D7524, D7530 & D7566.
Condition September: green livery with frame level stripe, small yellow warning panels with curved upper corners, full sized water tank, shortened fuel tank, blanking plate fitted, hand/footholds present, engine exhaust above engine room, ridge sided sandboxes, three rung bogie mounted footsteps.
With electrification virtually complete at the London end of the WCML and Willesden receiving the latest Class 25's from Derby Works the mass exodus began to the Stoke Division (D05), with D5077 transferred north in December, as part of the first batch (D5073 - D5081) to reach here.
The year end brought the curtain down on steam haulage for the 07.40 Llandudno-Manchester and 16.30 return 'Club' services, Black Five No. 44766 handling both trips. On 27th D5077 had done poorly on this working, losing about 30 minutes. From the New Year Newton Heath allocated BRCW diesel multiple units took over.
1967
As the New Year opened Shrewsbury commenced diagramming Class 24's for the Cambrian freight working, which would have included 5077, and would work these services for the next seven years.
D5077 was present at Derby Works during June & July
On the afternoon of November 26th D5008, D5077 & D5092 were stabled at Crewe.
On the morning of December 16th D5077 was stabled at Crewe.
On December 27th the Bangor - Chester 'Club' service utilised D5077, which then formed the 09.10 Chester - Manchester, D5077 lost about 25 minutes on this service.
1968
On the morning of April 27th D5077 & D5006 were at Shrewsbury with a Euston - Portmadoc excursion to mark the Festiniog Railway annual general meeting.
On the evening of June 13th D5077 & D207 were light engines at Crewe.
1969
On the morning of July 9th 5077, 5027 & 1821 were light engines at Crewe.
On the morning of September 10th 5077 was noted at Crewe north holding sidings.
1970
Deep in the south of England 5077 was noted early in the morning of June 26th at Eastleigh on empty tank cars bound for Fawley.
Condition August 1970: green livery with small yellow warning panels with curved upper corners, snow plough equipped, exhaust located over engine room.
At noon on Sunday September 20th 5026, 5029, 5042, 5049, 5077 & 5142 were stabled at Crewe Diesel depot.
1971
On the morning of October 11th 5077 & 5092 were stabled at Crewe.
1972
5077 was at Derby during March & April for collision repairs.
Condition August: blue and yellow livery, gangway doors still in place, shortened fuel/water tanks, blanking plates fitted, hand/footholds plated over, valencing removed. At the No.1 end, driver's side near the radiator screen high up on the side was a minor scrape, this remained visible until the locomotive was withdrawn.
1973
With the discontinuance of the LMR Divisional allocations, 5077 was now allocated to Crewe.
1974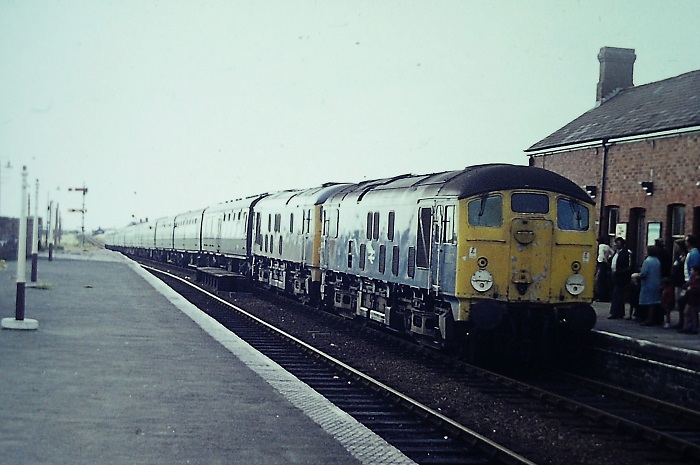 Photograph collection of A Healey.
24077 on an unidentified working at Tywyn, date unknown but circa 1974.
1975
At about 9.30am on August 10th two permanent way trains were noted at Sandbach with 24077 and 24135.
On September 3rd 24077 was noted on a ballast train heading north on the ex-Midland line at Wath Road Junction.
1976
24077 missed the massive withdrawals of the LMR Class 24s during the summer of 1975, but was placed to store during February 1976 and finally withdrawn on July 17th 1976.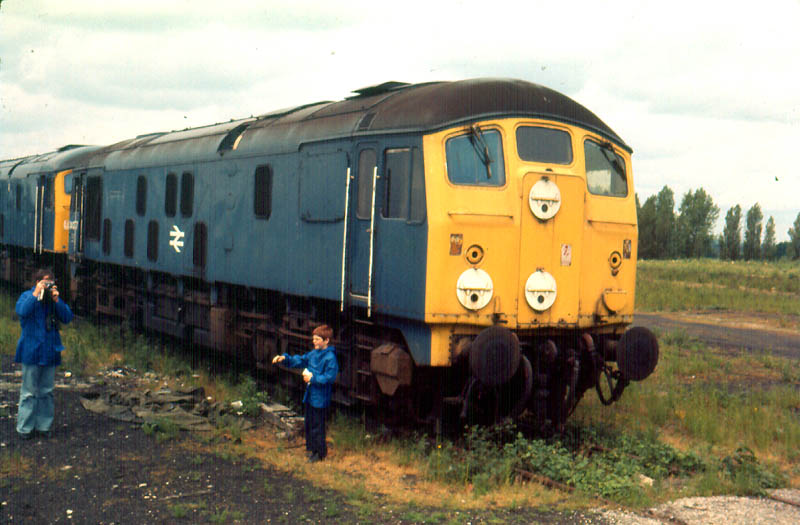 24077 on June 12th 1977 at Swindon Works. It still retains its gangway doors and carries the smaller sized fuel and water tanks.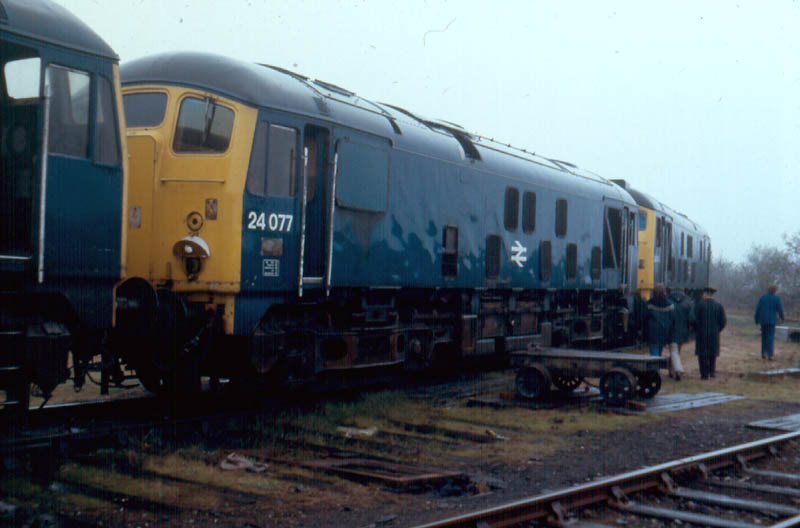 Its raining hard on April 30th 1978, sprucing up the paintwork of 24077.
Distinguishing features
No.1 cab roof: no air vents above cab doors: at least August 1972 until withdrawn.
flk 0222
Page added May 26th 2016.
Last updated October 6th 2022.
Back to 24076
Forward to 24078