D5155, 5155, 25005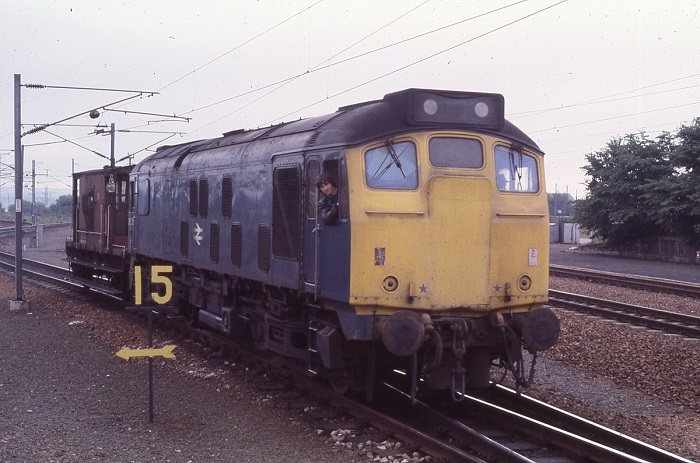 25005 and brakevan running round the triangle at Carstairs on June 25th 1978.
The nineteen year four month career of D5155/25005 included allocations to Eastern, London Midland & Scottish Region depots.
Built: BR Darlington Locomotive Works.
Circular gauge added to fuel tank.
Roof modification: no raised panels.
Time between last Classified repair and withdrawal: 18 months.
Time between withdrawal and scrapping: 8 months.
Allocations
D5155 was new to Thornaby (51L) on June 3rd 1961. Further transfers were:
December 1966 to York (50A) 1967.
June 1967 to Holbeck (55A).
September 1967 to Thornaby (51L).
November 1967 to Carlisle (12A) on loan, made permanent December 1967.
January 1968 to Springs Branch (8F).
May 1968 to Longsight (9A).
June 1968 to Manchester Division (D09).
March 1972 to Eastfield (65A).
May 1973 to Haymarket (64B).
October 1974 to Tinsley.
July 1975 to Eastfield.
Withdrawn December 1st 1980.
Renumbered January 1974.
25005 was the 68th Class 25 withdrawn, one of seventeen retired during December 1980, including sisters 25002, 25006, 25007, 25010 & 25011.
After withdrawal 25005 was stored at Eastfield before being moved to Swindon Works on March 6th - 7th 1981 (noted March 6th 1981 at Shepcote Lane, Tinsley en-route with 25002 and two Class 08s) and broken up there by the first week of August 1981.
Works Visits
Works visits (records incomplete).
Noted Darlington Works December 1961.
Noted Derby Works September 1966.
Noted Derby Works November 1968.
Noted Glasgow Works March - May 1979 (Intermediate repair).
Noted Glasgow Works June 1979 (rectification).
Noted Glasgow Works September 1980 (generator defect).
Highlights
1961
The frames for D5155 were laid down at Darlington during March, construction on average took about ten weeks. D5155 was released on June 3rd and allocated to Thornaby (51L).
The allocation of this build to Darlington was probably due to Derby being preoccupied with the later batch of BR/Sulzer Type 4's (the Class 46's), and its responsibility for overhauling much of the growing LMR fleet of diesels. The bodyshell of this batch was very similar to the previously built Type 2's, though in the Class 25/0's no boilers were fitted, thus the boiler water tank was omitted, but the ventilation grille for the boiler room remained! Darlington, in painting the locomotives picked out the grilles in grey, as Derby & Crewe had done on the bigger Type 4's.
D5155 was noted in Darlington Works yard during December.
1963
On October 17th D5155 on the returning St John's Chapel freight hit a dumper truck on Broadwood level crossing. Rescue came in the shape of Cl 5 76045 off the Stanhope freight, taking the damaged diesel and its train as far as Stanhope, from there Q6 63343 took the entourage onto to Bishop Auckland.
1965
On March 7th the following Class 25s were on Thornaby shed: 5155, 5156, 5159, 5163, 5164, 5166, 5167, 5169, 5170, 5172, 5174 & 5175.
On Sunday April 18th the following were noted:
Gateshead: D5102, D5150, D5106, D5149, D5180, D5103, D5109, D5113
Heaton Carriage Sidings: D5178, D5108, D5147, D5177
Thornaby: D5163, D5162, D5167, D5154, D5152, D5157, D5155, D5156, D5172, D5169, D5153.
Condition May: green livery with frame level stripe, small yellow warning panels with curved upper corners, steam style shedplate on cab front.
1966
D5155 visited Derby Works in September and was transferred to York (50A) in December.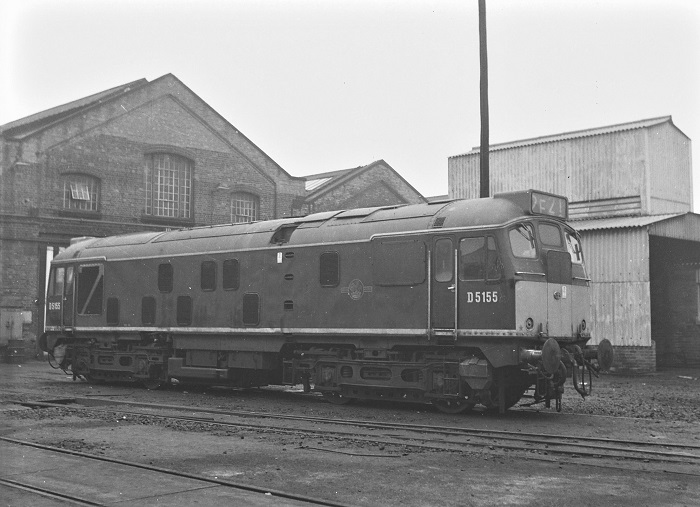 Photograph collection of webmaster.
D5155 at Derby Works on September 25th 1966.
1967
In June D5154 & D5155 were transferred to Leeds Holbeck (55A), then back to Thornaby (51L) in September, whilst during November D5151 - D5155 moved to Carlisle (12A) to assist in the withdrawal of steam in the North-West.
1968
The stay at Carlisle for D5151 - D5156 was brief, in January they moved south to Springs Branch (8F), then on to Longsight (9A) in May.
Condition June: fading green livery with frame level stripe, small freshly painted yellow warning panels with curved upper corners, steam style shedplate on cab front, blanking plates fitted.
During late October & November 5155 was under repair at Derby Works, having sustained major collision damage to the No.1 cab.
1969
On August 16th the 10.00 Sheffield - Llandudno Town and the 14.28 Llandudno Town - Sheffield were worked by 5155.
5155 was noted at Manchester Piccadilly on October 11th on coaching stock duties.
1971
5155 was the Manchester Victoria banker on April 26th & 27th.
5155 was the Manchester Victoria banker on May 27th. At about 7.45am on May 28th 5155 & 227 were noted at Liverpool Lime Street on a down van train.
5155 was the Manchester Victoria banker on June 9th, 10th, 11th & 15th.
5155 was the Manchester Victoria banker on September 21st.
1972
5155 was the Manchester Victoria banker (T43) on May 11th, 12th, 18th & 19th.
5155 was the Manchester Victoria banker (T43) on June 7th.
With the transfer of 5155/56 to Eastfield in September, the first ten Class 25s were now all on the Scottish Region.
1973
On the evening of January 8th 5174 & 5155 were light engines at York (off 8T04).
5155 moved to Haymarket during May.
On the evening of May 26th 5155 was stabled at Aberdeen Ferryhill.
Condition May: plain green livery with all yellow ends.
1974
25005 was renumbered during January.
In October 25005 (with 25009 & 25010) transferred to Tinsley.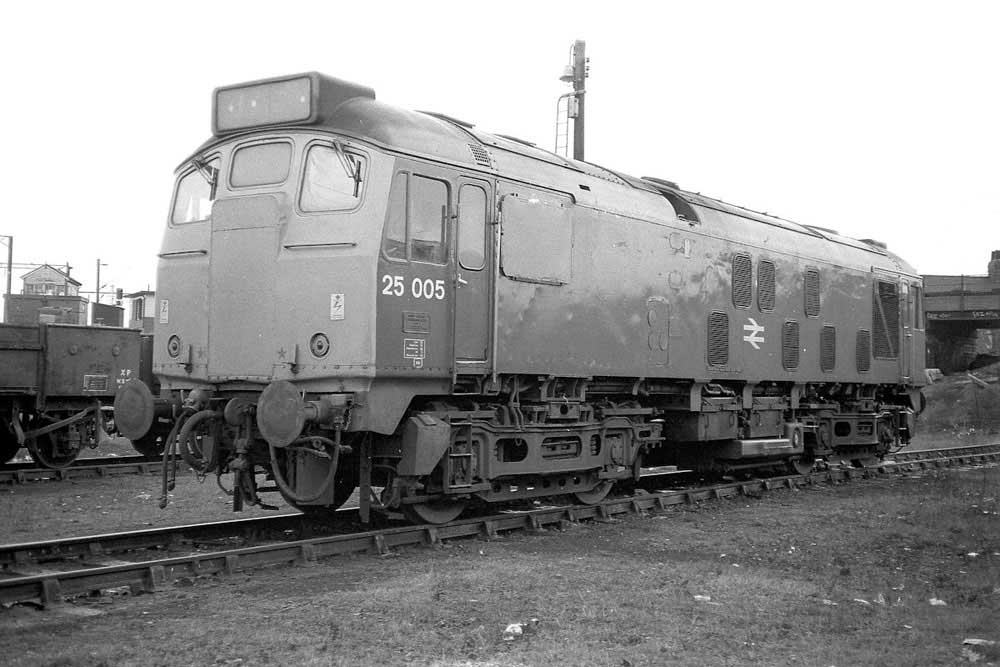 Photograph courtesy Tom Sutch.
Tinsley allocated 25005 is seen here at Edge Hill carriage sidings on November 29th 1974. The locomotive still carries its Haymarket shed sticker on the cabside. Of interest is the unusual battery isolating switch cover, the hinged rectangular plate replaced by three moveable circular plates - definately a Scottish modification. A 1980 view of the locomotive shows the cover has reverted back to its original condition.
1975
On February 16th 25005 & 25034 were noted at Manchester Victoria with the 6M06.
Another regular Type 2 working was the 7E77 Nottingham - Lincoln parcels, producing a variety of Class 25s, including Tinsley based 25005 on June 4th.
To cover the withdrawal of a number of Scottish Class 24's 25005 - 25014 moved from Tinsley to Eastfield in July/August.
1976
On June 27th the derailment of a track maintenance machine near Pitlochry delayed the 08.50 Edinburgh - Inverness with 25005 & 25033 reported six hours late!
25005 was stabled at Ayr on July 26th.
Another passenger working for 25005 occurred on December 1st when it assisted the 07.51 Falkirk Grahamston - Edinburgh.
1977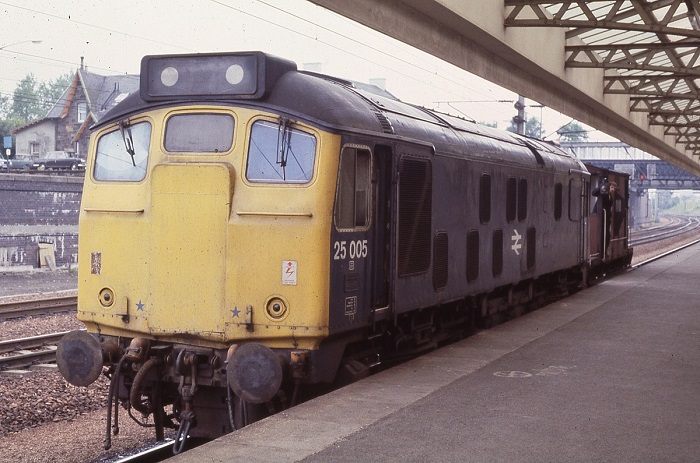 25005 and brakevan about to run round the triangle at Carstairs on June 25th 1978.
A visit to Carstairs on June 25th 1978 was part of an annual grand Scottish tour. On the 1977 visit Carstairs depot held 06010, 20107, 24009, 24128/147, 25005/021, 25171, 25241, 26042, 27018, 37144, 40073, 40161. On this visit a driver escorted us round the shed, which included a visit to the cabs and engine room of 25005, hence the out-of-focus snapshot of the driver's position in 25005! The visit in 1978 proved sparser pickings, the Class 06 & the 24s had moved on to the scrappers, locomotives noted on shed were 20126, 25023/066/082/091, 47553. Whilst waiting on the station 25005 came in from the north with a brake van, ran round the triangle and headed back north.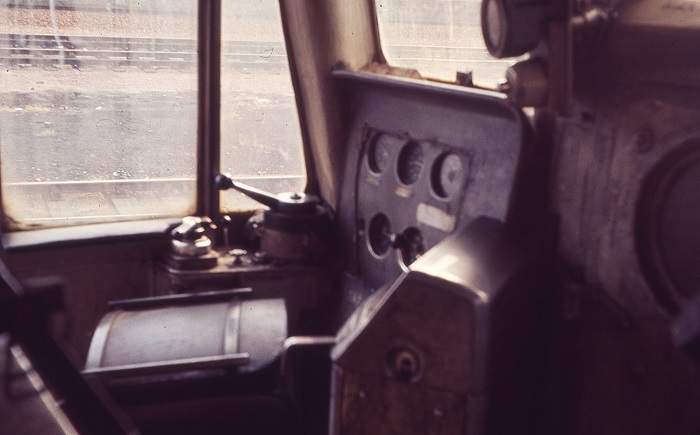 A snapshot of one of the driving position's of 25005 on June 25th 1978.
1979
On February 10th 25005 was stabled at Eastfield.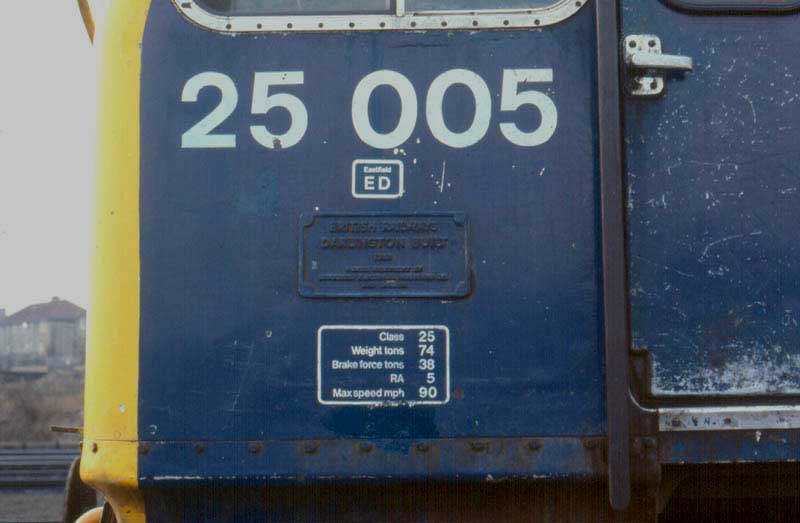 A cabside view of 25005 at Eastfield on February 24th 1979.
Glasgow Works received 25005 for an intermediate repair between March and May.
July was a busy month for passenger workings for 25005. On July 3rd it worked the 11.05 Perth - Edinburgh, the 19.22 Dundee - Edinburgh, an unidentified Edinburgh - Dundee and possibly the 21.40 Edinburgh - Carstairs (1C96). Two days later (5th) 25005 worked the 12.44 Glasgow Queen Street - Dundee. On July 6th the 17.49 Aberdeen - Glasgow Queen Street was worked. On July 20th 25005 worked the 21.40 Edinburgh - Carstairs (1C96). Towards the end of the month on July 23rd 25005 worked the 15.38 Dundee - Glasgow Queen Street.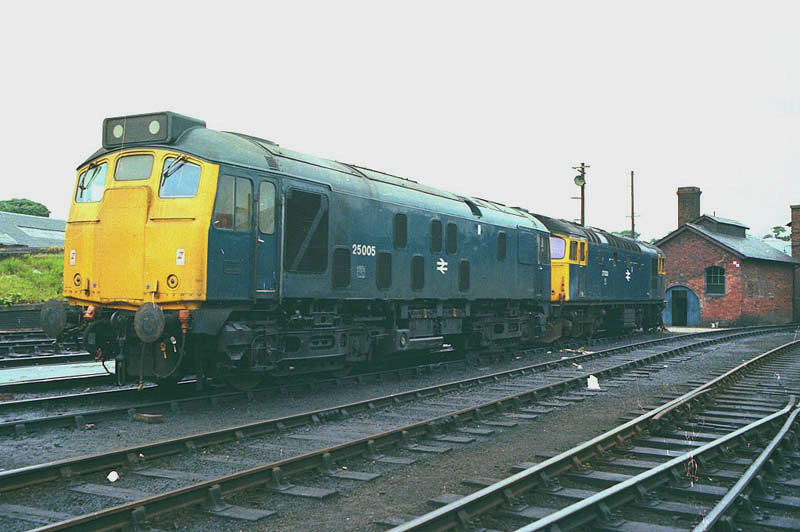 Photograph courtesy Martin Bray.
Its another glorious overcast summers day, July 28th 1979 as 25005 and a Class 27 await their next turns of duty at Aberdeen Ferryhill.
25005 was at Eastfield on September 2nd receiving attention to its engine.
1980
On May 26th a southbound parcel special was noted headed through Perth behind 25005 & 47274.
On June 3rd 25005 was noted at Craiglockhart Junction with a short loaded track panel train and a brakevan.
On July 17th 25005 worked the 17.12 Perth - Arbroath and the 18.33 Arbroath - Dundee.
Early in September 25005 was noted in Glasgow Works with a generator defect. This was repaired and continued in service until December when it was retired and stored at Eastfield until early in March 1981.
On September 26th 25005 was stabled at Aberdeen Ferryhill.
25005 was stabled at Eastfield on October 4th.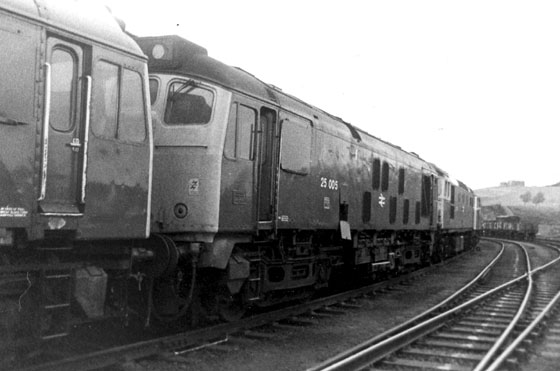 Photograph courtesy A Forster.
Its 15.45 on November 1st 1980 as 25005 stands at Eastfield depot, its career is nearly over with just a month of active service ahead. The battery isolating cover has been returned to the normal design, instead of the three circular covers seen in the 1974 view (above).
1981
Scotland was finally cleared of the last of the Class 25/0's during the first week of March when 25002/005 made the long trek from Eastfield to Swindon Works. However the sequence of breaking up individual machines was most random, 25005 for instance was broken up by April, others lingered for many months.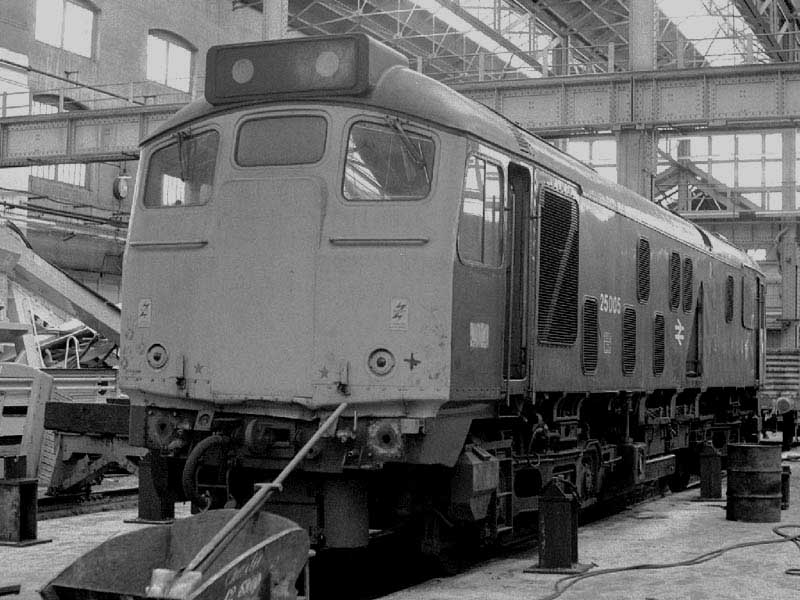 Photograph courtesy Tony Sayer.
In their almost twenty years of service the Class 25/0s visited several of BR's Workshops including Darlington, Derby, Crewe & Glasgow. The last workshops visit for many of them would be Swindon, for scrapping. Seen here on March 22nd 1981, 25005 awaiting the removal of components prior to cutting up.
Extract from Thornaby Shed Repair Record Book
D5155 for the periods 20/7/1961 - 2/11/1961 and 1/6/62 - 27/12/1962.
29/8/61 Brake handle wheel fault
12/6/62 B exam
5/7/62 C exam
12/7/62 Air leak. No body or cab lights
29/7/62 B exam
8/8/62 B exam
11/8/62 Hand brake wheel to secure, horn not working
13/8/62 Settling tanks to fill
20/8/62 Horns not working
22/8/62 Horn not working
25/8/62 Sands
27/8/62 Horn one tone only
28/6/62 B exam, crank case to drain oil & refill
30/8/62 Main generator, waiting works
8/9/62 Works
16/9/62 Horn
22/9/62 B exam
26/9/62 Settling tanks low on water
3/10/62-12/10/62 Electrical fault
12/10/62 Door lock required
23/10/62 Brake blocks renew, B exam
24/10/62 Cubical lights out
27/10/62 Fuel oil filter handle
31/10/62 Lamps in engine room
6/11/62 F exam
18/11/62 B exam
21/11/62 Cab heaters
25/11/62 Vac train pipe leak
28/11/62 Radiator top up, sands
30/11/62 Hand brake wheel secure, sand pipe secure, brake crosshead bolt locking plate secure, B exam
9/12/62 Route indicator
10/12/62 Settling tanks to fill, B exam
15/12/62 Sands
21/12/62 C exam
24/12/62 Sands, horn
Resources:
Repair book information courtesy Peter Maynard.
12/1016
flk 0422 (2)
Not all known passenger workings are recorded on this page.
Page added February 25th 2000.
Page updated April 13th 2022.
Back to 25004
Forward to 25006