D5165, 5165, 25015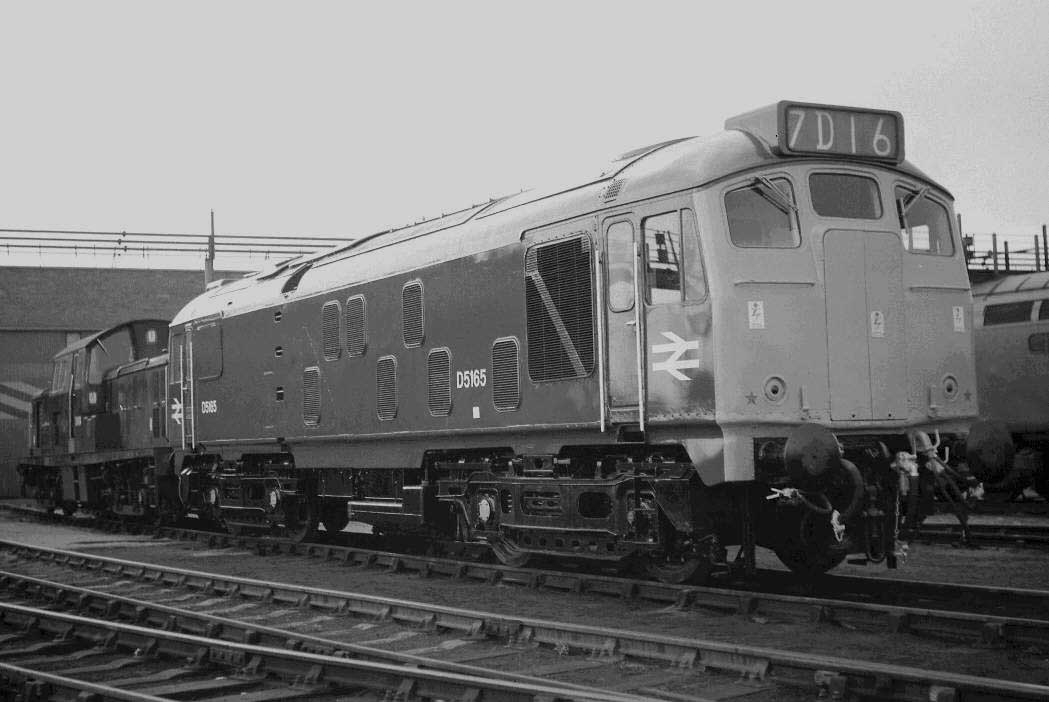 Recently outshopped D5165 at Thornaby on April 28th 1968. The locomotive carries the short-lived livery which included two numbers on the bodyside with two emblems on the cabsides. The bodyside valencing is still in place as is the steam hose connections on the bufferbeam.
The fourteen year two month career of D5165/25015 was spent allocated only to Eastern Region depots.
Built: BR Darlington Locomotive Works.
Gangway doors never sheeted over.
Modified Headcode boxes - Class 25/1 style (with horn receptacles) No.2 cab only.
Time between last Classified repair and withdrawal: 50 months.
Time between withdrawal and scrapping: 14 months.
Allocations
D5165 was new to Thornaby (51L) on October 19th 1961. Further transfers were:
May 1969 to Holbeck (55A).
March 1970 to Thornaby (51L).
January 1972 to Holbeck (55A).
October 1972 to Tinsley (41A).
Withdrawn December 18th 1975 (collision damage, No.1 cab driver's side).
Renumbered May 2nd 1974.
25015 was the 4th Class 25 to be withdrawn.
After withdrawal 25015 was noted at Derby Works from December 1975 until June 10th 1976 when it was moved to Doncaster Works. 25015 was scrapped here during February 1977.
25015 Derby Works – Toton – Doncaster Works June 10th 1976.
Works Visits
Works visits (records incomplete).
Noted Darlington Works October 1962.
Noted Derby Works April & May 1965.
Noted Derby Works December 1966.
Noted Derby Works July - October 1971.
Highlights
1968
Condition April: blue/yellow livery (locomotive in ex-works condition), gangway doors present, shortened fuel tank, no water tank, blanking plates fitted, hand/footholds present, straight sided sandboxes, three-rung bogie mounted footsteps, BR emblems on each cabside & two numbers on each bodyside, all valencing in place, buffer beam steam pipe connection present, engine exhaust in original position.
1973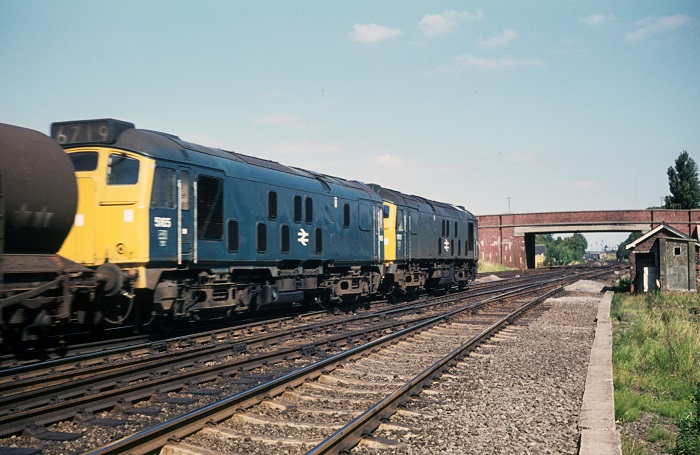 Photograph courtesy Tony Smith.
5172 & 5165 head north at Chaloners Win on August 18th 1973.
On the morning of October 24th 5165 was noted at Severn Tunnel Junction.
1974
25015 was noted at York depot on August 6th.
On Friday November 22nd noted at Exeter stabling point were 25015, 25172, 25224 & 25225.
1975
Towards the end of March a strike by supervisory staff at depots and workshops quickly affected availability of stock. This took a severe toll on many of the extras planned for the Easter period, those and many regular services that did run featured misplaced stock & locomotives. A heavy snowfall on Maunday Thursday did not help either. As the strike continued the WCML main line services were gradually reduced to the point where no more than a third of the regular workings were running. This also brought many foreign Class 25s into the London area, most remarkable being 25015 (TI) as the Euston pilot on April 9th.
The only passenger working so far recorded for D5165/25015 took place on July 12th 1975 with 25015 working the 07.18 Sheffield - Skegness and 10.55 Skegness - Sheffield.
25015 was withdrawn during December 1975.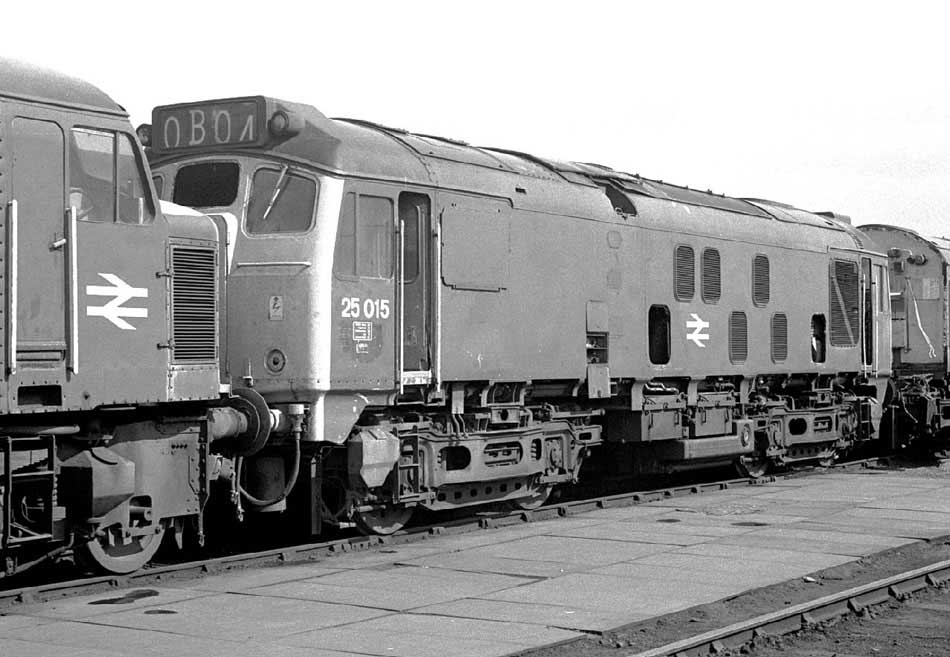 Photograph courtesy Tony Sayer.
Its April 7th 1976 and 25015 is in the deadlines at Derby presumably awaiting stripping. The damage that brought about its withdrawal is not visible in this view, but it does show that the No.2 end cab received the later style headcode box and the fuel tank now carries a circular gauge.
Condition final: blue/yellow livery, gangway doors present, shortened fuel tank - circular gauge fitted, no water tank, blanking plates fitted, hand/footholds plated over, ridge sided sandboxes, three-rung bogie mounted footsteps, modified headcode box No.2 cab, has air horn receptacles - Class 25/1 style.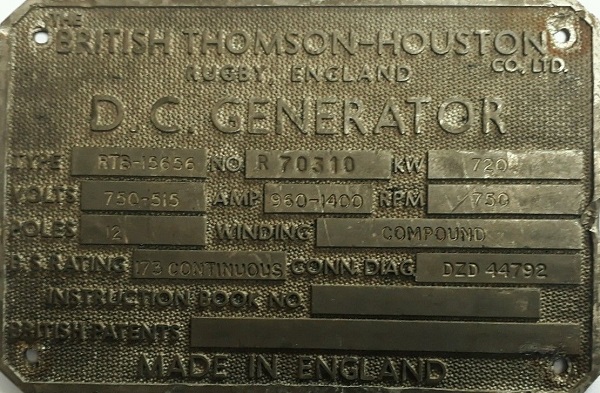 Generator plate from 25015.
Extract from Thornaby Shed Repair Record Book
D5165 for the periods 20/7/1961 - 2/11/1961 and 1/6/62 - 27/12/1962.
23/10/61 Water heating earth fault
11/6/62 No 1 end cab window
16/6/62 Sun blind
6/7/62 B exam
17/7/62 B exam
29/7/62 B exam
30/7/62-3/8/62 Main generator
6/8/62 Engine low in oil
17/8/62-21/8/62 Main generator
27/8/62 B exam, sump oil to change
7/9/62 B exam
12/9/62 Filter screw to ease
14/9/62 Hand brake wheel turning on spindle
18/9/62 B exam
19/9/62 Rivets
20/9/62 Air leak, governor sticking, wheel slip light, vacuum exam
23/9/62 Cooling water pipe joint leaking
28/9/62 C exam
4/10/62 Cab windows to exam
8/10/62 Rev handle & bolt, window not working, water low
25/10/62 Engine brake, sands
1/11/62 B exam
11/11/62 Cab heater
15/11/62 F exam
20/11/62 Sands, brake piston crosshead bolt backing plate nut
26/11/62 B exam
30/11/62 Fireman's window won't close
3/12/62 Batteries
7/12/62 B exam
14/12/62 Sands
18/12/62 B exam
23/12/62 Main generator
Resources:
Repair book information courtesy Peter Maynard.
Not all known passenger workings are recorded on this page.
2/230
flk 0820
Page added August 7th 2013.
Last updated August 16th 2020.
Back to 25014
Forward to 25016