D5166, 5166, 25016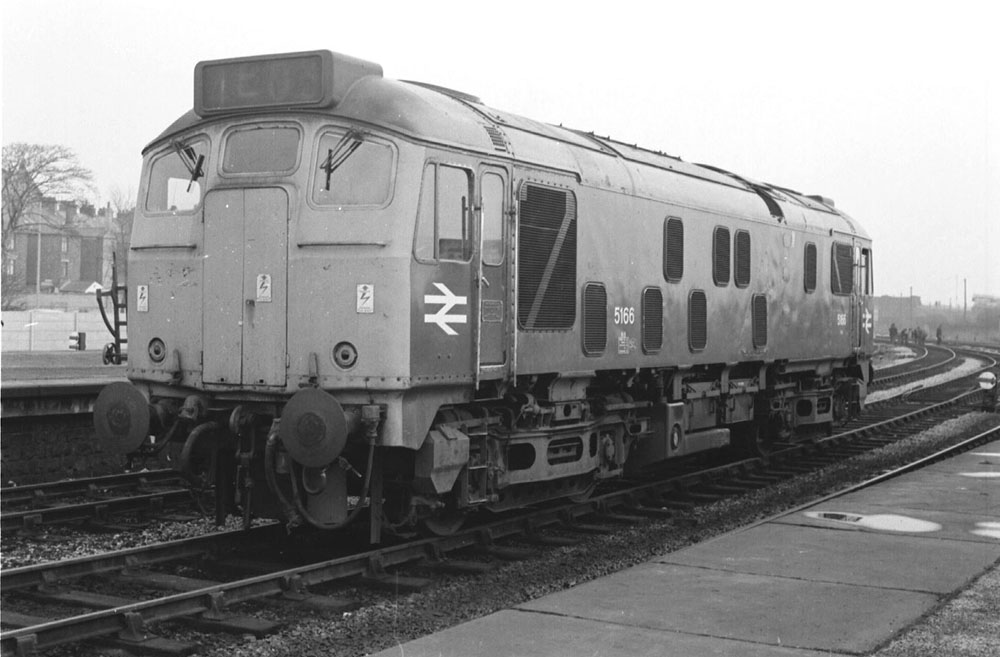 Photograph courtesy J G Ashley.
A splendid portrait of 5166 at Morecambe, date unknown. On the extreme left are the sidings where the Heysham oil train would run round, this was also where diesel multiple units might be stabled The people to the right of the Class 25 mark the location of the new station, with but two platforms and a run round for Heysham bound trains. Beyond the sidings on the left is the now mandatory car park.
D5166/25016 was allocated to four Eastern Region depots for all of its fourteen year three month career.
Built: BR Darlington Locomotive Works.
Time between last Classified repair and withdrawal: ?? months.
Time between withdrawal and scrapping: 11 months.
Allocations
D5166 was new to Thornaby (51L) on November 2nd 1961. Further transfers were:
June 1967 to Gateshead (52A).
November 1967 to Thornaby (51L).
October 1968 to Holbeck (55A).
May 1970 to Thornaby (51L).
January 1972 to Holbeck (55A).
October 1972 to Tinsley (41A).
November 1972 to Holbeck (55A).
May 1973 to Tinsley (41A).
October 1973 to Holbeck.
March 1974 to Tinsley.
January 11th 1976 stored serviceable.
Withdrawn January 25th 1976.
Renumbered February 1974.
25016 was the 5th Class 25 withdrawn, its sister, 25015 was the 4th withdrawn.
After withdrawal 25016 was stored at Barrow Hill from January 1976 until March 10th 1976 when it was moved (see details below) to Swindon Works, being broken up there by the middle of December 1976.
25016/17/20 Barrow Hill – Swindon Works March 10th 1976.
Works Visits
Works visits (records incomplete).
Noted Derby Works November 1965.
Noted Darlington Works January 1966.
Noted Derby Works February 1967.
Noted Derby Works February 1971.
Highlights
A minor change affecting D5166 - D5175 was the fitting of a larger fuel tank. The fuel capacity of the first fifteen, D5151 - D5165 was 520 gallons, locomotive weight was 70.25 tons, whilst the final ten, D5166 - D5175 had larger 620 gallon fuel tanks, with a weight of 72.35 tons.
1962
Condition March: green livery with frame level stripe, ridge sided sandboxes, three-rung bogie mounted footsteps.
1963
On October 25th D5166 was noted on a short freight at Westgate-in-Weardale on the Bishop Auckland - Wearhead line.
1965
On March 7th the following Class 25s were on Thornaby shed: 5155, 5156, 5159, 5163, 5164, 5166, 5167, 5169, 5170, 5172, 5174 & 5175.
1966
The workshops at Darlington finally closed on April 2nd, although repairs had ceased in early January with 70004 as possibly the last machine worked upon. The last Type 2s to visit Darlington Works were D5166 & D5181, both outshopped by the third week of January.
1969
On August 2nd 5166 worked the 09.40 Scarborough - Manchester Victoria (throughout?).
Condition September: blue/yellow livery, gangway doors present, full size fuel tank with circular gauge, no water tank, no blanking plates, hand/footholds present.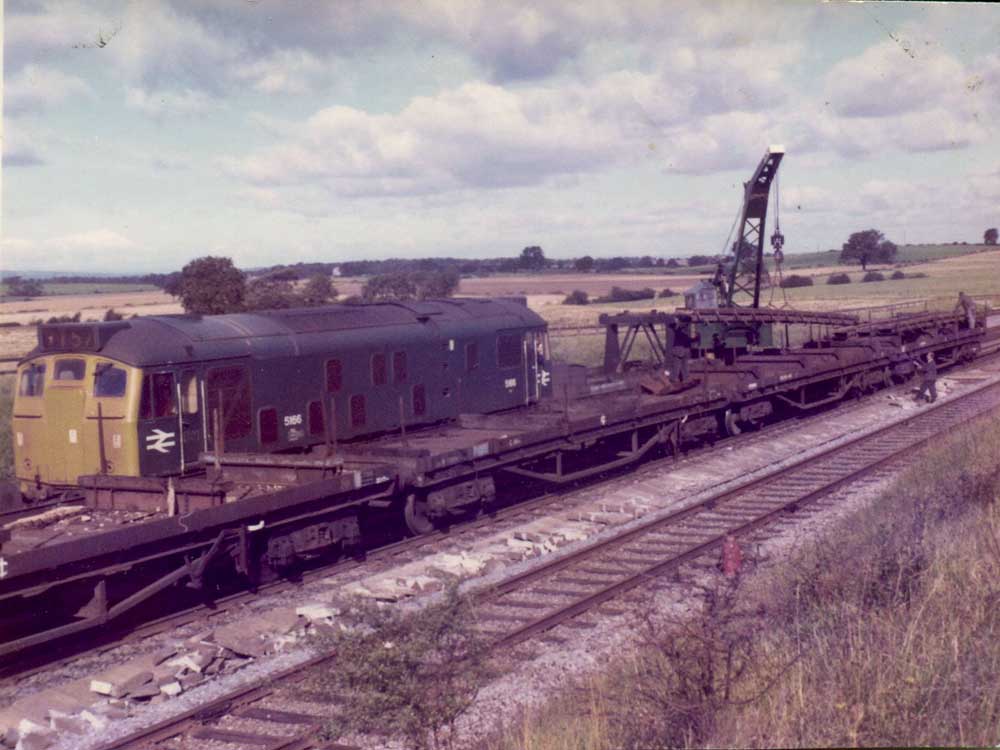 Photograph courtesy J G Ashley.
5166, date unknown on a permanent way job somewhere between Northallerton and Cowton (near Eryholme).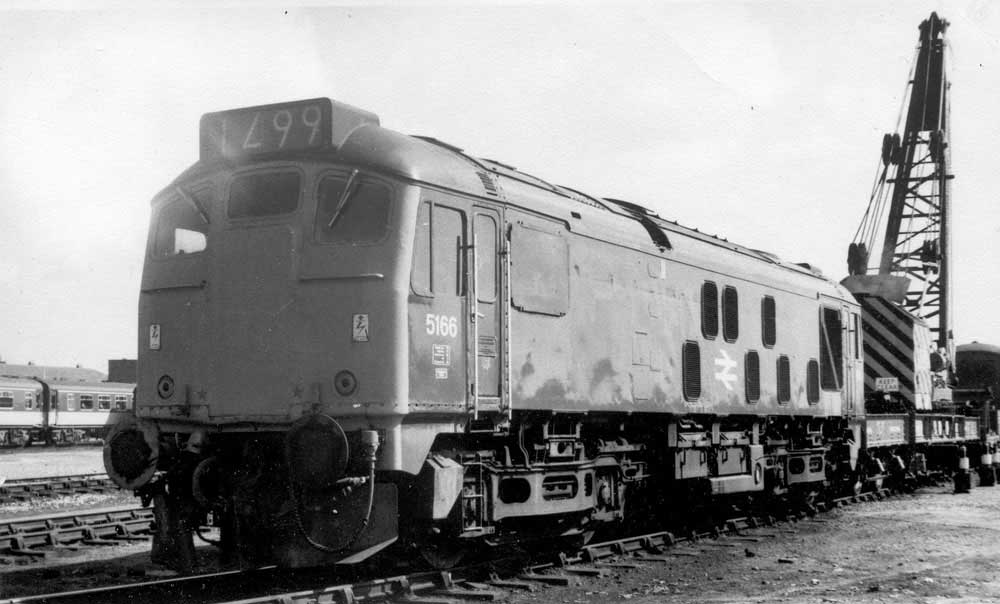 Photograph collection of webmaster.
Neville Hill Open Day on April 28th 1973.
1972
On December 11th 5166 worked an afternoon Leeds - Huddersfield parcels.
1974
The 07.18 Sheffield - Skegness was worked by 25016 on June 22nd 1974. On July 12th 1975 25016 worked the 07.27 Bradford Exchange - Weymouth from Sheffield to Birmingham New Street, returning with the 09.00 Weymouth - Leeds from Birmingham New Street to Leeds.
Tinsley's 25016 handled a short passenger working between Marsden & Huddersfield on July 3rd, rescuing a failed 46039 on a Liverpool – Newcastle service. Presumably 25016 then took up its scheduled working of the evening Huddersfield - Wakefield parcels.
1975
Condition no date: blue/yellow livery, gangway doors sheeted over, full size fuel tank with circular gauge, no water tank, blanking plates fitted, hand/footholds plated over, straight (No.2 end) & ridge (No.1 end) sided sandboxes, three-rung bogie footsteps.
1976
25016 was withdrawn on January 25th 1976.
Extract from Thornaby Shed Repair Record Book
D5166 for the periods 20/7/1961 - 2/11/1961 and 1/6/62 - 27/12/1962.
6/6/62 B Exam
8/6/62 Hand rail damage
18/6/62 AWS
3/7/62 Brake blocks
4/7/62 EPV blowing
5/7/62 Crank case covered in oil
11/7/62 Sump oil to top up
19/7/62 B exam
30/7/62 B exam
8/8/62 B exam
14/8/62 Oil leak in engine room
16/8/62 Bogie suspension bolts check nuts
21/8/62 E exam
22/8/62 Fuel oil leak near filter
23/8/62 Horn not working
27/8/62 Oil pressure
30/8/62 B exam, route indicator
3/9/62 Route indicator
4/9/62 Failed on main line outside shed, oil joint leaking
5/9/62 Settling tank to fill
6/9/62 Oil leak in engine room
12/9/62 B exam
13/9/62 Air valve
23/9/62 B exam
24/9/62 No2 fire alarm not sounding, settling tank gauge leaking
10/10/62 Low amps
11/10/62 Route indicator to reroll, relay valve sticking
22/10/62 Body light not working
24/10/62 2 body lights wanted
26/10/62 B exam
27/10/62 Settling tanks to fill, deadman's button
30/10/62 Wiper motor
6/11/62 B exam
13/11/62 Wiper
17/11/62 Brake gear exam
23/11/62 AWS key will not go in
27/11/62 Derailment
28/11/62 B exam
3/12/62 Sands
4/12/62 Front sand pipe wanted
9/12/62 B exam
13/12/62 Settling tanks to exam
15/12/62 Sands
18/12/62 Rad gauge glass to renew water low
20/12/62 B exam
22/12/62 Wiper
27/12/62 Air leak
Not all known passenger workings are recorded on this page.
3/312
flk 0820 (1)
Page added August 7th 2013.
Last updated August 22nd 2020.
Back to 25015
Forward to 25017