D5167, 5167, 25017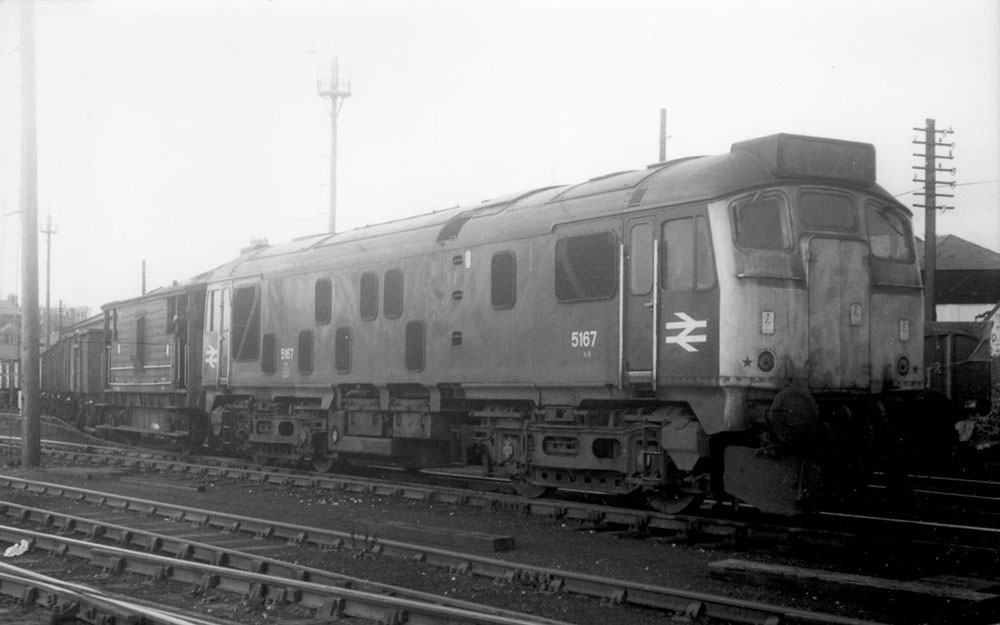 Photograph courtesy G W Sharp.
5167 spent its entire 14 years & 2 months service life allocated to Eastern Region depots (Thornaby, Gateshead, Holbeck & Tinsley). Typical of its activities is this view working at Hunslet Yard, Leeds. 25017 spent two months stored at Barrow Hill before movement south to Swindon Works (with sister 25016), where it was disposed of during July 1976.
The fourteen year two month career of D5167/25017 was spent allocated entirely to Eastern Region depots.
Built: BR Darlington Locomotive Works.
Circular gauge added to fuel tank (Class 25/0 only).
Final exhaust roof panel: flush.
Time between last Classified repair and withdrawal: ?? months.
Time between withdrawal & scrapping: 6 months.
Allocations
D5167 was new to Thornaby (51L) on November 25th 1961. Further transfers were:
June 1967 to Gateshead (52A).
November 1967 to Thornaby (51L).
October 1968 to Holbeck (55A).
May 1970 to Thornaby (51L).
November 1970 to Holbeck (55A).
November 1971 to Thornaby (51L).
January 1972 to Holbeck (55A).
October 1972 to Tinsley (41A).
November 1st 1976 stored serviceable.
Withdrawn January 25th 1976.
Renumbered February 1974.
25017 was the 6th Class 25 withdrawn, one of five retired during January 1976, including shedmates 25016, 25020, 25022 & 25024.
After withdrawal 25017 was stored at Barrow Hill from January 1976 until March 10th 1976 when it was moved to Swindon Works, being broken up there by the end of July 1976.
25016/17/20 Barrow Hill – Swindon Works, March 10th 1976.
Works Visits
Works visits (records incomplete).
Noted Darlington Works April 1963.
Noted Derby Works October 1967.
Noted Glasgow Works August 1972.
Noted Derby Works October 1975.
Highlights
1965
On March 7th the following Class 25s were on Thornaby shed: 5155, 5156, 5159, 5163, 5164, 5166, 5167, 5169, 5170, 5172, 5174 & 5175.
On Sunday April 18th the following were noted:
Gateshead: D5102, D5150, D5106, D5149, D5180, D5103, D5109, D5113
Heaton Carriage Sidings: D5178, D5108, D5147, D5177
Thornaby: D5163, D5162, D5167, D5154, D5152, D5157, D5155, D5156, D5172, D5169, D5153.
1966
On the evening of April 16th D5167 was at Durham with a down freight.
On the evening of July 28th D5167 was light engine at Darlington.
1969
On the afternoon of August 27th stabled at Holbeck were 5096, 5097, 5150, 5167, 5174 & 7624.
1970
On April 11th 5167 was stabled at Healey Mills.
1971
On August 30th 5167 was stabled at Holbeck.
1973
On the morning of May 11th 5167 was stabled at York.
On the afternoon of June 15th 5172 & 5167 were light engines at York.
On July 15th 5167 worked the 21.30 Leicester - Birmingham New Street.
On the morning of August 29th 5167 was stabled at York.
On the evening of August 30th & 31st 5167 was stabled at York.
1974
On the morning of January 18th 5167 was stabled at York.
On the afternoon of February 6th 5167 was stabled at York.
On March 3rd 5167 was stabled at Severn Tunnel Junction.
On the afternoon of March 6th & 7th 25017 was stabled at York.
On the afternoon of March 17th 25017 was southbound at Skelton (York) with vanfits.
On the afternoon of April 30th 25017 was stabled at York.
1975
Tinsley's Class 25/0s were frequently used on a Tribometer train between Sheffield & Knottingley and over the Penistone branch, commencing February 10th and running every other day, 25021 handled the first working, with 25017 most frequently noted.
On April 13th 25012 & 25017 were stabled at Wath depot.
On the evening of April 17th 25017 was northbound at Derby with a freight.
On May 31st 25017 & 25083 worked the 09.20 Derby - Skegness and 13.05 Skegness - Derby.
On the evening of July 3rd 25017 was stabled at York.
On July 5th 25017 worked the 07.18 Sheffield - Skegness and 10.55 Skegness - Sheffield.
1976
25017 was withdrawn on January 25th 1976.
Extract from Thornaby Shed Repair Record Book
D5167 for the periods 20/7/1961 - 2/11/1961 and 1/6/62 - 27/12/1962.
23/6/62 Indicator not working
24/6/62 B exam, loose bolts fuel tank
6/7/62 B exam
10/7/62 Vac brake sticking
16//7/62 C exam
24/7/62 Water tanks to exam
25/7/62 Vacuum handle No2 end & manual shutdown to exam
26/7/62 B exam
27/7/62 Water tank to exam
3/8/62 Interlock controls not working
6/8/62 B exam
7/8/62 Rivets in No2 bogie broken, waiting works
16/8/62 B exam
20/8/62 Sands
24/8/62 Air brake not working
27/8/62 Deadman's pedal sticking
29/8/62 B exam, sands
4/9/62 Sands, earth fault
10/9/62 C exam, brake system to exam
20/9/62 B exam & oil change
21/9/62 Deadman's valve sticking
24/9/62 Deadman's sticking
27/9/62 Bogie suspension bolt check, Grease pipe uncoupled
28/9/62 Sands, wipers
2/10/62 Wiper
11/10/62 B exam
12/10/62 Brake blocks
15/10/62 Brake to exam
25/10/62 E exam
28/10/62 Wipers 4/11/62 B exam, oil change
12/11/62 Vac brake pipe uncoupled from tender
15/11/62 B exam
27/11/62 B exam
3/12/62 Sulzer rep (checking out a problem?)
9/12/62 C exam
10/12/62 Loss of power
11/12/62 Governor
16/12/62 Engine cutting out
20/12/62 B exam
Not all known passenger workings are recorded on this page.
5/452
flk 0422
Page added August 8th 2013.
Last updated May 17th 2023.
Back to 25016
Forward to 25018