D5168, 5168, 25018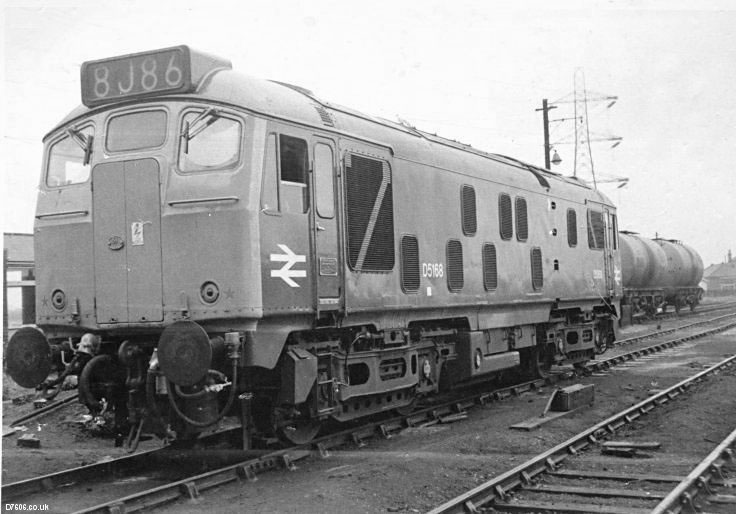 Photograph collection of Ian Hammond.
A fine portrait of D5168 at Tyne Dock on August 14th 1967. The locomotive exhibits one of the varying styles of BR signage - with BR emblems on each cabside and two numbers on each bodyside, but still retaining its steam style era shed plate on the cab front.
The career of D5168/25018 was a couple of weeks short of fifteen years with the vast majority spent allocated to Eastern Region depots apart from a short period on the Scottish Region.
Built: BR Darlington Locomotive Works.
Circular gauge added to fuel tank (1967?)
Time between last Classified repair and withdrawal: ?? months.
Time between withdrawal and scrapping: 20 months.
Allocations
D5168 was new to Thornaby (51L) on December 1st 1961. Further transfers were:
July 1967 to Gateshead (52A).
November 1967 to Thornaby (51L).
November 1967 to Holbeck (55A).
May 1970 to Thornaby (51L).
November 1970 to Holbeck (55A).
October 1971 to Gateshead (52A).
April 1972 to Holbeck (55A).
October 1972 to Tinsley (41A).
October 1973 to Holbeck.
March 1974 to Tinsley.
February 1976 to Eastfield.
November 18th 1976 stored unserviceable.
Withdrawn November 22nd 1976.
Renumbered February 1974.
25018 was the 14th Class 25 to be withdrawn.
After withdrawal 25018 was stored at Ayr from November 1976 until August 5th 1977 when it was moved to Glasgow Works, being broken up there during July 1978.
Works Visits
Works visits (records incomplete).
Noted Darlington Works October 1962.
Noted Derby Works January 1965?
Noted Derby Works June 1967 (repainted blue/yellow livery?).
Noted Derby Works August & September 1970.
Noted Derby Works December 1972 - January 1973.
Highlights
1963
Condition no month: green livery with small yellow warning panels, curved upper corners, bottom of panel only partially coveres frame level stripe; gangway doors in place, engine exhaust in original location, no blanking plates fitted, hand/footholds in place, ridge sided sandboxes, three rung bogie mounted footsteps.
1967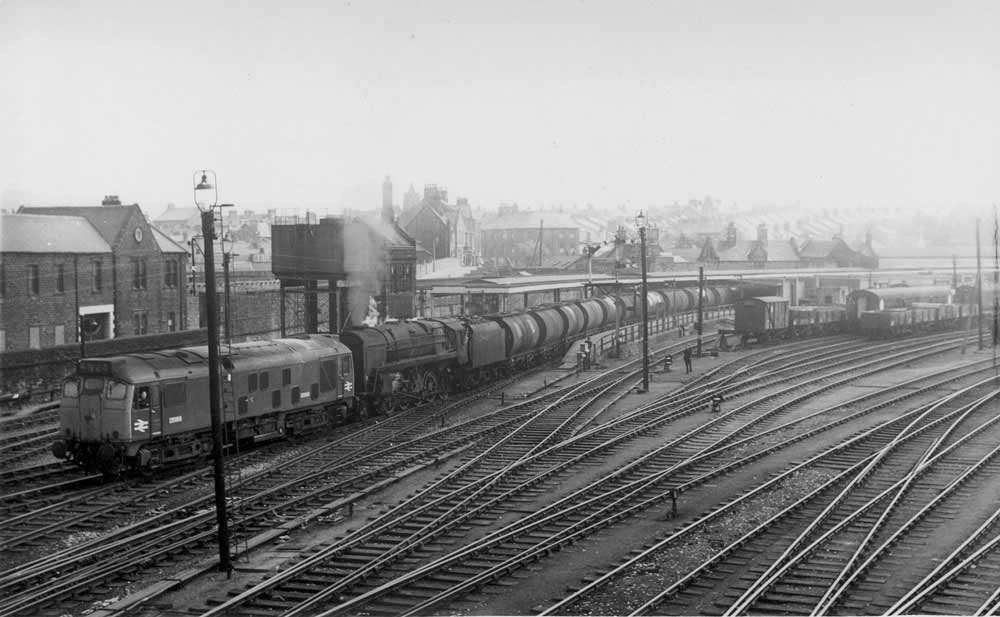 Photograph collection of webmaster.
An undated view (possibly in June 1968) of one of the more interesting workings from the end of steam - the 12.12 Heysham - Neville Hill oil tanks, which for a short time saw a diesel/steam combination. In this view 5168 & an unidentified 9F (92167?) ease through Carnforth station with a train of loaded eastbound tanks for Hunslet (4N28).
1969
5168 worked the 09.08 Bradford - Poole as far as Huddersfield on July 12th.
1970
On November 11th 5168 worked the 7E77 Nottingham - Lincoln, returning light engine to Nottingham.
1971
The recorded passenger workings for D5168/25018 were few, the first recorded took place on July 3rd 1971 working a ten coach Scarborough - Manchester Victoria throughout.
1973
A rescue job on April 19th saw 5168 take a relief Cardiff - Newcastle forward from somewhere south of Sheffield to Newcastle after 1651 failed and was removed.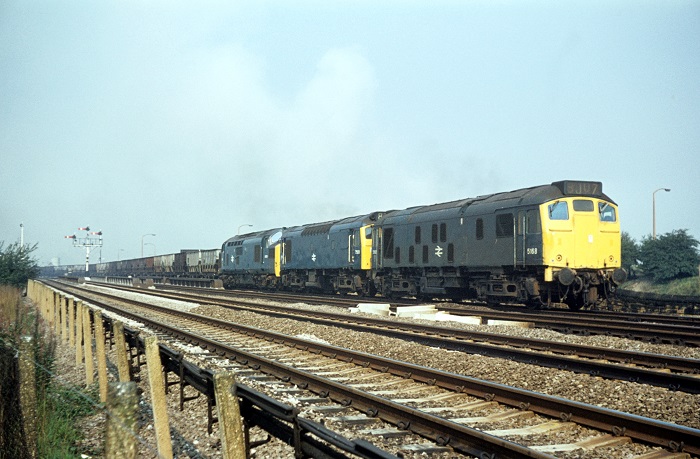 Photograph courtesy Tony Smith.
5168 & 7501 assist 6959 with a coal/coke train, southbound at Wath on September 11th 1973.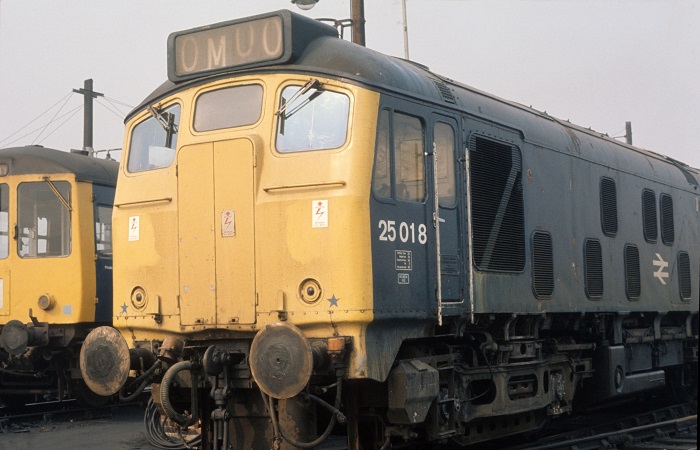 Photograph collection of Roger Geach from G Lake.
25018, location unknown, circa 1973 / early 1974. When compared to the opening view of this locomotive there are subtle differences: the shed plate is gone, there are now three electrification warning flashes, the yellow paint extends further on the cabfront valencing, the sand box is now of the ridged type and the bodyside valencing has been removed.
1974
On June 15th the 07.22 Chesterfield - Yarmouth was worked to Grassmoor Junction by 25018 (replaced here by 47046), returning with the 11.59 Yarmouth - Sheffield from Grassmoor Junction with 25101.
1975
The remaining passenger workings for 1975 all involved roundtrips to Skegness. On June 28th 25018 & 25299 worked the 09.20 Derby - Skegness and 13.05 Skegness - Derby. Roundtrips from Sheffield (07.18 Sheffield - Skegness & 10.55 return) followed on August 16th, September 6th and September 13th.
1976
25018 was noted at Tyne Yard on January 26th.
A new contract to move pipes from Leith Docks to several long distance locations including Derby, Wisbech and Salisbury, and shorter hauls to Carlisle, Darlington, Law Jct, Maud & Montrose would provide much work for pairs of Scottish Class 25s. The Leith – Salisbury diagram involved the Scottish Type 2's working as far as Didcot, including 25018 & 25031 on April 10th.
On November 8th the 7S64 20.10 Carlisle - Falkland Jct freight, made up of five wagons and a brake van ran through a red signal opposite Ayr depot, derailing at the catch points. 25018 rolled over onto its side, becoming wedged against 20125 which was leaving the depot. Damage to the Type 2 was GBP26,000 enough to see it withdrawn during November.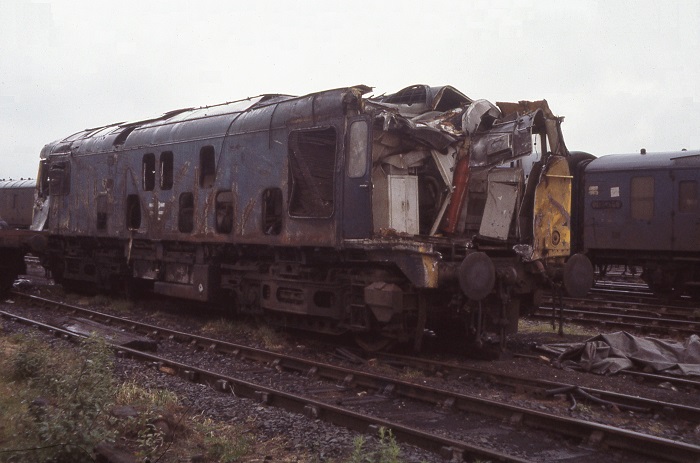 The No.1 end of 25018 at Glasgow Works on a damp June 29th 1978.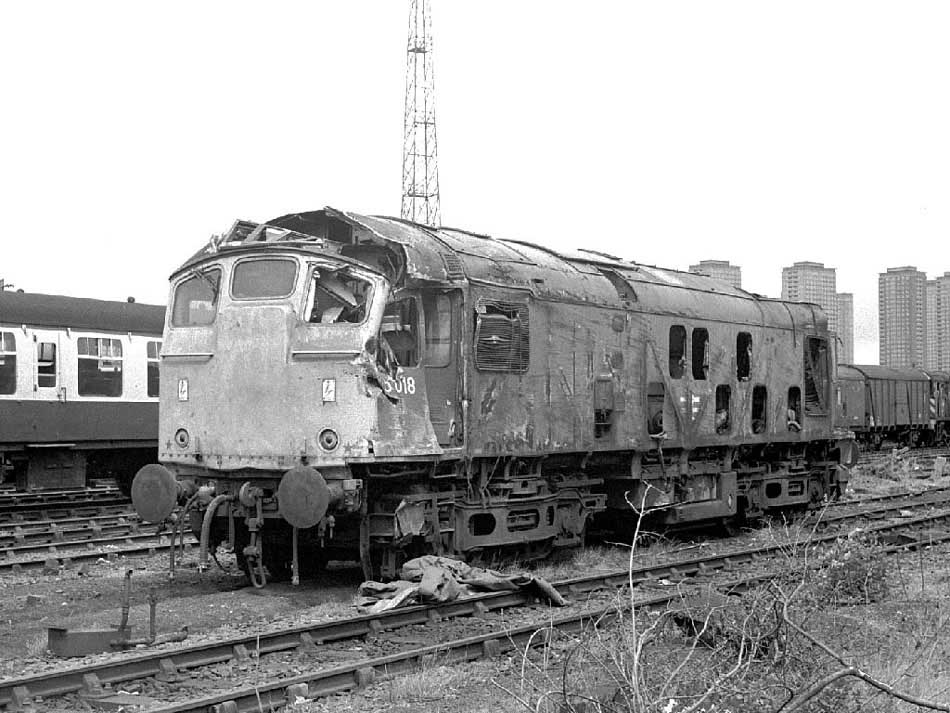 Photograph courtesy Tony Sayer.
July 8th, 1978 and another view of the battered 25018, this time showing the damage from the No. 2 end.
Not all known passenger workings are recorded on this page.
12/1110
flk 0915 (2)
Page added August 9th 2013.
Last updated September 29th 2019.