D5169, 5169, 25019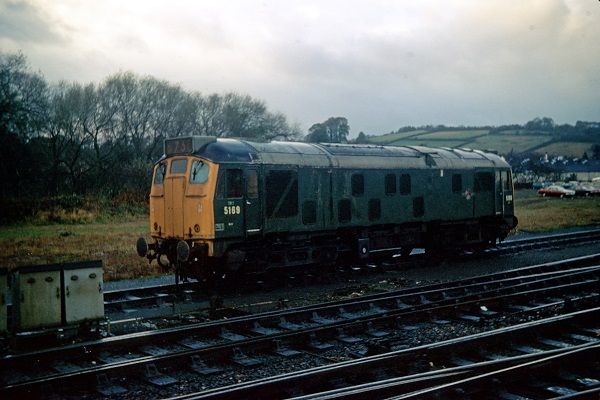 Photograph courtesy Roger Geach
Green liveried Class 25/0 No.5169 at Exeter on a miserably damp, overcast November 20th 1972. The 6Z30 headcode suggests the locomotive may have arrived on a special, perhaps a sugarbeet extra from East Anglia.
For D5169/25019 its eighteen year nine month career was split between Eastern Region and Scottish Regions allocations.
Built: BR Darlington Locomotive Works.
Circular gauge added to fuel tank.
Time between last Classified repair and withdrawal: 25 months.
Time between withdrawal & scrapping: 4 months.
Allocations
D5169 was new to Thornaby (51L) on December 15th 1961. Further transfers were:
July 1967 to Gateshead (52A).
November 1967 to Thornaby (51L).
December 1967 to Holbeck (55A).
April 1972 to Gateshead (52A).
July 1972 to Tinsley (41A).
February 1976 to Eastfield.
January 1980 to Haymarket.
Withdrawn September 3rd 1980.
Renumbered November 16th 1973.
25019 was the 37th Class 25 withdrawn, one of nine retired during September 1980, including sisters 25001, 25013, 25021 & 25023.
After sustaining the collision damge to the No.1 cab, 25019 was stabled at Haymarket during early August 1980, then moved to Millerhill by early September 1980. After withdrawal 25019 was moved to Swindon Works between October 10th & 19th 1980, moving south via the ECML with 25001, 25013 & 25021, hauled to Thornaby by 40006 on October 10th, then on October 16th by 25001 as the 07.20 York - Swindon with 31274 added to the consist. 25019 was broken up at Swindon Works during the first week of January 1981.
Works Visits
Works visits (records incomplete).
Noted Darlington Works December 1963 & January 1964.
Noted Derby Works March & April 1967.
Noted Derby Works February 1968.
Noted Derby Works February 1970.
Noted Glasgow Works June & July 1978 (including repaint).
Highlights
Photograph collection of Rex Conway
D5169 with brake tender makes a striking pose, probably at Thornaby not too long after delivery. The last Works attention for 25019 came at Glasgow during the summer of 1978, at which time it received a repaint.
1970
25019's first recorded passenger turn however, took place on July 25th 1970 working the 10.25 Portsmouth Harbour - Sheffield forward from Nottingham.
1975
On June 14th 25019 worked the 07.18 Sheffield - Skegness and the 10.55 return.
1976
During February 25019 transferred to Eastfield.
The gas pipe trains often took the Type 2's south of the border, another such working involved the Grange Jct – Shotwick which utilised 25019 & 25172 on August 19th.
1977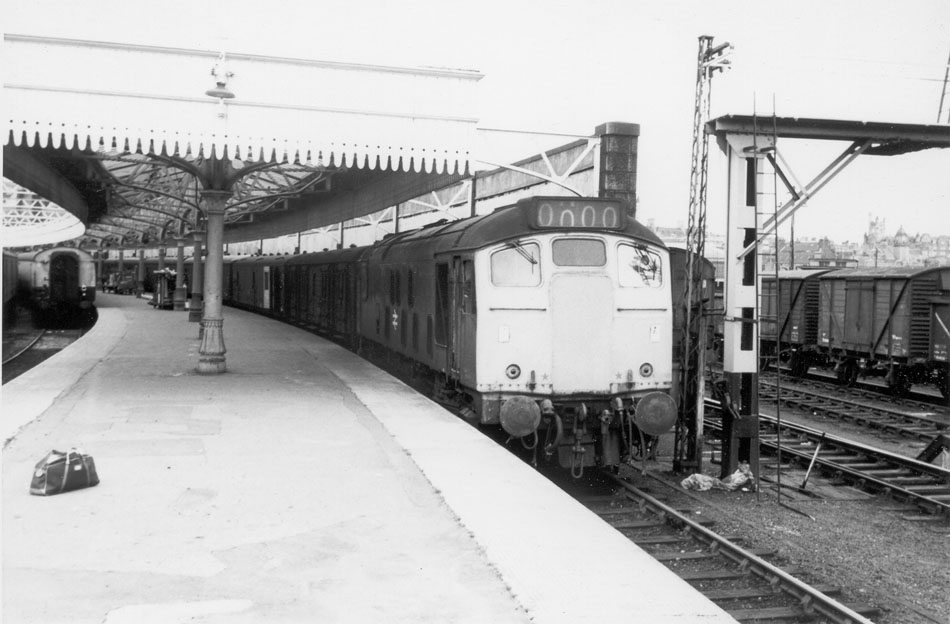 Photograph courtesy Michael Roughley
Its July 27th 1977 and 25019 is at Aberdeen with a parcels train. Over to the left are coaches from the Postal working. 25019 would survive in service until September 1980, having received a repair at Glasgow during the summer of 1978.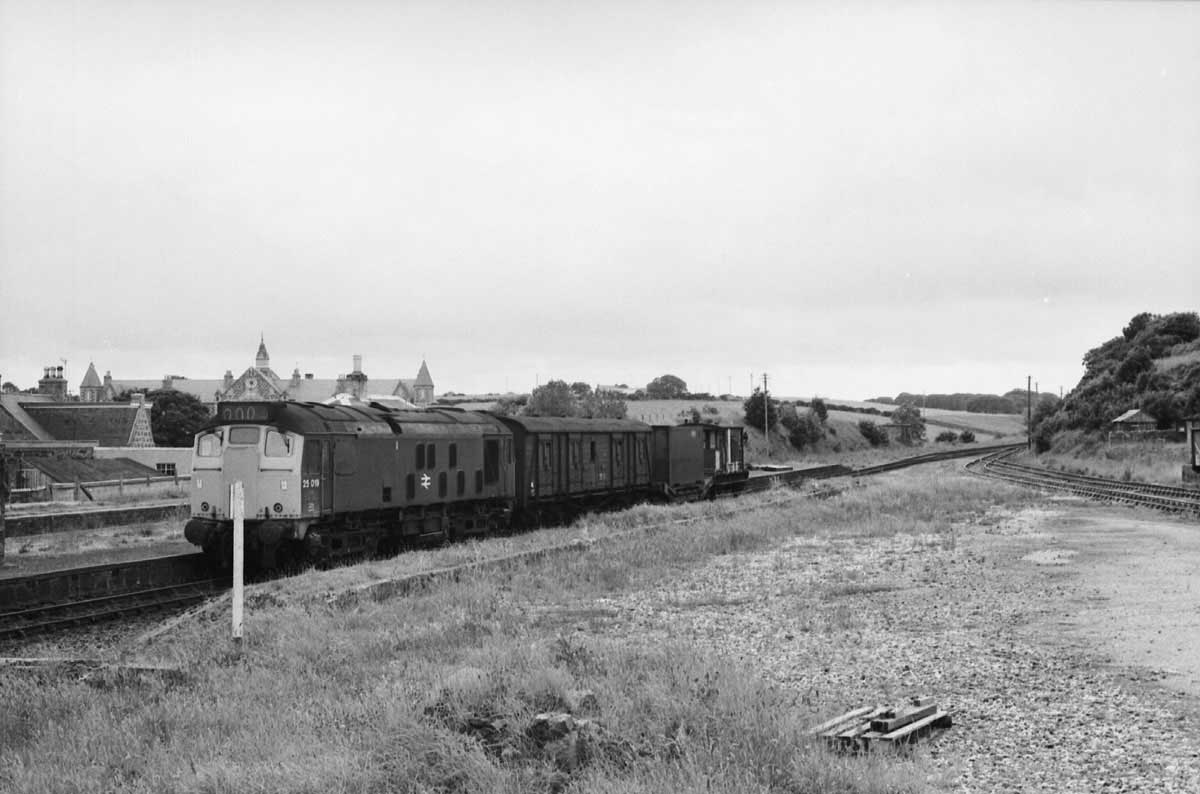 Photograph collection of webmaster
25019 and a very short freight alongside the overgrown and deserted platforms at Fraserburgh during July 1977. Passenger service was discontinued on October 4th 1965.
The Glasgow - Dundee service provided 25019 with a number of passenger workings, being so noted on July 25th with the 08.44 Glasgow Queen Street - Dundee.
1978
Condition May: blue/yellow livery, gangway doors sheeted over, fullsize fuel tank with circular gauge, no water tank, blanking plates fitted, hand/footholds plated over, ridge sided sandboxes, two-rung (No.1 cab) & three-rung (No.2 cab) bogie mounted footsteps.
In the early hours of August 10th 25019 was stabled at Perth. At midday on August 12th 25019 was at Eastfield, by late evening of the same day 25019 was at Glasgow Queen Street. On August 23rd 25019 worked the 14.44 (?) Glasgow Queen Street - Dundee and the 20.44 Glasgow Queen Street - Dundee. Two days later on August 25th the 18.44 Glasgow Queen Street - Dundee was worked by 25019.
1979
On June 15th 25019 worked the 18.44 Glasgow Queen Street - Dundee.
The 14.25 Edindurgh - Birmingham New Street was worked to Carstairs by 25019 & 25046 on August 12th.
1980
Passenger workings in 1980, 25019's last year in service included the 19.37 Dundee - Glasgow Queen Street on May 23rd 1980 (replacing 40101 on the diagram). On July 5th 25019 & 25023 were noted departing Millerhill depot at 11am, the next day (6th) the same pair were noted at Tay Bridge Junction South. 25019 was noted at Millerhill on July 17th, two days later on July 19th 25019 worked the 08.55 Edinburgh - Aberdeen, the 12.40 Aberdeen - Edinburgh and the 17.00 Edinburgh - Aberdeen. 25019 was noted at Millerhill on July 26th and worked the 17.10 Glasgow Queen Street - Edinburgh on July 28th. On July 31st 25019 was recorded out of service with minor collision damage to the No.1 cab, being noted in early August dumped at Haymarket.
25019 was withdrawn on September 3rd 1980. The No.1 cab 2nd man's side and the radiator grill had sustained minor damage, presumably this was the immediate reason for withdrawal.
Not all known passenger workings are recorded on this page.
14/1234
flk 0717
Page added August 10th 2013.
Last updated July 11th 2017.